Experiencing Vietnam with Kids: The Ultimate Family Adventure
There's something special about exploring a new place with your children, and visiting Vietnam with kids is no exception. This Southeast Asian nation is rich in history, has a vibrant culture, and is full of outstanding natural beauty. Travelling to Vietnam with kids offers a unique adventure that's sure to enrich your family's life in countless ways, as Vietnam is a place that invites exploration, discovery, and shared experiences.
The beauty of Vietnam is it offers something for everybody and any type of traveller: you can spend two or three weeks exploring as much as you can of the country moving every few days from one place to another, or you can choose a city as a base and do some day trips from there.
The idea of traveling to a foreign country, especially one as culturally rich and diverse as Vietnam, may seem daunting but fear not, as a journey to Vietnam with kids can be both safe and enjoyable. It's about embracing the unexpected, adapting to new environments, and immersing yourselves in an entirely different way of life.
OUR EXPERIENCE: We travelled in Vietnam with our twins, almost 7 years old and it has been one of the best trips we took with them. We moved a lot from place to place testing many different means of transport, and in this article we'll guide you through each step of the journey, offering tips and suggestions on how to make the most of your family adventure in Vietnam.
This post may contain affiliate links. I may receive a commission for purchases made through the links on this page, at no cost to you.
Why Visit Vietnam with Kids?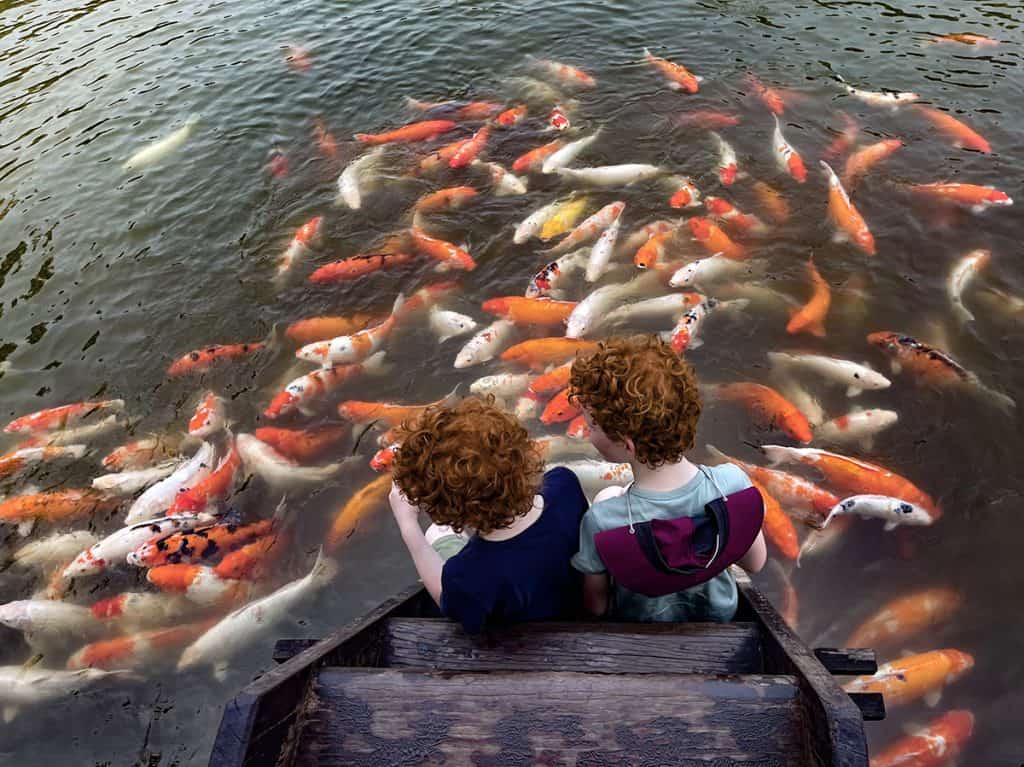 So, you may be wondering, why choose Vietnam as your next family vacation destination? Well, Vietnam is a country that offers an incredible array of experiences. It's a place that celebrates its past while embracing the future and a destination that is as diverse as it is captivating.
Visiting Vietnam with kids gives them a chance to see and experience a completely different world. The country's rich history and deep-rooted traditions provide a fantastic opportunity for children to learn outside the classroom. Vietnam is also home to some of the world's most stunning landscapes, from the limestone islands of Halong Bay to the rice terraces of Sapa, offering a myriad of adventures for the whole family.
Moreover, Vietnam is a country known for its hospitality. The Vietnamese people are incredibly welcoming and friendly, and they adore children. Your kids in Vietnam will surely feel the warmth and love of locals, making their Vietnam experience even more memorable.
The fact that Vietnam is also quite an affordable country makes it a little easier to budget for the trip for larger families too.
Making the Most of Travelling to Vietnam with Kids
To ensure you make the most of your family holiday to Vietnam, it's essential to plan adequately. This means understanding the country's climate, knowing the best times to visit different regions, and familiarizing yourself with the local customs and etiquette.
It's also important to be open-minded and flexible. Things might not always go according to plan, but that's part of the adventure. Remember, you're here for the experiences, the memories, and the stories you'll tell when you get home.
Lastly, involve your kids in the planning process. Let them choose some of the activities or destinations. After all, this is their adventure too!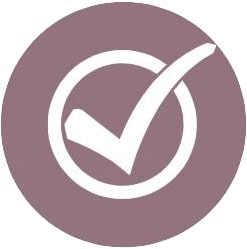 Tips for Your Family Trip to Vietnam
Before setting off on your adventure, there are a few key things you need to prepare.
Visa
First and foremost, before a family trip to Vietnam, check the visa requirements for your country. Some nationalities can enter Vietnam without a visa, while others must apply in advance. We were travelling on different passports (long story for another time) so my husband and I could enter Vietnam without a Visa for up to 14 days. Our kids however needed a visa, but I was able to apply online before we travelled. The application is really easy and you get the visa in 3 working days. Here is the link to the official Vietnamese website to apply for the visa: https://evisa.xuatnhapcanh.gov.vn/en_US/web/guest/trang-chu-ttdt
Vaccinations
Next, ensure your family's vaccinations are up to date. Most of the recommended vaccinations for Vietnam should be part of your regular cycle, but you can check here. Different countries offer different support to travellers, in some cases, you will need to pay privately to get some of them. It's also a good idea to pack a basic first-aid kit with essentials like band-aids, antiseptic wipes, and any necessary prescription medications.
Eating in Vietnam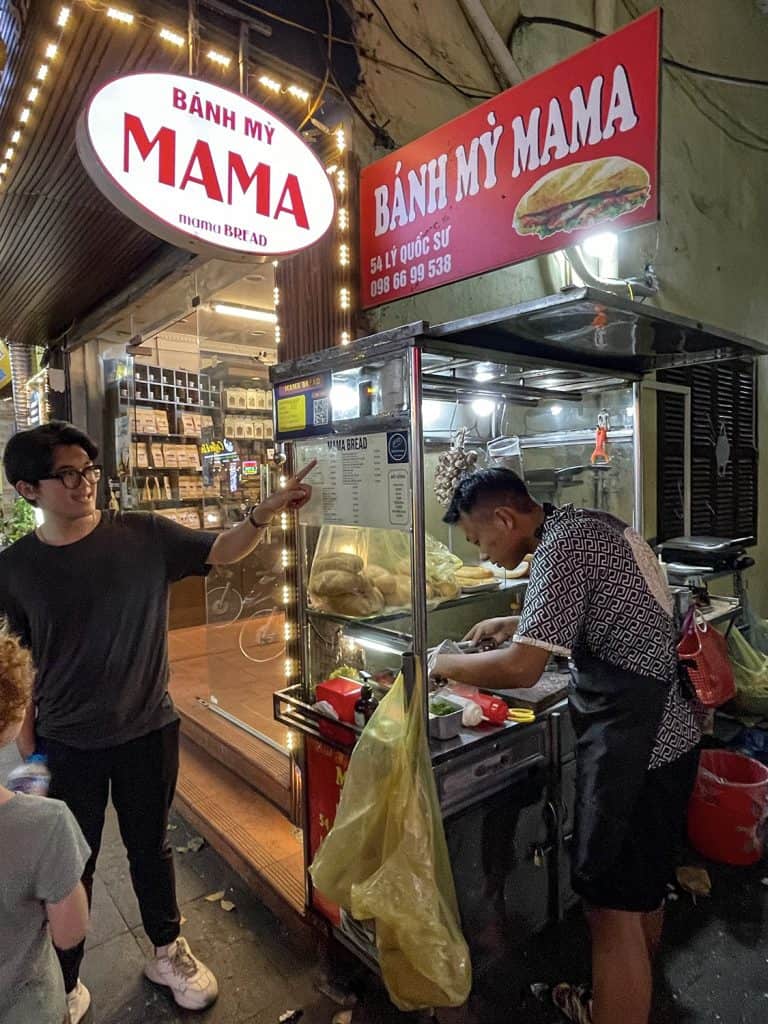 Kids can be a nightmare when it is time to eat. For us it has been no different. When our twins were little, we were always going around with bread, fruit, and porridge sachets. Now it is completely different: once you start to expose your kids to different foods, they will slowly open up to test more and more. It is a process that doesn't happen overnight, so if Vietnam is their first trip try to prepare them in advance (if at the right age).
If possible we would go to a restaurant to test the food before we travel. I also repeat to them that there will be different-looking food, but it doesn't mean they will not like it.
Pho, the country's famous noodle soup, is a hit with kids. The broth is mild, and the dish can be customized with different meats and veggies.
Bánh mì, a baguette filled with various ingredients like meats, pickled vegetables, and sauces, is another good option.
For a sweet treat, try chè, a dessert soup made with ingredients like mung beans, black-eyed peas, and coconut milk. Or, opt for fresh tropical fruits like mango, dragon fruit, and lychee.
Remember, street food in Vietnam is part of the experience. We haven't had any issue eating street food, however, always ensure the food is freshly cooked and the stall is clean before eating.
The advantage of food in Vietnam is that is not spicy and it is also easy to find fruit and bread (bread is common enough thanks to the French history in the country). As said before, Vietnamese people are also really accommodating so if they struggle to find something they like they will always make some simple noodles for them.
Be prepared for the weather
The fact that Vietnam is long and thin makes it really difficult to pick a time when the weather is going to be good everywhere. In theory, March- April and October-November are the best periods if you are going to move in different areas.
Depending on what type of trip you are planning to do, you can dig a little deeper. For example, if you decide to explore mainly the North you possibly want to be there between November and April. While if you are looking to relax on the beaches of central Vietnam you can extend your time up to late August.
In any case, the weather will be hot and humid. If you live in a cold country it may take your kids a couple of days to get used to the heat, so take it easy at the beginning. Pick hotels with a swimming pool and allocate an hour or two each day when they can cool off. Having the goal of splashing in the pool for a little bit every day will help them massively during the walking and touring around.
Of course, bring sun cream and mosquito repellent!
Moving around Vietnam with kids
When little legs are too tired to walk the last stretch to go back to the hotel, no worries! In big cities like Hanoi, Hue, Danang and so on you will not have a problem finding cheap taxis. We also used the Grab App without any issues. On top of that in some cities like Hue or Hanoi, you can also go around with a cyclo taxi. They are used also by locals, but you will need to bargain a lot as they will ask you much more than to local people.
In Vietnam it is also really common to rent scooters and you will see millions of scooters with one or two kids behind their parents. I drove a scooter for years in Rome and when I moved to London, but I would not consider even remotely having one of my kids on a scooter in Vietnam. Of course, the option is there! If you want to consider it you will also discover that it is quite cheap.
A safer option, when you want to visit sights a little out of the way is to hire a car with a driver. Prices are reasonable and for a family usually good value for money. The drivers don't always speak English (they are not guides), so if you want to secure an English-speaking driver it is better to book well in advance.
Another really good option is to join some tours. Later I will mention the most relevant.
OUR EXPERIENCE: when traveling internationally, driving is often our preferred mode of transportation due to its flexibility, especially when traveling with children. In Vietnam, this wasn't possible as they don't allow foreign people to rent a car so we tested every other means of transport and can assure you that they are all really efficient. Hiring a car with a driver, as a family of four, was also often the most affordable option.
Manage the Traffic
As we talked about moving around, I think the next natural step is to mention the traffic. Especially if you arrive in Hanoi, (I felt Ho Chi Min was less intimidating from the traffic point of view), the first impact with the traffic could be shocking!
Hundreds of scooters (and cars) whiz by on the roads of the old quarter and beyond in any possible direction regardless of the road signs. It could be scary at first. When you want to cross the road you just need to keep your kids beside you and move at a decent but steady pace whilst observing the traffic. The scooters will keep going all around you but are amazing at not hitting you, keeping a steady pace makes you easier to avoid!
Choose activities to get kids involved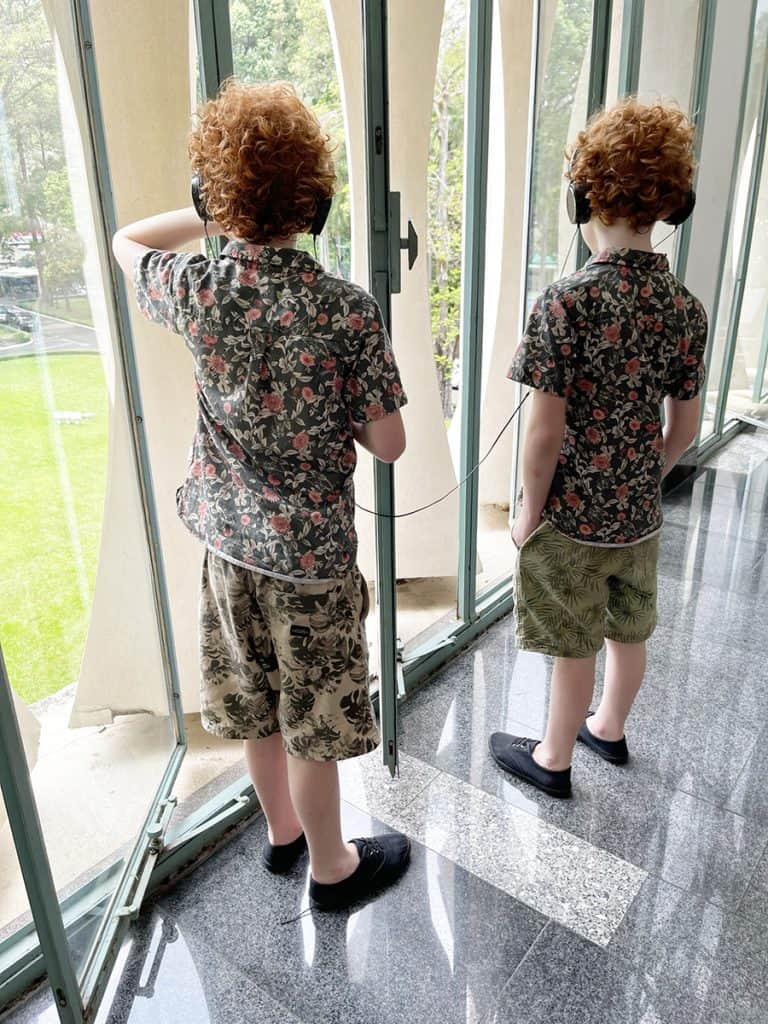 Even kids that are used to travelling could get fed up with museums or walking through ruins. Try to fit something that gets them engaged every day. Every morning tell them what they are going to do during the day. It doesn't always need to be something super special.
For example, we discovered a new thing that worked really well with our twins (almost 7). It was to get an audioguide to follow while visiting a place. I really didn't expect this to capture so much interest! We used them in the tombs in Hue, the Temple of Literature in Hanoi, and the Independence Palace in Saigon. It was brilliant, they had an audioguide and my husband and I another, and we all enjoyed the spaces at our own pace!
Touring places and museums with a guide was also super successful because they could ask questions (we had a guide in Ninh Binh, at the Citadel in Hue, and at the Ho Chi Min Museum in Hanoi).
If you visit Vietnam with a toddler the guide/audio guide may not work as well, but allocating an hour or two every day at the swimming pool has always been a big win for us since they were little. They knew that after the museum (or whatever else) they would have had some free time.
Food tours, cooking tours, and boat/kayak tours are another big hit as they make a strong memory for them, they learn something, but they also have some fun.
In Hoi An you will also find other interesting crafting workshops, like making the traditional lantern that could be really rewarding for them.
Engage the kids before the trip
This works even with little kids. Buy, or borrow from your local library, books about the country you are going to visit. Especially if you have easy access to a library you will discover that for many countries there are countless books dedicated to kids.
For less popular places if you don't find much about the history or local facts, focus on what different animals they are going to meet once there.
Always keep the Internet available
Whatever age your kids are make sure you have a good internet connection. When they are young it's useful to stream entertainment videos, and for teenage kids to make sure they don't spend hundreds on roaming. Airalo e-sim are a great option if your phone supports e-sim, or you can bring a portable Wi-Fi router and buy a Vittel sim card as soon as you arrive at the airport (there are also other providers for similar prices, but Vittel seems to have the best coverage)
Travel Insurance
Lastly, consider purchasing travel insurance. While nobody likes to think about things going wrong, it's always better to be safe than sorry. Travel insurance can cover unexpected costs like medical expenses, trip cancellations, and lost luggage. We have used our travel insurance many times, both during and after the trips and it has always brought peace of mind.
At the moment we use the travel insurance from our Amex Platinum card, but in the past, we used Axa and I'm considering trying Cover for you in the future as it is cheaper but with a good reputation. Some key things to check when you are selecting new insurance are if they cover any pre-medical conditions if you are over 70, if you want to include extreme sports, or will be away over 90 days.
best places to visit in Vietnam with kids
Now, let's talk about where to go in Vietnam. The country is filled with family-friendly destinations, and in general there aren't really any bad places to pick when travelling Vietnam with a family, the few things I would leave out are a visit to the war museum remnants in Saigon or some of the other war-related exhibitions if your kids are young. These exhibitions are incredibly emotional and raw and could impress young minds.
A part from that there aren't really bad places in Vietnam for families. It all depends on your travel style, but in most places, you will find great services to cater for families visiting Vietnam with children.
If you are ok with the idea of moving around the country every two/three days here you have a short summary of a 10 and 14-day itinerary. You can read all the 10-day itinerary details here.
10 days in Vietnam
Day 1 Arrival in Hanoi-Full day exploring the city
Day 2 Hanoi-Full day exploring the city
Day 3 Transfer to Halong Bay – Halong Bay Cruise
Day 4 Halong Bay – Transfer Halong Bay to Ninh Binh
Day 5 Ninh Binh – Night train Ninh Binh to Hue
Day 6 Hue – Exploring Hue and Surroundings
Day 7 Hue – Transfer to Hoi An
Day 8 Hoi An
Day 9 Hoi An – Flight to Hoi Chi Minh
Day 10 Ho Chi Minh – Departure
14 days in Vietnam
Day 1 Arrival in Hanoi – Full day exploring the city
Day 2 Hanoi – Full day exploring the city
Day 3 Transfer to Halong Bay – Halong Bay Cruise
Day 4 Halong Bay – Transfer Halong Bay to Ninh Binh
Day 5 Ninh Binh
Day 6 Ninh Binh – Night train Ninh Binh to Hue
Day 7 Hue
Day 8 Hue – Exploring Hue and Surroundings
Day 9 Tour from Hue to Hoi An via Hai Van Pass
Day 10 Hoi An
Day 11 Hoi An
Day 12 Hoi An – Flight to Hoi Chi Minh
Day 13 Ho Chi Min
Day 13 Ho Chi Min – Departure
If you prefer to base yourself in a couple of places you could use Hanoi and Hoi An as a base and join some day trips from there. For example: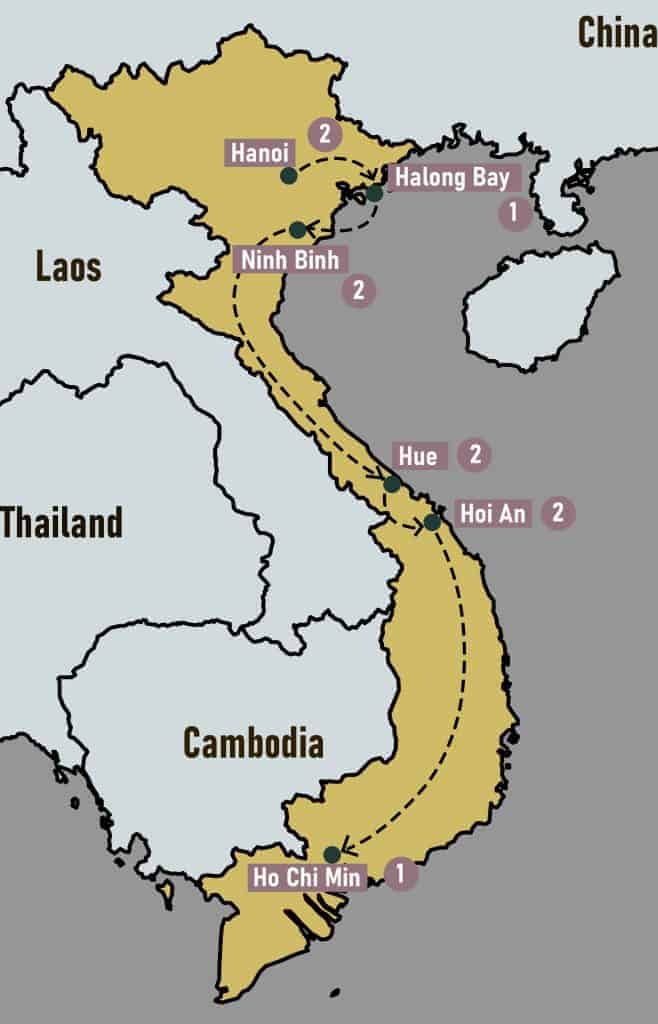 10 days in Vietnam
Day 1 Arrival in Hanoi-Full day exploring the city
Day 2 Hanoi-(possible day trip to Mai Chau)
Day 3 Hanoi – Day trip to Halong Bay Cruise
Day 4 Hanoi – Day trip to Ninh Binh
Day 5 Hanoi – Full day exploring the city -Night train or evening flight to Hoi An
Day 6 Hoi An
Day 7 Hoi An – Half day trip to Mi Son sanctuary
Day 8 Hoi An – Day trip to Hue
Day 9 Hoi An – Day at the beach
Day 10 Ho Chi Minh – Day at the beach and departure
Hanoi
The capital city is a fantastic place to start your family holiday in Vietnam. It's vibrant, bustling, and brimming with history. Visit the Old Quarter, watch a traditional water puppet show, and explore the many museums and temples. Two or three days are a good amount of time to dedicate to Hanoi. Hanoi is also a great base if you prefer day trips instead of changing hotels every two-three days. You can visit Ninh Binh, Halong Bay, and Mai Chau area.
Halong Bay
This UNESCO World Heritage site is a must-visit. Take a cruise through the bay, explore the many islands, and marvel at the stunning limestone formations. You will find daily cruises and overnight cruises. Spending at least one night onboard will allow you to explore the bay in less crowded areas and enjoy it at a slower pace. Kids will love all the activities taking place while cruising, kayaking, fishing, swimming and more.
Ninh Binh
Ninh Binh is a little out of the way and when you travel to Vietnam with kids you could think it better to avoid the hassle. Don't! Make sure you include it in your itinerary.
Now, I know what you're thinking. Ninh Binh? Isn't that the place with the craggy limestone cliffs, endless rice fields, and labyrinth of rivers? Yes, that's the one! It's also known as the "Halong Bay on land".
You might be wondering: Is Ninh Binh kid-friendly? Well, depends on how you define 'kid-friendly'. But if by 'kid-friendly' you mean a place where they can run wild with nature, squeal in delight at the sight of water buffalos, and scream at their own echoes in the massive caves, then yes, Ninh Binh is as kid-friendly as it gets!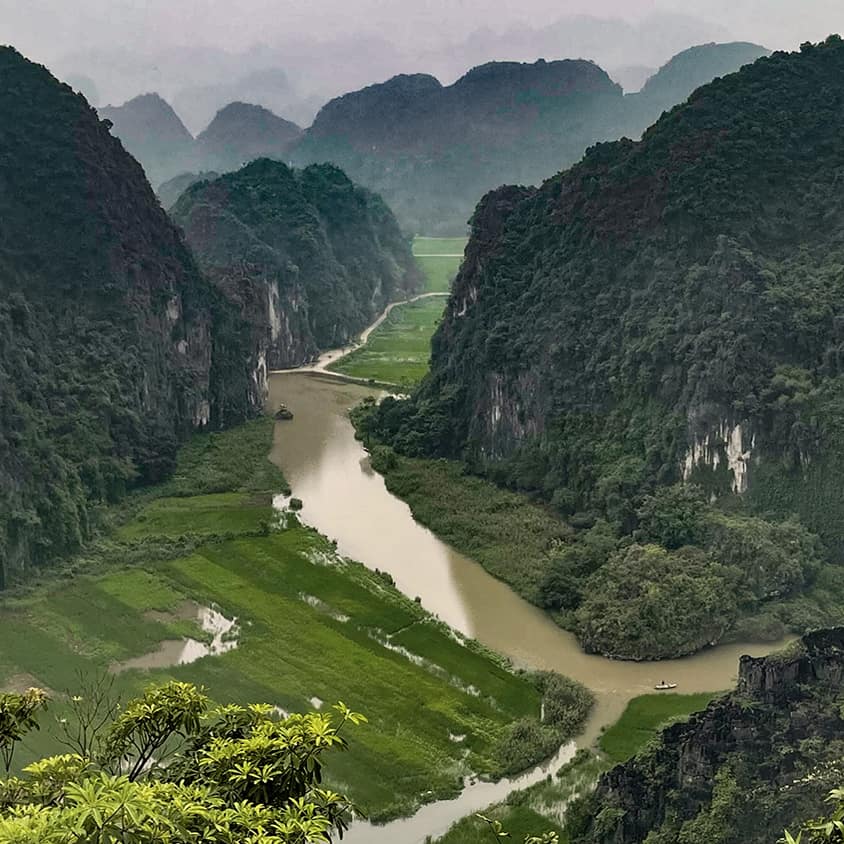 Of course, let's not forget about Trang An Grottoes, a magical boat ride through caves and rice paddies where kids can imagine they're in a real-life Indiana Jones adventure. Then there's Mua Caves with its 500 steps to heaven (well to the stunning Hang Mua peak at least). And yes the promise to see a giant dragon at the top will make them walk up there in no time.
Pack your camera for the incredibly photogenic landscape and plan at least a two-day itinerary in Ninh Binh area.
Hoi An
Known for its well-preserved Ancient Town, Hoi An is a charming city that's perfect for a Vietnam family vacation. Enjoy a bike ride in the countryside, take a cooking class, or simply stroll around the colourful streets, although some people can find Hoi An too touristic.
I appreciated the fact the town is well preserved but at the same time there are nice little shops, restaurants, markets and many different activities to do. It is also quite small so you can decide to stay a little outside town enjoying the peaceful countryside but be able to reach the centre quickly by taxi or bicycle.
Hoi An is also a good base if you want to mix some cultural day trips and time on the beach as the An Bang Beach is just 15 minutes away.
Ho Chi Minh City (Saigon)
The country's largest city offers a mix of modernity and tradition. Ho Chi Min, named after the Vietnamese communist revolutionary leader, is like a living, breathing history book. Kids will love to visit the Independence Palace, the Cathedral, the War Remnants Museum (if appropriate), and explore the Cu Chi Tunnels.
Discover the amazing cuisine of Ho Chi Minh, ranging from delicious street food to elevated traditional Vietnamese dishes crafted by skilled chefs. It's sure to impress both you and your little ones!
Phu Quoc
If your family loves the beach, Phu Quoc is the place to be. This island paradise boasts pristine beaches, clear waters, and a relaxed vibe. If you want a mix of relaxing and active trip you can combine a more adventurous week on land basing yourself in Hanoi and then come here for some rest.
things to do in Vietnam with kids
There's no shortage of things to do in Vietnam with kids. Whether your family is into outdoor adventures, cultural experiences, or simply relaxing by the beach, you will find the perfect match for you. Here are a few ideas.
Enjoy Water Puppet Shows
These traditional Vietnamese performances are a hit with kids even if they are not actually developed for kids.
The shows usually tell folk tales and legends of Vietnam with the help of colourful wooden puppets. It is worth reading the synopsis before the show to understand a little more about the stories they are representing.
In Hanoi, there are several shows every day and you shouldn't have an issue getting tickets on the door. However, I think it is really worth it to sit at the front for the best views. You can pre-book your tickets in advance here.
Take part in a food tour
HANOI OLD QUARTER WALKING STREET FOOD
This is an amazing tour to make kids familiar with Vietnamese food. They have the opportunity to savour different dishes, often in smaller portions to decide what they like the most.
It is usually a good value for money as they often only pay half price.
We took a food tour in Hanoi and it was a perfect way to also discover little kiosks that we wouldn't have considered worth it.
GOOD TO KNOW: This tour is fully refundable up to 24h before it starts.
Take a Cooking Class
Vietnamese cuisine is famous worldwide. As for the food tour, it is a really easy way to engage kids with food. They will recognize most of the ingredients used and feel braver tasting different-looking dishes that they prepared themselves. Many cooking classes also include a visit to the local market, where you'll learn about the ingredients used in Vietnamese cooking.
In Hoi An you will find a wide offer and even options without the visit to the market that I think is more suitable for kids as that part could be a little boring for them. Often you will have the opportunity to reach the school with the typical basket boat.
Kayaking in Halong Bay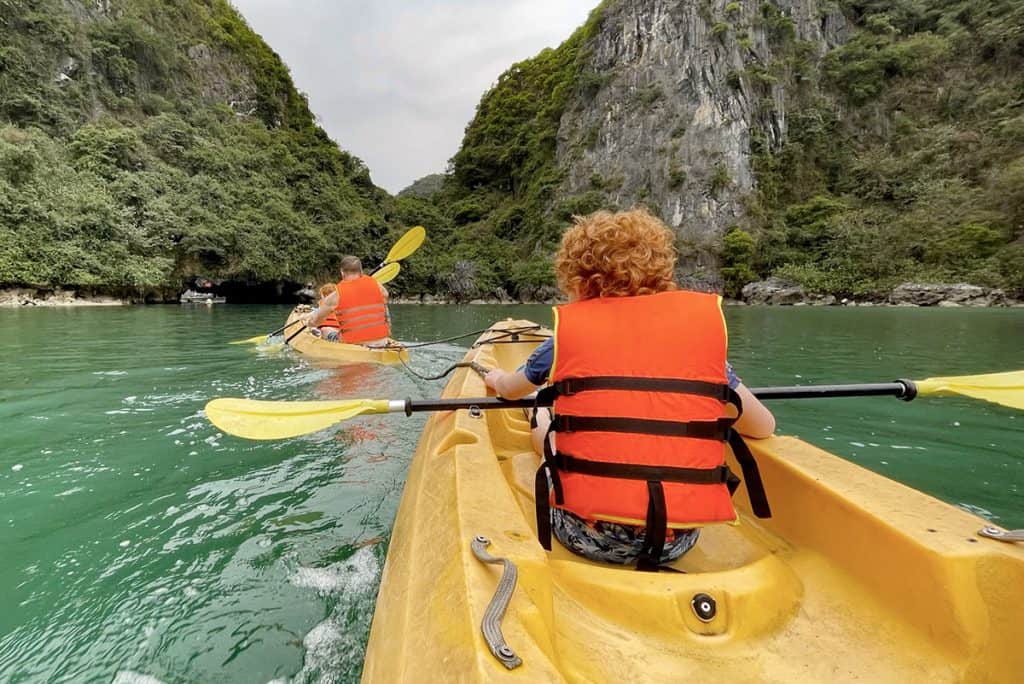 Even if you never kayaked before you'll find the water in Halong Bay a quiet and peaceful setting to start. Younger kids will share the kayak with you and they will love to help paddling. Almost all cruises in Halong Bay offer the opportunity to kayak and you will never be too far away from the main boat in case they get tired.
Visit a Wildlife Rescue Center
If you visit Ninh Binh you shouldn't miss visiting the wildlife rescue centre like the ones in the Cuc Phuong national park. They offer a chance for kids to learn about Vietnam's wildlife and the importance of conservation. There is the endangered primate rescue centre where people every day work really hard to take care of the many residents there. They have been rescued, and they are now helping them to rehabilitate to then reintroduce them slowly into their natural habit and finally release them.
They will give you a short tour of the centre where you will be able to see also some rare species.
The turtle conservation centre in the same National park is also working in a similar way.
Ride a dragon boat in Hue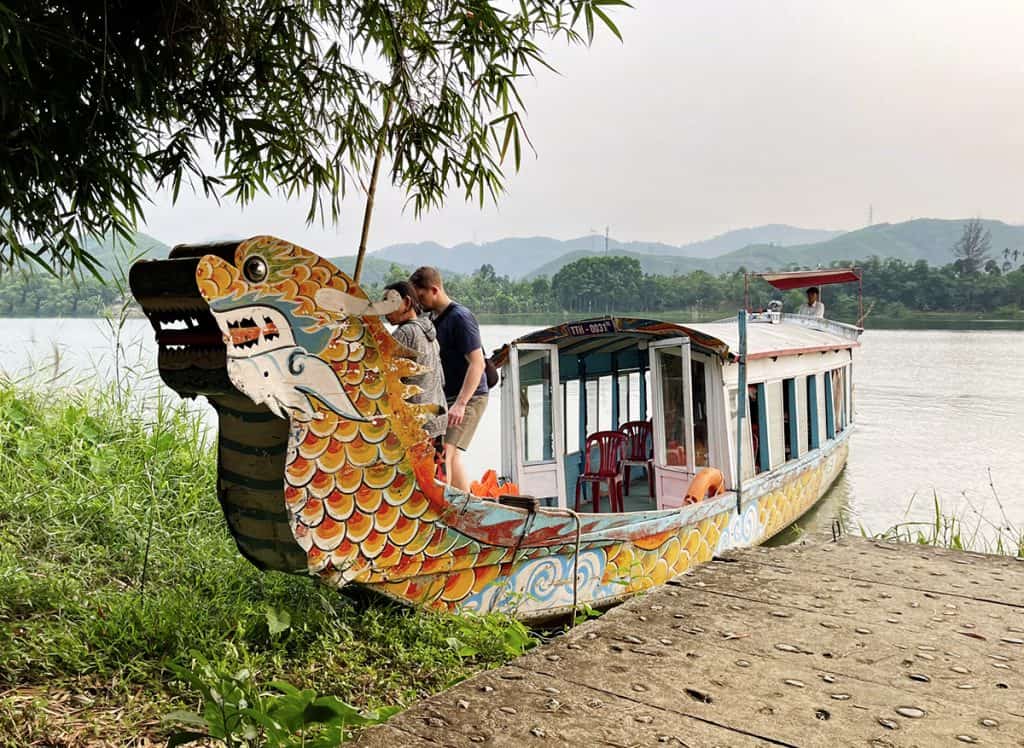 On the perfume river, you will not miss this boat with a dragon head. You can join a sunset tour but also simply take it from the city centre to the Thien Mu pagoda.
We stayed a little out of the city centre at the Hue Ecolodge which has a little pier access from the river and once we took the dragon boat to reach it directly.
Take a lantern-making workshop
In Hoi An you will find this short and super affordable art and craft workshop that will reward kids with their very own lantern to bring home (the result is foldable and easy to pack).
Book it for the late afternoon to get a rest after a busy day walking around.
GOOD TO KNOW: This tour is fully refundable up to 24h before it starts.
Cycle through the Vietnamese countryside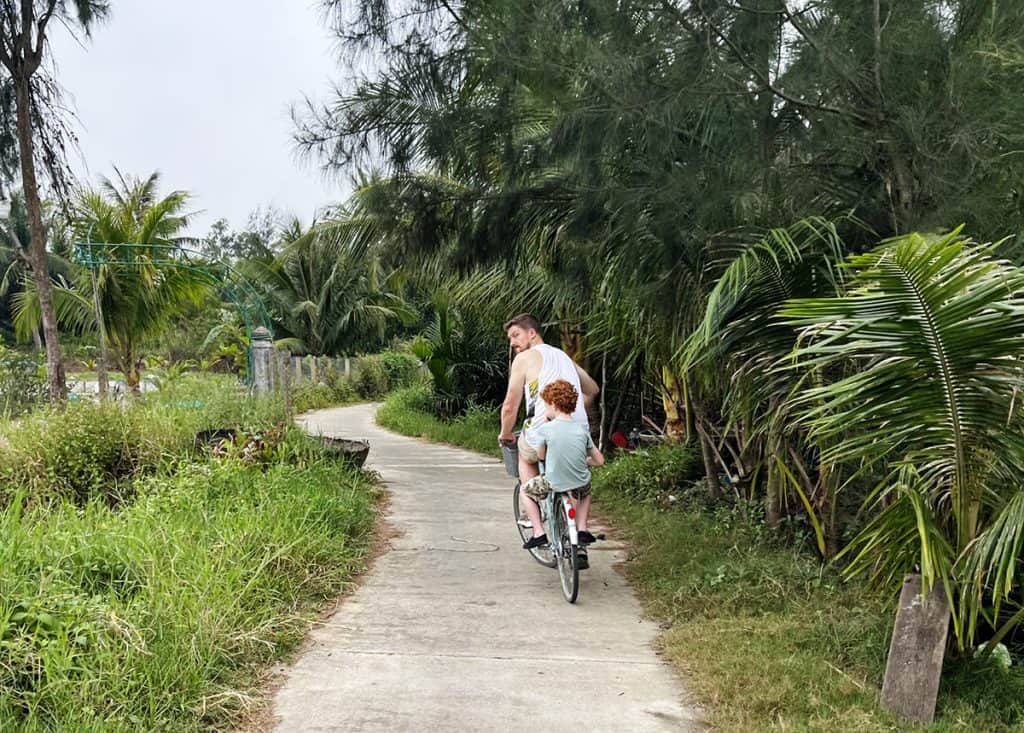 This is one of the easiest activities to do with kids. If you are travelling with a baby in Hoi An you will have no problem finding someone that rents baby seats. In other areas, this could be trickier. However, almost everywhere you will find bicycles with padded seats at the back, perfect from 4 years onward.
We took a bicycle in Hoi An and it was a wonderful way to appreciate the contrasting rural scene outside the tourist city. Bicycle tours are also common in Hue and Ninh Binh.
Take a round-basket tour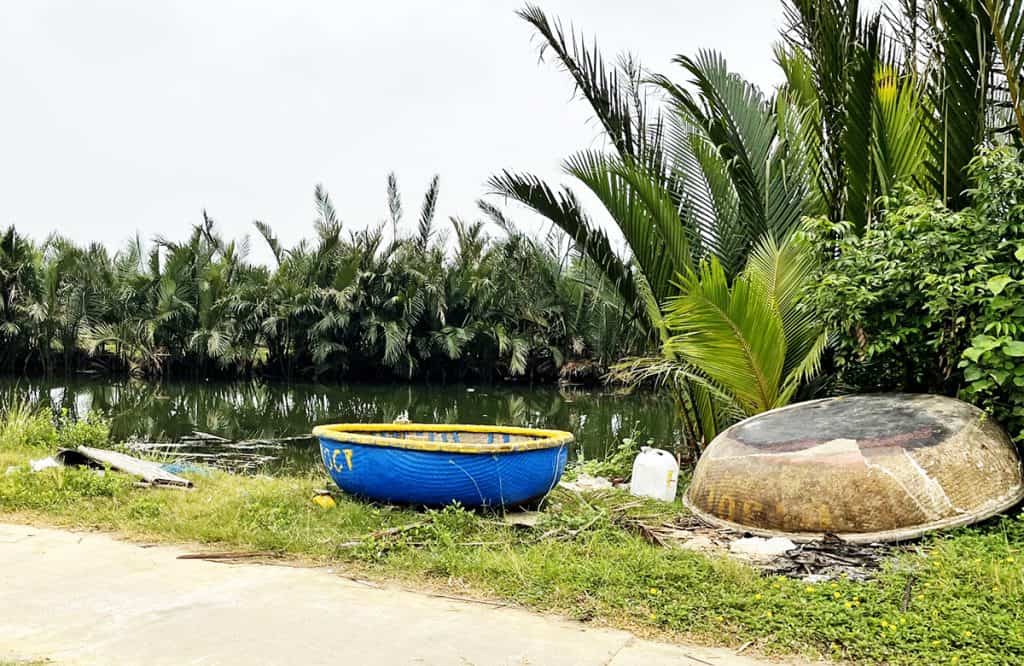 This is another fun activity to do in Hoi An. Traditional round boats give tourists and kids lots of fun when they try to row and they just spin around. A little bit like going sandboarding in Mui Ne this is an activity filled with laughter.

A round basket tour typically starts with a gentle cruise along the Thu Bon River, where children can marvel at the stunning landscapes and wildlife. The tour then progresses to the coconut palm-fringed waterways of Cam Thanh Village. Here, the kids get a chance to step into the shoes of local fishermen by learning how to paddle these quaint round boats, locally known as "Thung Chai". They are also taught traditional fishing techniques using nets and bamboo traps, offering them an engaging hands-on experience.

However, kids, being the little daredevils they are, will find immense joy in making the basket spin in circles, while you're just trying to keep breakfast down.
The round basket tours in Hoi An are not just about fun and games; they also offer a great educational opportunity. Children learn about the ecological significance of the mangrove forests, the importance of sustainable fishing practices, and get an insight into the resilient spirit of Vietnamese people.
GOOD TO KNOW: This tour is fully refundable up to 24h before it starts.
Go Sandboarding in Mui Ne
If while your family travel in Vietnam you need an adrenaline boost, head to the sand dunes of Mui Ne. Here, you can rent a sandboard (or take part in a tour) and slide down the massive dunes. We haven't done it in Vietnam but we did it a few years back in Peru. It is hilarious, or at least that's the best way to take it as a parent.
Sandboarding is fun but the best is when you add a little human to the equation. They possess the uncanny ability to take a situation from relatively calm to utter pandemonium in a nanosecond.
They were super excited about this activity until they arrived on the dunes! Now it is all about complaints about the sand in their shoes, their hair, their ears – maybe even up their nose!
And just when you thought you've seen it all, your child decides to slide down the dune headfirst or even sideways.
But at the end of it all, despite the sand-filled shoes and hairdos that look like a blender has styled them, the joy in their eyes makes it all worthwhile. It's not just an adventure; it's a comedy show where you get front-row seats!
Ride the night train
While this isn't something I would rush to do again, it was definitely a lot of fun for the kids. They loved the cabin and sleeping on the train berth. I need to be honest, my expectations were quite low, but the carriage and the cabin were clean and the bed linen was too.
Visit the Cu Chi tunnel
We debated a lot about this activity. We usually bring our kids everywhere because we believe they will always learn something from what they experience. In this case, we felt they could have misunderstood the importance of this place and we didn't bring them there (they were almost 7). There isn't anything scary in the visit, but from what we read It appears that the attraction has lost some of its historical significance in favour of entertainment, causing children to only focus on the fun aspect.
Each child is different and visiting the Cu Chi Tunnels can be an enriching and educational experience for children. This vast network of underground tunnels, which played a significant role during the Vietnam War, offers an intriguing glimpse into the past, making history come alive for young learners.
The Cu Chi Tunnels, located about 35 kilometres northwest of Ho Chi Minh City, is an immersive museum that provides a hands-on learning experience for kids. The guided tours of the tunnels offer historical insights into how they were used during the war for communication and supply routes, living quarters, and even hospitals. This can stimulate children's curiosity about history, warfare, and human resilience.
However, it's crucial to note that while the tunnels are now a safe tourist attraction, they do represent a challenging period in Vietnam's history. Some areas might feel claustrophobic as they are narrow and dark. Therefore, it's essential to prepare kids beforehand about what they might see and experience.
Overall, a trip to the Cu Chi Tunnels with kids can be a unique blend of education and adventure. This immersive experience can foster a deeper understanding and appreciation of history in children.
Where to Stay in Vietnam WITH Family
Accommodation in Vietnam ranges from budget hostels to luxury resorts, with plenty of mid-range options in between. Family-friendly accommodations are plentiful, and many offer amenities like swimming pools, on-site restaurants, and kid's clubs.

When booking your accommodation, consider its location in relation to the sights you want to see. Being within walking distance or a short taxi ride from major attractions can make your stay much more convenient.
Be aware that many hotels will not charge any extra if your child sleeps with you and you don't require any extra bed. This could work really well if you are travelling with babies and toddlers. In some cases, however, hotels have extra large beds that could easily fit two adults and one older child.
Below are the best options for any of the places included in the itinerary above.
HANOI
Aira Boutique hotel and Spa
Lovely hotel, perfectly located, just on the border of the Old Quarter. The suite is spacious enough for two extra beds.
Small but handy swimming pool.
NINH BINH
Le clos du fil
A new hotel built taking care of every single detail.
The hotel has a rustic chic style, quite minimal to leave space for the natural material to dominate the scene.
There is also a big swimming pool, a restaurant and a small spa.
HALONG BAY
Halong Bay with Cat Ba Adventures
This is a small boat that navigates an area less touristy of Halong Bay starting in Cat Ba island.
The boat is basic, but cabins are spacious with two double beds in the family room.
Perfect if you are looking for a more intimate experience
HUE
Hue Ecolodge
A charming setting for this hotel located in a lush garden around 7km from Hue. Rooms are quite big and most of them have a lovely back garden with an open shower. The place may not be luxurious, but it exudes a peaceful ambience.
HOI AN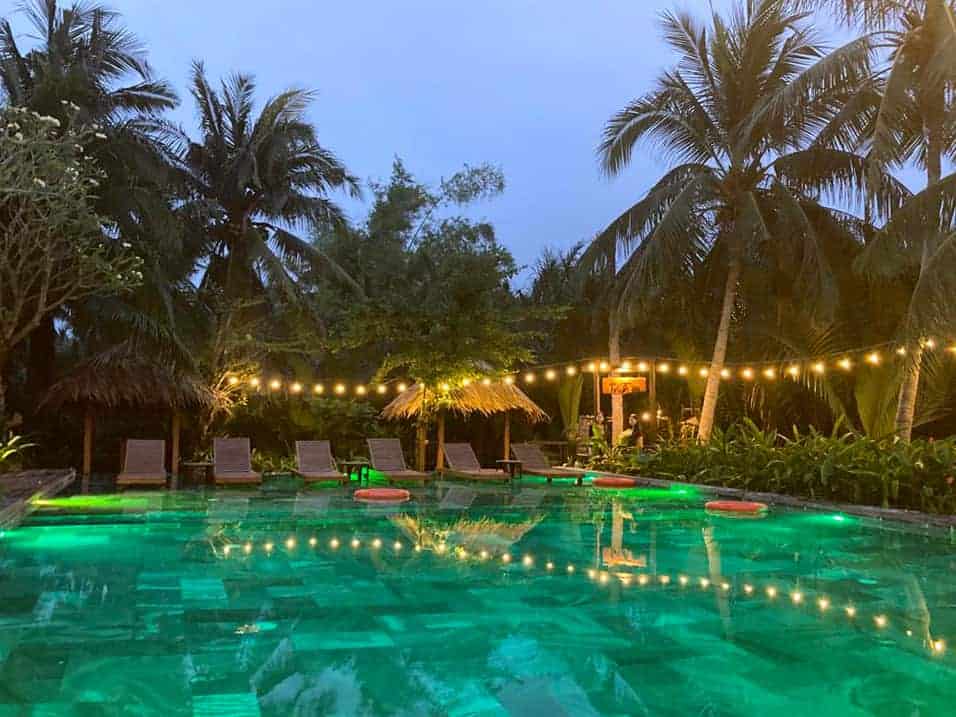 Hoi An Ecolodge
This is the best value-for-money hotel in Hoi An. It is located just outside the city center in the countryside. The rooms are spacious modern and luxurious located in different small buildings surrounded by lush vegetation. There is an amazing big swimming pool, the restaurant is open over a lovely pond
HO CHI MIN
An Lam retreat
This hotel is an oasis of peaceful elegance. The villas are really big and completely surrounded by vegetation. The restaurant is open on the river, there is also a spa, a pool, and several relaxing areas scattered around. Compared to Vietnamese prices it is expensive, but you will not regret spending this money.
Conclusion: Making the Most of Your Family Adventure in Vietnam

Traveling to Vietnam with kids is an adventure like no other. It's a journey filled with rich cultural experiences, outdoor adventures, culinary delights, and unforgettable memories. Despite the challenges, the rewards are immense. It's about seeing the world through your child's eyes, learning together, and growing as a family.
As we've seen, preparation is key to a successful trip. From understanding the culture to planning your itinerary, every detail counts. But remember, at the end of the day, it's all about the experiences you share and the memories you create. So embrace the adventure, savour each moment, and make the most of your family trip to Vietnam.
NO TIME NOW? PIN IT FOR LATER