Rome with kids: absolutely everything you need to know to achieve an amazing trip
Rome is my home town, and although I don't live there at the moment we visit Rome with kids at least 3 or 4 times a year. We travelled throughout all the stages: baby, toddler, and up to now at the age of 5.
In this article you will find an overview of the best things to do in Rome with kids, plus all the tips to make your visit in Rome with children super easy.
Below you will find the most suitable activities for children that can be included in a classic itinerary to make the visit super engaging for them also.
This post may contain affiliate links. I may receive a commission for purchases made through the links on this page, at no cost to you.
IS ROME FOR KIDS?
Most tourists will give a resounding yes! The extensive historic centre full of majestic ruins on every corner is almost an enormous playground for kids.
You need only a willing imagination to transport yourself to another era surrounded by gladiators and chariots. These things are usually enough to capture the attention of every child for several days.
Young and old children will then be involved in the spontaneity of their peers even when not all the equipment works in the playground, or when the park is not as well maintained as parents would like.
TWO SIDES OF ROME: THE LOCAL INSIGHT

Rome is an incredible city, magnificent but at the same time welcoming.

Rome is so beautiful that it can be overwhelming, it makes you fall in love and, like true love, it blinds you. But it is better this way, take it as it is, enjoy the beautiful things and close your eyes to what could be improved, the dirty roads, the traffic, the dis-organisation.

Arrive with the idea that not everything will be perfect, then enjoy when you will find kind people who will help you and your family holiday in Rome will be unforgettable.
WHAT TO DO IN ROME WITH KIDS
Visiting Rome with kids does not mean giving up on seeing the most iconic sites, the most beautiful buildings, or the most majestic churches.
Most children have a lot of fun running around in the ruins of the imperial forums or just playing in the many small pedestrian cobblestoned squares.

However, by combining these visits with activities/visits designed with kids in mind, you will be sure to have enough enticement to motivate long walks and maybe less engaging sightseeing.
In this article you will find the best things to do with kids in Rome and for each activity or visit particularly good for children you will find a suggestion to combine it with a more regular sightseeing visit.

As usual I identified each activity in a map, you can download it here, and keep it on hand when you are around.
1. Explora – The children's museum of Rome
The list must begin with Explora, a private museum for children that has been active for 20 years.

The museum is located in a strategic position near Villa Borghese and Piazza del Popolo in the old tram depot which has been converted and now houses the exhibition part of the museum. There is also an area for food, education, workshops, and an outdoor green space with more exhibitions, a bookshop, and a restaurant.

It reminds me of a mix between the Science Museum and KidZania (if you are familiar with the London indoor adventure place). The museum is really well thought out and offers something for all ages. There are spaces such as the soft play area for the very young, but also other areas where older children can explore interesting topics such as recycling, food, weights and measures.

To visit the museum, you must choose a time from the 4 slots available (2 on weekdays). You can stay in the exhibition areas for 1h and 45 min.
Check the website as sometimes there are workshops for children which must be booked separately.

To find one negative thing would be that even parents have to pay the entrance fee, otherwise it is certainly one of the best places to go in Rome with kids !!!!
GOOD TO KNOW
Age: from 0-12
When to go: after a walk in Villa Borghese or a visit to the Galleria Borghese
Cost: 0-12 months free, 12-36 months € 6, from 3 years € 9, adult € 9
Opening time: changing through the year. On Saturday and Sunday usually 4 slots 10-11:45, 12-13:45, 15-16:45, 17-18:45. Double check here on their website.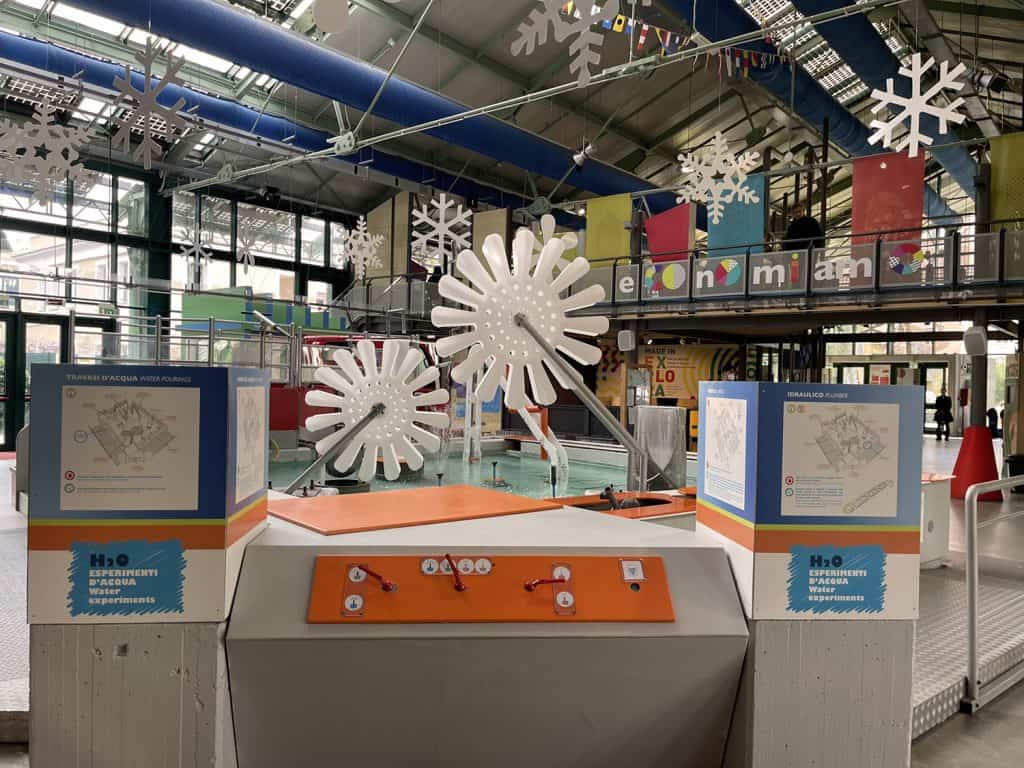 2. Rent a bike/rickshaw in Villa Borghese
During a visit to Rome with kids, you will surely end up walking around Villa Borghese, a large park in the centre of Rome. Many people stroll through Villa Borghese after visiting the Borghese Gallery, admiring the magnificent view from the Pincio terrace, or after a visit to the cinema house.

The park is very large and offers a lot of things to do in Rome for kids. If you want an excellent alternative however to a lot of walking, explore it using a bicycle, or even better if you have small children, a rickshaw where they can also sit in front.

There are three areas where you can rent bicycles/rickshaws, but only the one closest to the Bioparco (Ascol Bike) rents the electric rickshaw. An electric bike will guarantee you a very relaxing pedal (Villa Borghese is full of climbs and descents)

Bikes can be rented for 1 to 3 hours or all day, while the rickshaw can only be rented in one-hour intervals. On the map they are identified as Ascol Bike, and Bici Pincio.
GOOD TO KNOW
Age: there are kids' bikes available (usually from around 4). On the rickshaw the seat on the front has a seat belt, probably best for 2 years old onward.
When to go: after a visit to the Galleria Borghese or to the Bioparco
Cost: bike from €4, rickshaw €12 for 2 people (€15 electric) or €20 for 4 people (€25 electric)
Opening time: Every day 10-17
3. Paddle a boat in Villa Borghese
While in Villa Borghese, another fun things for kids to do in Rome is to take a rowing boat on the lake not far from the Pincio terrace. The lake is small with a pleasant path that surrounds it and an Ionic-style temple built in 1782-5 at one end.

Impossible not to see the small harbour, where for a few euros you can rent boats for 20 minutes.
GOOD TO KNOW
Age: no age limit.
When to go: after a visit to the Galleria Borghese or to the Bioparco
Cost: €3 for 20 min
4. Go to listen to the cannon on the Gianicolo terrace

Another incredible fun things for kids in Rome is to watch the cannon being fired (blanks, thankfully!) on the Gianicolo terrace. Since 1847 every day (barring a few interruptions over the years) at noon, 3 soldiers make the traditional countdown from 10 before operating the cannon which resounds throughout the city.

This custom was established in 1847 by Pope Pius IX, to warn the Romans that it was noon in order to avoid confusion over time. Now left as a tradition, it will surely amaze children!
GOOD TO KNOW
Age: no age limit, but be careful with babies as their ears are delicate
When to go: after a visit to Trastevere
Cost: free
Time: every day 12 noon
5. Test the Bocca della Verita (mouth of the truth)
A visit to the mouth of truth is a quick stop to use the legend to fascinate the children.

You will find this large marble mask in the portico of the church of Santa Maria in Cosmedin behind the Circo Massimo and not far from the Capitoline Hill. Legend has it that the mask ate the hand of liars who dared to put it in (or were forced to put it in while telling a lie)

Of course, you can reassure the children that this won't happen, or use it as a warning in case of a tantrum!
GOOD TO KNOW
Age: no age limit.
When to go: after a visit to Circo Massimo or Campidoglio
Cost: free
6. Play at the LUNEUR park

For many middle-aged and older Romans, the Luneur park is fixed in their memory. Opened in1953 as a temporary park, it achieved a lot of popularity, so much so that it remained open until 2008 when it was closed for renovation.

Reopened in 2016 after being completely renovated, it now offers modern attractions beside some of the historic ones that still work.

The park retains its old charm, it is not too large which allows for a pleasant visit and you do not necessarily have to dedicate a full day as is now expected in large modern amusement parks. The attractions are paid for individually, which allows you to keep costs down if you just want to enjoy a couple of hours of fun. In some periods there are special offers including an unlimited ticket for all rides!

Naturally you will also find various options for eating and relaxing on the site.
GOOD TO KNOW
Age: each carousel has a minimum height to be respected. The two for the little ones start at 70cm. As a guideline, it is perfect from 3-4 years old children…and adults!
When to go: The park is in a not very touristic area, but it is worth the little detour, perhaps after a long walk in the Appia Antica park.
Cost: There are different tickets option, the most convenient is the day pass. The price is different depending on the season. Usually is around €20.
Check here the website for opening time updates (the park is not open everyday in winter)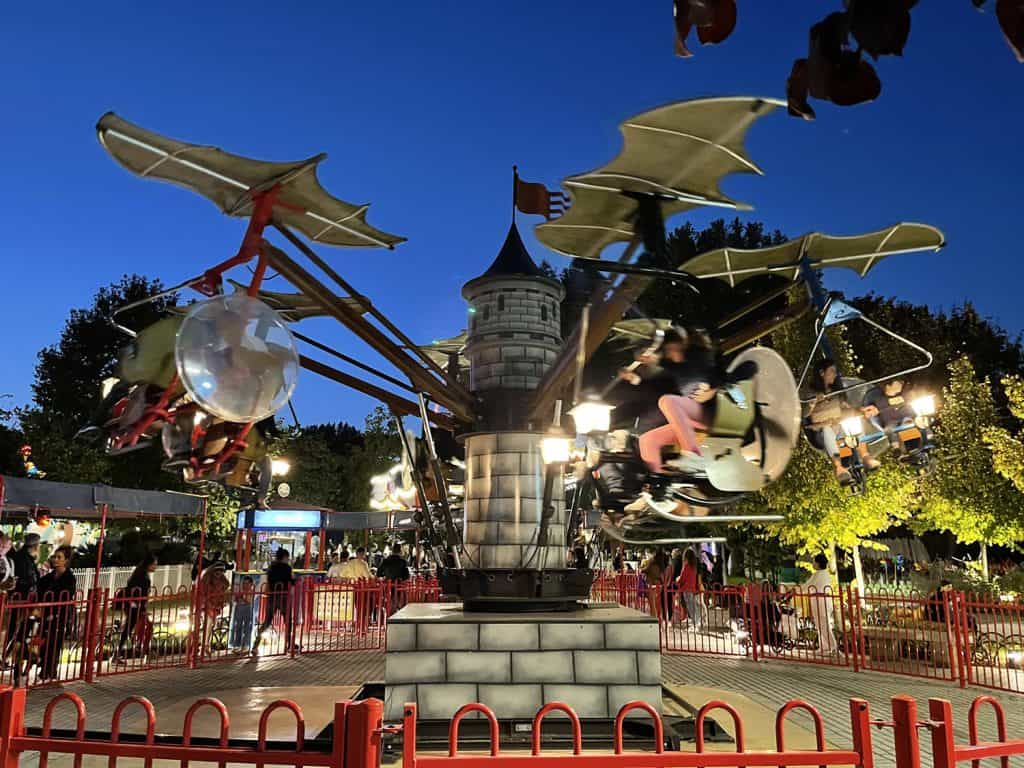 7. E-Bike tour on the Appian way
The historic Via Appia antica (the ancient Appian way) is a fascinating place that sometimes ends up a little off the tourist radar for itineraries with a little too tight timeframe, but you really mustn't miss it!

You will find a quiet place full of history, but with children it may be a bit too demanding. However finally, electric bicycles have also arrived in Rome. Star Bike organises a beautiful tour to appreciate the beauty of the ancient Appian Way and neighbouring areas in an easier way.

They are very organised and you can have a child seat on your bike for a child up to 25Kg (free) or you can attach a small trailer. Among other things, children up to and including 5 years pay nothing and up to ten years pay only half price.

The route begins in the teeming area near the Colosseum, but soon moves towards the open countryside among tombs, aqueducts, catacombs, and Roman villas before returning to the starting point and then passing through the historic Garbatella district.
This is really one of the best things to do in Rome with toddlers, while they enjoy the ride you can relax and enjoy the atmosphere !!!

Of course, if you want to save money, you can also just rent bicycles and decide on your tour independently!
GOOD TO KNOW
Age: no limit.
When to go: After visiting the Colosseum. It is better to cycle on Sunday when the most of Appian way is closed to cars.
Cost: adult € 48, children 6-10 € 24, for children up to 5 it's free
Would you like more tips about family trip planning? In this article a step by step guide to help you.
8. Visit the botanical gardens
Some may suggest that a visit to the botanical garden is just another walk in a garden, among other things, for a fee. Of course you can see it this way, but what makes the botanical garden a perfect activity with children is the relaxed environment, clean spaces, and the ability to learn, by playing, something more about our environment.

The garden is large enough to allow for at least a couple of hours' visit. Once you are inside there many lovely and different settings to capture kids imagination.
Among the most interesting things is certainly the Japanese garden with waterfalls and ponds to recreate the perfect Oriental atmosphere. The simple garden or medicinal plants, placed on raised beds that create a kind of labyrinth to escape from is also fascinating, and the bamboo forest, where you can play hide and seek is the largest collection in Europe. We can't also forget the imposing greenhouses, the rose garden, the majestic palm trees, and the garden of the senses. So much is to be discovered in this beautiful green space!

If your children are old enough, you can also participate in the guided tours on Sundays included in the admission ticket.
GOOD TO KNOW
Age: no limit. The main path is easily accessible with a pram, but you will need to carry it in some other areas or to enter the greenhouses.
When to go: After visiting Trastevere.
Cost: adult € 13, children 4-18 € 10, for children up to 4 is free
Opening time: everyday, also Sunday and holidays, 9:00 am – 5:30 pm
Check here the website for updates
9. Catacombs of San Callisto and Santa Domitilla
I don't know if all children are the same, but mine quite love the sense of the macabre. A visit to the catacombs, turning in the underground tunnels, unleashes their imagination.

When visiting Rome with children, this stop can be an excellent reward after a walk in the Appia Antica park. In Rome there are several catacombs, those of San Callisto are perhaps the most famous and majestic with complex underground galleries.

Inside there are not only the tombs, but also frescoes and statues to remember the times when Christians also used them as a place of escape from persecution.

The Catacombs of San Callisto can only be visited with a guide, in several languages ​​(included in the ticket price), and, although not essential, it is best to book.
The catacombs of Santa Domitilla (not far from the San Callisto catacombs), are also spectacular and can be visited like the previous ones with a guided tour, they also offer the opportunity to admire the only semi-underground basilica left in Rome.
GOOD TO KNOW
Age: no limit.
When to go: After walking / cycling the Appian way
Cost San Callisto: adult € 8, children 7-16 € 5, for children up to 6 is free. Book your ticket here.
Cost Santa Domitilla: adult € 8, children 5-15 € 5, for children up to 6 is free
Opening time: everyday 9-12 and 14-17 (San Callisto is closed on Wednesdays and Santa Domitilla is closed on Tuesdays)
10. VR experience at the Domus Aurea
The Domus Aurea or Golden House of Nero reopened in 2015 after many vicissitudes. Now tourists who venture to visit this still little-considered site will be impressed by the grandeur of the space.

Unfortunately, the ruins of this underground palace do not do justice to the grandeur it must have represented when started by Nero in 64 AD after the great fire in Rome. However, for a couple of years, the visit has also offered a new immersive experience thanks to the introduction of virtual reality that allows you to see reproductions of how the space would have been.

If the ruins do not fascinate all children, virtual reality will surely engage them! Try to go from Thursday to Sunday, as on the other days you are not able to visit the full monument.
GOOD TO KNOW
Age: no limit, but of course under 4 would probably not be too interested neither in the VR experience
When to go: After visiting the Colosseum.
Cost: On Thursday to Sunday adult € 18, children 6-18 € 15, for children under 6 it is free (ticket includes the full guided tour). Monday to Wednesday the ticket is a little cheaper, but you don't get to see everything.
Opening time: They change through the year, check the website here for updates.
Be aware: the entrance is from inside Colle Oppio park, you enter the park from via Labicana

To follow there are other things for kids to do in Rome, however, most of them need to be booked in advance if you want to be sure to be able to attend.
11. Visit a kids bookshop
In recent years, many really cute bookstores for children have opened in Rome. They offer a wide and very carefully selected collection of books with contemporary themes, but not only, in some cases, they also organise small interesting workshops with the little ones.

Ottimomassimo is a small bookshop in Trastevere, overflowing with books and the experience of three booksellers who not only help the little reader or parents find the right book but involve them twice a week with a different activity.
On Sundays at 10am, workshops are held to learn how to draw animals for children aged 7 to 12, and on Thursdays at 5pm, children aged 3 to 6 are delighted by captivating stories. Activities at Ottimomassimo are in Italian, for younger children it is usually not a big problem and they get engaged anyway, but if you prefer something in English you can look at what The little reader offers. There are usually various events for different age groups in English.

GOOD TO KNOW
Age: check both websites because each workshop has different age requirements
When to go: You can stop at Ottimomassimo after a great walk or lunch in Trastevere, or in The little reader if passing by Termini station
Cost: Depends on the activity
12. Visit CineBIMBIcitta'
Obviously, a visit to Cinecitta is not everyone's cup of tea, but if you are a big cinephile then try to go on a Sunday.

On Sundays in Cinecitta they organize special drop off workshops to entertain children aged 5 and up. You will then be able to enjoy the rest of the studios in peace while your children discover the world of cinema and how films are made.

The ticket on Sundays includes Cinecittabimbi, but places for children must be booked over the phone by Saturday morning at 11am.
GOOD TO KNOW
Age: Cinecitta has no age limit, but Cinebimbicitta is exclusively dedicated to kids 5-12
When to go: Cinecitta is out of the touristic area, you will need to intentionally add it to your itinerary. From Termini station you will need 30 minutes with the underground Linea A
Cost: adult € 15, children 5-12 € 7, for children under 5 it is free
13. Visit Tecnotown and Casina Raffaello
Tecnotown is a cross between a small science museum and a playroom. It is a space where I have never been with my children as it is dedicated to those aged 6 and up. However, I often received positive feedback from friends who have participated in the various activities.

The laboratories, workshops, and other activities have a pre-established calendar and even if in Italian they can be very interesting for children who are particularly attracted to science and technology. It is worth consulting the calendar to choose the activities that are most in line with the preferences of your children.

The Casina Raffaello is another of the hidden gems of Villa Borghese. A period villa that has been perfectly renovated to house a beautiful multi-functional space that includes a playroom. There are many scheduled activities to book, but also free-use spaces dedicated to younger children up to three years of age.
GOOD TO KNOW
Age: no age limit.
When to go: after a walk in Villa Torlonia or Villa Borghese
Cost: Tecnotown from €8, Casina Raffaello usually €7
Opening time: Tecnotown from Tuesday to Sunday 9:30-19:00
14. Take part in a Museum workshop
Most of the more traditional museums offer activities for children. Often they are workshops with a theme inherent to an ongoing exhibition, or the theme of the museum or the building itself.

These workshops / tours / activities specifically designed for families or even children alone, are a great opportunity if you are interested in visiting a particular museum or exhibition, to make it interesting for your little ones as well. When putting together your itinerary, be sure to take a look at:
Palazzo delle Esposizioni
The Palazzo delle Espoaizioni usually offers an exhibition with free access. On top of that, their calendar of activities for families is quite rich and the website is very clear. For each activity there is an age recommendation and (listen to this) the workshops or tours can simply be booked online.

The National Gallery of Modern Art
The National Gallery often offers activities for families albeit with a shorter schedule. Check them here.
Musei Capitolini

The Capitoline museums are a very nice surprise for children. The Capitoline museums are perhaps, even if very central, the least frequented by tourists.

The museums amass collections of works coming, for the most part, from Rome, of which they also tell the story.

The innovation that moves them from a very boring and difficult museum to please children is the introduction of the children's audio guide, where the narrator represents the emperor Marcus Aurelius who with the steed Lampo explains in an engaging way to children what they are seeing.

The video guide is very interesting for older children and audiences, a revolution to finally really understand what you are observing. In Italian, English, and French

GOOD TO KNOW
Age: age usually varies depending on activities
When to go: You can visit the Musei Capitolini after the Colosseo and Fori Imperiali
Cost: adults (26+) from €11.50, 6-25 years from €9.5, free for kids under 6years. €5 for the kids audio-guide
Are you still deciding how many days to spend in Rome? Read here everything you need to consider.
ROME WITH A BABY
How difficult is it to visit Rome with a baby? It all depends on your level of adaptability, but it is absolutely possible. Where the city lacks in infrastructure, citizens are sometimes willing to help and make up for the Municipal shortcomings.
STROLLERS
If you go around with a stroller there will surely be times when you won't find an elevator or escalator, but usually people are ready to help even without you asking.

Not all museums or churches will allow you to go around with a stroller, so if possible bring a baby carrier or a sling even if you usually use them little. Unfortunately some of these limitations are not clearly communicated. For example, to visit St. Peter's Basilica, you are invited to leave your stroller in the luggage room. In other cases, there are no limits to entering with the stroller, but once inside, as in the case of the Vatican museums, there are stairs and the inability to use the lift.
Many streets in the center have cobbles and sidewalks can be bumpy, however it shouldn't be a big problem. We have used our double stroller in Rome for almost 4 years, its larger pneumatic wheels making easy work of the paths and roads.
HIGH CHAIRS
Not all restaurants are equipped with high chairs. In the first months it is not a big problem since children spend a lot of time in the stroller and you will probably hold them while feeding However, if you want the stroller close to your table, ask first if it is possible as, especially in the city center, some restaurants do not have the physical space to accommodate strollers near the tables.
We always had portable high chairs with us and they proved indispensable on many occasions, especially from around 10-12 months.
CHANGING FACILITIES
This is another sore point. You might find a changing station in a small neighbourhood bar and not find one in a popular downtown restaurant. The ideal is to be prepared for a quick change directly in the carrycot or stroller, although we always found that when people can, they will help.
FOOD / MILK
Regarding this point, you shouldn't have any major problems. Both in bars and in restaurants you will find a friendly waiter who will be able to help you warm up the bottle or baby food. You should also be covered when it comes to purchasing baby food and special milks. Supermarkets and pharmacies have a very wide offer so you can reduce your luggage and buy what you need on the spot.
ROME WITH A TODDLER
When visiting Rome with toddlers you will face some of the same challenges mentioned before, even if at this stage life becomes a little easier. In my opinion one of the biggest frustrations when going around in Rome with a toddler is the lack of gardens and playgrounds.
In Rome there are many large parks, but what is missing are the small neighborhood parks where you can stop and rest for half an hour and let the children run around safely. The very few available are badly maintained, dirty, and potentially dangerous.
The same goes for the playgrounds. When visiting Rome with a toddler, it would be perfect to find more play areas available to let the kids run wild. Usually half an hour in the playground ensures after a peaceful visit to the museum or other activity.
Well don't count too much on this resource. There are play areas, but they are scarce, in poor condition, and usually without age division. This means that you will have to keep an eye on your toddlers even where it should not be necessary as older children could involuntarily overwhelm them.
It is with a lump in my throat that I write these words, because Rome is still my city, but having lived abroad for many years, I now realise how much indifference and little interest there is for the common good. Surely there is a negligence of the council that does not invest enough in these common spaces, but at the same time the inhabitants themselves do not care and are the ones who damage and dirty the city.
ROME TOURS WITH KIDS
Among all the things for kids in Rome it is impossible not to list some amazing tours that will not only make your visits much more interesting, but will contribute to engaging the little ones even in visits usually not designed for them.

In Rome you will be spoiled for choice, here I have selected the tours that I believe are really worth it from an organizational-logistical point of view.
Rome by Golf Cart Private Tour

The historic center of Rome is vast. A tour with a golf cart that covers the main attractions can be really useful especially with young children, perhaps not used to long walks. After being picked up at your hotel you will be part of a 3-hour tour where a professional guide will show you the main attractions of the Capital, for a total of 23 stops. This tour is perfect at the beginning of your stay in Rome with kids. Then you can return to visit the attractions that inspire you to enter later.
Price start from €75 per person with 4 people paying (kids under 3 are free)
Colosseum and Vatican tours
As mentioned above there are many tours that would be worth considering, but if resources allow you the choice of just one or two tours, then don't miss one of the Colosseum or Vatican tours. Visiting the Colosseum can be very interesting even with just the video guide that can be rented once you enter, however a guide will be able to capture the imagination of children and for them it will remain a truly indelible memory of gladiators, fierce animals, and battles. These two tours receive really good feedback:
Colosseum Gladiator Tour for Kids and Families: duration 1.5h, price: adult €45, kids 6-17 €25, kids under 6 free
Colosseum and Ancient Rome Family Tour for Kids: duration 2.5h, price adult from €79, kids 6-17 from €39, price depends on group size
The visit to the Vatican and the Sistine chapel is on everyone's to do list when visiting Rome, but these are places that could be less interesting for a small child. A private guided tour of the Vatican will be a life saver as an expert guide will be able to involve the children also in front of paintings and statues.
Kid-friendly Vatican Tour with Carriage Pavilion: duration 2h, price: adult €59, kids 6-17 €39, kids under 5 free
If when you arrive in a new city you like to have an overview of everything before you start to explore the monuments, churches, and museums in more detail, this tour in a vespa sidecar is the most engaging tour you can do.

Ideal if your kids are 6 and older, you will be able to see Rome from a completely different point of view.

I owned a scooter in Rome since I was 18, and I can promise you that there is something magical about going around on a bike in Rome. In this case, with a side car you have the added bonus of the extra safety that you don't get just with the 2 wheels.
Rome Street Food Tour with Local Guide

Unintentionally Rome is definitely a perfect place for street food and a very simple city in which to feed even the most demanding children. If you have time you can do some research and build your own independent food tour, but if what you are missing is time, this food tour will be perfect to taste the best food in town.

In 2.5 hours you will have the opportunity to try a great variety of foods (which in some cases otherwise would be too large in portion). From suppli and pizza, to fried zucchini flowers, cured meats, cheeses and so on and so forth, you will arrive at the end and probably be full for the rest of the day !!! This is not a kids specially designed tour, but the food you will try is definitely a hit with kids!
Rome Street Food Tour with Local Guide : duration 2.5 h, price: adult €64, kids 4-15 €44, kids under 4 free
MAYBE YOU ARE INTERESTED: 30+ child friendly restaurants in London
BEST TIME TO VISIT ROME WITH KIDS

The reality is that any period is good to visit Rome with kids, but let's say that it would be better to avoid January and February due to the cold and rain, and July and August due to the excessive heat, the rest depends on your preferences. Let's have a look at some key facts.

MARCH – MAY. In Spring Rome begins to awaken from the winter slumber and although March and April still reserve the potential for cold and rainy days, the weather is generally nice and the air warm. You can start having lunch outdoors while enjoying the atmosphere of the dolce vita.
JUNE. June is a transitional month at times, already in the middle of the month it can be too hot, but generally it is still pleasant to walk around even in the central hours of the day. Schools usually close towards the middle of the month and the city tends to empty during the weekend when the Romans go to cool off at the sea (Tourists rarely perceive this difference, since nothing changes in the city center, but if you go to the more peripheral areas it's more evident)
SEPTEMBER – OCTOBER. September and October are another two wonderful months to spend time in Rome with kids.
In particular, October is often referred to as the second summer and the Romans also have a name to identify this splendid period: "Ottobrata Romana". This term is derived from past times when in October people went to the countryside for the harvest and then lingered in rich lunches where there was certainly no lack of wine.
NOVEMBER – DECEMBER. November and December are somewhat hectic months, the closer we get to Christmas the more traffic goes crazy. The rains intensify, but if it does not rain, the sun is usually still warm enough to make walks in the Eternal City very pleasant. In December then the Christmas climate will surely capture everyone, young and old.
HOW TO GET THERE
Let's start by assuming you arrive at the airport. Rome has two airports: Rome Leonardo da Vinci (commonly know as Fiumicino) and Rome Ciampino.

In general, a taxi or a transfer service is the most comfortable option for a family, but also the most expensive. However, taxis have a regulated fare from the airports to the city center. From Fiumicino you pay € 50 including supplements and from Ciampino € 31. Sometimes with private transfers you can get cheaper rates. The journey from Fiumicino takes about 50 minutes, while from Ciampino it's about 30 minutes.

If you arrive late at night and expect your children to be grumpy, this is definitely the best option. Obviously, there are several other cheaper ways to reach the center.
Fiumicino Airport to Rome

From Fiumicino, you will have two types of trains available, buses, and rental cars.
TRAINS
I must say that from Fiumicino the train is very convenient, even if in my opinion the one that goes to Termini station (the most central) is too expensive at €14 for a 30-minute ride. The advantages are that it is very frequent, is free for kids, and you do not have to fold the stroller.

If you are staying in the Trastevere area you will have the opportunity to use the less expensive train (€ 8) which will leave you at your destination in 25 minutes. (usually, there are trains every 30 minutes).
BUSES
As for the buses you will have various options, even if only Terravision has a clear enough site to identify costs, times, and destinations. The prices are more advantageous than the train to Termini station, but children from 4 years pay the ticket, so saving money will really depend on your kids age. .
CAR SHARING
Unless you are planning a stay in Rome with kids longer than 5-6 days, I do not recommend renting a car. The car is obviously very convenient for getting around, but the parking lots and the ZTLs may require more effort than expected. However, if you want to test your tolerance for Italian drivers, then one thing you can do is use the sharing cars from the Enjoy company.
Enjoy is an amazing car-sharing service! You can download the app and also register with a foreign driving license for a small fee of €5. Once registered you will have access to their entire fleet of flaming red FIAT 500 cars which has excellent coverage throughout Rome. The special thing? You can pick up the car in one place and leave it somewhere else within the covered areas, including airports.
We have used this service for years and since they also introduced the airport area we have also used it from there. At Fiumicino, cars are parked 7-8 minutes walk from the terminal (even if they are not very well marked with the app, you shouldn't have difficulty finding them)
Ciampino Airport to Rome
Ciampino is closer to the centre but connections to the city are more limited. As mentioned for Fiumicino, you can consider the fixed rate taxis or Enjoy car sharing, otherwise, you will find a direct bus for termini or the cheapest option that combines bus and train/subway.
BUSES
Terravision also in this case presents the clearest option in terms of costs and timetables. In about 40 minutes and € 6 you will arrive at Termini station. There are one / two buses per hour.
It is the same price for the SIT buses, but there are fewer available buses.
BUS AND TRAIN / TUBE.
With the ATRAL buses you will have another option: with a € 2.70 ticket you can take the bus to the Rome Ciampino train station and from there continue with the regional train. (The price is excellent of course but the trains are not very frequent, consult the timetables in advance)
The same bus company ran also buses approximately every half hour / forty minutes arriving at the Anagnina metro station. On holidays, services are extremely limited.

The ATRAL option is very interesting to save some money, but honestly, the buses are not frequent enough to make it the valid default option.

If you have 2 children aged 4 and up, the most convenient thing from Ciampino is really a taxi. The difference with the SIT or Terravision bus is only € 7 cheaper and the taxi will drop you off anywhere in the centre, much more practical unless you are staying in the Termini area.
GETTING AROUND ROME WITH CHILDREN
In Rome, there are 3 metro lines, which obviously do not cover all routes of interest. You will therefore often have to resort to buses. Buses, hated (rightly) by all Romans, are always too crowded and unreliable with timetables; however, there are occasions when you will not be able to do without them.

Note that most of the buses are now new, it is easy to get on with strollers and there are dedicated areas (the problem is the crowd)
The subway, on the other hand, still presents, in many stations, including central ones, the problem of accessibility. If you move with a stroller, you will often have to lift it up the stairs.
If you are travelling with children aged 4 and over you could try the use of electric scooters for short journeys, now scattered throughout the centre, very useful for those connecting journeys where 20 minutes on foot for a child can seem like an eternity.
WHERE TO STAY IN ROME WITH KIDS
Obviously, there should be no reason to consider an area other than the historic centre. Outside the central areas there are many excellent hotels suitable for families, but do not let yourself be fooled, especially if you only stay 4 or 5 days, look for accommodation as central as possible.

The center of Rome is divided into Rioni (some quite small) and the best options to consider are Rione Monti, Rione Trastevere, or one of the small adjacent Pigna, S. Eustacchio or Parione. Below is a quick summary of the best areas where to stay, but I recommend you read the deep dive article: "where to stay in Rome with kids" to get a good understanding of the best options.
Monti
If staying in Monti you will be in one of the most beautiful areas of the capital, a refined but lively area full of small independent boutiques, cafes and restaurants. In Monti you will be a stone's throw from the Colosseum and the Imperial Forums, and you can easily reach the Circus Maximus or the Trevi Fountain. If you stop in Monti you can probably also reach your hotel on foot from Termini station, very convenient if you travel by public transport.
Trastevere
In Trastevere you will find everyday life in a fascinating and picturesque setting. From Trastevere it is easy only by crossing the pretty and pedestrian Ponte Sisto to reach Campo dei Fiori, Piazza Navona, the Pantheon, or explore the Janiculum Hill, or even go as far as the Vatican.
Pigna, S.Eustacchio, and Parione
The small central rioni Pigna, S. Eustacchio and Parione, are those around Piazza Navona and the Pantheon. From here on foot, you will have easy access to Trasevere, the Colosseum and the Imperial Forums, Villa Borghese, and Castel S. Angelo. These areas may be the most touristic, but the beauty of Rome is that the center is not just for tourists, but is inhabited and lived in by the Romans who make it real, lively, and a joy to explore.
I hope you will have a wonderful time in Rome. Let me know if I forgot something!
EUROPEAN RELATED ARTICLE:
–3 days in Porto itinerary
-Is Santorini worth it?
-where to stay in Crete
NO TIME NOW? PIN IT FOR LATER