Rome for foodies: the most detailed guide to enjoy the best food like a local
If you're like me and love to explore new cultures through their food, then Rome is the city for you.
While there are many similarities with the rest of Italy, Rome offers some unique culinary experiences that you won't find anywhere else in the country.
With this Rome food guide, you'll be able to sample the best of Roman cuisine like a local. We'll introduce you to the city's traditional foods, as well as its best modern restaurants, so you can experience the city's cuisine at its best. We've included tips, as well as practical information on markets, food tours, and cooking classes.
So whether you're planning the best trip to Rome for foodies, or are just curious about its food scene, read on! Use this guide together with the article to organise your itinerary in Rome and you will have the best time!
I was born in Rome and traditional food was part of my culture growing up, then I discovered how this can be transformed to produce modern mouthwatering dishes.
Why do I say this? To make you aware that not every restaurant in the capital will serve traditional dishes. This doesn't mean they are not authentic, Italian cuisine is one of the most versatile in the world based on some simple ingredients that amazing chefs keep testing how to mix to create new incredible dishes that locals will sample and maybe make famous.
This post may contain affiliate links. I may receive a commission for purchases made through the links on this page, at no cost to you.
What to eat in Rome: traditional dishes and where to find them
Italian food is incredible, Rome more so. The way to prepare food in Rome has been influenced by several cultures over the course of its history: from ancient Rome to the Renaissance period, and from all over Italy. So it's no surprise that Rome's culinary scene is bursting with diversity and flavor. To help you make sense of it all, here's a food summary of Rome's traditional dishes.
NOTE: These are Roman cuisine's most famous traditional dishes, but there are many more. However, some of them are difficult to come by in restaurants these days, so I haven't included them in this Rome food guide.
Starters
Bruschetta:
Originally from Rome, you can find it in most of Italy. A simple slice of bread, grilled, rubbed with garlic, and covered with a bit of Olive oil or tomatoes. Now you can find it in many different variations, including olive spread, other vegetable spreads, melted cheeses, and more. A common starter in a pizzeria.

Best bruschetta in Rome for foodies:
In the city center near Piazza Navona at Osteria del Gallo. They have some innovative flavors
A little out in Talenti you will find forno Manforte and its over 20 types of Bruschette to try.
Possibly any pizzeria in the capital
Suppli:
Sicilian people see it as the poor version of their famous Arancina. They are equally delicious but slightly different. A fried rice ball with mozzarella in the middle is the original recipe, but you can now find delicious variations around the city. A common starter in a pizzeria or places that sell pizza al taglio.

Best Suppli in Rome for foodies:
Supplizio in the centre, near Campo dei Fiori
In Trastevere you have Suppli (in Rome also known as Venanzio), an institution from 1979.
Fiori di Zucca:
Deep-fried courgette flowers stuffed with mozzarella and anchovies. This is a traditional Rome starter, a common starter in pizzeria or places that sell pizza al taglio.

Best fiori di Zucca in Rome for foodies:
In Trastevere at the same place where you get the best suppli "Suppli/Venanzio" (see above) you will also find delicious fiori di zucca
During the season (summer) at the restaurant Flavio al Velavevodetto in Trastevere. Flowers come directly from his veggie garden.
Traditional pasta dishes
Pasta alla Amatriciana:
Rome's most famous pasta dish, it is a simple but incredibly tasty recipe of guanciale (must be from the town of Amatrice), pecorino romano, and tomato.

Best Amatriciana in Rome for foodies:
Armando al Pantheon. Classic recipes with spaghetti
Lo steria, near Ponte Milvio, it's worth the detour just to try their "bombolotti alla Amatriciana"
Pasta alla Gricia:
Another simple but delicious Rome pasta dish, it is made with guanciale, pecorino romano, and black pepper. It is the ancestor of the pasta all amatriciana, born when tomatoes were not so common in Italy.

Best Pasta alla Gricia in Rome for foodies:
Another dish to try at Armando al Pantheon
Da Cesare al Casaletto in the outskirts of Rome but really worth a visit for their fantastic Pasta alla Gricia.
Pasta alla carbonara:
Probably Rome's most famous pasta dish after amatriciana, it is made with guanciale (or sometimes pancetta), eggs, and pecorino romano. Perhaps one of the most frequently modified pasta dishes abroad, to which cream is often added. In Rome, you will find the original and true recipe.

Best Carbonara in Rome for foodies:
Roscioli in Rome's city center is the place to go for an original carbonara.
Luciano also near Campo dei Fiori is a new restaurant from a famous chef. He has been famous for his carbonara for years
Pasta Cacio e Pepe:
A classic Roman pasta dish made with only four ingredients: Pecorino cheese, black pepper, salt, and pasta. So simple but really difficult to make. It takes lots of attempts to reach the creamy texture that Rome's chefs usually get just mixing the pecorino cheese and some of the water used to cook the pasta.

Best Cacio e Pepe in Rome for foodies:
Roscioli is the perfect mix between traditional and modern Rome cuisine. Their Cacio e Pepe with three different kinds of cheese is memorable.
Ristorante Da Cesare al Casaletto, after the pasta alla Gricia another dish that will bring you back there
Flavio al Velavevodetto. After the fiori di zuccca don't miss the Cacio e Pepe.
Gnocchi di semolina:
Rome's version of gnocchi (before potatoes arrived in Europe), made with semolina flour and water. They are usually cooked in the oven with butter, cheese, and black pepper, the final result is a sort of timbale. Really difficult to find even in the most traditional trattorie.

Best Gnocchi di semolino in Rome for foodies:
The best place is also the only one I remember I saw this dish even if I haven't tried it. Ristorante da Massi in Trastevere is your option if you want to try the original Gnocchi alla Romana.
Traditional secondi piatti
Abbacchio alla scottadito:
Rome's famous lamb, it is a dish that Rome's people eat during special occasions. It was usually cooked at Easter time, but is now easier to find all year round. The name is coming from the fact that the lamb was eaten by hand and so hot as to burn your fingers!

Best Abbacchio alla scottadito in Rome for foodies:
A new detour to Da Cesare al Casaletto
Armando al Pantheon
Straccetti alla romana:
A really simple and tasty dish. Little thin strips of beef cooked with wine and served with rocket and parmesan

Best Straccetti alla romana in Rome for foodies:
Ristorante da Massi in Trastevere.
Saltimbocca alla Romana:
It is a veal dish, the meat is cooked in butter and wine with prosciutto and sage.

Best Saltimbocca alla romana in Rome for foodies:
Where else if not at the restaurant of the same name? Saltimbocca near Piazza Navona
Offal based dishes:
The following dishes are part of the tradition of using the animal's offal (in Italian called quinto quarto). These dishes were traditionally eaten by Rome's poorest who couldn't afford more expensive meat cuts. They all have a very strong and wild taste, it is ok just to know what they are, you don't have to like them (I don't) or try them all!
Coratella: A dish for the bravest! Heart, lungs, spleen, and liver, usually cooked with onion, white wine, and parsley. Wild!

Coda alla vaccinara: Rome's famous oxtail, it is Rome's most typical winter dish together with Trippa. This is a very slow cooking dish, made from a whole cow's tail cooked for hours in water or wine.
Trippa: Trippa dishes are found in various parts of Italy, but Rome is actually the only city in Italy where you can find a good tripe dish. Mint and Pecorino Romano distinguish the way the pig's stomach is cooked.

Pajata: It is made from the intestines of a calf. Most often you will find pasta sauce made out of it to make the famous RIgatoni con la Pajata (this recipe is actually tasty and not too wild!)

Where to try them:
Armando al Pantheon for coratella, trippa and pajata
Da Cesare for trippa and coda alla vacinara
Side dishes
Carciofi alla giudia and alla romana:
Jewish and Roman artichokes. The first ones are fried in oil and the second ones are cooked in the pan after being filled with oil, garlic, roman mint, salt, and parsley.

Best Carciofi alla giudia and alla romana in Rome for foodies:
Da Enzo al 29 you can try both versions.
Armando al Pantheon
Puntarelle con alici:
Puntarelle is a type of chicory (that requires a bit of time to be properly clean), then is dressed in a cream made of oil, lemon juice, salt, and anchovies.

Best Puntarelle con alici in Rome for foodies:
Da enzo al 29 in Trastevere
Dar Filettaro a Santa Barbara. This is a historic place in Rome, near Campo Dei Fiori. They are famous for their filetto di Baccala (see in street food), but I suggest you do not miss also the puntarelle.
Cicoria ripassata:

A typical Rome side dish, it is made with white treviso endive (Cicoria) cooked in a pan with garlic and chilli pepper, after being boiled.

Best Cicoria ripassata in Rome for foodies:
Sora Lella on Tiberina island. Sora Lella passed away 25 years ago, but the restaurant is still really successful and the family kept some of the original traditional recipes.
Rome for foodies: Street food in Rome
In ancient Rome, street food was common. In the markets, alongside fish, meat, fruit, and vegetable sellers, there were also semi-open taverns where simple dishes were sold, usually for the poorest people.
Over time, things have changed and the concept of street food has evolved. Food trucks are now common during festivals and shows, but dedicated food festivals have also been organized that offer the opportunity to taste different specialties, not necessarily only Roman.
However, there are some common and daily consumed street foods that are easily found in every corner of the city. The vendors that I propose are to enhance your trip and experience, but it is not difficult for you to find excellent products even in the little shop on the side of your hotel.
Pizza al taglio:
Rome is the only place in Italy where you will find pizza by the slice. Pizza is cooked in big rectangular tins then cut into squares and sold by weight. You can find lots of different kinds of toppings (the classics are margherita, marinara, ham and cheese).

Best Pizza al taglio in Rome for foodies:
I would say that with pizza al taglio you will rarely be disappointed, but if you want the most excellent then here are my absolute favourites:
Roscioli bakery near Campo dei Fiori
Forno Antico on the northern corner of Piazza Campo dei fiori
Any of the Alice chain shops. It may seem incredible, but this chain offers some of the best pizza al taglio on the market with an unending list of one-of-a-kind toppings.
Trapizzino:

The most recent addition to the list of Roman street foods, trapizzino is half pizza and half sandwich. Roman chef Stefano Callegari created it at his restaurant in Rome, but now you can find lots of other places where to eat it.
Trapizzino is the name of the food but also the brand of the shops, you'll find them in various locations with Testaccio and Mercato centrale near Termini station being the most central, plus a couple of places that integrate it in their menu (you'll find them all in the map).
Filetti di baccala:
Rome's fried fish snack food, made with cod fillets cooked in a crispy batter and served with lemon wedges. Italy's answer to the famous British fish and chips! In Rome it is common to find it also as a starter in pizzerias, but near Campo de Fiori there is an historic place that serves it as street food.

Best Filetti di baccala in Rome for foodies:
Dar Filettaro a Santa Barbara.The institution for this dish.
I fritti di Sora Milva, near Ponte Milvio
At the pizzeria Ai Marmi
Suppli and Fiori di Zucca fritti are on the list as a starter, but it isn't uncommon to find them also in places that sell pizza al taglio.
HOT TIP: you will see many food trucks around all the tourist areas (like the one in the picture above), most of them just sell junk food for tourists. The food trucks that sell really good food are few and usually change location daily. Here are some names you can check. Connect with their Facebook page to know if they will be around where you are.
Where to find the best food in Rome
Deciding where to eat in Rome, if you only have a few days available isn't an easy task. Rome's restaurants are as diverse as its neighborhoods, let's have a look at some areas where locals enjoy all of their favorite dishes!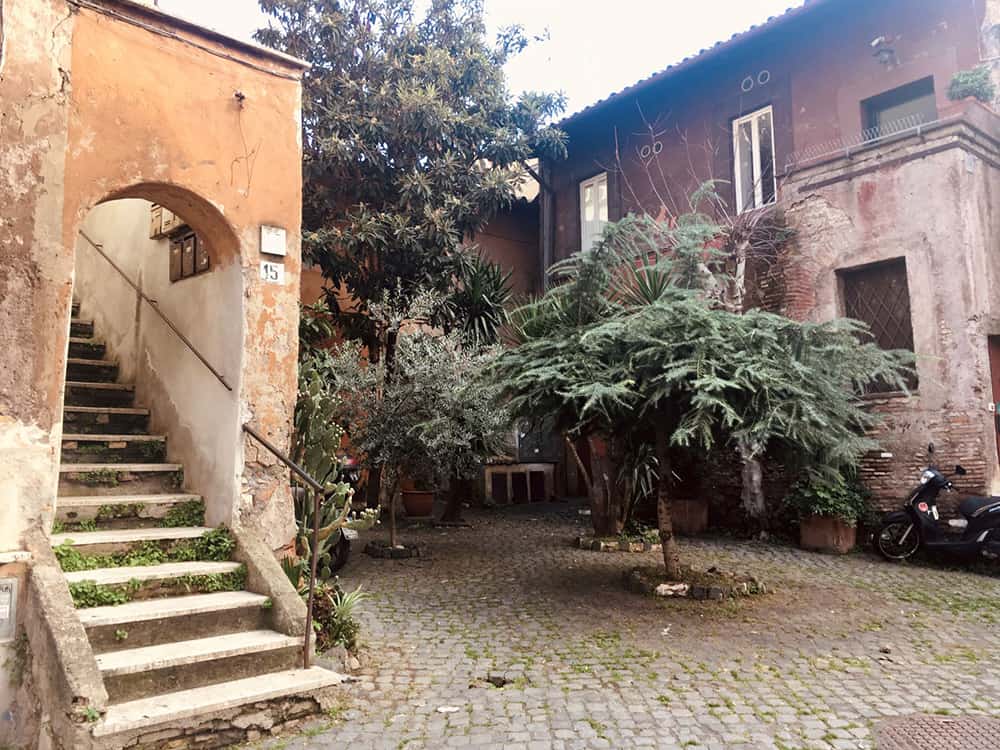 Trastevere: Rome is mainly divided into two parts: Rome north of the river Tiber, where you will find most of the monuments, and Rome south of the river Tiber, where Trastevere neighborhood is located. This part was originally a fishing village outside the walls of Rome, and you can still find some of the best fish restaurants in Rome here.
Testaccio: Testaccio is a district located next to Trastevere, it was once an important meat-packing district. Nowadays it is known for its many good quality food markets as well as for many cool places to eat in Rome.
Monti: Monti is Rome's trendy neighborhood. Still really residential, but very close to Rome's historic center, this area is now full of small eateries and wine bars, some a little too touristy, but most really good.
Esquilino: The Esquilino neighborhood is located next to Termini station, Rome's main railway station. It is Rome's most multicultural area and you can find lots of good Asian and middle eastern restaurants here.
Campo dei Fiori: Rome's typical night neighborhood, located in the heart of Rome. It is full of bars, pubs, and restaurants.
Jewish Ghetto: Rome's Jewish Ghetto is one of the oldest in Europe. It is a small area, but there are many good restaurants here, from casual trattorias to upscale eateries, so there is something for everyone. Around portico d'Ottavia, the main square in the Jewish Ghetto, you will find a suggestive setting to savor fried artichokes, which is a local specialty.
Best places to eat in Rome
Difference between Restaurant, Trattoria, Osteria, and Pizzeria
Rome is full of many different kinds of restaurants. Before diving into the best place to eat in Rome, let's try to understand what to expect and the differences between them.
Trattoria is usually a rustic, family-run place where you can find traditional Roman dishes at reasonable prices. Trattorie are also the places that in the most touristic areas tend to be less authentic.
Osteria is a term that in the past identified a place where you could drink wine and eat some snacks, or even bring your own food. Nowadays these places almost don't exist anymore. Osteria is a term that "slow food" started to re-use in the '90s and now indicates a place where to eat excellent food, with simple but authentic ingredients. These days it is really difficult to distinguish between Trattoria and Osteria.
Ristorante is the one that covers the biggest range: could be more touristy, more elegant, with a bigger menu, or not much different than a trattoria.
A pizzeria is a restaurant where you can find pizza, Italy's most famous dish. The old-style pizzeria usually only have a few starters, pizza cooked on the fire, and some desserts. Now you can often find so-called ristorante-pizzeria, where you will also find other dishes, usually pasta dishes.

BE AWARE: in Rome the round pizza is crispy and thin, completely different from its Napoletan cousin. You will find places that make the Napoletan style, but you shouldn't miss to try the delicious Roman version!
Enoteca or wine bars are really popular in Rome, Rome is full of small places where to drink a glass of wine while eating from simple appetizers to full meals.
One thing to keep in mind when dining in Rome is that price level is not always directly connected to the type of place. You can find both expensive and affordable trattorias, as well as pizzerias and restaurants.
There are so many amazing restaurants in Rome, it would be impossible to list them all, but I've tried to include a variety of different types of places – from casual trattorias to upscale eateries.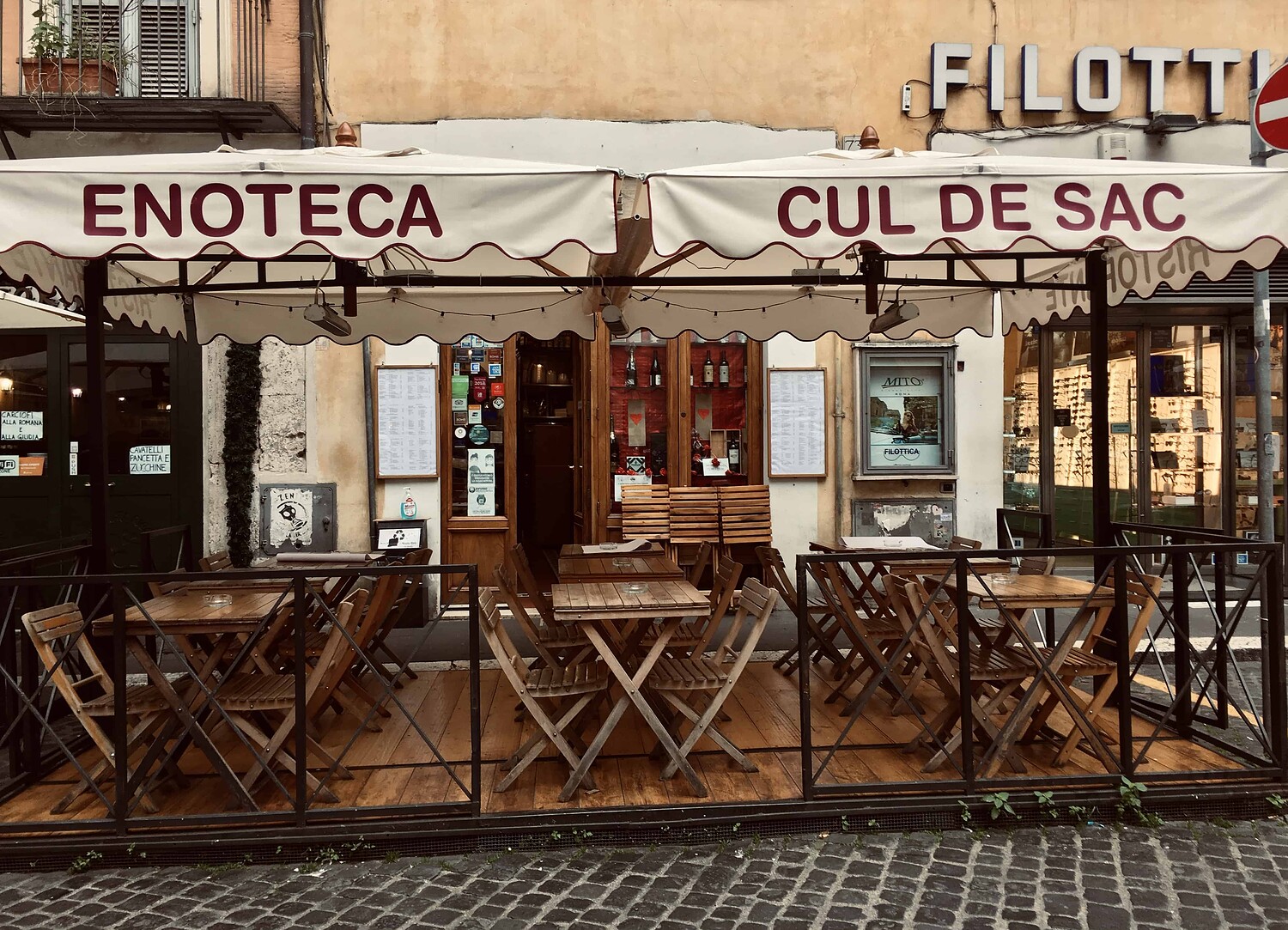 Best trattorie and osterie in Rome for foodies
Armando al Pantheon. Pantheon. If you sit outside you will have a beautiful side view of the Pantheon. It is touristic, but has kept its traditional style.
Cesare al Casaletto. Monteverde. you will need to make a special trip but it is worth the time. Excellent traditional dishes and even pizza. An institution!
Flavio al Velavevodetto. What seems a beautiful country house hides a special place. Built on the side of "Monte dei Cocci" you can admire the ancient oil jar while tasting excellent food
Roscioli. Book in advance because the space is small and rarely has space for walk ins.
Peppo al Cosimato. I listed this place also under best pizzerie because everything here is delicious. There doesn't seem to be anything they do not do well. I don't eat fish, but they also seem to do excellent fish dishes!
Da Enzo al 29. A small place that doesn't disappoint! A tradition in Rome where the dishes are still made as per the original recipes and the taste is rich and genuine!
Best restaurants in Rome for foodies
This is the most difficult section to fill as the variety of restaurants in Rome is just incredible. I have listed here a few that combine amazing food and perfect locations to enjoy this beautiful city.
Aroma. On the rooftop of palazzo Manfredi, the view in front of the Colesseum is just breathtaking! One Michelin star doesn't make it cheap but they also have a more casual bistro setting.
All'Oro. Dishes that have their roots in the traditions, but with a modern twist. Everything is carefully curated to not disappoint even if the prices are on the high side!
Le Jardin de Russie. The perfect location in the city centre and the setting is incredibly enchanting! Everything combined with superior dishes, just right for romantic couples!
Madeleine. If you are in Prati neighborhood don't miss a stop in this place that, with its Parisien inspiration, will delight you with genuine, well prepared dishes.
Madre. Hidden in Monti, there is this beautiful restaurant where you will feel in a forest as soon as you step in. It has an incredibly tasty menu, but if you are short on time you can also come just for a drink
Best pizzerie in Rome for foodies
Pizzeria ai Marmi. Also known as "l'Obitorio" (the morgue) because of the marble tables side by side in-side and out. One of the sparsely decorated traditional pizzerie in Rome but with great pizza!
Dar Poeta. Here you will find an unusual mix between Roma and Napoletean style.
Peppo al Cosimato. Ristorante and Pizzeria, you'll get the best of both worlds. Quality of the ingredients is their top priority
Da baffetto. Another traditional place where there is always a queue outside. Pizza and fritti are the main dishes on the menu.
La Montecarlo. Don't let the long queue discourage you! the service is fast and the pizza delicious
Best enoteche (wine-bar) in Rome for foodies
L'antidoto. Trastevere. A small place that opened during the pandemic, amazing wine choice and a great, although small, seasonal food selection
Ai tre scalini. Monti. It is listed also under aperitif, but I could also have it under trattoria restaurant. A really versatile place where you know what time you enter, but not what time you will leave.
Enoteca Spiriti. Piazza di Pietra. Lovely place with great wine selection, good food and reasonable prices in a stunning location (listed also under next section)
Cul de Sac. Piazza Navona. Another historic place. Located in Piazza Pasquino since the start of the 1900s, and like it is today since 1977. More than 1,500 different wines available to try and delicious food to eat!
Rome for foodies: the aperitif tradition
When in Rome you can't miss experiencing the aperitif!
An Italian tradition born in the north of Italy and now popular all over the country, the aperitif is simply a pre-dinner drink that usually consists of an alcoholic beverage such as wine, cocktail, or beer, which is usually accompanied by buffet food (usually including hot and cold dishes, as well as some pasta or pizza).
In Rome, it's often also called "apericena". If you choose the right place your aperitif will fill you up and you will not have to eat a big dinner, if any at all. Be careful however, as often in the most touristic areas the formula with fixed price and buffet hides low-quality food.
Best aperitif spots in Rome for foodies
La casetta a Monti. The location is incredibly scenographic in Rome's trendy neighborhood, Monti. The cocktails are equally impressive, some new ones every week!
Caffe Propaganda near Colosseum. A great aperitif spot, with good cocktails and food. Perfect after sightseeing.
Enoteca Spiriti in Piazza di Pietra is the less famous place on this square where the attention usually goes to the trendy Salotto 42. In here you'll find a much more relaxed atmosphere and if you are visiting Rome with kids you can sit outside and relax as there is lots of space for them to run around safely
Zero Zero 100 in San Lorenzo. A trendy place in Rome's student neighborhood. A big place where to stop for a great aperitif but also for a fish meal or a delicious pizza!
Ai tre scalini in Monti you will find this historic enoteca with wine by the glass and aperitif snacks. You will sit for the aperitif and you will stay for dinner and after!
Forno Monforte near Campo dei Fiori, if you haven't tried it for breakfast then it is time to try the aperitif. "Vino e panino" (wine and sandwich) is their slogan, you buy the wine and they offer pizza, sandwiches, and more!
Rome for foodies: Let's talk about Gelato
The expectation of finding delicious gelato in Rome is high, and Rome is a great place to indulge in rich and sophisticated flavors.
The art of gelato making emerged in Rome in 1880, when Giovanni Fassi opened the still-operating Palazzo del Freddo. Similar products to gelato were produced even before, but Fassi opened the first gelateria in Rome.
Rome's gelato scene, like Rome itself, is a mix of old and new. There are the traditional shops that go back generations, and there are the new, artisanal shops that have sprung up in Rome's neighborhoods in recent years.
However, you must be cautious about where you're getting it. I'm sure my high standards are rather typical; but, in the city center, it is easy to end up with an average product. Take that extra few steps to find one of the following places and you will not regret it!
Best gelato in Rome for foodies
Fata Morgana. Endless unusual flavors accompany the most classic ones. You will need to go back several times to try them all
San Crispino. A traditional place, with not many flavors but with excellent quality (they serve gelato only in the cup, not in the cone).
Al settimo gelo. Tons of original flavours and natural ingredients are what brings back many people.
Otaleg Small gelateria in trastevere, with rich and tasty flavours.
Gori. (Piazza Menenio Agrippa, 8B/C) Definitely out of the touristic route but for sure my favorite gelato in Rome (just in case you pass by)
Rome, for some, could be a disappointing city for breakfast. A typical Roman breakfast is sweet, usually consisting of a cappuccino or espresso, a pastry such as a cornetto (croissant), and sometimes also a glass of fresh orange juice.
The cornetto is a type of croissant that is popular in Italy and really different from the more famous French croissant. It is made with yeast dough and is usually filled with crema, jam, or chocolate. It is less buttery and sweeter than its French cousin, the best cornetti are amazing also without any filling.
Many Rome locals eat their breakfast standing at the counter of their favorite bar. That doesn't mean you will not also find bars with a few tables, but the food on offer will be the same. Some bars have a greater selection of pastry and most will also offer around mid-morning "tramezzini" (a sort of sandwich made with white bread which can be filled with a variety of different meats, cheeses, or vegetables)
Of course, the offer is not only limited to cornetti, many other pastries will tempt you. I recommend in particular the fried donut, the puff pastry, and of course if you are in the right place (see below) the Maritozzo with cream. Maritozzo is a particular pastry typical of Rome. Originally baked during Easter time, but now available in some bars all year round to temp you with its generous (really generous) filling.
You may at this point be a little confused about having breakfast in a bar! In Italy however, what we call a bar you may see more like a cafe than the pub you might expect. Most will also serve alcoholic drinks but have more focus on coffee and snacks, usually served on a high bar counter where you eat and drink quickly before moving on with your day. If you can, find a busy bar and relax in the corner while watching the rich tapestry of Roman daily life.
Best bars for breakfast in Rome for foodies:
Roscioli Caffe. The same Roscioli famous for the restaurant and the bakery is also one of the best places to get breakfast. In here you'll find also the famous Maritozzo, which they will fill fresh in front of you.
Forno Monforte near Campo dei Fiori, a traditional bakery where you can sit to indulge in coffee, pastry, cakes and if you want even pizza from 7:30 in the morning! Don't miss it!
Antonini in Prati. (Via Sabotino, 19/29) A Rome classic bar, it is always packed with locals. You will find here a great selection of pastries (30 different types of cornetti!) and also many savory breakfast options.
Grue will satisfy both your sweet and salty tooth (I love their savory croissant) but will also give you the chance to enjoy many different flavors as they make mini pastries, so you can indulge in trying them all
Bucolica. Are you in Testaccio and looking for a quick bite to take away? Here they specialize in "ciambelle" (similar to donuts). With many new flavors every month.
Coromandel is a few steps from Piazza Navona and it's a place where you can take your time and sit down. If you are missing a more substantial savoury offer then here you'll find savory pancakes, bagels, and eggs.
If you are missing your egg fix, in Trastevere you will find your place, Eggs. Go for brunch (they don't open till 12) and start your egg journey!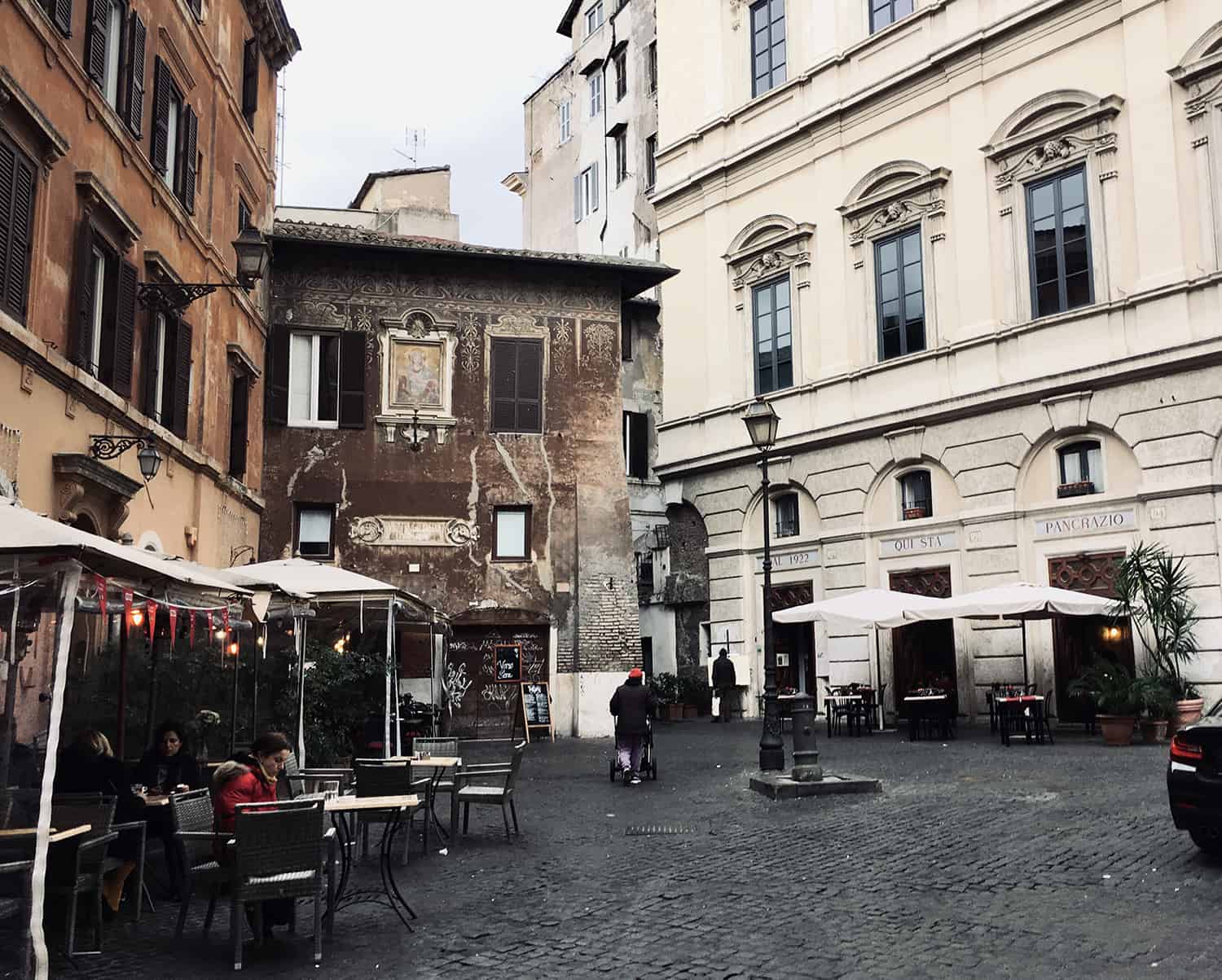 Food tour in Rome for foodies
If you don't have much time then a food tour in Rome is the perfect way to discover the best food that Rome has to offer. On a food tour, you will not only be able to try some of Rome's most famous dishes, but you will also get to explore the city's lesser-known culinary gems.
On a food tour in Rome, you will visit some of the city's most iconic landmarks, such as the Colosseum and the Pantheon, while also sampling some of Rome's best-loved dishes.
There are several companies that offer food tours in Rome, I haven't personally tested them but the feedback is super positive. Have a look at:
Small-Group Rome Food Walking Tour:
You can participate in a tour of Rome where you will sample traditional Italian food and learn the secrets of the Eternal City. A food walking tour in Rome of up to 12 people to taste traditional Italian foods, including gelato, pasta, and fried artichokes.
Rome Street Food Tour with Local Guide
Taste your way through Rome's street food scene on this gourmet walking tour. Sample a variety of street foods, such as zucchini flowers, suppli, pastries, and pizza while walking through historic Rome.
On this guided walking tour through the Roman neighborhood Trastevere, guests will visit local favorite venues for multiple tastings of cheese, cured meat, pizza, pasta, wine, and beer. The group will end with a traditional gelato at their final destination.
Cooking classes in Rome for foodies
If you have more time Rome is also a great place to learn how to cook. There are many cooking classes offered in Rome, from hands-on experiences where you will be able to cook some of Rome's most iconic dishes, to wine and cheese tasting sessions.
Cooking class in Rome with Market visit:
On this market-to-table Rome cooking class you'll visit Rome's central market, learn about the local produce and taste a few samples before heading to the kitchen for your Rome cooking class. You will be able to prepare some of Rome's iconic dishes such as Cacio e Pepe pasta, or Tiramisu
Rimessa Roscioli
The name Roscioli is coming back in this guide everywhere!!! This is a cooking class where you'll learn to cook traditional Italian dishes with wine pairings. Three different types of pasta (Amatriciana, Carbonara, and Cacio e Pepe), meatballs, and tiramisu!
Tips about Rome for foodies
Lunch and dinner time
Excluding touristic places, restaurants are not open or serve food all day. Lunch usually is served from 12/12:30 to 2:30/3 and dinner from 19/19:30 to 22:30/23. Romans tend to go for lunch around 1/1:30 pm and dinner usually not before 20:30/21. So if you see a restaurant empty at 19:00, don't worry, it's probably not open!
Blend in as a local
Eat pizza al taglio for lunch instead of looking to sit down in a pizzeria.
Rome's pizza al taglio is a great way to enjoy a quick, affordable lunch. Romans, for example, would not choose a pizzeria if they wanted to sit down for lunch, they would go to a restaurant instead.
Coffee vs Cappuccino after a meal
In Rome, coffee is usually served after a meal, cappuccino however is considered a breakfast drink and so is not typically served after lunch or dinner. To blend in like a local in Rome avoid ordering a cappuccino after lunch or dinner.
Tipping
In Rome, tipping is not really expected but is appreciated. Generally, you can just round up the bill or leave a few euros for your waiter. If you were particularly satisfied with the service, a tip of around 5%-7% is more than enough.
So that's a little taste of what to expect when you visit Rome for food. It would be impossible to do justice to this complex and delicious city in just one article, but we hope we've given you an idea of the different flavors, traditions, and modern twists on Roman cuisine awaiting you. As with all things Italian, don't focus too much on trying to tick off the list of traditional dishes – branch out and try new experiences as well. We can't wait to hear your thoughts and recommendations below!
NO TIME NOW? PIN IT FOR LATER