45 Original quotes about family travel: the superpower of the words
Last Updated on 19/09/2021 by Clotilde Passalacqua
Since Covid19 arrived in our lives, the world of travel has completely changed. The freedom to travel that most were able to take for granted has been taken away from us, and a sense of insecurity continues to pervade us. Even those who are not afraid of catching the virus are afraid of the possible travel disruption derived from it.

Even if it isn't time to get back on the road yet, here is a collection of quotes about family travel that I hope will give you motivation to start traveling again as soon as possible.

Travel with family quotes can also be used to produce great personalised gifts. In Etsy there are many ways to use these quotes about travel with family, below you will find a selection of the best ideas.
Alternatively you can use these quotes about traveling with family as a caption on facebook or instagram to motivate other people and share your passion.
Travel family quotes
Don't wait until the kids will be old enough, don't wait until you will be fit enough, don't wait until you have enough money. The perfect moment to travel will never arrive, make it perfect now.


Sometimes memories are the only thing you need, put the camera down and enjoy the moment with your loved ones.


Exploring the world connects families together.


Always pack a smile when you travel, even the tricky bits are easier with a smile.


When you travel you can become a child again, with the joy once more of discovering things for the first time.


"Its a magical world, Hobbes, ol' buddy…. let's go exploring!" Bill Waterston (Calvin and Hobbies)


"Travel is rich with learning opportunities, and the ultimate souvenir is a broader perspective." Rick Steves


"Above all, watch with glittering eyes the world around you because the greatest secrets are always hidden in the most unlikely places." Roald Dahl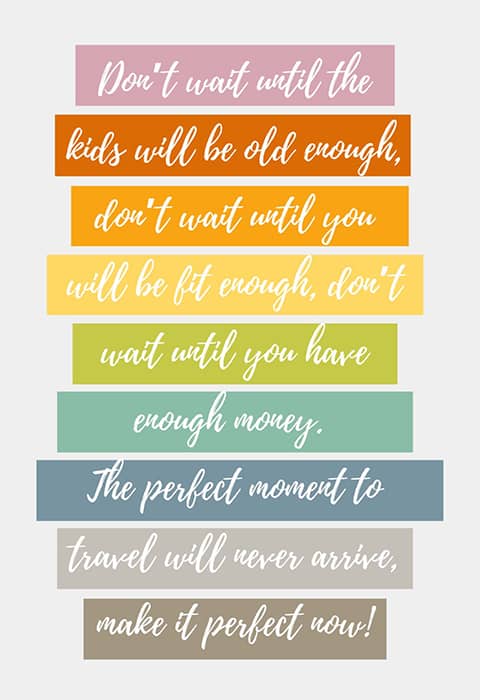 Travel with kids quotes
Kids are a reason to travel, never a reason to stop


Babies may not remember the trips, but they will have fun and you will have vivid and touching memories.


Travelling with kids can be exhausting, but the joy of discovery in their eyes will make you forget all the pain.


Discovering the world is the best present you can make for your kids.


Travel teaches your kids to embrace similarity and differences in the same way.


Time spent travelling together has 10x the value of time spent in front of the TV


Travel is a way of learning, don't withhold this opportunity from your kids!


Even if a trip doesn't go as expected, it will leave you with better memories than those collected in front of the TV


Rarely trust someone that tell you a place is unsuitable for kids, or they don't have kids or they never travel with them.


"Everyday we make deposits in the memory banks of our children." Charles R Swinderby


"There are no seven wonders of the world in the eyes of a child. There are seven million!" Walt Streightiff


Are we there yet?


"You can learn many things from children. How much patience you have, for instance." Franklin P. Jones


"Parents don't really go on vacation. They just take care of their kids in a different city." Anonymous

Family vacation captions
It doesn't matter how close or far away you travel, every new place will enrich you and your kids.


Covid19 stopped us travelling, but we will stop Covid19 and go again.


There are few places not suitable for kids, only people with the wrong mindset.


"Of all the books in the world, the best stories are found between the pages of a passport." Anonymous


"Travel in the younger sort is a part of education; in the older, a part of experience." Francis Bacon


"The best education you will ever get is travelling. Nothing teaches you more than exploring the world and accumulating experiences." Mark Patterson


"A road trip is a way for the whole family to spend time together and annoy each other in interesting new places." Tom Lichtenheld


"Where you live shapes how you see the whole world, but when you see the world it shapes how you see yourself." Richie Norton


"And I think to myself, what a wonderful world." Louis Armstrong

Quotes on traveling with family worth printing
Get organized and explore the world.


Travel bonds a family physically and emotionally.


Getting lost is a conscious decision, choose to get lost!


Travel to share, travel to discover, travel to relax, but always travel humbly!


Having kids? Say yes to new adventures!


There is a world out there waiting for you.


Sometimes feeling lost is a privilege!


"Travel is fatal to prejudice, bigotry, and narrow-mindedness." Mark Twain


"Wisdom begins with wonder, as our curiosity is awakened." Socrates


"It is never too early to begin exploring the world." Anonymous


"If you think adventure is dangerous, try routine: it is lethal." Paulo Coelho


"Stop worrying about the potholes in the road and enjoy the journey." Baby Hoffmann


"There are no foreign lands. It is the traveler only who is foreign." Robert Louis Stevenson


"A mind that is stretched by a new experience can never go back to its old dimensions." Oliver Holmes


IDEAS TO KEEP YOUR TRAVELLING WITH FAMILY QUOTES ALWAYS IN VIEW
If you want remind yourself of some of these inspirational quotes the best way is to keep them around you. Here are some simple ideas. The customised poster print is one of the cheapest and very effective. Some options are also really great as a little present to motivate a friend or celebrate their passion.
Your quote about traveling with family will be printed on heavy 300gr paper and there are 4 different sizes available (A4 and smaller)
You can customise up to 256 characters in 36 different fonts and 20 colours.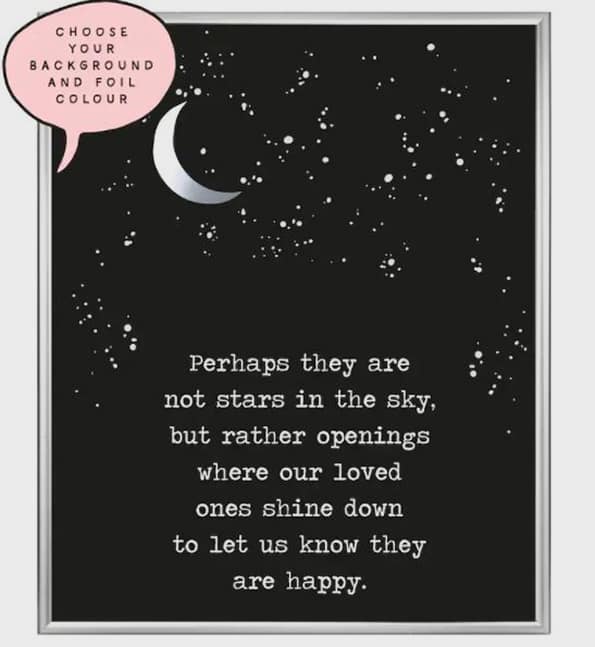 INSPIRATIONAL QUOTE FOIL PRINTS
If you prefer something a little shiny this is perfect. Your family travel quote will be printed on 200 gm paper and you can choose between 24 fonts and 26 different foil and background colour combinations.
4 different sizes, A3 and smaller.
For a simple and bold statement this option is perfect. Your quote needs to be short (up to 100 characters) and it will be printed on a 200gr paper.
You can choose 4 different colour.
PERSONALISED HANDMADE COLLAGE PRINT
This is a beautiful collage that the seller hand makes and personalises for you. They then digitalise the collage and they are connected with print shops in USA, UK, and France, delivery time is quick enough wherever you are.
4 different sizes from 8x10in (20x25cm) to 16x20in (40x50cm)
PERSONALISED PHOTO PLAQUE W/ WOODEN STAND
Perfect gift for a friend or your family, Send the seller a picture and the motivational quote you would like to see on this acrylic plaque then just sit and wait!
You can choose between 2 sizes (A5 or A6)
YOU MAYBE BE INTERESTED: