Unforgettable Montenegro road trip itinerary in 7 days
This Montenegro road trip itinerary will lead your discovery of this small, but beautiful country full of incredible sights.

Our Montenegro road trip was during the shoulder season at the end of September and so the most touristic places were pleasantly animated without being overcrowded … surely during July and August you will come across more tourists, but probably still acceptable.


To give you an idea in 2018 Croatia received almost 20 million tourists and Montenegro just over 2 million.


We spent 1 week in Montenegro with kids.

Montenegro, although with an ancient history behind it, is an independent nation only since 2006, when it broke away from Serbia. Perhaps for this reason it is still little known and less touristic than some others in the Balkan countries.

So if you want to enjoy the beauty of this country in tranquility, don't wait too long because the rumor has started to spread !!

In this article you will find our best Montenegro itinerary for a visit in one week and all the details to organize a trip to Montenegro on your own.
This post may contain affiliate links. I may receive a commission for purchases made through the links on this page, at no cost to you.
Do you need some tips to build your family trip itinerary? Check out this Step by step guide!
IS MONTENEGRO GOOD FOR FAMILIES?
Montenegro is full of outdoor activities that engage kids and can keep them entertained all day even if I don't think there are attraction specially designed for them. We traveled with our 3 year old twins and we didn't feel the need to build a special Montenegro itinerary with kids.

We still bring along our beloved Joolz Geo double pram, but we almost didn't use it at all this time. Families who visit Montenegro with kids and still heavily rely on buggies may find some challenges in villages like Perast where there are lots of stairs. I will share my opinion below on how easy it would be to use the pram in the different places
MONTENEGRO ROAD TRIP ITINERARY: DAY BY DAY
Let's start by saying that we arrived in Montenegro from Croatia.
London obviously has direct connections with Tivat and Podgorica, but the Easyjet flight London-Dubrovnik for £60 for 4 people was truly unbeatable, so we had to take the opportunity to have a little city break in the charming city of Dubrovnik with kids.


Dubrovnik is located just 20 minutes from the border with Montenegro. We decided to rent a car in Dubrovnik which we would then leave in Tivat. Travelling to Montenegro from Croatia was very simple and I will explain all about it later.


7 days in Montenegro will give you a good overview of the country, but in my opinion there are enough places to visit to fill 2 weeks in Montenegro.


We had a fantastic experience completely different to our trip to Malta just a couple of months before, I can't recommend it enough!!!


My suggestion is to start your 1 week Montenegro itinerary in the mountains area and then relax on the coast.
Montenegro Road Trip Itinerary Day 1
VISIT:
Ostrog Monastery
Stecci
Panoramic drive in the Durmitor National park
Whether you come from Dubrovnik, Tivat, or Podgorica, my suggestion is to start your one week in Montenegro by heading straight for the Durmitor National park.
• If you arrive in Dubrovnik it will take you between 3h and half/4 hours.

• If you arrive in Tivat it will take you around 3h/3h and half

• If you arrive in Podgorica it is only around 2h drive.
If your arrival is before lunch you will have no problem including 2 or 3 stops along the way to visit interesting sites.
First stop: Ostrog Monastery
The first place to visit in Montenegro is the incredible Ostrog Monastery. Arriving from Podgorica it is practically on the road after about an hour of travel. Arriving from other directions a detour is necessary but the site absolutely warrants a diversion!


It is an orthodox religious site, built challenging the laws of gravity on the side of a mountain from which it proudly emerges with a commanding presence.


The monastery consists of two parts. The lower monastery where you will find the Church of the Holy Trinity and a guesthouse that welcomes a number of Pilgrims for the night. You can park here and walk the remaining 2km on foot as a penance (many pilgrims walk barefoot), or there is a much closer car park.


Even the closest parking requires about ten minutes of walking, on the driveway (option in case of strollers) or through the staircases built along the mountain coast.


We arrived quite late, around 5 pm. At that point, to visit the Church of the Presentation we found a very short line of about twenty people. Unfortunately in peak season I have read that long lines are formed to wait for hours.


Obviously the decision to enter or not into the church is yours, I wouldn't do more than 15-20 minutes in line. Inside there are beautiful frescos but you can not take pictures, you quickly enter in a queue to see the relics of the Saint (overseen by a monk) and make an offer, all is over in a couple of minutes.


If the line is too long and you are not there because you are a devotee, do not be demoralized, the external space is what most deserves attention. Sit down and observe this magnificent architectural work that cannot fail to make you think about how powerful we can be when we really believe in something (and not only in a religion).


I definitely think this is one of the best places to visit in Montenegro!
Second stop: Grčko groblje stecci
After the visit to the monastery it is time to get back on track. If you have arrived from Podgorica you will have to descend the mountain from the opposite side.

The road is a little tricky but offers beautiful views. On the way you will also meet many stands and restaurants if you want to eat something.

The next stop is much faster, now almost arrived at your destination you can stop to see Grčko groblje stecci site. This is the closest site to the Durmitor National park, there is also another one and both are part of the Unesco's World Heritage list.


These are necropolises which, without diminishing them, are perhaps more interesting from a landscape point of view than anything else.
Third stop: Durmitor National park road
The last stop takes you by car a few kilometers along the road that goes into the Durmitor National Park to enjoy a sunset in unspoiled nature. If you arrive in Montenegro after lunch you will probably have to postpone this to the following day.

You will have to follow the directions for Pluzine, the road is narrow and bumpy, but the scenary definitely pays off.
Follow the road as much as you can based on the time you have available to get the first perception of the beauty of these places.


After this deviation it is time to reach a place to rest. We chose the amazing hotel Soa in Zabljak, a small ski resort in Winter and a perfect base for Summer excursions. More on this fantastic hotel later.


(While in summer it seemed the perfect place to be, I'm not sure if this resort would satisfy anything other than beginner skiers. If you are interested to know our suggestion for the best place to ski have a look at this post to ski on the Dolomites)
Montenegro Road Trip Itinerary Day 2
VISIT:
Black Lake
Hike to Cuverac view point
The second day was completely dedicated to Durmitor National Park.

There are many hiking routes and all very well marked. The Durmitor National Park is a perfect place to start hiking if you have never done it before, you can read this guide to hiking for beginners, if you would like some tips to feel more prepared.


With two small children we focused on two destinations in particular, the Black Lake and the Cuverac viewpoint
First stop: Black Lake
The hotel is located just outside the center of Zabljac in the direction of Black Lake. With the car you can reach a small parking area where you can also buy a ticket. In case the parking is full (as in our case) you can park along the little side road.


Tickets cost Euro 3 per person, under 7 is free


From the parking lot it is a walk of about twenty minutes to reach the beautiful Black Lake, so named for the reflection of the surrounding pine forest in the water. Along the path from the parking, you will find a fountain for water and a small playground to entertain the little ones for a short while.


If the day is sunny the landscape is enchanting, we were very lucky, at the end of September we found lots of sun with 26/27 degrees and there was also a person who took a swim!

Regardless of the weather, a Montenegro travel itinerary wouldn't be complete without a visit to this beautiful lake.


If you want you can rent kayaks for Euro 6 or a boat for Euro 9. The other activity is to venture on the walk around the lake which could take from 1h and half to 3h, if you start to stop and admire the scenery.


The lake is easily accessible with a stroller, but the walk, around it is not really feasible.


After a refreshment stop (there is a cafe on the lake, but we didn't try it, as Breakfast was so abundant we didn't feel the need) it's time for a bit of adventure and head to the Cuverac view point.
Second stop: Cuverac view point
You will have to go back to Zabljak, from the central crossroads of the village take the road to the left (coming from the lake) and you should see the signs.


Just out of town we found road works and some roads seemed unpassable, uneven, full of potholes and boulders … but we soon realized that this is not so unusual.


If the road is on the map, or indicated by the navigator and you cannot see alternatives then you're probably looking at it and you can proceed!
Slowly we ventured out with our rental car and enjoyed the view.


We arrived where you have to park and proceed on foot. Liam and Santiago managed the last part on foot without much trouble, smaller children could have difficulty.
This was the last stop of the day so we returned to the hotel to relax.
Montenegro Road Trip Itinerary Day 3
VISIT:
Tara river canyon and Bridge
Monastery Dobrilovina
Biogradska Gora national park
Lipa Cave
First stop: Tara river canyon and Bridge
The third day of this Montenegro itinerary was a day on the move. It was time to relocate from the mountains to the coast.

Leaving the comfortable hotel, in about twenty minutes you reach the famous bridge over the Tara river. The bridge has been built, exploded, and rebuilt within the space of 9 years starting just before world war II (1937-1946)


The view of the Canyon created by the Tara river is very impressive from the bridge, but the real effect is achieved by going down and participating in a rafting tour.


The weather was nice and at the end of the season there were the right rapids to be tackled even with children, but we decided not to participate because we were a little tight with time.


The cost (quoted by one of the agencies along the bridge) is € 45 for adults and € 35 for children (including lunch). Tours usually start at 10am and 2pm. In my opinion the cost is a little too high, but I also didn't try to negotiate or ask other companies.
DO YOU NEED AN ADRENALINE INJECTION?
If you like an adrenaline buzz you can also try one of the newest activities: a zip line of over one kilometer flying over the canyon. Impossible not to see it, it's very close to the bridge (I didn't ask for prices but a sign suggested between 10 and 20 euros)

Second Stop: Monastery Dobrilovina
A short drive and a little deviation is needed to reach this surreal place that seems to come out of the cartoon Heidi, the girl of the Alps.


It is a small Orthodox monastery with a little Church. To visit the Church you must wait for the Nun to open it for you when she is satisfied that you are dressed properly (they have clothes to use just there if necessary).


Inside the little Church there are beautiful frescos that are really worth the wait (yes in our case we have had to wait for 15/20 minutes because the nun was out harvesting cranberries).


Entrance is free , but inside there is a box for a small donation


I really recommend you to go and visit it. It is such a bucolic setting that it's difficult to explain its beauty if you don't see it
Third Stop: Biogradska Gora
Next stop is the Biogradska Gora National Park. From the Tara Bridge you will need 1h and half to reach Biogradska Gora.
In this case the car park is practically next to the lake, where there is also a small playground.


Ticket cost Euro 3 per person, under 7 is free


The lake is very beautiful, but less beautiful than the black lake in my opinion. From here various routes start to climb to different altitudes and you can admire the view. We also saw lodges, pretty enough (at least from the outside) to immerse yourself completely in nature if you want to stay there.


At the end of September we haven't found any place open for lunch or even a coffee inside the park, so arrive prepared if you are planning a long hike.
Fourth Stop: Lipa Cave
From Biograska Gora national park , in 2 hours and a half you should be at the next stop the Lipa Cave.

At the moment the last tour of the caves starts at 4pm, so you should have enough time unless you stopped for the rafting tour. In this case you need to consider to move the Lipa Cave visit to day 6.

The tour of the caves lasts an hour. This visit is very informative, intriguing, and definitely also very interesting for children.
The entrance is reached together with a guide in a few minutes on board a land train, that jars a bit with the context, but it is definitely fun. Inside you spend about 45 minutes, you can take pictures (without flash) and you will be well warned not to touch the surfaces so as not to compromise then with the acidity of the skin.


In the high season, the guide explained, in case of a large number of visitors, they add extra tours. There is also an extreme tour, subject to weather etc, which explores more of the caves and requires a bit more commitment!


After visiting the cave it is time to reach the final stage of the day, the magical Kotor Bay. In about an hour you will arrive at the old Kotor town, unless like us you choose a charming little place (boutique hotel Casa del Mar Amfora) about fifteen minutes away, more of which later.
Montenegro Road Trip Itinerary Day 4
VISIT:
Relax on the hotel beach
Kotor Old Town
The fourth and fifth days finally provide a bit of relaxation, this is the reason to start this Montenegro road trip itinerary from the mountains.
I know what you are thinking but yes I also plan time to relax … if you have read some of the other travel itineraries I have written, you know that I always compile a detailed excel sheet.
Many people find it excessive and prefer the spontaneity of the moment, but I prefer to have a clear idea of ​​what is feasible every day. I also plan the time dedicated to relaxation, otherwise the desire to see even more would take over.

Deciding in advance what to sacrifice to enjoy a well-deserved rest is the element that really makes me relax … if you want a copy of the itinerary in Excel with all the details, addresses and costs you can find it here.

I must be honest I did not expect such magnificent weather, warm and sunny in the early days of October. The morning passed like a dream, on the tiny pebble beach of the Hotel with a sea so calm as to seem immobile.


The only flaw in the low season is that they do not serve on the beach, so to eat you will have to go back to the restaurant's furnished balconies, but this is little hardship.


For young children, this small beach (even with pebbles and not sand) in my opinion is the most enchanting place there is. The sunbeds are one meter from the water, so they can play undisturbed for hours among small fish. The bottom slopes very gently and we felt confident that we could let them play without interfering, and they loved it!
Kotor Old Town

Our time for relaxation ended in the early afternoon because the second stop of the day was a visit to Kotor.

Kotor is a small fortress on the sea like Dubrovnik, very pretty and charming with narrow streets that open into small squares with the air of bygone days. However I must say that, like in Dubrovnik, I definitely miss the view of the sea, the sea is there couple of steps away but you can't see it…

In 15 minutes with virtually no traffic around 4pm we arrived in Kotor from our hotel.

In my opinion, with children in tow, the most practical parking is the paid one in front of the Port across from the main City gate. Not very big, but in the low season we had no problems finding a place.

Old Kotor is very small and suffers a bit from the daily influx of visitors coming from cruise ships, but usually the ships leave around 6 pm, so an afternoon/early evening tour should allow you a quieter visit.


One of the most beautiful things to do is wander aimlessly and stop for a drink or dinner in a place that inspires you.

Without looking for them you will come across the Cathedral, Saint Nicholas Church and the Cat Museum.


If you want to add some more structured activities, you can venture up the 1,355 steps to get to the San Giovanni fortress. The path is bumpy, but the views repay the effort. In theory you pay an entrance, we have climbed a few steps but have not seen anyone to actually collect it!
Montenegro Road Trip Itinerary Day 5
VISIT:
Perast-Risan-Tivat
Driving along the bay
Perast-Risan-Tivat
The morning activity of the fifth day faithfully reflects that of the previous day: relax on the beach without doing anything !!!

The afternoon instead includes a visit to some of the other villages on the Bay of Kotor, starting from Perast which is located less than 10 minutes from the Hotel.

HOT TIP: to save some money, if possible, park along the road just after the first parking signs. Steps will lead you down to the sea front. At the moment there are open discussions on the new management of the car park that charges a minimum of 5 Euro per day (even if you only stay for two hours) or Euro 15 for 24 hours … in London there are parking lots that cost less !!!!

Perast is a tiny postcard village! Open on the sea and in theory closed to traffic, (unfortunately there seem to be innumerable exceptions) it is perfect for a walk or romantic dinner.

After a short walk, we embarked on one of the boats that in ten minutes takes you to the fortress where the Church is located (with a small museum attached) Our Lady of the Rocks.


Boat tickets Euro 5, Church entrance Euro 2, kids free

HOT TIP: many organized groups arrive on the island waiting diligently in line to enter as one group, if you have arrived independently you do not have to wait. Go to the entrance and point out that you are not with a group, they will let you in immediately.

After visiting Perast you can head for a quick walk to Risan, and see the Roman Mosaics (beware they close at 3pm).

Then you can make a quick stop in Tivat, where honestly you don't need to go much further than the luxury marina full of yachts and prestigious boats, but with little else.
Driving along the bay
To get to Tivat I suggest you venture out on the coastal road that runs from Kotor along the water. It is a secondary road with little traffic, and really scenic, although initially it may be a little frightening because it is very narrow with no barrier.

For dinner shortly after Prčanj you will find an isolated restaurant with tables directly on the sea, questionable service, but fantastic food and location.

HOT TIP: if you don't have a car, or you prefer just to relax for a day, you can also take advantage of the Hop-on Hop-off bus that runs along some of the villages on the bay
Montenegro Road Trip Itinerary Day 6
VISIT:
Kotor bay view
Skadar lake viewpoint
rijeka crnojevića
Virpazar
Sveti Stefan
The last full day available is dedicated to a real Montenegro road trip again, with various stops for enchanting photos … pity that in our case it started raining mid-morning and did not stop for the whole day.

If it also happens to you, do not be discouraged, if you have another full day available then make some changes to your program, otherwise take it anyway because you will still appreciate the scenary.
Kotor Bay view
From Kotor take the road that goes up to the Lovcen National Park. For our itinerary the goal is not so much the park, but the views of the bay from the winding road that climbs to the top. The road is well maintained and not busy (obviously). The only problem could be making room for a bus!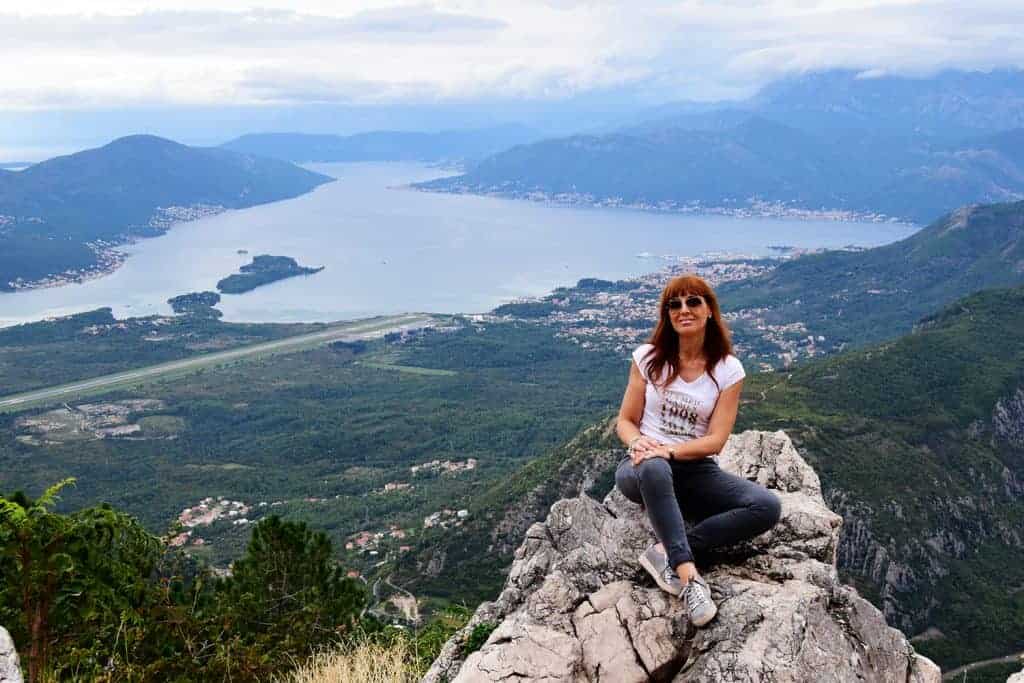 Lake Skadar viewpoint (Pavlova Strana Viewpoint on the map)
After the usual photos, we headed directly to another magnificent viewpoint on a bend of Lake Skadar (Pavlova Strana Viewpoint). Here some driving experience is definitely beneficial, the road again has very tight bends, but unlike the previous one it is very narrow.
If you manage to have a clear day the view is superb!
Rijeka Crnojevića
To relax the driving tension, proceed again for about ten minutes to arrive at another postcard view: Rijeka Crnojevića where you can stop for a snack at a cafe by the river.

The tiny village, when you move away from the old bridge area, unfortunately is quite dilapidated, but on a nice day you can take boat trips or pleasant walks in the surrounding countryside.
Virpazar
In less than an hour from here you can reach Virpazar the entrance door to visit Lake Skadar. Unfortunately for us it meant only a short car ride in the pouring rain.

Obviously the plan was to take a boat trip on the lake, of course with heavy rain all the box offices were closed. There are many to choose from and of different duration, let me know in the comments if you participate and how they are!

Lake Skadar is another brilliant area to use as a base, especially if you want to explore the cost further south. Don't miss to read my post on the best places to stay in Montenegro, with practical advises also on beautiful hotel and bnb over the lake.
Budva and Sveti Stefan
From Virpazar it is time to start the return journey from the coast. Budva and Sveti Stefan are on the list.

To be honest I don't think we lost anything by not stopping in Budva: from what I've read, I imagine it as a fashionable and chaotic destination, decisively far from my ideal seaside village.

Speaking of Sveti Stefan, on the other hand, I am very sorry for not having been able to approach it Sveti Stefan is a small island that became famous in the sixties and is now private.

You can access it only if you are a guest of the very luxurious hotel that takes it up entirely or, if that is becoming too expensive, you can book lunch or dinner in one of the Hotel restaurants. This will give you the opportunity to have at least a glimpse of the world of the stars!
From there in about an hour you will be back at the hotel.
Montenegro Road Trip Itinerary Day 7
The last day for us unfortunately consisted of only a few hours in the morning as our flight was at noon. If in your case you have the whole day available, I would recommend a boat tour of the Bay of Kotor. I could not include it on our itinerary but it was another thing I wanted to do.
PLANNING A TRIP TO MONTENEGRO
In this part you will have all the relevant info to make your planning as easy as possible.
Moving around in Montenegro
HOW MANY DAYS DO YOU NEED IN MONTENEGRO

Montenegro is a very small country, but full of beautiful sites. A week will allow you to organize a fairly comprehensive Montenegro road trip itinerary, but you will miss a few things unless you want to just run from one site to another.

If you like walking then consider 2 weeks, or at least 10 days in Montenegro because there are so many national parks, all with very well marked trails!
HOW LONG SHOULD YOU SPEND IN KOTOR?
Kotor is a charming town and an excellent starting point for exploring the bay and many other sites. Personally I would not consider anything less than 3 nights, especially if you also want to spend some time relaxing by the sea.

WHICH PART OF MONTENEGRO IS BEST?

Montenegro offers something for all tastes, there is no better part, but only the one that interests you the most. A big Montenegro tour in my opinion includes the exploration of the mountains, the coast, and the Skadar lake.

Best places to stay in Montenegro is an article where you can find more info about other Montenegro places to visit that are worth considering while planning your trip.

We had only 6 nights available and we divided them between the mountains (2 nights) and the sea (4 nights), I would have liked to have two more nights available to move further south and stay on the lake.
Where to stay?
In Montenegro there is a good variety of options for all budgets. Cheap Airbnb have sprung up everywhere, there are lots of small family hotels and some small resorts on the coast.

Where did we stay? We chose the Soa Hotel in Zabljak in Durmitor National Park and the Boutique Hotel Casa del Mar-Amfora near Perast as a base on the coast. Both arrangements were perfect and I would go back to the same hotels immediately.

The Soa hotel is located just outside the town of Zabljak in a quiet corner with pleasant views of the surrounding valleys. It is a fairly new hotel, opened 7-8 years ago and kept in perfect condition.

The hotel is not very big and as I have seen through booking.com it is often full, also because in this category it is one of the best.

The rooms: It has different solutions, from simple double rooms and suites, to one bedroom flats. The rooms are not very large, but with a nice design and comfortable bathrooms. We had a superior room with a perfect sofa bed for Liam and Santiago. Try to book a suite if you need to use the sofa bed, otherwise when it is open the space gets a bit cramped!

The Spa: On the top floor there is also a small Spa, with Sauna and Turkish bath. The hotel offers 1 hour of free use, very much appreciated after a traveling day.

Restaurant: I have to say that breakfast is taken seriously in Montenegro. The breakfast room (not super inspiring) is located on the lower ground floor. The available buffet is widely varied with an excellent assortment of meats, cheeses, pies, cereals, fruits, breads, and desserts. In addition, some things can be ordered from the kitchen.

We had dinner at the hotel both nights and dinner was the only thing that disappointed me. On the first night our dinner was offered from the hotel (for a mistake on the reservation) and we were able to choose from the limited menu that is reserved for half-board bookings.


The second night, tired of the day, we had dinner at the hotel again but a la carte, unfortunately also in this case the dishes had nothing super appetizing although Mark enjoyed his steak. Definitely the next time I would dine out

Cost: We paid Euro 130 a night (a room for 4 people), a little high for Montenegro, but it is definitely the best hotel in the Durmitor National park.


In this hotel you will find a corner of paradise on the Bay of Kotor. Don't get me wrong it is not a luxury hotel, and it is a small hotel with 11 rooms, but all carefully taken care of, spacious and half of them with beautiful balconies overlooking the sea and extremely helpful staff.

When choosing an hotel by the sea, I think there are two important things to consider very carefully: the location and the context. The location is fundamental, I do not care only that the room has a sea view, but if possible I really want to be close to it to hear the sound of the waves.
In the hotel Casa del Mar Amfora all the rooms facing the front of the hotel have balconies and terraces a few meters from the sea

The context is equally important, in most of the seaside towns there is often a busy road that run by the waterfront. In this case only a small secondary road passes in front of the hotel making it very quiet.

The rooms: as I said the rooms are almost all different and very spacious, we had the n.31 with a huge double bed, a single sofa bed (but enough for 2 children) and a mezzanine with another double bed. There are also rooms with separate living and sleeping areas.

Spa: also in this hotel there is a small Spa, with sauna and whirlpool. It is not in constant use, but if you advise them in advance they will prepare it for you.

Restaurant: Breakfast was delicious. Abundant variety and with excellent quality products. Variety of cold cuts and cheeses, canapés, croutons, salads, fruit, sweet and savory pies, bread, and baked desserts, and a rich menu with a dozen a la carte options. I don't think we spent less than an hour every day for breakfast

Dinner also proved to be excellent: we had dinner here 2 nights and tried various things all very good. (Mark raved about the fresh fish and mussels!)

The restaurant has an indoor dining room and terraces directly on the sea, which are very romantic. At the beginning of October, we were able to have dinner outside because the temperatures were still very mild.

Beach: If you love vast blankets of sand this is not the place for you, the hotel's private beach (with pebbles) is just a very small handkerchief. Maybe because it was the end of the season but very few other guests went to the beach and I found it a corner of paradise.

The sunbeds near the water allow those who travel with children to relax but always keep them under control. The main road is far away so no other noises can be heard except the sloshing of the sea (the sea is so calm that you can't really talk about waves).

Cost: The room for 2 adults and two children cost us Euro 127 per night including breakfast.
HOT TIP: On the Bay of Kotor there is a huge offer of rooms and apartments of all prices; being low season I stalled for the booking because sometimes booking.com reduces prices when you get close to the date of your stay and so it was. I paid € 127 a night instead of the initial € 155.
Choosing where to stay on Kotor Bay can be overwhelming. If you go between May and October I would strongly recommend the hotel Casa del Mar or another a seaside accommodation. In winter when some of the seaside hotels close down I would consider diving into the fascinating Kotor. The hotels I considered in Kotor during my research were: the really superb Boutique Hotel Hippocampus
BUDGET: HOW MUCH DOES A MONTENEGRO ROAD TRIP COST?
Montenegro uses the euro as its official currency even though it is not part of the European Union. A trip to Montenegro can be very cheap if you are not looking for great luxuries:

• you can find nice double rooms in excellent locations around 60 euros.

• in restaurants a person eats well with Euro 15-20, but there are also cheaper solutions.

• The rental car if booked in advance can cost as little as Euro 30 for a week
• Admissions to national parks are very reasonable and start at Euro3
We did spend a bit more choosing a more comfortable hotel, but we definitely saw cheaper options.

Montenegro is a nation that does not yet receive a large number of tourists like some of the neighboring countries, so it is still possible to visit it and appreciate some places in perfect solitude, but do not wait too long because it will not last forever!


Start to plan: flight, hotel, car rental
I hope that the Montenegro road trip itinerary will be useful and help save you time planning your trip. If you still want to make research here are the tools I use to score the best prices:
Skyscanner: you can set an alert on the flights you are interested and they will send you an email if the price changes
Booking.com: definitely the best website to search hotels in Europe, sometimes has even more pictures and details that the hotel website itself.
Car Rental Net: I rarely use a different portal, they always have the best rate and a transparent policy that includes everything! No more extra to pay at the rental desk (unless you want them)
Lonely Planet: I still find invaluable having with me this old fashion travel guide. Nowadays I buy a digital copy I keep on phone, so no extra weight to carry around!