Mena House the perfect place where to stay in Cairo with kids
Last Updated on 23/09/2019 by Clotilde Passalacqua
Opening the windows in the morning to a view of the great pyramid made me feel incredibly privileged: the Marriot Mena House has been our home for 3 nights and it was the perfect place where to stay in Cairo. I really enjoyed every minute of our time there.
If you want to know more about our amazing trip to Egypt have a look at: Best 12 days itinerary to Egypt with toddlers, or 10 tips to make a trip to Egypt successful.
I had been debating for a while in my head about booking an hotel in Cairo center or in Giza (just outside Cairo) during our trip to Egypt in October 2018.  On our trips I usually prefer to stay in the city center and take advantage of walking routes instead of commuting with taxis, but this time the fascination of breathing directly the history of the pyramids made me decide differently.
Many people will go through this question: I don't think there is a right answer, but for us it worked wonderfully being there. What you can consider is that if you are planning to go back and forth a lot of times to Cairo, to sightsee during the day and to go out for dinner, you will probably spend at least 45 min in a taxi each way.
I booked a standard room using SPG/Marriott points, at an amazing rate of only 15,000 SPG/Marriott points per night. As I hold a gold status with the Marriott chain I asked if there was an upgrade available and I got upgrade to a pyramids view room. This was a lovely touch.
IN GENERAL
The Mena House was officially opened in 1886 by an English couple. They built a magnificent oriental palace and in 1890 they added the first hotel swimming pool in Egypt. In more than 130 years it went through many changes including the biggest renovation of the old palace and the addition of the new garden wing in 1972.
Now, it still retains the original charm and from the moment you pass through the gate you feel you enter a magic world, have gone back to the time when adventurers were coming here to stay for months and not days.
All the people we met here were lovely, some were so proud to have been working in the Mena House for many years that they made me feel welcomed in an exended family.
THE ROOM
We arrived from the airport quite late but check-in was fast enough so we were quickly in our room. The room was big and with a nice contemporary feeling, with a small sofa area and dining table. The big window opened to a little terrace looking at the great pyramid and over the luscious garden.  In the room we found a nice fruit plate with chocolate bonbon, and a lovely cake to congratulate our wedding anniversary (our trip to Egypt was our own present for our 5th wedding anniversary).
Of course we were travelling with Liam and Santiago (almost 2 years and half), and in the room we found the 2 cots I previously asked for. The room was big enough to have the 2 cots without blocking any passage. There was plenty of storage and also the bathroom was generous in size.
The old palace is going under a new phase of renovation, I had the opportunity to see one of the refurbished rooms and they look stunning. At the moment, from the outside, you will neither notice that any work is happening , so no impact at all on our stay.
THE RESTAURANT
The Mena House buildings sit in and are surrounded by a beautiful garden that connects the different areas. There are 3 restaurants, but one is closed at the moment. We tried restaurant 139, for breakfast (that is not included, $20 per person and free for kids) and for a la carte dinner.
The restaurant is placed in front of an opened area that leaves the view of the pyramids unobstructed.
Breakfast was a feast buffet, there was so much delicious food: different types of bread and pastry, different middle eastern sweets (like backlava), several juices, cheese and cold meat, and several hot options. The fruit counter was the only one less appealing, but plenty to choose also for Liam and Santiago…
For dinner there is the buffet option, but we preferred to try the a la carte menu. We tried some meze platter, tajine and XXXX. Food was good, but the restaurant was quite full and service a bit slow, probably we should have gone for the buffet option, consider that if your kids are impatient like our.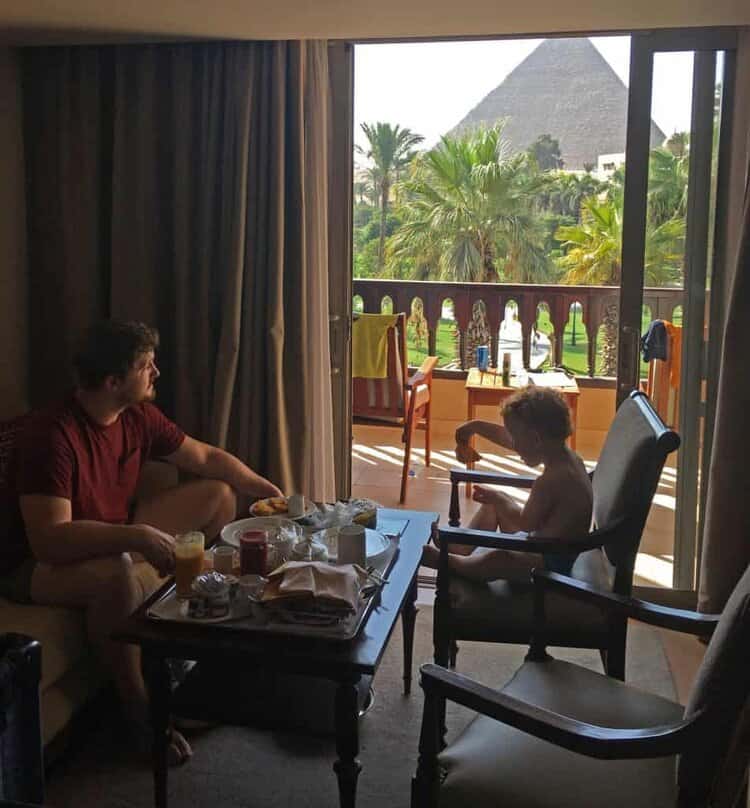 SWIMMING POOL
When I saw the picture of the swimming pool I thought I wouldn't have liked it, because it seemed enclosed between the buildings, but it is actually really airy, spacious, and beautiful. There is also a kids swimming pool, probably around 70-80cm deep, perfect even for Liam and Santiago.
SPA
There is a Spa,  but it is the only area which I felt underwhelming. For the scale of the hotel I think the Spa is the only area where something more luxurious is needed, although I guess that the treatments they do are really good because, when I went to try to book a massage it was fully booked for all my time options.
When we will go back to Cairo we will stay at the Mena House again for sure, I think it is really a lovely place for couples,  families and princesses, where the only risk is that you don't want to go out. When you pass the gate you enter a bubble protecting you from the chaos and dust that seems to never stop in Cairo and you remember where you are only because you can see the Pyramids!
During our trip to Egypt we also stayed by the Read Sea and we also participate to a Nile cruise. if you are planning to go to Egypt have a look at my article: Radisson Blu resort: amazing place for family time by the Red Sea, or Nile cruise: a dream trip on a dahabiya boat 
I hope you will enjoy your stay if you decide to go!!!