Marettimo: your complete guide to an unspoiled island gem.
Marettimo, the most western of the Egadi Islands near Sicily, is a place you'll fall in love with. Its unspoiled beauty and laid-back atmosphere make it perfect for a relaxing vacation. Marettimo is a place to slow down the pace and enjoy the simple things in life.
However, if you want to keep busy from swimming and sunbathing to hiking and exploring ancient ruins you still have a few options. Kids will love visiting the beach caves, playing with pebbles, and watching the fishermen come in with their daily catch.
And if you're looking for a romantic getaway, there's no better place than Marettimo!
The first thing you'll notice as you arrive in Marettimo is the island's stunning natural beauty. The clear blue waters and rocky cliffs are simply breathtaking.
As you approach the island by boat, you'll see the white houses dotting the hillside and the colorful fishing boats in the harbor, it's truly a magical place.
This post may contain affiliate links. I may receive a commission for purchases made through the links on this page, at no cost to you.
MARETTIMO VS FAVIGNANA VS LEVANZO
The Egadi Islands are a group of three beautiful islands off the coast of Sicily: Marettimo, Favignana, and Levanzo. So which one should you visit?
The short answer is all of them of course, but if you're having a hard time deciding which of the Egadi Islands to visit, here's a breakdown to help make your decision easier:
Marettimo is the most off-the-beaten path, offers a more authentic experience and is the most naturally beautiful.

Favignana is the biggest island and has more tourist attractions, restaurants, and sandy beaches. A good compromise between natural attractions and comfort.

Levanzo is the smallest island and has less to offer in terms of tourist attractions, but it is perfect for those looking for a quiet getaway.
We visited both Marettimo and Favignana and appreciated both in different ways, but Marettimo has something really special that we will never forget. It seems that being that extra 40 minutes away after the Hydrofoil stop in Favignana is enough to deter most people and keep it much more peaceful.
Many people decide to stay in Favignana and to come to Marettimo for a day trip, don't fall into this trap. If you have a week then split your stay, enjoy Favignana but spend also 2/3 nights in Marettimo to enjoy it when everybody else is gone.
SHOULD YOU VISIT MARETTIMO WITH KIDS?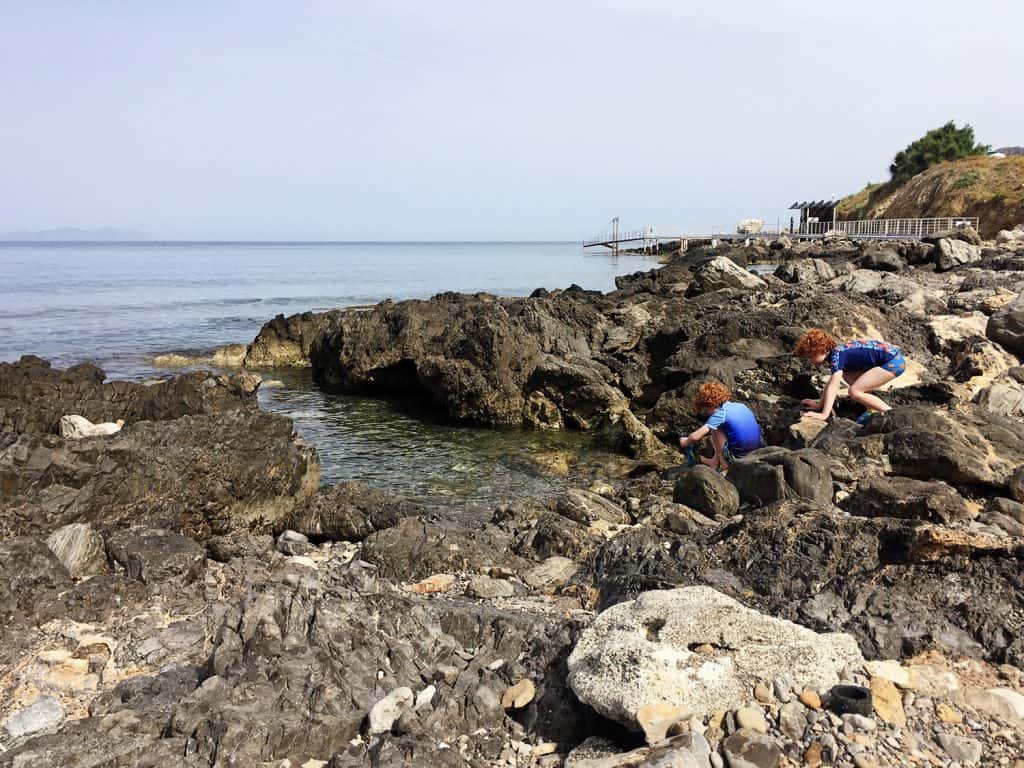 Yes! Marettimo is a fantastic destination for families. It's an excellent environment to teach children about natural beauty and wildlife, and the importance of preserving them. There isn't really a specific attraction dedicated to children, but I believe this is the best part: they have the opportunity to rediscover their imaginations and be free once again.
You are not permitted to bring vehicles to the island. The only cars we saw there were used to transport construction materials around. Kids may play safely and get lost in their thoughts without causing concern while walking about.
Your days will be filled with activities like hiking or relaxing on the beaches, taking a boat journey around the island, soaking in your terrace view, or sipping a drink at sunset. Is there anything better? No, you are not coming to Marettimo for any other purpose. Even solo travelers who want to get away from it all may benefit from Marettimo's laid-back atmosphere.
Hiking
On foot is the best way to get around Marettimo. The island's beautiful environment is accessible by a variety of hiking routes. Your trek will also be an aromatic one, thanks to the Mediterranean bush, which boasts a stunning variety of hardy plants and flowers, including the thyme that gives the island part of its name (Mare-e-Timo, Sea-and-Thyme in Italian).
If you're looking for an easy hike, check out the trail to the Castle of Punta Troia. The hike takes about one hour and thirty minutes (one way) and goes through some beautiful scenery.
Another popular hike is the trail to the Case Romane. This path, (60 minutes one way more or less), takes you past ancient ruins that used to be homes and businesses., it's a great way to learn about the island's history. These easier trails are great also for kids, but there are more challenging ones too that can keep you busy for most of the day.
Enjoy Marettimo's beaches
While the water is crystal clear in Marettimo you will not find those white sandy beaches that often go with it. The majority of the beaches you can reach by foot are made up of pebbles/stones and sand.
If you go around the island in a boat, you'll notice white sand at the bottom, and when this happens the water will appear to have been painted as it is an incredibly bright blue like I've only seen in the Maldives.
There will be no umbrellas or sunbeds to hire, so plan ahead or make do with a towel. Our residence would have provided an umbrella or chairs if desired (more below).
I know it may seem I'm painting a negative or a least rugged image of Marettimo but believe me, the challenges of getting to the beaches, as well as the fact that they aren't sandy and aren't managed, ensure that this location is untouched and fascinating.
Even if you don't want to walk too much you will have four different beaches you can reach with a maximum of 20 minutes' walk. They are all on the east side of the island, to reach the other side you need to plan a little longer.
Two of them are just beside the little village near the harbor (Scalo Vecchio and Scalo Nuovo), while the other two are close to the cemetery (Madonna del Rotolo and Praia Nacchi).
Take a boat tour
If you want to explore the area around Marettimo there are several boat tours that leave the port every day. These will take you on a tour around the island or to nearby islands such as Favignana or Levanzo.
Marettimo con Pippo is one of the most famous tours around the island and it is the one we decided to join.
We left around 10:30am and came back around 2pm. There is also a tour in the afternoon.
Pippo (and also his 2 sons) is a very friendly fisherman, he will give you a lot of information about Marettimo, its history, and its traditions.

The tour is not only about the island itself but also about the seabed and the fish that live there.
You will have the opportunity to jump into the water (if you want to) and snorkel around.
The cost of the tour is €30 per person. The boat usually carries around 12 people. Unmissable!
Take a day trip to Favignana
If you decided to spend most of your holiday in Marettimo then it could be a nice diversion to visit Favignana for the day. It takes only 30 to 45 minutes by hydrofoil to reach Favignana, and the island is rich in history and things to do.
As soon as you arrive at the port you can rent a bicycle and start exploring the island. It is almost flat so quite gentle for cycling, but if you prefer you can pick an electric bike and set off for the island tour.
A day will fly by quickly: stop in some of the several astonishing beaches (do not miss Cala Rossa, Cala Azzura, and Cala Preveto and read more about Favignana beaches here), lunch in one of the authentic restaurants, visit the former tuna factory Florio (now converted into a museum) and if you still have energy then visit the incredible "giardino dell'impossibile", where plants grow in the old quarries creating a surreal environment.
We spent 3 days in Favignana and you check here the detailed guide.
WHERE TO STAY IN MARETTIMO
There are only a few places to stay on the island. This will make your life easier in terms of time spent looking for the best options, but if you want to go in high season you will need to book far in advance to secure your spot! Here are the best options available
Marettimo Residence
Marettimo Residence apartments are set in a lovely Mediterranean garden
We spent 3 nights at the Marettimo Residence, one of the oldest accommodations on the island. We choose one of the best apartments available with a sea view terrace.

This is not a place where to expect luxury, it is simple, but you will have everything you need. The apartments are functional and clean even if they would benefit from a bit of refurbishment. They are set in a mature and well-curated Mediterranean garden with a small swimming pool and a warm Jacuzzi with a sea view. I believe this is the only place that offers a swimming pool on the island.
Some of the apartments overlook the sea and they have a lovely patio area with tables, chairs, and deck chairs.
They have made the sea access much easier with a staircase that goes down and a little pontoon to facilitate access to the water. They can't fix sunbeds or umbrellas on the shore but they leave deck chairs available for guests to use near the pontoon. You can also rent them and bring them to other beaches if you want.
There are also more modern apartments available on the island, but the Marettimo residence has a charm you will not find anywhere else. The pleasure of sipping a glass of wine and watching the sunset from your patio is unbeatable! I would go back there again for sure!
Getting to Marettimo is really easy! The island is around 90 minutes ferry ride away from Trapani or Marsala. Unless you are on a sailing trip, the only way to get to Marettimo is to reach Trapani or Marsala first. Trapani has great, and often super cheap, connections with many European cities through Ryanair.
You have two options to reach Marettimo:
Take the hydrofoil: this is the easiest and most convenient option. In high season there are several hydrofoils a day.
A return ticket usually starts around £35, check direct ferries for the most updated schedule and costs.
Take the ferry: there isn't really a good reason to take the ferry to Marettimo as you can't bring your car on the island. The cost is really similar but it takes longer. Keep it in mind just in case the hydrofoil is fully booked.
Just be aware that hydrofoils and ferries are more frequent from Trapani than Marsala.
CHECK HYDROFOIL TIMING AND PRICE
I hope this guide will help you to enjoy Marettimo and everything it has to offer! Let me know in the comment if you want to know more
NO TIME NOW? PIN IT FOR LATER