Living in Hampstead: London's best place to live with family
Last Updated on 14/03/2023 by Clotilde Passalacqua

Living in Hampstead makes you feel a little out of the present day.

Hampstead village is an enchanting neighbourhood in North London, just ten minutes from the city centre but, as you emerge from Hampstead station, you feel as if you are catapulted back in time. Back in a village that has been able to keep the charm of times past unchanged while evolving and adapting to a metropolis of 9 million people.

Living in Hampstead area is a bit like living in a retro movie, and not just because of the famous people living in Hampstead. After more than ten years of walking up and down its narrow streets, I am still mesmerised by quaint buildings, winding streets, and idyllic scenes that seem lifted from a postcard.
This post may contain affiliate links. I may receive a commission for purchases made through the links on this page, at no cost to you.
Living in Hampstead, London. Best place to live with family
For a family living in Hampstead it is not just an everyday joy, but also really convenient. In this Hampstead guide we will look different aspects that make this area so special:

Connections within the city and beyond

Services available in Hampstead

Things to do in Hampstead

Places to eat in Hampstead

Liam and Santiago are now 4 and half, and we are living in the same flat in Hampstead as before they were born.
In fact I have been living in the same flat since I arrived in London. I thought Hampstead was amazing before having the kids, and now I'm even more convinced.
Living in Hampstead map
Here it is! A useful map to orientate yourself while around. Click on it and save it in google Maps. You will find it under Your Places, then Maps.
Living in Hampstead: Connections within the city and beyond
Tube, Buses, and Overground
Most families living in Hampstead can give up their car and simply walk or use public transport.
There are 4 tube stops on 3 different lines (Jubilee, Metropolitan, and Northern line)


Hampstead station (on the Northern line) is in the heart of Hampstead village. Belsize Park (Northern line) covers the lower part of Hampstead, and Belsize too which is also lovely.
The Northern line is really practical (even if a bit slow) to get to Euston and Kings Cross/St. Pancras train station and to reach the West End.

Swiss Cottage and Finchley Road (on the Jubilee line) stations on the west border of the NW3 neighbourhood ensure fast connections with the Oxford Street shopping area and the Southbank.

Finchley Road station also offers connections with the Metropolitan line, very convenient to get to the East and to explore amazing areas just outside London like Old Amersham.
There are also 3 stops on 2 different Overground lines


Finchley Road and Frognal station, and Hampstead Heath station offer an easy connection with the vibrant East London
South Hampstead station connects to less exciting areas, but it is another useful option when there are works on the tube.
There are many buses including several night buses, so you will also never have an issue to come back home at any time.
HOT TIP: Unfortunately none of the 4 tube stations have been modernised to the extent of providing an escalator or lift. Families with small kids in a stroller will find really helpful the great network of buses where you can board easily and find space even with a double stroller.

Hampstead Heath station is the only one in the area with a practical lift between street level and platform.
Airport connections
Another great advantage of living in Hampstead is the easy connections you have with the London Airports, even reaching the Ryanair hub (Stansted) for an occasional weekend away is a breeze:
London Heathrow: taxis usually have an OK price of around £35, and usually don't take more than 45 minutes (but always allow yourself plenty of time because you never know with traffic). Public transport is also great, 90 minutes by Jubilee line and Piccadilly line; where, excluding the Swiss Cottage entrance all the other stations are accessible.


London City: takes me only 55 minutes door to door with public transport (Jubilee line and DLR; where excluding Swiss Cottage entrance all the other access are accessible). This is my favourite Airport but unfortunately there are not many useful flights for me from there.


London Gatwick: If you time it right it shouldn't take more than an hour to arrive. There are several options, but the most convenient is usually the Jubilee line to London Bridge then take the train to the airport.


London Luton: there is an amazing National Express bus directly from Finchley Road, near the O2 Centre, around 45 min journey (in the evening it can take 30 minutes). A Taxi is usually around £50.


London Stansted: again an amazing direct National Express bus from Finchley Road near the O2 Centre, but much a longer journey of around 90 min. (in peak hours consider at least 2h)
HOT TIP: On National Express, kids under 3 years old don't pay for a ticket but they must have one.

You can buy National Express tickets on the Easybus website, and they are often much cheaper than on the National Express website, but this may only be convenient if you are travelling without young kids, as Easybus charges a full fare ticket also for kids.
A general advantage of living in London is how easy it is to fly around Europe for short breaks. If you are looking for some inspiration you can read about Venice in a day with kids, Turin for a weekend, a Montenegro road trip, Dubrovnik in 2 days and even about skiing with kids on the Dolomites!
Train station connections
Even here you will be covered:

Euston stationand King's Cross/St. Pancras station only require 10-12 minutes on the Northern line
King's Cross/St. Pancras is also easy to reach with bus 46
St. Pancras is the starting point for many great day trips. From here you can easily go and explore the beautiful Kent beaches.


London Bridge and Waterloo are on the fast Jubilee line and you can be there from Swiss Cottage in roughly 15 min.


Marylebone stationis a 5 min stroll from Baker Street and several buses alsp come back to Swiss Cottage


Victoria station is the only key station that needs a change on the tube and doesn't have lift or escalator when you change platform (Jubilee plus Victoria line)
Walking in Hampstead London.
You enjoy really nice walks while living in Hampstead. The best way is just to get lost in the side streets and to really soak up the beauty that surrounds you.

While wondering around make sure to not miss Flask walk with its lovely shops and colourful front doors. Be quiet while entering the surreal Mansfield Place and don't forget to visit the pretty little cemetery attached to the Hampstead Parish church in Church Row.

Hampstead is also a great starting point if you want to venture on long city walks.
A beautiful walk to do just before the Summer sunset is to start at Camden Market and follow the canal until King's Cross station, a few times we continued from there up to the Shoreditch area. This isn't the easiest walk to do with a pram (steps and uneven path) but definitely recommended if your kids are still young and in the carrier or a bit older.


Another lovely walk I've done many times with the pram is down to Oxford Street… I love this walk because you have a mix of city and park views. From Hampstead walk down towards the centre passing by Swiss Cottage to enter St. John's Wood with its beautiful back streets. From there you enter The Regent's Park and walk through it until Baker Street where, after crossing the busy ring road, you enter the fascinating Marylebone and finish in the little St Christopher's Place.
If you prefer a shorter walk then Primrose Hill is beautiful and extremely easy to reach walking.
Walks in Hampstead Heath
Living in Hampstead gives you an incredible privilege with immediate access to Hampstead Heath.

The Heath offers some of the most spectacular views of the city. It spreads over 800 acres and has something for everybody. It isn't on the top list of things to do while visiting London, but even if it isn't full of tourists it is always full of resident.

People came here to walk, to play, to picnic, to exercise, to paint, and even to swim in the natural ponds! (If swimming in the ponds sounds interesting don't miss my article about the non touristy things to do in London)
In any Season you will happily end up here at least once a week!
Living in Hampstead: Services
Even when I was young and without children I always smiled at those who tried to embellish the reality of the up and coming areas in the city. Vibrant places, full of artists and new stimuli … well Hampstead is a very stimulating area full of artists even though it is not new and developing. Indeed, the best thing about the establishment is that it guarantees easy access to all the necessary services.

SCHOOLS: If you are looking for a private school you will be spoiled for choice, but be prepared to pay a lot of money! Or like us you can visit and choose between 8 primary schools or 4 secondary schools. In spite of what I always read about difficulties to enter the school you want, we didn't have any problem to get a space for our twins.


LIBRARIES: near Swiss Cottage station the council runs an amazing complex. The Library in one side offers a variety of areas to read, study, and on the first floor there is even a massive Children's Library. They often also run activities like Rhyme singing, and story telling.
A smaller library is also located 5 minutes walking from Belsize Park station near to England's Lane
.
LEISURE CENTRE: Connected to the library in Swiss Cottage, the sport centre offers a 25m swimming pool, a kids pool (with courses for parents and babies together), and lots of activities and machinery to exercise, there is even a wall for climbing! All of this for a really reasonable monthly fee or you can also pay as you go. The Leisure centre also offers a great space and activities for kids like a bouncy castle and indoor playground, but these are not free.


COMMUNITY CENTRE: another great resource for families! Community centres are a sanity saver especially for families living in Hampstead with small kids. They often organise many different activities based on drop in and donations. There are several around the Hampstead area.


SUPERMARKETS: Just on the edge of the area there are two big supermarkets: Waitrose and Sainsburys, two good sized Mark & Spencers, and then scattered around you will find several smaller size Tescos, and local heroes Budgens in Belsize. Of course you will also have a great selection of delicacies to choose from independent retailers.
Things to do in Hampstead
Cinema, Theatre, Museum, Shops, Getting lost in the side streets.
There are so many great things to do in Hampstead that you risk never stepping outside its boundaries again!

There are four cinemas within walking distance. Two from the Everyman Cinema chain, where you can sip a drink and eat a cake while you are watching a movie sitting on a sofa or armchair! One Vue cinema at the O2 Centre, and then you have the Odeon in Swiss Cottage.

The best part? Even if you have a baby you can keep going to the cinema. Everyman Hampstead offers Baby Club, a weekly screening event that enables anyone with a child under 12 months to attend!

The Hampstead Theatre brings the famous West End to you, and if are happy to wonder through smaller Museums and National Trust properties, then you will be delighted to discover: the Freud Museum, Fenton House, the Burgh House, Keats House, 2 Willow Road, and Kenwood House.
.
Ahhh! Did I mention that there is also a small observatory in Hampstead? Open Friday and Saturday, when there is clear sky, from September to April…what's best? The access is free!

However, as I mention above, it is simply wondering around that you will have one of the most rewarding and joyful experiences. Getting lost on the cobblestone streets, walking up and down the hills, meandering through small alleys, and being fascinated by the independent boutiques that you may have thought did not exist anymore in London, this is what makes Hampstead a magical place!


Hampstead is a place that enraptures and you will never grow tired of it! I wish my words could convey my joy of living in Hampstead!

HOT TIP: while you are wondering around look for some of the 65 of London's Blue Plaque on building facades. Thes plaques commemorate honourable or famous people that worked or lived in that building.
Playgrounds in Hampstead
Thinking on what to do in Hampstead with kids, a few words must go on places where kids can blow off some steam. There is great availability of an amazing variety of outdoor and indoor playgrounds within walking distance in all directions. Families living in Hampstead that are happy to walk around a little more will have an incredible choice.

As with all playgrounds I've seen in the UK, there is always a gate that is difficult for small kids to open, so the toddler escape committee can be foiled easily!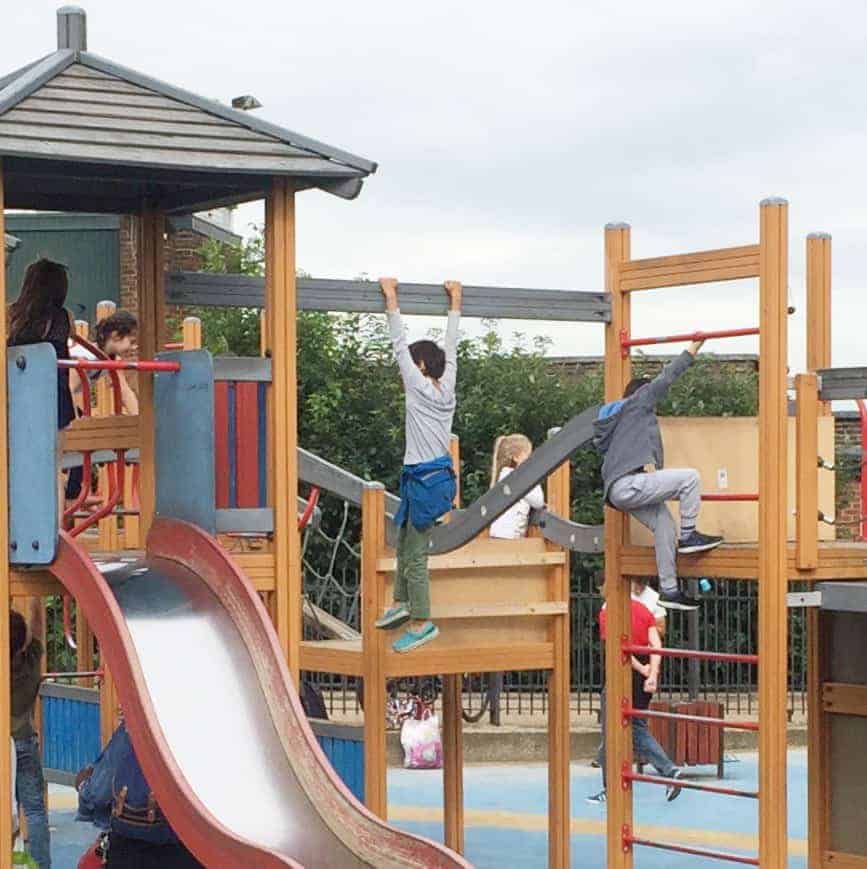 Outdoor playgrounds:
ANTRIM GROVE: This is the playground we have been to most often. It is near Belsize Park station (corner of Antrim Grove and Antrim Road) and has an age restriction, only kids under 6 should enter. It is big enough for Liam & Santiago to run around and play, even now they are 4 and half, but was small enough to be able to keep an eye on them when younger even when running in different directions.

NEAR HAMPSTEAD HEATH: Lovely playground just out of the Hampstead Heath car park on Downshire Hill near the Freemason's Arms. Great size and never too busy to not let them play by themselves but keep an eye on them.


SWISS COTTAGE: In front of the Swiss Cottage library there is a very little playground with just a couple of swings and a slide, not much but perfect for that half an hour break after some shopping on Finchley Road. During the summer it is also lovely to play with the water fountains just in front of the library.


BROADHURST GARDENS CHILDRENS PLAY AREA: not in Hampstead but another super practical, contained little playground. Again perfect for a little break after some shopping in Waitrose or at the 02 Centre.


HAMPSTEAD HEATH: There are 2 playgrounds in Hampstead Heath (near the athletics track). A more traditional one and an adventure playground. The traditional playground is beautiful and in Summer there is an amazing paddling pool for splashing around. This is quite a big playground so I like to go there only when there is someone with me. It is for younger and older kids, therefore it's usually quite busy and difficult to follow more than one child at time.
.
There are many great outdoor playgrounds in London, but of course they start to be a little bit further away. I still enjoy walking to
ST JOHN'S WOOD CHURCH GROUNDS PLAYGROUND: a pretty playground in an even more charming setting at the bottom of St. John's Wood High street.


PRIMROSE HILL PLAYGROUND: another favourite, with a big sand area, but often busy and a little too big with more than one small child on your own.


HAMPSTEAD LIDO: definitely not a playground, the Lido at Parliament Hill in Hampstead Heath is a 60 metre long open-air swimming pool. It is another great Summer resource (it is actually open all year, but check the website for family time).
Indoor Play Areas
Winter can be tough for families with small kids, especially if you don't have a support network of family and friends close by. Fortunately in Hampstead and close by there are some great options to entertain your kids and even socialise with other parents
TODDLER WORLD AT SWISS COTTAGE LEISURE CENTRE: three days a week (mon-wed-sun) you can pay to spend 45 min on the bouncy castle and soft play they build in the sports hall. Suitable for under 5's.


RASCAL AT SWISS COTTAGE LEISURE CENTRE: a big soft play area open daily for 60 min slot. At the weekend it is often busy, but you can take a coffee at the very child friendly cafe beside the entrance while you are waiting your turn. Suitable foo 2-11years.


The SWISS COTTAGE LIBRARY is also a Winter life saver. There is a big kids library, with books and some toys where the kids really enjoy many afternoons or the Monday morning rhyme time.


SHERIFF CENTRE: A short walk to West Hampstead also offers a great indoor soft play area in a beautiful church ( for under 2's it's only £2.50 for an hour in a separated area)
Places to eat in Hampstead
One of the things that de-stabilises me most about London, is the speed with which everything changes. When you think you have found your favourite restaurant, your trusted coffee shop, or your perfect bakery, at a certain point you go to pay them a visit and…they are gone, they are closed.


Well this doesn't happen in Hampstead, there are historic places that have been welcoming residents and casual patrons for decades and some for centuries!


The best thing? Most of the shops, cafes, and restaurants are independent places or small chains that feel family run. In Hampstead village there is a very strong sense of community, the residents love this neighbourhood and protect it from that which could diminish its charm and ruin its aesthetics. This means that there is great support for local businesses that over time have become institutions, but also for newcomers who decide to enrich Hampstead with new experiences.
Best pubs in Hampstead
Hampstead, UK has some of London's most atmospheric historic pubs in my opinion. Especially if you are not British and the pub is not part of your culture and tradition, it amazes you how entering a pub will immediately make you feel at home. Difficult to choose, everyone has their favourites, my suggestion is try them all. Here are some of the Hampstead pubs not to be missed:
.
HOLLY BUSH HAMPSTEAD: Historic pub for almost 100 years, in the heart of Hampstead, a few steps from the tube station. With attention to detail, it maintains an atmosphere of times past and when you sit by the fireplace on the 18th century furnishings, you feel like you are at a friend's house. If you are interested, you should know that many celebrities have often been spotted at the counter!


FREEMASONS ARMS HAMPSTEAD: A lovely pub within walking distance of Hampstead Heath (on the car park side). Refurbished in a modern way, while maintaining the traditional charm. Very large with comfortable armchairs and sofas in the bar area, and tables in the restaurant rooms. Be sure to take a look at the room after the bar where you will think you have ended up at a Royal country house. In the Summer, relax in the delightful (even if it deserves more care) garden at the back.


THE FLASK HAMPSTEAD: this pub does not have the beauty of the previous ones, but it has an enviable position and rustic charm. On a Summer afternoon it is the perfect place, sitting outdoors, to appreciate the daily life that goes by. It is located on Flask walk one of the most picturesque streets in Hampstead, once seated you cannot stop taking pictures.
.
Then put on your list a visit to the Wells Tavern, perfect for a romantic dinner, the Garden Gate which offers a huge outdoor space, perfect when the good weather arrives, or the Spaniard Inn if you have advanced to the upper part of Hampstead Heath ( also with a very large open space) once frequented by Dick Turpin!

When returning from a picnic in Primrose Hill, don't miss a stop at The Washington, perfect for sports enthusiasts, or at The Pembroke Castle, with a lovely, albeit small open space kissed by the sun until sunset.


HOT TIP: We have visited all the pubs in the area with Liam and Santiago since they were born. In general they are all very kid-friendly, and almost all of them offer a kids menu. However, although I understand there is no specific law restricting access to pubs for children, often pubs set their own rules to ensure they comply with licensing laws. In some cases the children cannot stay beyond 7pm, others do not want children in the open spaces beyond a certain time, almost all seem ok if you stop for lunch or dinner, but in short, a great confusion. Unless it's a spontaneous visit, check first.
Best restaurants in Hampstead
Even the restaurants really satisfy all tastes, there are Pizzerias, Italian, Japanese, Chinese, Thai, Indian, French, Spanish, Argentine, Greek, Turkish, Fish and Chip shops, Creperie … it's difficult to draw up a list of the best considering individual taste. Most of them have a kids menu or can offer simple alternatives.
JIN KICHI HAMPSTEAD: I regret is not having discovered this restaurant as soon as I arrived in Hampstead. Trying their skewers will bring you back to Japan if you ever visited, or you will definitely want to organise a trip there! Often full, better to book in advance.


28 CHURCH ROAD: Located near one of the prettiest little churches in London, this restaurant can be missed at first glance as it is in the basement. When you make your way down you'll find an inviting atmosphere, delicious Spanish-inspired food and a great wine selection.


CALICI: nestled in a small, charming, hidden area between Hampstead, Belsize Park, and Swiss Cottage station lies this relatively new, good Italian restaurant. It is not the cheapest around, but quality is good and food delicious.
.
Finding a good restaurant in London is not always easy amongst the pile, but perhaps thanks to the resident critics in Hampstead, the level is pretty good almost everywhere. The setting is also almost always inviting.

Some restaurants have been there for 30 years like Villa Bianca Hampstead (another Italian restaurant), in one of the most enchanting of Hampstead's side streets.

Some, even if part of a small chain like Dim T Hampstead (dim sum), will still make you feel welcome like an old friend.
Others are bringing modern twist to well known and loved cuisine, like Patara Thai.

In some you will want to go back again and again just because the food is simple and heartwarming like the Spanish Jamon Jamon in Belsize Park, or the basic but delicious Udon Cafe on Finchley road.
And if you want something on the go you have it: Le creperie de Hampstead. When you will try them you will understand why people queue for so long!
I could go on and on, I think in 10 years living in Hampstead I tried most of the restaurants and in most cases it has been an excellent experience!!!
Cafes in Hampstead
I think there is probably one coffee shop for every person living in Hampstead with famous ones like Melrose and Morgan, or Ginger and White but many others as good even if less known. One is for me the most representative of Hampstead: the Cafe at the Burgh House.
The Cafe at the Burgh House is a little gem at the end of Flask Walk and hidden between other residential housing. The garden is just magical, try to sit in one of the isolated tables surrounded by the beautiful flowers. Kids have space to move around and explore while you can enjoy a coffee.

…But if you are in a hurry look for the old Phone booth on Hampstead High street not far from Flask walk and get astonished in front of what is probably the smallest coffee shop in London!!!

Living in Hampstead conclusion
If you were looking for good reasons to come and live in Hampstead I hope I helped you to find them. If you have any questions just leave a comment below.
Looking to stay in Hampstead for a couple of nights? Here is my suggestion:
NO TIME NOW? PIN IT FOR LATER!