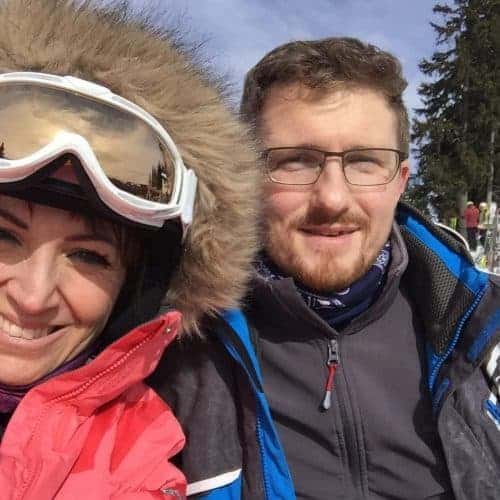 How we made a ski holiday possible with toddlers
Updated March 2019
Skiing is probably the only sport Mark and I both enjoy and have in common…just to be clear: Mark is a really sporty person and in his life has covered a great variety of sports from athletics to rugby always with great success. I've never really been into sport as such, except when more or less 12 years ago I discovered Swasthya yoga it become my only consistent way to exercise apart from skiing or walking.
Skiing is such a powerful activity, when you are lucky and you are alone on the slopes and everything is covered in white and you are sliding down in that sound damped environment you just feel part of a different world…so this year we decided we couldn't let another year pass without skiing!
The search
At the beginning we were considering to have someone come with us to stay with the boys while we were skiing, but that didn't work out so then the anxiety raised…we couldn't miss another year!
Ok you will think what's the problem? There are hotels that offer babysitting services or playgroup activities, or you can also find nurseries on the slopes…or you could say we could alternate skiing…let's go in reverse order!
I didn't really take into consideration the last option: Mark and I are normally on a really tight schedule at home so we can be with the boys as much as we can, whilst working full time and trying to limit nanny time, but that means we don't have so much time together anymore so I wasn't interested to go on a ski holiday and ski half days by myself.
Unfortunately after researching a lot on the internet I wasn't keen in the hotel babysitting neither, Liam and Santiago were 21 months and they don't talk yet so can't tell me when they are ok or not so I preferred a more organized solution with more kids and babysitters…ok what's the next problem? Most of these places including the nurseries on the slopes don't accept kids under 2!
Wow! It's getting complicated!!!
So then I spent a lot more time researching and calling all the places I was finding that had a minimum of details on the internet to get more info
We knew that if possible we wanted to go on the Italian side of the Alps but I was open to any great resort.
At the beginning I really thought I would have not found anything
Some phone calls were like this one:
Me:" Hi, I would like some info regarding the nursery? I've seen some on your ski school website but I would like to know timing and prices"
Nursery: "Hi, yes of course. So you bring the kids to the school then we bring them to their lesson when it is time and after…"
Me: "sorry sorry, no I mean the nursery for under 2's"
Nursery:"mmhhh…wait a second I'll connect you to my colleague I think she has the info, I don't know anything about it"
Me: "…same question to the other person"
Nursery: "mmhhh, we don't have nursery for kids so little, where did you find this info?"
Me: "on the leaflet I downloaded from your website that said it contained the most update info…"
After some phone calls like this one I was really panicking ( I also spoke with some lovely people working in nurseries for older kids that offered to make a test on the first day and see how the boys were reacting, but if you are reading this you probably know that you need to be prepared for the needs of a 21 month old you can't just hope they will go along with whatever the older kids doing), but then the light at the end came on: I called the ski kindergarten connected to the ski school in La Villa (I'll tell you a bit more later) and spoke with one of the teachers, She. Was. Amazing.
Over the phone I immediately understood they were really passionate about their job with kids, she reassured me that they only take up to 8 kids under 2 years old and they play in separate areas from the older ones.
She was also really proud of the new furniture they received this year including cots where the smaller children could have a nap.
As you can see from the picture above we brought our beloved Joolz Geo with us even on the slopes. We love this pram and if you want to know more about it you can read "7 reasons why the Joolz Geo  pram is the best double pram for twins ever"
The discovery:
I was so over the moon, even before to find our accommodation I transferred money to lock down 2 places.
Here is the website for you to have a look: https://www.scuolascilavilla.it/en/snow-kindergarten-only-ski-school-la-villa-alta-badia.php
What I also liked is that it is organized by the Ki.Ba project that has nurseries in several villages/cities in the region, so they are not improvising, they know their stuff.
Never a decision could have been better!
La Villa is a small village in Alta Badia, in the heart of Dolomites, part of the Dolomites Super Ski and connected to the Sellaronda.
You don't have to ski twice on the same slope if you don't want to.
The village is small so if you are looking for a lot of après-ski options, or many shops and coffee places then this it isn't the place for you but it is perfect for an amazing ski holiday.
The accommodation:
We ended booking too late this year so the accommodation options were not many, but we were super lucky because we found a place at "La Bercia residence", probably someone canceled because they seem to be always fully booked.
The best was that our accommodation was just 8-10 minutes walking with the pram from the nursery, there is also a skibus but we thought it was so easy to walk so we never asked for timing.
What a great discovery: this is a sort of aparthotel, they have 8-10 apartments, a restaurant, and a spa; some apartments are located in the same building as the restaurant and the spa, and some in a building just in front.
The apartment we had was perfectly big enough for the boys to run around, they provided 2 cots that we had in our room so in the evening we could have a chat and relax in the living room.
The kitchen was fully accessorized so we could easily prepare food from the nearby supermarket, however the best part was the spa. Have a look at the website but be aware that it is one of the few cases were the reality is even better than the pictures
The hotel has of course a ski-room, but to be honest if you need to rent your ski kit I recommend the rental place just below the nursery.
This is the amazing part: at the Ski Rental you can rent a locker so during the day you can leave your shoes and at night skis and boots
HOT TIP: they don't have tons of lockers available so try to book them or you will end like me the first day when they told me they didn't have any available…I started making a proper Italian drama almost crying that I couldn't carry skis, boots and babies…then they had a pity and give us the option to leave our stuff at the back, but it was an exception!!
Our schedule:
This was our typical day:
Around 7-7:30 Liam and Santiago would wake us up, then we would slowly get ready and have breakfast
Around 9:30 we were bringing them to the nursery, a couple of days they got immediately so engaged playing in the snow that they neither realized we were leaving and didn't cry at all.
From the nursery we were picking up our gear at the shop below and then the first gondola was only 5 minutes walking…and off we were skiing!!
If someone is interested i can go deeper in another post on all the areas we skied.
At 16:30 we would leave boots and skis, and pick up the boys, do some shopping and come back to the apartment.
Between 17:30 and 19:30 we were usually alternating with each other to go and relax in the spa…that hour was truly amazing!!!
We were so happy about how our holiday went that we already booked the same place for next year…it is the first time I'm doing something like this!!!
How to get there:
Getting to La Villa isn't difficult but it takes some time.
We were travelling from London.
From London you can fly to Venice , Treviso, or Verona , then if you are happy to drive (that is what we did) you can easily rent a car and it is a two and a half hour drive to La Villa.
Oddly the closest airport is Innsbruck in Austria, only 1 hour and half, but if you decide to rent a car don't forget you need to cross the border.
If you want to use public transport it is more complicated and connections are not so frequent, another good option if you are happy to spend a bit more money are private transfers, online there are several options.
For us driving was the best value for money option, we now are really good at packing light and it is easy enough to carry the car seats over the hand luggage.
If you rent a car at Treviso airport make sure you leave enough time when you are coming back because the parking is 500m from the terminal and often it is unattended so you maybe need to wait for someone to arrive and check the car
A week is going really fast, but we truly enjoyed. I think skiing is the type of holiday that most family with kids tent to skip because the logistics could be difficult, I hope this post will help you to dust off your boots!!!
Let me know if you went skiing with small kids and how did you organise yourself!