How many days in London do you need to fall in love with the city?
Last Updated on 07/03/2023 by Clotilde Passalacqua

Wondering how many days to spend in London?
We've got you covered! Our blog post breaks down all the considerations you need to make when planning your trip. From attractions to food, we cover everything so you can have the best time possible.

We know that London is an amazing city but with so much to see and do, it can be tough to figure out how to fit it all in.

How many days in London depends on your interests, there is no limit on how many days you could fill in London. It has so much to offer and it is not easy to give you a short answer.

I would say that the minimum time is 4 days to have the possibility to see the main attractions and some of the more hidden delights. If you can, plan for 6 days so you can take it at a slower pace
This post may contain affiliate links. I may receive a commission for purchases made through the links on this page, at no cost to you.
How many days do you need in London depends on priorities
Prioritise what you like to see: museums, markets, landmarks? Would you like to take in a play at a famous theatre or explore as many pubs as you can?
When traveling with kids don't forget to include stops at the vast number of playgrounds spread throughout the city, and to allow more time in an attraction that captures their attention such as the science museum.

If you are a foodie then London will satisfy any culinary desire, be sure to book in advance and set time aside for lunch and dinner to experience some of the best restaurants in the world.
How many days to visit London first time
London is a vast city and so it is important to plan a detailed itinerary to avoid wasting time in moving around. A comprehensive itinerary is also essential, since certain attractions on your list may be sold out weeks in advance.
I would recommend at least 4 days to see the main attractions. If you have a little more time you can combine a trip to London with additional day excursions to discover other lovely locations around the region. There are some of the most beautiful attractions in Europe within a short driving distance from London, including stunning gardens and natural wonders.
If you enjoy the outdoors, London has much to offer that it might easily become a whole day excursion. The Kew Gardens are well-known, but the Royal Parks are also beautiful. Following the River Thames takes you into Richmond Park, which is home to deer and other animals, as well as natural habitats like ponds and wooded areas.
With 4 days available you will need to plan each day very carefully to see all the attractions you want and make a few smart choices about what is most important to you but it is doable. Here you have the perfect 4 days itinerary ready.
How many days in London with kids
London is a great city for kids as there are plenty of attractions that will capture their attention. If you can, allocate 6 days to see everything without rushing.
Combine visits to landmarks and museums with time to spend at the incredibly beautiful playgrounds all around the city. There are plenty of parks for your children to get lost in their imagination while playing on the swings or watching the squirrels that inhabit these areas.
Allocate more time to those attractions that are going to enter your little ones, like the Science Museum or Natural History Museum, but don't avoid more grown-up focussed museums, as in most cases they organise interesting things also for the little ones.
Plan ahead of time so they don't miss out on anything fun. If your kids enjoy Lego or Harry Potter, then Legoland or the Warner Brothers studio tour should be at the top of your list. Visiting these attractions necessitates more thorough planning, including making reservations ahead of time and scheduling the appropriate amount of time.
For most children, seeing a double-decker bus would be quite unusual. Even taking the bus may be an adventure for some youngsters.
Let them experience the city from a different point of view by taking them on a boat ride on the Thames River, it is an amazing experience for both children and adults. Bring them on the Emirates cable car or, lower down, to fly on the ziplines that are now in many playgrounds. They will never want to leave London.
How many days in London if you like history
If you are interested in history, then London is the place for you. The city is crammed full of historical landmarks and museums. Realistically 6 days is needed to appreciate the museums and to visit a few of the most popular attractions.
Museums are huge in London and they are almost all free. Allocate a half-day for each museum and make sure you don't miss the British Museum, Tate Modern, National Gallery, and the Victoria and Albert Museum.
The Tower of London, Buckingham Palace, and Westminster Abbey should also be on your list. These attractions are very popular and tend to be crowded, so allow yourself plenty of time to enjoy them.
You could also visit Hampton Court Palace, which is a short train ride from London.
How many days in London if you want to take some day trips
If you're looking for a bit of variety in your London holiday, then consider taking some day trips. There are plenty of lovely locations to visit within easy reach of the city. You could consider spending 4-5 days in London and 1-2 days on a day trip.
One of the most popular day trips is to Windsor Castle, which is just a short train ride from London. The castle is beautiful and there is also a great park surrounding it.
Another popular destination is Bath, which is a charming town with stunning architecture. It's about a 2-hour train ride from London.
Oxford, Cambridge, and Brighton, are also within an hour or two of London.

Botany Bay and the Kent coast is also a great option for a day trip – it's about 2 hours from London and is home to some beautiful beaches.
For a half-day change of scenery, Amersham is a small town located just outside of London, which provides the country atmosphere and a change of pace from the city.
You could also visit Stonehenge, which is a bit further away but definitely worth the trip. It's about a three-hour drive from London, or you could take the train.
How many days in London if you are a solo traveler
London can be a great city to travel solo as there is always something to do and see. Most attractions are either free or have a very reasonable entrance fee.
I would recommend allocating 3-4 days in the city to see the main attractions and to have some time to relax and explore. When you travel alone, you are generally faster and more flexible, which can be a real convenience.
Solo travelers should also make sure to check out some of the local pubs and restaurants, as these are a great way to meet people and experience British culture.
How many days in London if you are a foodie
If you are a foodie, then London is the city for you. There are endless options of restaurants to try, with cuisines from all over the world.
I would recommend allocating 5 days in the city to try out as many restaurants as possible. Make sure to visit some of the more famous restaurants, but also don't forget to explore some of the lesser-known gems, as these can be some of the best places to eat. You can find a list of my favorite restaurants in London here.
You could also visit some of London's food markets, such as Borough Market and Portobello Road. These are a great way to try some local delicacies.
Things you should consider when deciding how many days to spend in London
Here are a few additional thoughts to consider while determining how much time you should spend in London.
Consider the size of London
With a population of over 8 million people, this is one of the largest cities in Western Europe. Much of London's attractions lie in the central city, but the city centre is vast and it takes time to move from one attraction to another.
Create a list of what you want to do and see while visiting London. This will help you plan and set a time frame for the trip.
Even if a bit more expensive, choose a hotel in the city centre as you can cut down the time and money spent on travelling.
BEST BUDGET PRICE HOTEL: citizen M Tower of London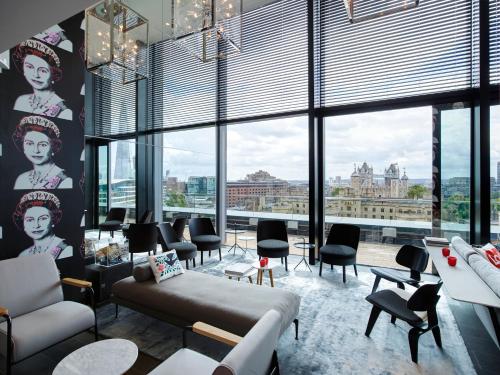 Although the rooms are small, they are perfectly designed to fulfill all functionality, and common areas are bright and inviting. I've been in other citizen M Hotels and I found them always perfect for city breaks.
BEST MEDIUM PRICE HOTEL: Native Bankside

Native Bankside offers fully refurbished rooms with a modern design and great functionality.
There are different room sizes available, and all offer a small/medium kitchen, perfect if you want to save on eating out every day. A gym is also available to keep up your fitness routine!
If you are after a more British look have a look at Vintry and Mercer or The Dixon!
BEST HIGH PRICE HOTEL: Ham Yard Hotel

If money is not a problem then in London you can indulge yourself with many options. You will find some classic options like the Savoy where you can appreciate the most exquisite British traditions or more stylish and contemporary options like the Shangri-La Hotel at the Shard.
My choice? The Ham Yard Hotel, in the middle of Soho. A modern hotel that revisits the British traditional style with a young touch mixing bold colour and traditional patterns
Identify on a map everything you want to see
When planning a trip to London, it is important to map out the different attractions you want to see and how far they are from each other. This will help you in deciding what is possible to see in the amount of time you have available.
Additionally, mapping out your route will give you an idea of how long it will take to move around the city, allowing you to better plan your day.
Book in advance tickets, attractions, and restaurants

If you want to see everything London has to offer without risking missing out on the tickets, then purchase them ahead of time. This will save time and often money while reducing your time spent in queues dramatically. Many of the most popular attractions or exhibitions can sell out weeks in advance, so book ahead for your tickets.
Ensure that your restaurant reservations are made as well. This will assist you in ensuring that your food journey across the city goes smoothly.
Try to avoid school holidays and national holidays unless you are prepared to deal with an increase in prices and larger crowds.
Give enough time to the different things you want to do and places you want to see
Time is of the essence when it comes to visiting London. With so many sights and things to see, you need to be a realist and allocate enough time for each stop.
Just remember that no matter how long or short a time frame you have, each day should include a mix of different activities, museums, parks, pubs, etc. so you can enjoy the best of London. Check also some of the off the beaten path attractions you can include on your visit.
This will allow you to maximize your time in London.
Best time to visit London
London is a city that can be enjoyed during any season. However, there are some advantages to visiting during different seasons.
Spring is one of the most beautiful times to visit London. The flowers are in bloom and the weather is mild. There are also fewer tourists, so it is a good time to explore the city without crowds.
Summer is the busiest season in London, but it also has the longest days with the most daylight hours. This makes it a good time to explore all of the attractions London has to offer. In London it is also rarely really hot, so you can explore without feeling uncomfortable.
Autumn is another great time to visit London. The leaves are changing colour and the weather is cooler, but not super cold yet. There are also fewer tourists this time of year.
Winter is the coldest season in London, making it a better time to visit attractions that are indoors. While there are fewer tourists during this time of year, there are also fewer daylight hours for sightseeing or exploring outdoor attractions, but the pubs are very welcoming!
No matter when you visit London, there are plenty of activities and attractions to keep you busy. It is important, however, to plan and map out your itinerary so that you can make the most of your time in this iconic city. By considering the tips above, you can create a customised trip that fits your interests and schedule.
NO TIME NOW? PIN IT FOR LATER