How exactly to cross the border from Singapore to Malaysia: Train, Bus or Taxi?
‍Crossing the border from Singapore to Malaysia is something that thousands of people do every day, yet when I was looking at different alternatives, timing and details I couldn't find a comprehensive source of information.
When it comes to crossing the border from Singapore to Malaysia, there are many transport options available and different crossing points. Choosing the right one can be a difficult decision, especially if you're not familiar with the area.
To make things easier, this article will summarize the advantages and disadvantages of each transport option, as well as the cost and travel time comparisons. I will only take into consideration the crossing border between Woodland CIQ and Johor Barhu which is the most used by tourists.
When it comes to crossing the border from Singapore to Malaysia, there are three main transport options available: train, bus, and taxi.
As a tourist, you should easily be able to find the most suitable option for you.
This post may contain affiliate links. I may receive a commission for purchases made through the links on this page, at no cost to you.
Singapore to Malaysia by train
The most popular option for crossing the border is by train. It's the fastest transport option and is affordable. As it is the most convenient option you will need to book well in advance if you want to travel Friday/Saturday or during the bank holiday season. Tickets for these dates sell out really fast, and availability opens up roughly 5 months in advance.
The train to cross the border from Singapore to Malaysia connects Woodland Train Checkpoint station in Singapore and JB Sentral in Malaysia. The journey on the train only lasts 5 minutes.
This is the option we used and it worked really well in terms of time and cost.
How to book the tickets for the train
There are several companies that can book the tickets for you, but the easiest option is to head to the official website and select from the top menu Shuttle Tebrau.
Then you just need to select the direction of your travel and date.
You will then be able to see train times and the number of seats still available.
You must then sign up to have the possibility to buy the tickets. Of course, you can also buy tickets at the counter at the station up to 20 minutes before the train departs, but you need to be sure the tickets will not be sold out.
To buy the tickets you need to add your passport details (and the passport details of all your travel companions), as this will be checked before boarding.
BE AWARE: Make sure your passport details are correct; passports are checked and used to board the train as this is an official Border crossing point. It is usually sufficient to have your ticket on your mobile, you don't need a printed copy
Train tickets Cost: From Singapore to Malaysia the ticket costs MYR 16.75. If you are coming back to Singapore it is more cost-effective to buy two one-way tickets as the ticket from Johor Bahru to Singapore cost MYR 5.
How to reach Woodland train checkpoint station
First of all, you need to reach Woodland train checkpoint station. Don't get confused with the tube stop called Woodland SMRT, this stop is not close to the checkpoint.
Reaching Woodland train station by public transport is more complicated to explain than to do. It could seem a little confusing but I can promise it is super easy. Below you will find some pictures that should help you to orientate yourself.
Use the tube (MRT) to reach the Kranji station. The station atrium is not too big, but crowded, before going out in the wrong direction check the sign that says "to Bus Stop 2 (opposite MRT station) for buses to Woodlands Train Checkpoint".

This sign (quite small) against the back wall, will direct you towards the right exit.

Once outside you will see an overpass to reach the other side of the road. You can't go wrong as this is also labelled.
Once you are on the other side you have reached the bus stop where you can jump on bus n.856 or n.170 or n.178.

It takes around 8-10 minutes for the bus to reach the stop called the Woodland train checkpoint. Once you leave the bus you will see directions to enter the train station building.
From Singapore's central areas, it should take you around 60/75 minutes to reach the Woodland train checkpoint if you use MRT and bus.
Of course, you can reach the train station by taxi. This will save you time but cost much more. With a taxi, you should consider around 30/40 minutes to reach the Woodland train checkpoint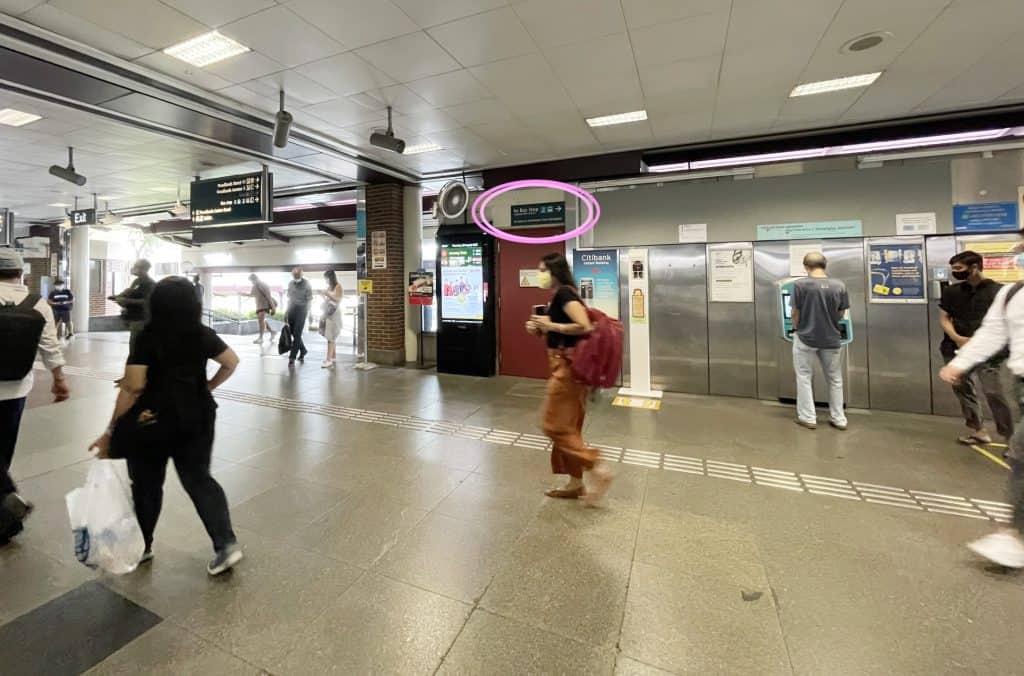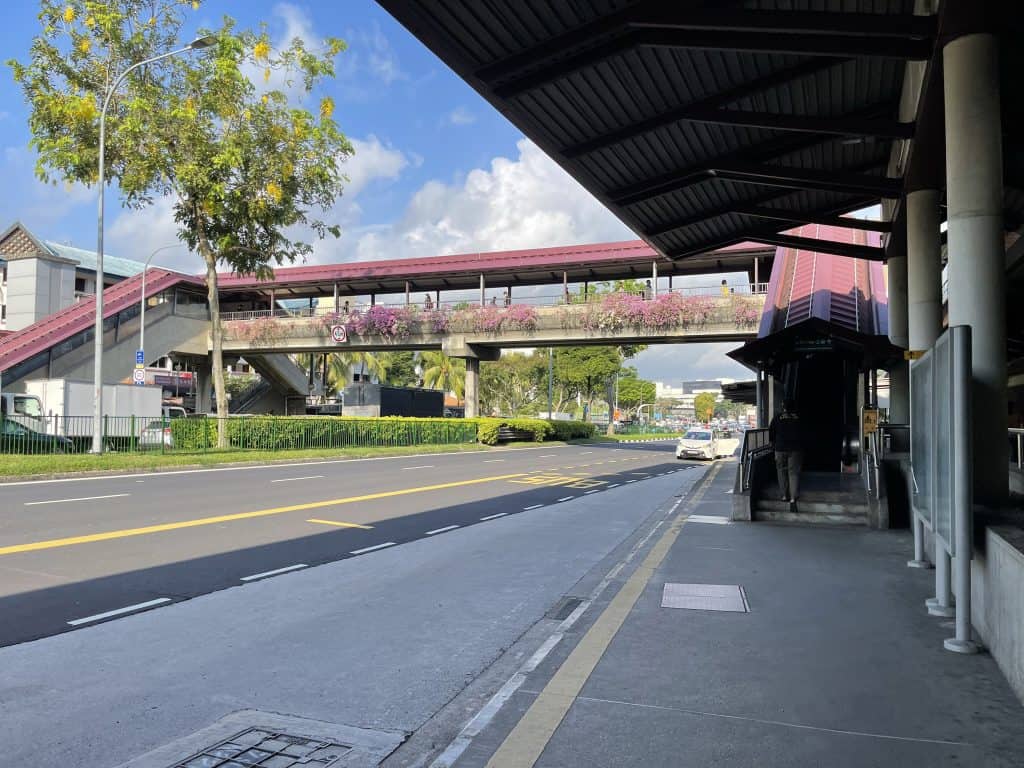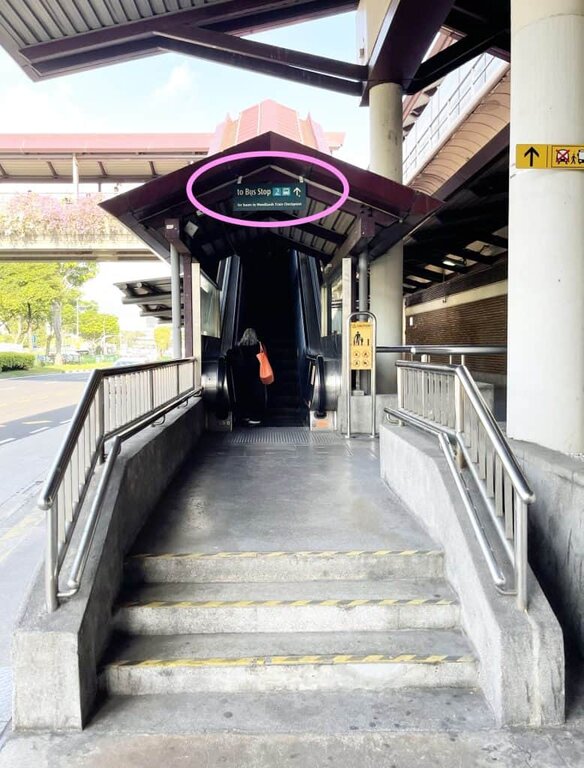 BE AWARE: Boarding time in Woodlands Check Point starts 40 minutes before the train departure and finishes 20 minutes before train departure (30 minutes and 10 minutes in JB Sentral)
Clearing immigration to cross the border from Singapore to Malaysia
The most convenient thing when using the train to cross the border from Singapore to Malaysia is that you will clear exit immigration (from Singapore) and entry immigration (into Malaysia) all before boarding the train. Unfortunately, it doesn't work the same way if you are coming from Malaysia to Singapore. Clearing immigration to enter Singapore is done once you arrive in Singapore.
Once you enter the Woodland train checkpoint you will see clear directions to reach the queue to board the train on the upstairs level.
An officer from the Singapore immigration office will manually scan your passport with mobile devices. Then you will need to walk for a couple of hundred meters and, in a bigger hall, you will find an airport-style immigration control. Here there are Malaysian officers that check your passport and allow you to enter the country. There are also automatic gates for national citizens.
Once you clear Malaysian immigration you are free to board the train.
Seats are not allocated, so try to arrive early if you want to sit beside friends and families.
5 minutes on the train is all it takes to cross from Singapore to Malaysia. Once you arrive in Johor Bahru you simply exit the gate with no other checks and you are free to go.
Singapore to Malaysia by bus
Another popular option for crossing the border is by bus. It's usually the most economical option and there are several bus stops located at the border and in the city center of Singapore.
You have three options to choose from:
Causeway Link CW2
Singapore-Johore Express
SBS Transit 170
All these buses will bring you to Woodland CIQ where you will need to leave the bus and go to clear Singaporean immigration, then you will board the bus again, cross the physical border on the bus, and then clear immigration again in Johor Barhu, beside the train station.
BE AWARE: In most cases when you take the bus you will need to bring your luggage with you when you go to clear immigration, as you will usually then board a different bus to cross the border.
Causeway Link CW2
In my opinion, this is a good option if you are travelling at a quiet time of the day (in terms of traffic). You can board at Queen Street Terminal (near the city center), the bus will then travel directly to Woodland CIQ where you need to go out and clear Singapore immigration, then you will board again the bus and cross the border. This bus doesn't make any stops between Queen Street and Woodland and so if there is no traffic it is one of the faster options.
This bus runs 24h a day. It departs every 15/20 minutes during the day and every 45 minutes at night.
Cost: RM 4.80 / $S 4.80. You can pay contactless with your Visa card, or buy a ticket at the bus stop. At the moment online tickets are not available.
During the busy times of the day, you can also consider using CW1 from Kranji station. Departure is different but the rest of the journey will be the same.
Singapore-Johore Express
This company mirrors the same itinerary as the Causeway Link, but they seem to have less frequent buses and the ticket price is the same.
Feedback about this company seems less positive than the CW2 bus.
SBS Transit 170
This is a standard bus that starts on Queen Street and makes all the stops along the way. It's a much slower option, but cheaper. The cost is only S$1.50 and you can pay with your EZ-Link card or your contactless card.
During peak hours it is more convenient to reach Kranji station by tube and take it from there.
As per the CW2 bus, you will need to alight from the bus with your luggage, clear immigration, board another bus and then clear immigration in Malaysia.
This bus doesn't run 24h a day, there is a gap between 1:00 am and 5:30 am, more or less
Singapore to Malaysia by taxi
The third option for crossing the border from Singapore to Malaysia is by taxi. It's the most expensive option, but it's also the most comfortable and convenient.
It is important to know that only authorised taxis can cross the border. You will need to reach the Ban San Street taxi terminal where the taxis are waiting.
It cost $15 for 1 person, but the taxi will only leave when full. You can decide to hire the full taxi for $60.
Taxis are only authorised to bring you to the Larkin terminal in Johor Bahru. Depending on how you plan to continue your journey, this could be something to consider.
Of course, travel agencies are also allowed to organise private transfers. A car with a driver will pick you up at your hotel or another pick-up point. You will not need to leave the car to clear immigration (everything is done while you are still sitting in the car) and once on the other side, you can be dropped off where you desire.
This could be a cost-effective option if you are travelling with family or friends as you can share the cost.
Singapore to Malaysia by rented car
The fourth option is to hire a car to cross the border from Singapore to Malaysia.
Hiring a car is the most expensive option, but it also gives you the freedom and flexibility to explore both countries at your own pace. Unfortunately, it really isn't cheap.
You will need to hire a car with a contract that allows you to cross the border.
As we were planning a road trip to Malaysia, we considered this option, but the price was three times more expensive than crossing the border and renting a car in Johor Bahru.
We ended up crossing the border by train and then hiring a car from Johor Bahru to drive all over Malaysia.
The best option from Singapore to Malaysia
Ultimately, the best transport option for you will depend on your budget, travel time, and desired comfort level.
If you are looking for the cheapest option, you should probably consider the bus. The standard bus price it is unbeatable and if time is not a concern it is a good enough solution.
The most annoying thing about the bus is the need to leave the bus and bring all your luggage with you to clear immigration.
If time is your priority and you can spend a little extra then the taxi is for sure the most convenient solution. Once you are in you go out only when you arrive in Johor Bahru.
However, if you try to find the balance between not wasting too much time and not spending too much money, then the train is definitely the winner. Even when the train is at full capacity the ability to clear both exit and entrance immigration before to board in Singapore makes the process quite easy and never too long.
Safety and Security Considerations
When it comes to safety and security, all three transport options are usually safe and secure. All trains, buses, and taxis are usually well-maintained and the staff are generally knowledgeable and friendly.
That being said, it's always a good idea to take the necessary precautions when travelling. Make sure to stay alert and aware of your surroundings, and if you feel uncomfortable or unsafe, don't hesitate to contact the authorities or ask for help from a nearby police station.
Crossing the border from Singapore to Malaysia can seem like a daunting task, but I hope this article helped you to find the best solution for you.