Family trip itinerary planning: how to plan to perfection
Planning a family trip itinerary is the element that stops many people wishing to travel. Even some seasoned travelers often resort to organised tours because they don't know how to create an itinerary for a trip.
I want to help you to appreciate that traveling with small kids is not only possible but actually you can organize wonderful trips, without the help of travel agency or buying package holiday, that will allow you to save money, have a much more flexible schedule, and have an amazing time!
Creating travel itineraries is one of my great passions, personally for me the journey begins when the search for information begins. I understand that for some people this may seem overwhelming, but in this article you will find all the steps to follow on how to create an itinerary from beginning to end.
The whole experience is the journey and you will discover how to enjoy every trip so much more!
I don't wish to deceive anyone, creating an itinerary for a trip requires a bit of patience, flexibility, and time to invest in research. On this site for each destination, you will always find a detailed planned itinerary, tested and based on real experience, which you may even be able to copy entirely and save a lot of time. In some cases, obviously, your needs may be different so despite having a starting point it is important to know the steps to plan an itinerary for a memorable trip.
This post may contain affiliate links. I may receive a commission for purchases made through the links on this page, at no cost to you.
Let's start immediately to see the steps of how to prepare a travel itinerary:
HOW TO CHOOSE THE DESTINATION
The first thing to do when starting itinerary planning is to choose the destination. There are four factors to consider:
Time
How much time do you have available for your vacation itinerary? Do you just want an overview of the country you visit, or do you want to visit every museum, and participate in every local activity? Defining these elements will help you in your choice.
Let's say, for example, that you want to visit Italy. Italy looks small on the map but you quickly realize that there are an infinite number of things to see. If you only have one week available, you might consider seeing Venice, Florence, and Rome for a general overview, or you might decide to explore only Florence and Tuscany and explore the rest during another trip. It all depends on what type of travel you like and how much you want to stretch yourself in the time available.
When creating an itinerary for travel it is important to be realistic and to travel efficiently to avoid spending half of your trip in a car, train, or plane.
Money
If you are flexible and adaptable, money will be much less of an obstacle. If, on the other hand, you prefer that the trip is also a time to indulge in some luxury, a five-star resort, or some special meals then it is important to get an idea of the costs before confirming all the reservations so as not to be disappointed.
For example: if you plan travelling to the Maldives then before booking those cheap flights, check the type of accommodation that may interest you. Many associates the Maldives with exclusive resorts and deserted white sand beaches. These resorts are also perfect to experience Maldives with kids, but they are certainly not cheap. If, on the other hand, you prefer to stay in touch with the local culture and explore the local islands then your budget, even in the Maldives will stretch a lot more.
Suitability
Find out about the seasons and climate of the countries you are considering: during the rainy months, monsoons, or possible hurricanes it may be more difficult to visit some countries or particular attractions. Internal transport could be affected by delays or cancellations.
In some cases, it can also be relevant to take note of particular national holidays which could mean closures of the main tourist attractions or on the contrary an incredible influx of local tourists with consequent difficulties in finding accommodation or with inflated costs. While you build an itinerary you can shift things around to avoid or include relevant national holidays.
Many parents at this point also face the dilemma of where to go with their kids. When Liam and Santiago were born, even after more than 15 years of travelling, I found myself looking for information on the best places to go with babies. Now, after 5 years traveling with them on 83 flights and many countries, from Peru to Japan and many more in between, I can say that there are no limits.
When you travel with babies 0-6 months you may want to avoid really hot places, as they shouldn't be exposed to the sun too much. Under a certain age, you can avoid countries where vaccines are necessary which are not suitable for young children, but apart from that, you can really go anywhere. Buy good travel insurance (with children you never know) and go. Personally, I found a beach holiday (read if you want a laugh) more difficult when Liam and Santiago were 13 months old than visiting Japan at 17 months, Istanbul at 23, or Egypt at 28 months.
Country entry requirements
Don't forget to check that there are no government travel bans to the country you are considering (we are now familiar with travel bans issued because of COVID-19, but they are also really common because of political situations, other health issues, and more). If you decide to travel anyway, in case of any problems a normal travel insurance would not cover you and you will have to buy a special one.
Especially if you are planning a trip itinerary a bit last minute before booking your flights check if a VISA is required to enter the country you want to visit, or if that country requires you to have a minimum amount of time left on your passport before the expiring date. Depending on the country where you are going to and the country where you live, VISAs, etc could take a few weeks, so keep that in mind. The UK government website is a good place to start from, even if you are not British you will find useful info and most of the time links to the country-specific official website.
Many countries require vaccinations, make sure you have enough time to get them before departure. (The NHS website) is also a great source of information regarding requirements around the world)
OUTLINE THE ITINERARY FOR A TRIP
Now you chose the destination but how to make an itinerary?
To create a travel itinerary start by defining how long you want to stay in each city/area and how much you want to move around. Look at some guide books, blogs, or other online resources to see what you are interested in. Let Instagram inspire you and start to take some notes, or save articles, pictures, websites, links…
Try to get an overview of the full country, and then try to understand how long it takes to move around different areas, how much does it cost, and so on. Of course, everything also depends on the time you have available and your priorities.
Start to scribble down some possible tour itineraries. It is normal to have several different options before you settle on the right one. While planning an itinerary it's also ok to move on to the next steps then come back here and make some changes.
When we went to Egypt for example, I wanted to see all the historical places but in my priority list there was also some relaxing time by the beach and a Nile cruise. As we only had 10 days, after many attempts, I have had to sacrifice the trip to Abu Simbel.
Highlight the main places you don't want to miss and move to the next step. Your travelling itinerary at this stage is just a draft but it will help you to understand if it is better to consider a round trip itinerary with return flights from the same airport, or will your plans be better suited to arriving and departing from different cities, and to build the first idea of the costs.
You don't need much at this stage but it should start to be more clear how many stops you can include.
During any of the steps that will follow you need to come back and add any relevant detail.
BUILD THE ITINERARY BUDGET
To get an idea of how much your trip may cost in the end, you will need to do a brief search based on the draft itinerary you have just outlined.
Create a flight itinerary and check flight prices
Define if you are going to arrive and depart from the same city (loop trip) or if it is better to arrive and depart from 2 different points.
If you have a little flexibility and are planning well in advance then you have a very good chance of finding great deals.
Skyscanner and Google flight are your allies, do various tests. Try a simple round trip itinerary in the same city on various dates, or use the calendar function in Skyscanner to get an idea of the cost. If you are planning the itinerary for traveling in a big country check the cost of 2 one way flights and multi-city (arrival and departure from different cities). Google flight let you search for multiple cities at the same time, really helpful to compare prices from different departure/arrival points.
If the country you want to visit is big, take a look also at the costs of internal flights.
Take note of the costs, but don't book yet, unless you find incredibly low-priced dates and aren't too worried about the budget.
Check accommodation prices
In this step you just have to get an idea of the hotel or Airbnb costs. In Booking.com you can search for hotels for the indicative dates you have established and filter the results with hotels in the centre (or near the beach…) and hotels with reviews from eight upwards. Without going into details this will give you an idea of the average cost.
At this point you have the main elements in hand to roughly define the cost of the trip considering the unavoidable expenses. If the result satisfies you then it's time to proceed. If you think the cost is too high (don't forget that you still have to add the cost of various activities, transfers, tours…) consider if you can still make it happen with some small adjustments.

Think of reducing the trip length, picking cheaper accommodation, consider using points and air miles to lower the cost of hotels or flights, consider using the train or bus instead of the plane for internal transport. If you are at least flexible and adaptable it should be possible to cut costs.
We try our best to always travel in a comfortable way, but our budget is not unlimited. One of the most expensive trips we do most years is going skiing in Alta Badia. When you put together the costs for hotel, ski-pass, ski gear, nursery/ski school on the slope, car hire, food, you reach roughly €450 (£400) o more a day. Last year we decided to save some money by just shortening our trip. We stayed 6 days instead of 7. This for us was the best option instead of lowering the quality of the accommodation. You can always find a way to save some money!
Now that you confirmed the destination you chose is also within your budget, it is the moment to book your flights. Search again in Skyscanner and Google flight, they offer a lot of interesting combinations. Try different airports by selecting in Skyscanner nearby airports (sometimes just this could save you lots of money)
When you find a combination that works well within your itinerary plan, then check with the airline portal directly, if the price is the same then book through them. Booking directly will make your life easier in case you have issues or you need to make changes.

If you are booking a flight more expensive than £100, then pay with a credit card. Credit cards give you extra protection in case you have problems with the airlines (too long a topic to discuss here, hopefully, you will not need to fall back on it, but it is good practice to remember it).
If you travel to Europe, surely at some point you will find yourself considering flights with Ryanair and Easyjet as the two largest European low-cost airlines. Ryanair has an algorithm with super dynamic prices, constantly rising and falling which is difficult to predict, so with Ryanair it is usually better to book well in advance. Easyjet seems to be more predictable, in my experience the flight prices usually only increase. With the more traditional airlines, prices are more stable. British Airways in recent years has offered very advantageous prices for long-haul destinations during their sales a few times per year.
If you are not happy with the flight prices you can monitor them for a while to see if the price goes down. Google flight and Skyscanner have an amazing feature that will notify you every time there is price variation if you set an alert.
Once you have bought your flights, start the process of obtaining your visa and necessary vaccinations (including certificates!), or if too early make sure you plan them in for the right time.
RESEARCH ACTIVITIES, TOURS, OPENING HOURS
Time to discover what each location has to offer.
This is a fun time, you can start to look at the daily details of your trip. I recommend researching as much information as possible. You can start with a traditional guidebook that will offer you an overview of most things available. At the same time, you can check google or Pinterest which should bring you the most relevant content. Travel blogs will also help you to find some off-the-beaten-path things to do. Get your guide and sometimes for activities and tours even Tripadvisor can be source of inspiration.
When you find museums or places you would like to visit don't forget to double-check their own website to get the most up-to-date info regarding costs or opening times.
In large cities, it is not difficult to find many activities developed to involve children. If you are particularly interested in a museum, look if they organize child-oriented tours, they are usually informative for adults yet designed to capture the attention of even the little ones. If you want to participate in a food tour or walking tour, consider a private tour, the costs are often not much higher than a group tour, but you can adapt it to your needs.
It always depend from what you want to get from the trip. For example: we recently came back from a trip to Porto and the Douro Valley. Many people would decide to visit Douro Valley on a day trip, while others would spend 3/4 days really exploring every corner.
Pre-book when it's needed
This step is really important because many courses, tours and other activities/visits are not available every day or need pre-booking, so you want to make sure you are not leaving a place the day before that amazing Thai cooking course you want to do! There are also many museums that offer free or reduced entrance on particular days, if you know it in advance you can try to fit it in your traveling plans and save money.
In popular destinations, it is now also really common that they restrict the number of visitors to an attraction/site each day and so tickets in the high season could be sold out months in advance. If you come across this situation take note that as soon as the itinerary is defined you will have to buy tickets. If you are planning for travel at the last minute, then check if there are tickets available in your range of dates and book. Then go back to the itinerary and make any necessary changes (arrive/depart one day before …)
An example could be the organisation of a Machu Picchu visit during a trip to Peru. If the visit to Machu Picchu is a priority during an itinerary in Peru, but you are planning a trip in the high season at the last minute, then you should check the availability of Machu Picchu's entrance tickets even before buying flights to Peru.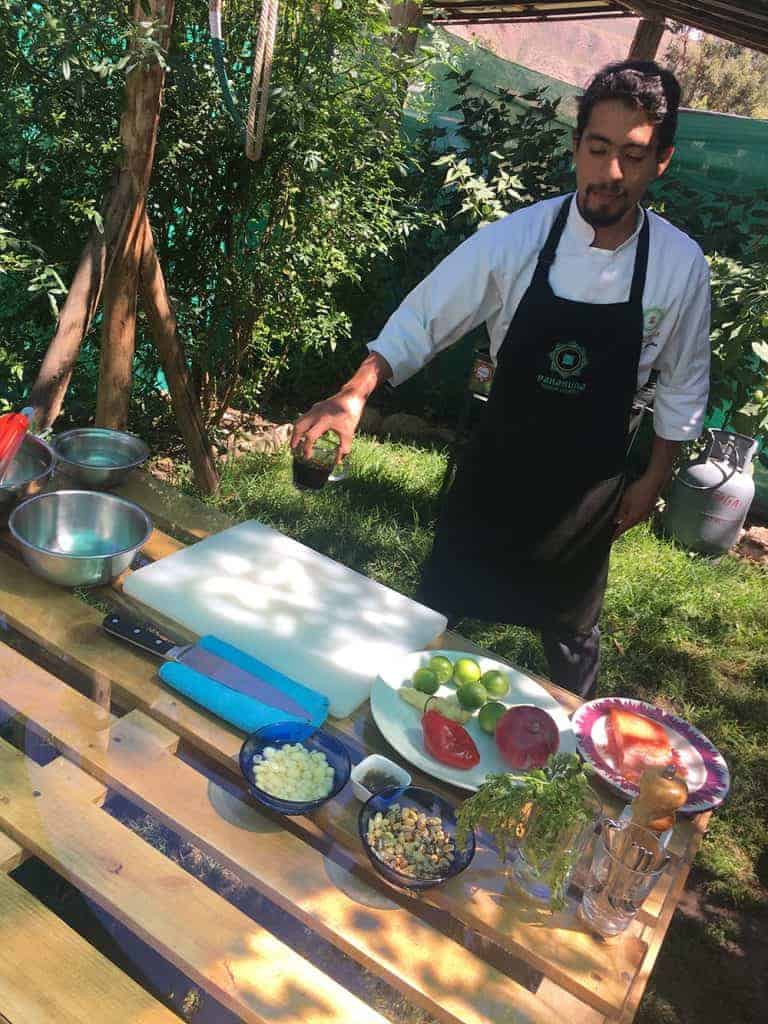 CREATE YOUR OWN GOOGLE MAP
This step is really important, really simple, and it will make your life much easier when you are out and about.
Creating a map is really easy: you open google maps, click to open the top left menu and then click on "your places". Once in there you will see a create map button, click on it and a new window will open. You can now click on your untitled map to rename it and start to search for attractions or addresses in there. Search for every attraction, point of interest, tour starting points, and basically everything you would like to visit/see and click "add to map". The place will be saved on the map.
Once you have marked on a map where all the sightseeing, tours, and courses are located, you can divide them into different layers. For example, you can create a layer for each day and try to group and schedule the different activities together by proximity, this is especially important when planning an itinerary in a big city like London or Rome for example otherwise your time will be wasted in unnecessary travelling.
When travelling with children, do not forget to try to identify some playgrounds scattered around the cities you will visit, they will be useful for small breaks between one museum and another in order to please the whole family.
RESEARCH/BOOK INTERNAL TRANSFER
Look back to the outline itinerary and finalize all the connecting flights, trains, buses etc. that you need.
By this stage you should have a much better picture of your itinerary and how long you want to spend in each stop, based on the sightseeing, tours, or activities you want to experience. It is now time to look in detail at how to connect to each of your stops. Depending on the destination, some connections can be booked once you are there, but in the majority of cases you will have much more peace of mind if you book everything, so you will not need to think about the logistics once you are there.
Many people underestimate this element, with the consequence of having to reduce the time dedicated to visits. In this part, we talk about both the movements from one point to the next of the itinerary and the daily movements.
It is important to evaluate the different alternatives and to include everything including the time to reach the airport or train station.

However, the most underestimated are definitely the daily movements. In your google map you can check the time needed to move from one attraction to another and you can insert it into your day in order to have a realistic overview.
Tips on internal transfers
In general: Domestic flights usually increase in price as they get closer to the departure date. Trains also in many destinations have dynamic prices and in some cases, the best prices for popular routes are obtained two to three months before departure.
Rental cars often work differently. If you book directly with the rental company (Avis, Budget …) then the earlier the better. However, if you book with a third party company (usually much cheaper) then rental cars seem to be more expensive if you book too far in advance. You usually get good prices around a couple of months before the trip. Car rentals can usually be canceled for free until 24 or 48 hours before the rental starts (double-check!), so you can book it and then check again later to see if you find it cheaper.
This step can also work in reverse, in such cases when the connection is not a simple transfer, but an experience itself.
For example: on our trip to Peru I really wanted to experience the PeruRail Titicaca from Cusco to Puno, but this train only runs on specific days a few times a week, so I have adjusted the itinerary to accommodate it.
Research the different areas of the city, or region where you are going to stop, and book refundable hotels
Choose the right area
Ok, at this point you need to make some research using the map you started to prepare. If you are booking in a small city you will immediately realize that most of the best options are close by and usually all in the city centre, but it's still worth checking. In bigger cities, it is really important to balance the location of the accommodation with cost and how long it would take you to reach different points of interest.
You need to have an idea of what you would like to see, how long does it take to move from area to area, if parking is an issue, and the environment you prefer. What do you want to prioritize? I'll share an example to illustrate.
When we went to Tokyo, after a long search I decided to book an hotel in Ginza 5 min walking from the Tokyo main train station. Our twins were 17 months old and so for me the priority was to move around in the easiest possible way because we were still carrying a lot of stuff with us. The train from the airport was arriving directly there, the train for our day trip to Nikko was departing from there as well as the train to move to the next stop in the trip. Tokyo station was also one stop on the main tube line for the most common areas to visit and with easy access by lift. Ginza is a vibrant upmarket neighbourhood with lots of shops and restaurants…It was perfect on paper and it was perfect in reality when we were there..
Book refundable accommodations
At this stage, if you book far in advance then book refundable hotels for two reasons.
Cost: hotel prices also fluctuate a lot and can often reduce in the last couple of weeks before the check in dates with low booking. It's always worth to recheck the prices when you get closer to your departure date and cancel and reebok if beneficial.


Flexibility: if you are booking really far in advance you still want the flexibility to make small changes to your itinerary. You may find a new activity to do or a tour you want to experience is not available during your ideal stay, and so you have to decide to shorten or lengthen your time in a specific location.
Always check different websites. Booking.com and Agoda.com (particularly in Asia) have a terrific offer. Booking.com in particular offers the possibility to add lots of filters to make your research easier. You can set the max price, order accommodation by star rating or by top review, and even just select the ones that offer sea views or are beachfront. Create a list with your favorites until you settle on two or three. Before to book check also the hotel website or give them a call, sometimes booking directly with the hotel can be cheaper or they can offer you additional service included in the price.
Add the accommodation you book into your google map
HOT TIPS: If travelling with a baby check if the hotel provides cots.
If travelling with more than one child and you have difficulty finding reasonably priced rooms then search for a smaller number eg a room for 2 adults, and read the hotel policy carefully Many hotels allow 1 or even 2 kids to stay for free or with just a small fee per night in the same room with parents.
This step is really easy in booking.com as at the bottom of every hotel description there is a box that highlights the hotel rules (see the picture), where they explain what and how they charge for young kids. It isn't always correct but it is usually a good starting point. Alternatively, you can bring a light and compact travel cot with you and save even more.
SEARCH AND BOOK RESTAURANTS
Search what and where to eat, book if necessary.
This is an optional step, but in some places can be really important. In some countries a full restaurant means a good restaurant, but quite soon you will realise that this formula doesn't work everywhere.
Take London for example London is an incredible foodie destination, where you can sample some of the best cuisines on the planet. Although if you talk with casual first-time visitors many will report experiences of bad food, expensive restaurants, and unhealthy options. How is it possible? In London there is a strong culture of eating out and places in busy areas are always full, but that doesn't guarantee you a great experience and decent food.
This step could prove to be overwhelming, where possible try to take part in a food tour to have the possibility to taste some typical dishes and get some insight of what to expect from the local cuisine.
Another recommendation is to not use TripAdvisor to make your selection. TripAdvisor could be a great source of ideas and references for what to do and activities in a place, but restaurant judgment is heavily influenced by so many factors, such as food interest, people's country of origin, personal preferences, so it is really difficult to base decisions on that. Best to look online on some foodie website that can give a more objective view.
Personally I now always decide in advance for each itinerary and book 80/90% of the meals (when possible of course) well in advance. I save them in the map and add them as a stop in the itinerary.
FINALISE THE ITINERARY DETAILS AND WRITE EVERYTHING DOWN
Create your spreadsheet/form
If you haven't started yet, then this is the moment to put together all your trip information and add all the details you can in a spreadsheet.
Many people look at me horrified when I mention a spreadsheet like I'm going to work instead of going on a leisure trip, but for me, this is a crucial part of an enjoyable well organised trip.
Up to now you probably already have a few emails with flight/car/hotel booking confirmation. Then you have the map with all the tours/activities/restaurants/points of interest. On top of that, you maybe saved articles you found on the web, or pictures from Instagram. It is now time to put them all together.
You can use whatever software you want. There are also some online planners like Google trips that save all your bookings for you from your Gmail. I find the old school Excel or sheets in Google drive the best option. I can keep it also on my phone and update expenses during the trip.
Divide it day by day
Start to allocate attractions, tours, and experiences that have fixed timing, or that you already have booked on different days.
Distribute the other attractions on the other days, based on proximity looking at your google map. If you want to visit a museum write down how long it takes to get there, the cost, the opening times, the closing days and the day and time you would like to visit. For flights and other bookings put down reservation number, cost, date you can cancel by…etc.
Try to include as much detail as possible, for example, if you need to take a train put in the spreadsheet the ideal time you want, the cost, where to get the tickets (or if you need to book in advance), and how long it takes to get to the station from the hotel or the previous point where you will be.
When you have all this information well organised on the different days, you can allocate the right time for each block and you can already investigate how to move from point to point. This way you will be sure to not over plan and you can include also some relaxing time (yes that also needs to be planned in!)
You will also avoid wasting time on the day trying to figure out how to move around if you need a bus, a taxi or how long it is to walk.
This could seem a lot of work but when you make a travel itinerary the more info you have then the smoother it will be.
It is really useful to have as much information and as detailed an itinerary as possible, but this doesn't mean that if something better comes along you can't make changes and to move things around. That is also the reason why you are building an itinerary by yourself instead of joining an organised one. It seems strange but the more detail you have planned then the easier it is to make changes on the go.
Include all the costs
The spreadsheet is also really important to keep an eye on the budget. When you have everything filled in you can have quite a clear idea of what you are going to spend and if needed you can go back and adjust to save some money on accommodation or various activities. The more info you have then the fewer surprises you will get.
The spreadsheet together with the google map you created are the sanity savers of any trip!
HOT TIP: Print the most important documents. Even if you have a digital copy of everything, print your train ticket, car rental voucher, tour or experience voucher.
EXTRA STEPS TO PLAN THE TRIP TO PERFECTION
Once you get to this point, your itinerary should be complete and detailed. To test yourself you can start with a simple itinerary, maybe just a short trip to get familiar with the various steps. Once you discover the benefits you will never go back.
Before leaving, for the trip to be a success there are still a couple of things to consider.
Insurance
Never leave without insurance. Especially if you have children, but also for any mishap, from the cancelled flight to the lost suitcase. Insurance will give you a minimum of security and peace of mind.
There are many different insurance products on the market. We use Axa at the moment but I'm considering trying Cover for you as it is cheaper but with a good reputation. Both of them are good options if you don't have any pre-medical conditions, and are planning standard travel, but double-check if you are over 70, want to include extreme sports, or will be away over 90 days.
Prepare a detailed packing list
This step is particularly important in two scenarios
When traveling with low cost airlines: each airline has a different policy regarding the cost and size of baggage to be checked in or taken on board. Traveling with just the right size hand luggage could save you hundreds of dollars / euros / pounds!


When traveling with small children: it is easy to get carried away and decide to take half the house with you. In the end, there aren't so many things you really need. Choose carefully the lightest, easy-to-carry, dual-function models, or models that fold easily and travel will be smoother. Prepare a checklist of baby essential items and stick to it.
Plan how to pay abroad
Nowadays there are several ways to bring money with you without carrying cash and paying extortionate exchange fees.
The best options are the Curve cards and some other reloadable cards like Wise or Revolut. They work in a slightly different way and as most of them are free I suggest you get at least Curve plus one other. Lets have a look at the differences.
Curve card
Curve is one of my favourite cards and I have owned one since it was launched on the market.
The most important thing? The basic card is free, infact you will receive £5 if you try it using this link!

(There are other models, the Curve black and the Curve metal, but they have a monthly fee). To get started, the free card is perfect.

What is Curve? Curve is not a bank account, but rather an intermediary wallet card.
What does it mean? Through the app, you can connect it to other Visa or Mastercard debit or credit cards, and from time to time you use Curve to decide which underlying card to pay with. Curve practically combines all your cards in one and as it acts as a debit card you can use your underlaying credit card also in places that only accept debit cards.

More complicated to explain than to do, registration is very fast, and adding the cards once you have downloaded the app is also very easy.

Several aspects make me appreciate Curve a lot and use it often, even daily, but two are the fundamental elements for me that make it a card all travelers should have.
When you travel abroad you will save a lot on exchange rates and foreign transaction fees (most cards charge you 3%). The basic card has a fee-free spending limit of £500 per month and a fee-free £200 ATM withdrawal.

Curve practically absorbs the costs your underlying debit credit card would charge you. The limit of the basic card is not high, but it is a free card, so if you are two travelling, you can request two!


The second reason you want to have it with you while traveling is safety. You can leave all the other cards safely in the hotel safe and explore only with Curve. In case you lose it or steal it, you can block it from the app, but you will still have the other cards available and active.

The card also offers other great features that you can discover on the app once registered.
Reloadable cards
The best thing to do is to open an account with one of the new online banks that offer rechargeable cards that allow you to exchange money in other currencies without commission and at an exchange rate almost equal to that of the bank.

Depending on your country of residence you may have a wider choice or less. Monese, Wise, and Revolut are among the best known and most widespread. I have personally used Wise and Revolut for years and recently added Monese as well. You simply transfer money in the card from your current account, then exchange them directly in the card app, and then you can use it abroad to pay or withdraw money in the local currency without paying an extra fee.
Before leaving, despite having the use of different cards, consider changing a minimum into the local currency, even just £30-50 in case the ATM is out of order on arrival at the airport.
That's it! You have all tools to start a family trip itinerary planning!
I hope you found this step by step guide useful and it will help you to organise terrific trips with your loved ones! Let me know in the comments if something is not clear!
Here is a summary of the main tools we use to book any trip.
FLIGHT
HOTEL
ACTIVITIES / TOURS
RENTAL CAR
INSURANCE
CARD FOR FOREIGN EXPENSE /
EXCHANGE OF MONEY
PIN IT FOR LATER!