Driving in Peru: 5 days itinerary around the Sacred Valley
Last Updated on 11/09/2022 by Clotilde Passalacqua
Driving in Peru, yes or no? is the question I asked myself until a few days before leaving for our 2 weeks in Peru.
On the net, many people ask themselves the same question but testimonies are not found … will it be because everyone has something happened? No, the testimonials are not there because, as confirmed by the person in charge of car rental in Cusco, there are very few tourists who rent the car… and probably none of them write a blog !!
So here I come to help you because driving in Peru, especially in the Sacred Valley, is absolutely feasible and not comparable to the stories I've read of trying to drive in places like India.
Of course, Mark is now used to driving in Rome which, according to many friends in the UK, is a scary experience, even if only to imagine! The condition of the roads in Peru are reasonable despite the undeniable presence of large potholes and savage speed bump (they definitely make you slow down!) , but with a minimum of attention you can navigate with few issues.
This post may contain affiliate links. I may receive a commission for purchases made through the links on this page, at no cost to you.
Why renting a car in Cusco Peru is a good option for a family
Among the many places to visit in Peru, the Inca Sacred Valley certainly cannot be missed. Adventurous backpackers (probably many years ago I would have done the same) can save money by relying on the very cheap public transportation, that needs to be searched out but it is there. With Liam and Santiago now 3 years old, if I could I would choose teleportation to avoid the stress of moving! However given that teleportation is till being worked on, I believe that in these cases the independence provided by a rental car is perfect.

Most people organize day trips from Cusco or agree a daily price with a taxi driver. Both of these options are extremely valid, don't get me wrong, but are more expensive or less flexible at times. Some organized tours can be very interesting and you can relax without having to worry about times or itinerary to follow. If you have little time they are definitely the best solution, and we used them many times.
At the moment the full day tours are not for us, they always make us feel under pressure because with Liam and Santiago we are always late for one thing or another (to be fair we were often late before Liam and Santiago too!).By renting a car we were able to decide our times and above all change the programs when necessary. Traveling with children sometimes requires adaptations to the schedule that cannot be planned
Is it safe to drive in Peru?
I don't want to generalize because we have only been driving in a small area of ​​Peru, the Sacred Valley, but based on our experience I would have no hesitation to recommend this option.
During the two weeks spent in Peru we were able to travel by car in another long journey from Lima to Huacachina with a private transfer and from Puno to Arequipa by bus. Even as a passenger we have seen that Peruvian drivers do not speed too much and respect the road rules well enough. We didn't see any accidents and we never had problems finding petrol stations or parking lots.
If I have to find a problem I think it would be the use of indicators, in the sense that I think in Peru they have other meanings that we have not been able to decode. Unlike in Rome, indicators are in frequent use, however a vehicle flashing a left indicator could mean I am turning left, I am turning right, I am inviting you to overtake, I have forgotten to switch off my indicator, or none of the above … 🙂
I definitely didn't find much differences from driving in Peru and driving in Rome (indicators excepting!)
Would you like to organise the same 2 weeks in Peru? Curious to know how much our trip to Peru cost? Do you want to budget your Peru holiday? Click here and grab this itinerary in my famous excel format, with detailed info about timing, costs and transport!
Practicalities to rent a car in Cusco
Provider we used
As for almost all of our trips I booked the car through Car Rental Net. Almost always it is the portal with the cheapest prices, but this is not the main reason why I choose it. The main reason is that they clearly write that everything that is written in the reservation is included in the price, unless changes are made.
I am someone who usually reads all the T & Cs of the contracts, and yet it happened to us in the past, before discovering this company, to have expenses charged for unclear quibbles in the booking.

Two classic examples concern out of hours pick up or return, and one way fees. Many providers write in the contract that the rental company could make you pay a supplement if you pick up or deliver the vehicle outside office hours or if you return it to another office , but they do not show you the times or the costs clearly if at all.
Car Rental Net includes everything in the price, leaving no room for discussion. We have had the proof several times when the hire company has tried to ask us for more money but the contract clarified everything explicitly.
Renting process
Our car was booked with Sixt (but much cheaper than booking directly) and the scheduled pick-up was at the airport. Here I had not checked well … usually the airports have clear directions to reach the car rental offices, but not in Cusco Airport. It is nothing to worry about, you just have to get out of the Airport, turn right, and in 5 minutes you get to the office.

The problem initially was that nobody knew anything to help give us directions (luckily in Peru Taxi drivers are less nagging than in other places). The car rental manager also sent me a message in whatsapp offering to meet us if we had any problems, but we soon found our way.

The Sixt office is managed by a Peruvian family and it's very different from the usual car rental offices to which one is accustomed. It seems more like one of the many shops on the road, but everything was very smooth even if a little long. The car had some scratches, but everything was reported on the contract (always check yourself too, of course) and after all the checks and signatures our adventure started driving from Cusco to Urubamba.
HOT TIP: car hire offered the possibility of renting child seats too, but now we always travel with our infallible Mifold. Approved folding child seats that weigh a few grams and fit into my handbag.
5 Days Sacred Valley itinerary
5 days in the Sacred Valley (including 1 day dedicated to Machu Picchu) is a generous amount of time to see everything calmly and include some extra activities.
If you want to shorten the itinerary you could reduce it to 4 days, but not less.
1st day: Maras salt mine, Moray, and Chinchero
Maras
The day can start calmly because everything is close.
It starts with the Maras salt mines. From Urubamba it is about 45 minutes driving on a comfortable paved road. We used the mobile phone navigator, but we saw constant signs along the way for Salineras de Maras.

Maras salt mines are one of the few places not included in the Boleto Turistico (I will talk more about it later). So when you arrive at the entrance of the site directly from the car park you pay 10 soles a head (free for kids). Immediately after the entrance on the right is a small square where you can take magnificent pictures of this beautiful place.

Unfortunately, going down towards the site, we quickly realized that there is usually a very long queue. The tourist buses usually reach about a hundred metres from the site then let the passengers out to continue by foot. By car you have to continue in the line to get to the parking lot.

The visit itself does not require more than an hour. The accessible part of the site is not very big but it is sufficient to appreciate the unplanned beauty of a site so ancient, and to appreciate how it works, because yes it is in constant use every day!
The terraces are surrounded by an extremely intelligent irrigation system, which reaches every pool. The pools are about thirty centimeters deep and are filled with salt water coming directly from the nearby source. When a pool is full the canal is blocked and the workers wait for the water to evaporate to then collect the salt left behind

This spectacular photogenic site has been in use since the Incan times and the community still works in the extraction of salt. It is a beautiful site to see and incredible thinking about the history that distinguishes it.
From the Maras salt mines we moved to Maras village, a tiny village without tourists with a small Plaza de Armas. On the square there is a building where the market is held and on the first floor two or three small restaurants, where a very kind lady has prepared us a delicious lomo saltado.
Moray
Another 10 minutes and you arrive at the Moray Inca ruins. This is the first site that you visit where you can buy the Boleto Turistico.
The ruins of Moray are perhaps less impressive than other sites, but definitely a beautiful walk. To make the whole tour you have to go way down before unfortunately needing to go up again. With the altitude effect that you feel for sure it is more than just a walk! The routes are safe and Liam and Santiago have had no problems walking.

Both sites, Maras and Moray, have a market with typical products to satisfy your every touristic need! From Moray it's about 45 minutes to get to Chinchero.
In this case we decided to change the itinerary, we had time but the tiredness and a bit of headache due to the altitude made us decide to postpone the visit to Chinchero (don't worry I talk about it below) and return to the hotel, after buying bread, avocado, and fruit for the strict diet that Liam and Santiago imposed upon themselves during the trip.
2nd day: Urubamba, cooking classes and Ollantaytambo
The beauty of having a little more time makes it possible to incorporate different activities from visiting ruins all day. On the second day, a couple of hours can be spent visiting Urubamba and then a hands-on cooking lesson.
Urubamba
Urubamba is a town outside the tourist circuits, it is not usually included in the Sacred Valley day trips. This makes it more authentic and a very interesting place to immerse yourself in local life.
Parking is not a problem and you will soon reach the main square where sitting on a bench you can see the everyday life flowing quietly. There is not much more to do in Urubamba, but it is a really pleasant stop.
At 11am it is time to reach the Posada Pakakuna, where the cooking lesson is held.
There are several interesting options between Cusco and the Sacred Valley for a cooking class. My choice was based on position, because it was very easy to insert it in our itinerary as it was close to our hotel, but above all because it takes place outdoors, so Liam and Santiago could play a little without us constantly having to worry about them destroying everything.
The place is very friendly and with a nice hippy vibe that makes it very welcoming. Arriving you enter an open patio which the rooms and the small bar overlook, from there you enter the back garden connected to the vegetable garden.
A table has been set up in the garden for preparation and stoves for cooking. Diego the chef speaks almost only Spanish, but there was a lady who readily translated for us.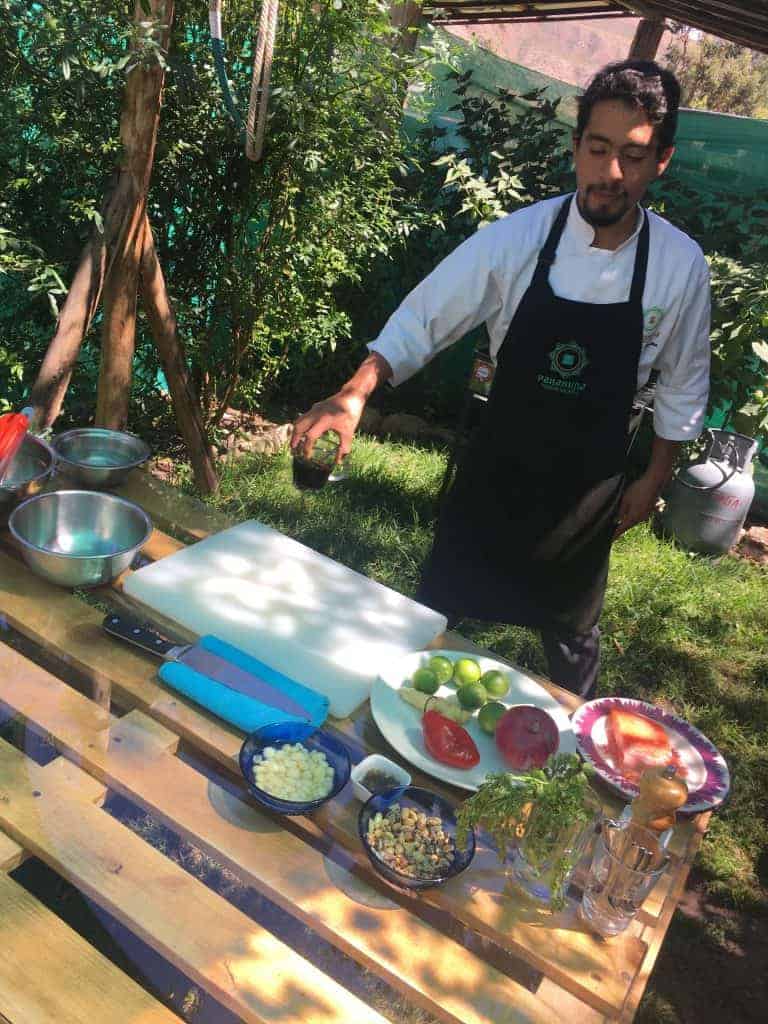 During the lesson we learned to cook ceviche and lomo saltado, two classics of Peruvian cuisine that we then ate there. They also prepared some food for Liam and Santiago (that of course they barely ate but Mark enjoyed it!) . The lesson was really good and if you like this kind of activity you will not be disappointed, we were expecting just a little more involvement in doing things, but maybe we should have asked.
Ollantaytambo
Refreshed and smiling, around 13: 30-14, we set off for Ollantaytambo. Ollantaytambo is a very touristic site, arriving in the afternoon is not bad, because many people who decide to stay there visit it in the morning.
Arriving by car you can't miss it. It is an impressive site on the small but pretty village. You arrive by car almost up to the entrance and then turn leftt and park 5 minutes away.
The site is part of the Boleto Turistico, so don't forget it. For the children we have not found it dangerous, but definitely challenging as there are many stairs to climb. Liam and Santiago made it almost to the top, but when they got tired we took them up in the ergobaby.
It's a fairly complex site and it would have been interesting to take a guide to fully appreciate it, but in this case we relied on the internet and the digital lonely planet.
At the exit of the site there is a nice market (just to not miss an opportunity to make some business!) The village is one of the best preserved of the Inca period and there are still some original buildings, so a walk is a must.
Ollantaytambo is a pleasant place to spend the afternoon and end the day with dinner in one of the many restaurants on the main square.
3rd day: Machu Picchu
This is a big day, today the itinerary says visiting Machu Picchu!!!
The visit to Machu Picchu is not something you can wake up in the morning and decide to do, unfortunately in this case the spontaneity must give way to the organization.
How to organise a self visit to Machu Picchu needs a separate post, go and have a look to get the latest information and costs to get to Machu Picchu, because here I'm just making a quick summary.

In 2018 the government changed the access rules to the Machu Picchu site, so you will have to choose to buy a ticket for the morning or the afternoon. It is no longer possible to stay inside all day. With this premise the best solution, especially when traveling with children, is definitely to do a daily excursion choosing the afternoon ticket (from 12) … so this is what we did:
we drove to Ollantaytambo
parked near the station for 3 soles per hour
took the 8:53 Vistadome Perurail train from Ollantaytambo to Machu Picchu (I had previously bought the tickets, but it was not completely full)
bought the bus tickets from Aguas Caliente up to the entrance of Machu Picchu
entered Machu Picchu at 12 precisely
visited the site until 16 and started the reverse path adding a stop in Aguas Caliente for an early dinner (the 18:20 Expedition Perurail train on the way back was fully booked, so also in low season it is good that you buy your train tickets online in advance)
HOT TIP: you must have your tickets when you arrive at the entrance of Machu Picchu, you can't buy them there.
The government website is a bit fiddly but I explain here how to buy the Machu Picchu tickets independently without spending extra money for an agency.
The day spent in Machu Picchu was fantastic, this is a site where not many venture with small children but it is absolutely feasible with a minimum of organization. The paths are also really good, so kids are safe to walk in most places. Don't miss my article completely dedicated to this day!
4th day Pisac and SUP lesson
The fourth day begins calmly because unfortunately we skipped our activity in the morning because the weather was uncertain and colder than usual. I didn't want to risk Liam and Santiago getting sick and compromise the rest of the journey (I live in London, and I have adopted so many British habits, but I'm still an Italian Mamma at the end!!!)
The morning of no SUP lesson

The program included Stand Up Paddle boarding on the Piuray lagoon in the morning and a visit to Pisac in the afternoon.
I could not wait to take part in SUP, the people I had contacted had sent me photos of other guests who had done SUP with their children … it seemed perfect … but no, I will have to wait for the next time.

I cannot therefore comment but from the exchange of emails (I can pass you their email if you like, just drop me an email) they seemed to be very prepared and competent, if the idea intrigues you then get in contact with them, the chance does not happen every day to do SUP at 3000m altitude.
This activity takes a couple of hours, starting around 9:30 (around 40 minutes by car from Urubamba). The cost is US $45 per adult (kids free) and includes snacks and everything you need.

Given our change of plan, we calmly left around 11 am and headed directly to the second stop, the market and the Pisac ruins.
Pisac is located about an hour drive from Urubamba, and there are signs along the way, and it is not difficult to find parking.
The Pisac market is definitely the most beautiful we've seen. All very orderly, very kind sellers, honest (and as always negotiable), good prices. Having more time than expected we made purchases and took a nice tour in this not-too-touristy village with a decidedly hippy air. It would not surprise me to come back here in a few years and find it transformed as Ollantaytambo

Before reaching the archaeological park to visit the ruins, we stopped at the Pumachayoc Oven, a little outside the main area, where we ate the best empanadas of the whole trip (found by chance only because we wanted the daily bread ration for Liam and Santiago !!!!)
The ruins can be reached in 10 minutes on a steep ascent by car to reach 3,347m … and the altitude is felt !!! Pisac is another site that is part of the Boleto Turistico.
Pisac ruins
The site is quite large with a set of functions: military, agricultural, and religious, and you can spend a couple of hours to see it all and read the story. Pisac is perhaps the only site where, when we began to climb the ruins, we did not feel safe to let Liam and Santiago run by themselves and we brought them with the Ergobaby. To climb to the top, I passed close to many overhanging points that are too dangerous in my opinion for a three-year-old child.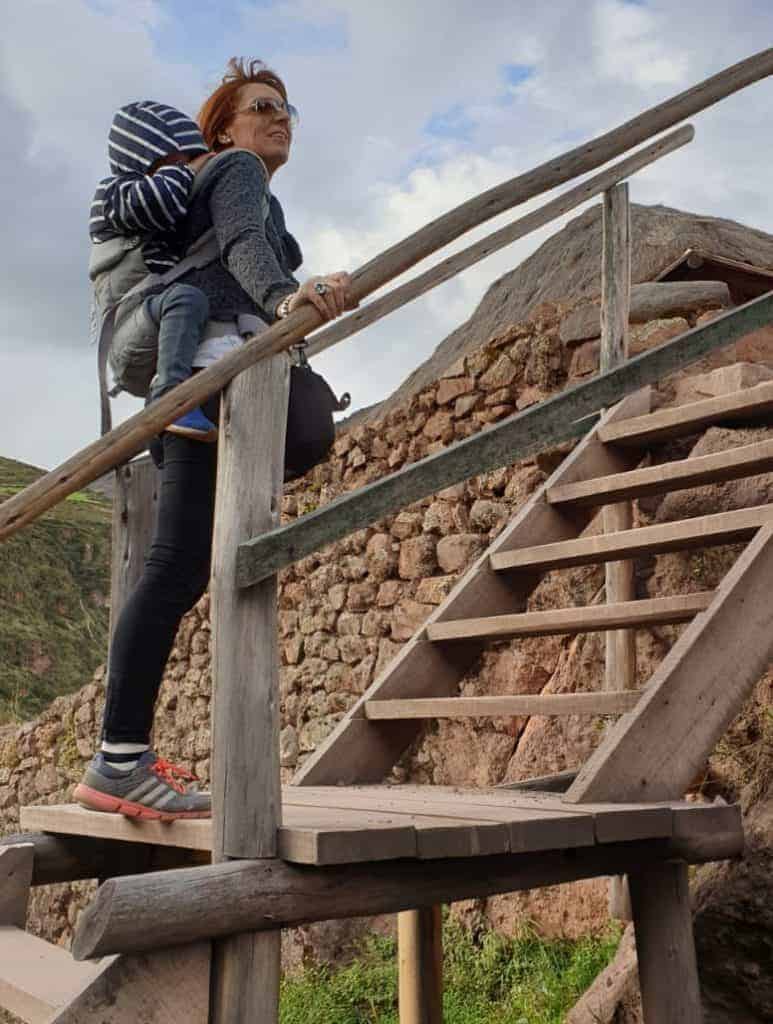 It will be because I had 18kg on my back, but Pisac really wore me out! The view when it reaching the top is crazy and pays for itself, but its a lot of effort!!!

We arrived at the Pisac ruins around 2pm and we had them almost only to ourselves for the whole time. When we were about to leave many groups, probably part of one of the many Sacred Valley tour , were starting to arrive. Pisac is very close to Cusco so I think it is the last stop of the day for the tours that then return to Cusco, so it is probably better to go towards lunch time like we did!
Pisac is a village that offers a very relaxing experience and in my opinion deserves more than a hurried stop just to see the market.
5th day: Chinchero (again???) or Tifon
The fifth day was actually only half a day for us and we visited Chinchero because we were a bit lazy on the first day. If you have managed to include it on another day then my suggestion is to stop in Tifon, especially if you are moving to Cusco because it is very close.

Chinchero is about 45 minutes from Urubamba (same time from Cusco). Very close to the market there is parking. You can visit the market, the ruins, and the fabric weaving demonstrations.
The market includes artisanal products, fruit and vegetables, and some stalls with hot food, the atmosphere is relaxed and the prices are good, but it is quite touristy. The ruins can be reached by exiting the market going up on the left.

The site is part of the Boleto Turistico.
Access is discouraging because from the entrance you can see a seemingly infinite staircase that, already arriving out of breath, does not really encourage further exploration. In reality half way, you can explore on the side a little street which is lined with various small shops so as to slow down the ascent.
The site is not large, they are the ruins of a village, a Church (built over Incan ruins still in use) and the terraces. The esplanade in front of the church offers an exceptional view and a pleasant sense of peace. The colonial church is beautiful, unfortunately you can't take photos, but don't miss a visit.
The last thing to do in Chinchero is to visit one of the many textile centres to watch a demonstration of how to work with wool, from dyeing to weaving
A visit of a couple of hours is sufficient including purchases and rest stops!
From Chinchero after lunch you can head to Tifon, if you have time. Unfortunately it was the only site that I wanted to see but we didn't manage.
HOT TIP: if you decide to follow this itinerary buy the Boleto Turistico valid for ten days, so as to have the possibility to see everything calmly
Where to stay in the Sacred Valley
After having thought a lot about it (and having read about all the villages in the Sacred Valley) I decided and booked in Urubamba. The most palatable alternative was to stay in Ollantytambo, where we would take the train to Machu Picchu, so as not to add a further shift in a full day. Unfortunately I have to say that all the hotels that seemed most interesting to me are in Urubamba, Ollantytambo seems to target more customers on a tight budget.
Tierra Viva Valle del Sagrado
We stayed in the Tierra Viva Valle del Sagrado hotel. It is not a luxury hotel, but it is fantastic value for money! Booking far in advance we got a room for £59 a night, definitely difficult to beat at that level! I would go back without hesitation!
It's located about ten minutes from Urubamba (with the car it's not a problem but keep it in mind if you don't take one). Spread over a very large area where buildings of only two levels overlook large gardens with hammocks.

The rooms are very large, perhaps initially they may seem a bit bare, but nothing is missing. The rooms located on the ground floor have a large window-door that opens directly onto the garden (too bad the lack of a table with chairs), those on the first floor have a small terrace.
Breakfast is served in the restaurant (a little too canteen effect) and every evening from 7pm to 9pm they light the fire right outside it. For us it was too cold in the evening, but maybe in other periods it can be very pleasant.
The reception shares the space with the bar, where you can also eat, and where in the evening there is always happy hour with 2 really good pisco (of different types) for the price of one. Common areas also include a Spa area with whirlpool and sauna, but must be booked in advance and paid for separately.
I found this place also very suitable for children due to the beautiful outdoor spaces where they can play safely, and the large rooms. The beds are very big so that Santiago slept with us even though we had arranged with a camping bed, and the hotel provided us with a cot where Liam slept (surprisingly without complaint because at home he is no longer in a cot for a while now).
HOT TIPS: In many hotels in Peru one, sometimes even two, children do not pay if they use existing beds. Keep this in mind when you book because sometimes you can save a lot.
Other hotels I would love to stay in the sacred valley:
Urubamba
The Arawan hotel is another magical place, completely integrated into the surrounding environment, on the bank of the Vilcanota river. It is located in a beautiful renovated hacienda which becomes a perfect secluded space for a retreat.
There is an outdoor pool, a Spa and 3 restaurants. A place where once inside it is difficult to get out.
Tambo del Inka was my absolute favorite hotel, I would have definitely booked them for 2 or 3 nights, but for 5 nights it would have weighed too much on our budget.
However we went there for dinner, definitely princess level! The interiors are of modern design but with Peruvian elements and artifacts that make it welcoming and denote a luxury style without showing off.
Obviously there is everything you would expect from a 5-star hotel, heated swimming pools, spas, gym, and large common relaxation areas and impeccable gardens. To enter there is always a guarded gate.

What's even more fantastic is that it is directly connected with the train station that from Urubamba reaches Machu Picchu (Aguas Calientes). To be honest there are not many who stop them but do you want to leave your room and get straight on the train ???
The restaurant (with European prices of course) has a refined and welcoming atmosphere with an immense fireplace in the center of the room. The food is very good, but perhaps you would expect more considering the high prices for local restaurants!
If budget is not a problem this could be one of the most beautiful hotels of your trip to Peru.
Ollantaytambo
In Ollantaytambo the only hotel that I would have considered, in the event of a stay reduced to 2, max. 3 nights would have been El Albergue Ollantaytambo. I went to see it when we took the train to Machu Picchu because it is directly connected to the Station. This is definitely an advantage, also considering that there are not rains continuously, and are no night trains.
The structure is very well maintained and seems to be managed at family level, the spaces are inviting despite being simple, the prices a bit high for the offer, but it seems to be one of the best in Ollantaytambo.
Boleto Turistico
The Boleto Turistico is the only type of ticket you can buy to enter 16 different attraction.
You can't buy a single access tickets to those attractions

You can choose between 4 type of Boleto Turistico:
The one that include everything cost soles 130 and allow you to access all 16 different attractions: a mix of archaeological site, museum and cultural centre. From the day you buy it last for 10 days
Each of the other 3 types include only some of the attractions, they cost soles 70 and they are valid only 1 or 2 days.
You can buy the Boleto Turistico at the entrance of any of the included site. The site are scattered all over the sacred valley and Cusco, so unless you are in the are only for 2/3 days you'll find a much better use of the 10 days time frame
We went for the 10 days BT and used it from the first day 1 the sacred valley in Moray until last day in Cusco at Sacsahuman
I hope this post about driving in Peru give you a new perspective about how to organize your time in the Sacred Valley. We really found super easy having the car and move around! Let me know if you will do the same!