Driving in Malaysia: Everything You Need to Know to Explore This Incredible Country
Last Updated on 19/05/2023 by Clotilde Passalacqua
Whether you're looking to explore the vibrant cities or the lush jungles, driving in Malaysia is one of the best ways to take in all the country has to offer. With a rich cultural heritage and a diverse landscape, organising a road trip through Malaysia offers something for everyone.
From understanding the laws and regulations to finding parking and avoiding traffic jams, this guide will provide you with everything you need to know to explore this incredible country.
In addition, we'll provide tips on how to navigate the roads safely and how to make the most of your trip. So buckle up, get ready to explore, and enjoy your journey through Malaysia!
This post may contain affiliate links. I may receive a commission for purchases made through the links on this page, at no cost to you.
Driving culture in Malaysia
First of all, let's set the scene on what could be the feeling of driving in Malaysia.
If you're exploring Malaysia, you'll find that the driving culture in this Southeast Asian country is less chaotic than it can be in some neighbouring countries.
Apart from the fact that Malaysians drive on the left side of the road (as they have been a British colony), we found it quite similar to the Italian style of driving although less aggressive from the car perspective.
My husband is used to driving in Rome and he found little differences, especially in the cities.
People drive in a way that seems to not follow any pattern, but there are some unwritten rules that make it work more or less for everybody. They don't drive too fast and if you change your mind about the direction to follow they will allow you to switch lanes easily. Of course, this is also what creates the impression of everybody doing what they want.
HOT TIP: As you are driving in Malaysia, you'll notice that there are a lot of scooters on the roads. These are a popular mode of transport here, and locals tend to drive scooters aggressively. Keep this in mind as you drive and be extra cautious while navigating the streets. On a few occasions, we have also seen scooter drivers driving on the wrong side of the road (on the very side areas)
Driving in Malaysia rules
As you get ready to explore Malaysia, there are a few things you'll want to keep in mind before you start driving.
Driving in Malaysia the basics
While the minimum driving age in Malaysia is 17, most rental providers have a minimum age requirement of 21 for drivers, with an extra fee for drivers younger than 24. You also need to have had your license for at least a year.
There is also a maximum age limit, usually set at 80 years, with an extra fee for people older than 66. You will find these details are clearly specified in your contract.
The speed limits vary depending on the type of road. On the expressway you must not exceed 110 km/h, whilst on the main roads you must not exceed 90 km/h. On smaller roads, the speed limit is usually 60 km/h.
All car passengers are required by law to wear a seatbelt.
Kids below 12, up to 136cm or 36kg, need to use an approved car seat. We always use Mifold, a foldable booster seat, it is so small and light that I can keep it in my handbag!
You need to drive on the left-hand side of the road, something left over from Malaysia's time as a British Colony.
The use of handheld phones while driving is banned, and you can be fined if caught. If you don't like to wear earphones while driving then consider bringing with you a hands-free speaker. We used them in the past and they were super functional.
The number to call in case of an emergency is 999
Driving license to drive in Malaysia
Foreigners must have a valid driving license in order to drive in Malaysia, in addition, they must also have a valid passport and visa.
Driving in Malaysia with a UK, USA, or Australian license is absolutely fine, and you don't need any additional documentation.
A driver's license printed using a non-Roman alphabet (e.g. Arabic, Japanese, Cyrillic, etc) must be supplemented by an International Driving Permit.
Please note that the International Driving Permit is valid only if accompanied by a regular driver's license.
Anyway, check well the details of your rental car provider regarding driving license requirements. Some providers seem to ask for an official translation in English if your license is not already in English or Malay, but these details are clearly marked in the contract details you can check before you book.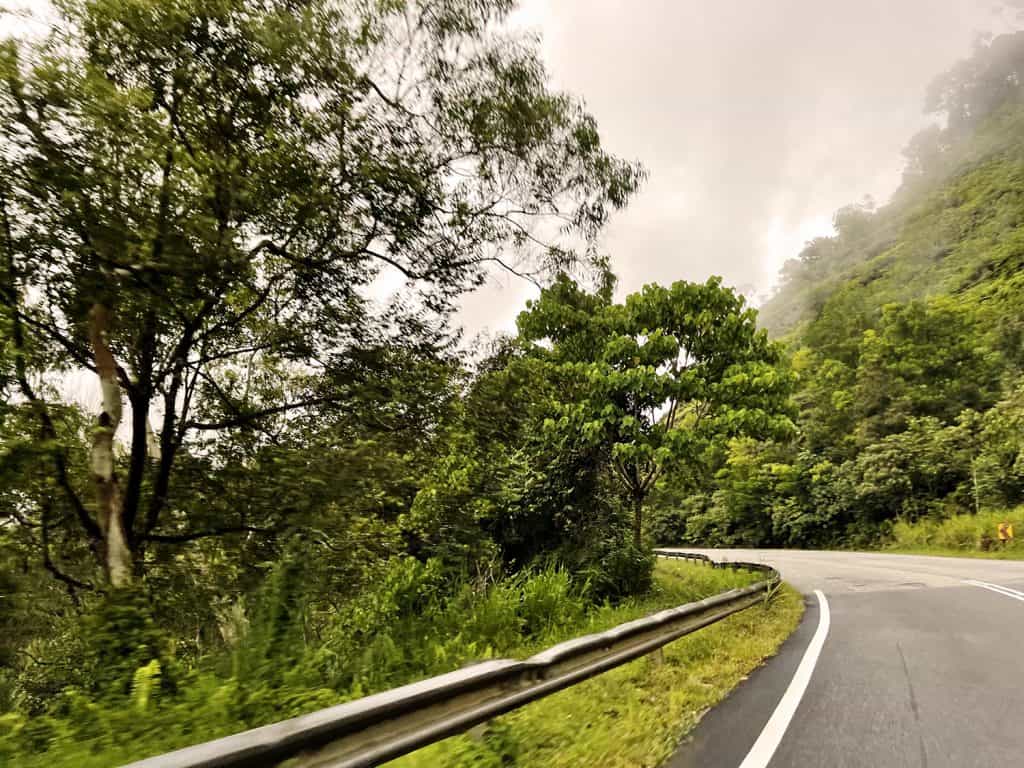 Is driving in Malaysia safe?
We found that Malay people don't drive too aggressively and they don't really drive too fast. The biggest concern for your safety, while driving in Malaysia, is probably unexpected changes of direction or lanes, sudden turns or stops, and of course, you need to get used to the number of scooter riders that try to fit between any gap.
If you're driving in Malaysia during the monsoon season, be prepared for heavy rain and flooding.
If after long driving across the country you want to relax check out these hotels in Penang with a private pool, where to unwind and have a rest from the outside world.
Driving in Malaysia: on the road tips
Tolls
In terms of tolls, the Malaysian government has implemented a system called the Touch 'n Go. This is an electronic payment system that can be used to pay tolls and other related fees. You'll need to purchase a card and load it with money in order to use it. You can buy a Touch 'n Go card at petrol stations, convenience stores, and other locations.
It's important to note that if you don't have enough money on your card, you won't be able to pass through the toll plaza. Some tolls give you the possibility to recharge your card directly there, but not everywhere. Trust me, get a Touch 'n Go at the first opportunity and keep it topped up, life will be much easier!
Parking
If you're exploring Malaysia with a rental car, you'll have to pay attention to the parking rules in each city.
There are a few different options available in Malaysia. You will find public parking lots, metered street parking or, in a bigger city, private parking usually under big shopping centres or hotels.
In cities like Kuala Lumpur and Penang, you may need to display a parking ticket in your car.
In general, when you are in bigger cities, like Kuala Lumpur, you may find it easier to park and move around by public transport, especially if you are not used to driving in foreign countries.
Having said that, we decided to use the car also during our time in Kuala Lumpur and it wasn't too difficult at all. Of course, while my husband was driving I was directing him, and yes we got the wrong turn a couple of times, but in the end, driving in Kuala Lumpur saved us lots of time and we didn't find it stressful at all.
In Kuala Lumpur, we had no problem finding street parking or private parking under shopping malls. In Penang only one evening we went around several times looking for street parking near the Gurney night market, then we decided to use the shopping centre parking that was 5 minutes away.
When you're driving in Malaysia, it's important to stay alert and follow the rules of the road, regardless of what other drivers are doing. This will help you to navigate the roads safely and reduce the risk of an accident. Make sure you're always following the speed limit, avoid driving while distracted (don't use your phone or eat behind the wheel), and stay within your lane.
We found that roads are generally in great condition, You'll want to pay particular attention to construction zones and avoid driving during heavy traffic hours or in areas that are prone to flooding. Finally, remember to always drive defensively and be mindful of other drivers on the road.
Renting a Car in Malaysia
If you decide to rent a car in Malaysia, you need to follow more or less the same general rules as in any other country.

First, make sure you're covered by car insurance. This will cover any damages to the vehicle and injuries to others. We don't usually buy any extra insurance on top of the basic one provided by the rental company, as we have a seperate annual excess insurance policy as we rent cars regularly.

Second, make sure you understand the terms and conditions of the rental contract.

Finally, check the car for any damage before driving away and ensure the car rental provider has noted any damage or scrapes etc in the rental agreement.
We usually use CarRentalNET as a third-party company to book rental cars, they have been really responsive in finding solutions or speaking directly with the car rental company to clarify situations or resolve issues. What I really like about this car rental provider is the price transparency: they include all the extra fees for things like a one-way or out-of-hours pick-up. This takes away any possible nasty surprises.
Check here for the best price to rent a car in Malaysia
HOT TIP: If you are planning a road trip from Singapore to Malaysia I recommend you explore Singapore first without a rental car, then cross the border (read here all the details on how to cross the border from Singapore to Malaysia) and pick up your car in Johor Bahru (just across the river that separates Singapore and Malaysia). The cost will be incredibly cheaper than starting your rental in Singapore.
Ready to explore Malaysia?
If you're ready to explore Malaysia, make sure you're prepared for all types of driving conditions, and try to avoid driving during heavy rain and at night. It's also important to make sure your car is roadworthy and that you follow all of the rules of the road. Finally, remember to have fun and take in all that Malaysia has to offer. From exploring the cities to discovering the countryside, there is something for everyone in this fascinating country.
If you're looking for an adventure in Southeast Asia, then Malaysia is the perfect destination for you.
NO TIME NOW? PIN IT FOR LATER!