Ultimate guide to the top Dolomites ski resorts
Last Updated on 21/11/2023 by Clotilde Passalacqua
Are you having trouble deciding which ski resort to visit in the Dolomites? Well fear not, I am here to assist you in making an informed decision. While all the resorts in the Dolomites offer breathtaking views and an unforgettable experience, each one has its unique features and amenities tailored to different skill levels and preferences. Let me help you choose the perfect ski resort that aligns with your expertise and service needs.
As someone who has been skiing in the Dolomites many times since my twenties, and has also visited the resorts as a family with young children, I can confidently say that these resorts are the perfect winter getaway for everyone. Whether you're with a group of friends, a couple seeking adventure or relaxation, or a family looking for quality services, the best ski resorts in the Dolomites have got you covered.
This post may contain affiliate links. I may receive a commission for purchases made through the links on this page, at no cost to you.
How many ski resorts are there in the Dolomites?
Nestled in the Italian Alps, the Dolomites boast 12 top-notch ski resorts that cater to all levels of skiers and snowboarders. The Dolomites, a UNESCO World Heritage Site, are renowned for their breathtaking beauty and extensive ski opportunities.
From the world-famous Cortina d'Ampezzo to the challenging Arabba-Marmolada and the family-friendly Alpe di Siusi, skiing in the Italian Dolomites provides a diverse array of experiences. The ski resorts in the Dolomites are interconnected by a sophisticated network of lifts and trails, all part of the Dolomiti Superski network, allowing visitors to explore multiple resorts within a single trip. Let's have a look at the top ski resorts on the Dolomites.
Top 4 ski resorts in Dolomites, Italy
Alta Badia
I will start with my favourite place. Alta Badia ski resort is where, as a family, we have been for the last five seasons. What I like the most is the ability to spend a week there and rarely repeat the same slope twice.
The resort boasts 120 km of slopes suitable for all skill levels, from gentle beginner runs to challenging expert terrain. Alta Badia is also connected to the Sella Ronda ski circuit, providing access to an extensive network of slopes and resorts.
There are several charming villages in the resort, each with its distinct character and amenities. Corvara, for example, is a vibrant hub with a range of dining and après-ski options, while La Villa is smaller and offers a more laid-back atmosphere. Additionally, the region is renowned for its culinary offerings, with numerous Michelin-starred restaurants and traditional mountain huts serving up delectable local cuisine.
All the villages which form part of the ski resort are interconnected with lifts and slopes. They offer great ski/snowboard schools for all levels and ages. La Villa even offers a nursery on the slopes for kids from 6 months to 11 years. It is not easy to find such a great service for small kids, they are amazing! We have been using their services since the first time we went there when Liam and Santiago were toddlers. Now that they are skiing we bring them there in the morning and they take care of the whole day. They bring them to the lesson, bring them back for lunch and entertain them until 4:30 when we pick them up!
Overall, Alta Badia is probably the best ski resort in Dolomites and it offers a well-rounded experience for skiers and snowboarders of all levels.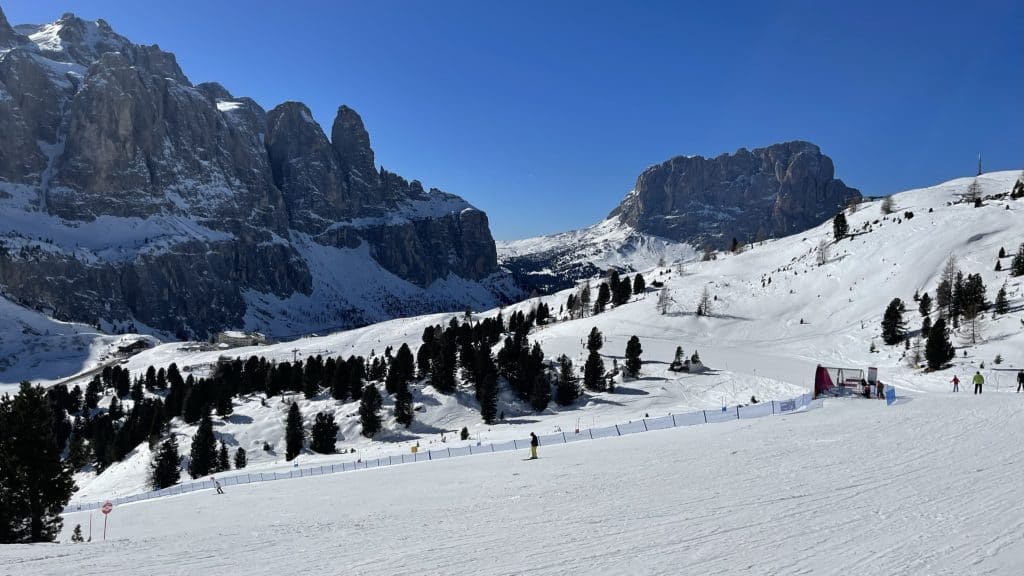 Val Gardena
Val Gardena is the most extensive of all the Dolomites ski resorts, and is one of my top choices, along with Alta Badia. With approximately 175 kilometres of interconnected runs, Val Gardena provides an exhilarating skiing experience for beginners, intermediates, and advanced skiers alike.
The resort's strategic location allows skiers to explore neighbouring ski areas and join the Sella Ronda, further enhancing the skiing opportunities. Part of the resort is the beautiful Alpe di Siusi area, never too busy and with some incredibly beautiful and open runs!
In addition to its exceptional skiing facilities, Val Gardena is also renowned for its charming ski resort towns. The towns of Ortisei, Selva di Val Gardena, and Santa Cristina offer a delightful blend of Alpine tradition and modern amenities. You can indulge in après-ski activities, explore local shops and boutiques, or savour authentic South Tyrolean cuisine at the numerous restaurants and mountain huts.
For those seeking non-skiing activities, the region also offers opportunities for snowshoeing, winter hiking, and ice skating.
Overall, Val Gardena stands out as an all-encompassing winter destination within the Dolomites' ski resorts, providing a diverse range of skiing experiences and a myriad of activities to enjoy in its picturesque towns.
Cortina d'Ampezzo
Cortina d'Ampezzo is a picturesque village nestled in the heart of the Dolomites ski resort of the same name.
The resort is home to several distinct ski areas (for a total of 120 km of slopes), each offering unique charm and amenities. From the family-friendly slopes of Faloria-Cristallo-Mietres to the challenging terrain of Tofana, Cortina's ski resorts provide an array of options for skiers and snowboarders alike.
In the charming village of Cortina, you can expect to be pampered in some of the finest hotels in the region, which offer top-notch amenities and impeccable service. While the cost of accommodation may be higher than in other areas, this is a perfect destination for people who want more than just skiing, like other services and entertainment.
With its blend of natural beauty and diverse skiing experiences, Cortina d'Ampezzo stands out as a premier destination within the Dolomites ski resorts, attracting visitors from around the globe seeking an unparalleled alpine adventure.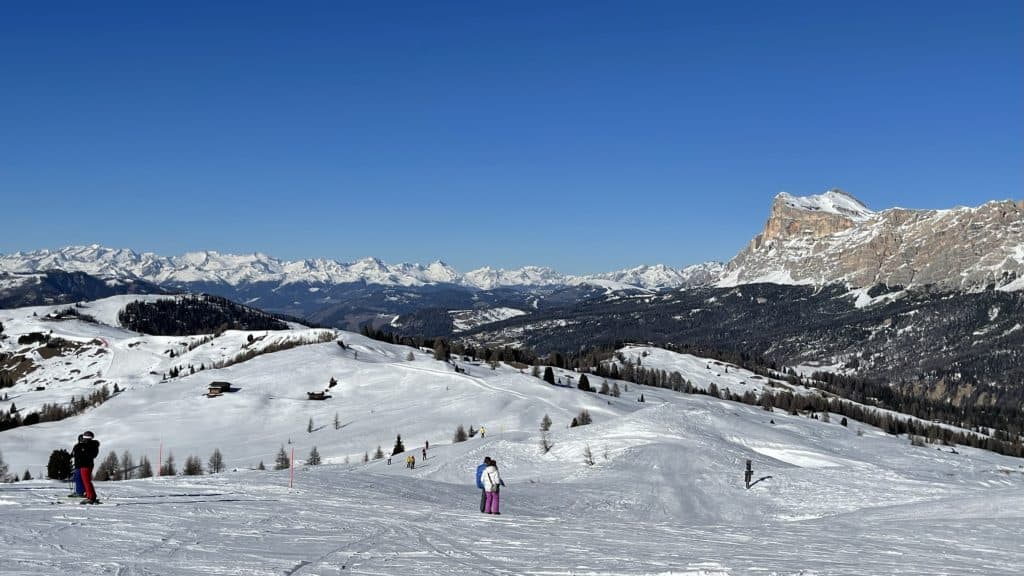 Plan de Corones
Plan de Corones is a dream place, especially for families or groups of friends of different proficiency levels. It is as extensive as Alta Badia with 120 km of piste, but much more compact with many different runs starting from the same lift. The terrain shape helps this as most of the ski resorts develop around the "panettone-shaped" mountain. You can ski all around it enjoying different scenarios, reaching different villages down hill, and then meet again at the top.
The downside of this area is it isn't connected while skiing with the other ski resorts. From my point of view, this makes it perfect for beginners and intermediate-level skiers. Plan de Corones offers some of the most challenging black slopes in the Dolomites, however, it is not interconnected with the other resorts that's why I feel could be less interesting for advanced skiers. Not being on the Sella Ronda circuit also has its benefit as in peak season queues for the lifts can be irritatingly long.
This Dolomites ski area is particularly loved by Italian skiers as it is well-connected by the railway. From Brunico (easy to reach from different northern Italian cities) there is a train that directly connects you to the first slopes.
Which Dolomites ski resorts are interconnected while skiing?
One of the best things about skiing in the Dolomites is that you can seamlessly reach other resorts without taking off your skis. The resorts of Alta Badia, Val Gardena, Val di Fassa, and Arabba are all interconnected, providing access to a massive 600km of ski runs.
This network is impressively well-organized, allowing for a smooth interconnected skiing experience. Additionally, these four resorts are part of the Sella Ronda circuit, which is a fantastic achievable day adventure accessible from any of them. Arabba, in particular, also serves as the primary access point for the Grande Guerra tour.
Overall, skiing in these interconnected resorts is a great way to enjoy a variety of slopes without any hassle.
How to ski from one resort to another
To fully enjoy the vast network of lifts and slopes that connect the different resorts, it is necessary to purchase the Dolomiti Superski pass. This pass provides access to all 12 resorts in the area. Generally, for a six-day pass, the price difference between a single-resort pass and the full network access pass is minimal (€28 for six days). If you buy your ski pass online, on the official website, you get a nominal 5% discount.
If you are just above the beginner level and you pick one of the four resorts mentioned above, then it's really worth spending a little extra. To complete the Sella Ronda tour, the comprehensive pass is required.
Toward the end of this post I will detail how you can split your days in the different areas of the top resorts.
Advantages and disadvantages of the ski resorts located in the Dolomites
While there are many advantages to skiing in the top Dolomites ski resorts, it is good to also keep in mind some of the challenges.
Advantages
Every year, the ski resorts actively work to update their facilities and lifts. You'll rarely find an old, slow 2-seat chairlift or outdated equipment. Most of the lifts are modern cabins or 6-8 seat chairs that are fast and comfortable.
If you decide to stay in any of the resorts that are part of the Sella Ronda circuit, you will be able to explore a new area every day.
The food options are amazing! You'll find huts on the slopes where you can dine with excellent food while enjoying breathtaking views!
You don't need to worry about not having enough snow because the area is fully covered by sophisticated snow cannons.
In many of the ski resorts, you will be able to challenge yourself on some of the slopes used for world competition like the Gran Risa in Alta Badia, or the Sasslong in Val Gardena.
In most resorts, you can enjoy skiing even after the sun goes down. They usually reopen the lift once a week and light up at least one run in the evening for some extra fun!
Finally, most resorts offer all-day ski school for kids who are not beginners and are usually 6 years or older. For younger children, the best recommendation is the school in La Villa, which is connected to the nursery on the slopes. They take care of children from 6 months of age.
Disadvantages
In general, these resorts are really popular, and during peak season, the lifts could be really busy.
Climate change is affecting the area towards the end of the season. Depending on the year, in March, the weather could already be too hot, and the runs at lower altitudes get damaged easily during the day as the snow melts.
Finding affordable accommodation can be challenging. I recommend starting your search as soon as possible. Many people reserve their favourite spots year after year. Of course, if money is not a concern, there may still be options available even at the last minute, but be prepared to pay premium prices.
If you are interested in ski lessons for yourself or your child (group or private lessons), it's best to book in advance on the school website rather than wait until you arrive. The most desirable lesson times, typically early in the morning, tend to fill up quickly.
Skipass prices are not cheap. Although you have access to an incredible network of slopes, if you're a beginner, you may end up using only a minimal part of the resort offer, but paying a high price.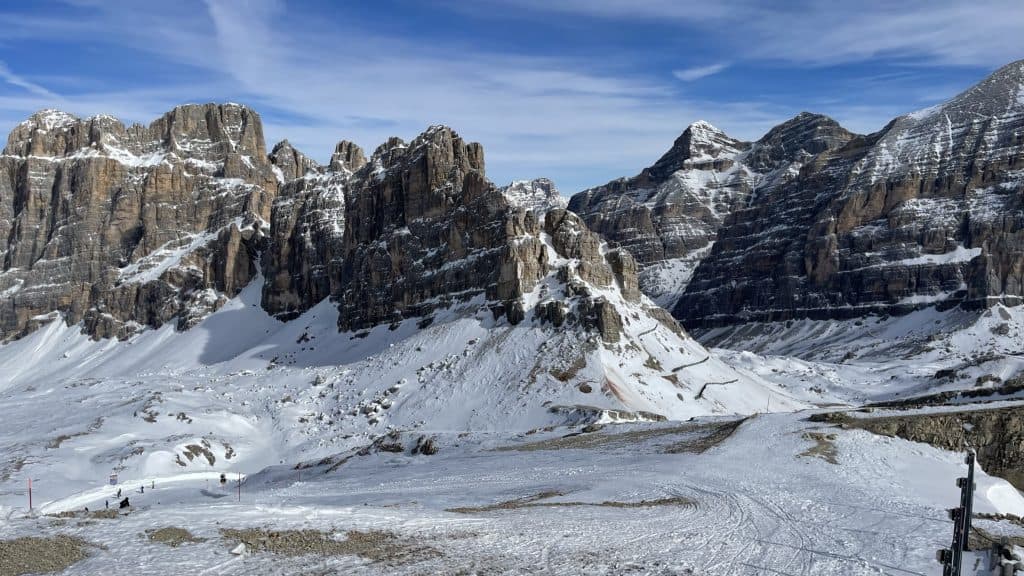 Best Dolomites ski resorts for beginners.
If you're a first-time skier, you'll find that most resorts have excellent facilities for beginners that are often connected to the ski schools. However, once you gain some confidence, it's worth exploring areas that offer more than just a few runs.
The resorts I mentioned earlier have an excellent range of beginner-friendly slopes.
Alta Badia, for example, has the most extensive network of runs for beginners. If you start from La Villa, you'll have countless choices to fill your day once you reach the top of the first cabin (Piz la Ila). You can also head to Corvara for easy runs, and then venture up the Colfosco slopes, which have lovely, large blue runs that are beautifully sunny in the morning.
Kronplatz or Plan de Corones also offer plenty of easy and long runs, and even if you start from San Vigilio di Marebbe, access is super easy.
From Ortisei in Val Gardena, you can access the beautifully open runs of the Alpe de Siusi, while beginners in Cortina d'Ampezzo can easily reach the Faloria-Cristallo area with gentle open slopes.
Best family ski resorts in the Dolomites
As someone who has experienced skiing in the Dolomites with a family, I can say with confidence that Alta Badia is the best option for families. The school and nursery on the slope in La Villa offers exceptional services to parents who want to ski while their children are in good hands. If you are planning a ski holiday with your baby, toddler or young kids, look no further than La Villa in Alta Badia as your base. It has everything you require! Here you can read more about how to make a ski holiday possible with babies and toddlers.
Most Dolomites ski resorts offer ski and snowboard schools. If your child is a little older and independent, you will find great facilities in most resorts including Snowparks! Alta Badia however, wins hands down with its variety of options for the whole family to enjoy together.
There are numerous fun park areas or fun zones, speed check runs, parallel slalom runs and more. Even if your kids are not with you, these parks are open to everybody. My husband and I always have lots of fun high-fiving cartoon characters, entering tunnels, and often falling on the little jumps!
Which are the best Dolomites ski resorts to look for accommodation?
This is the most difficult question to answer. Bigger villages like Cortina, Ortisei, Corvara, or Brunico give you more options, however, even these places get fully booked quite in advance. If you're looking for affordable accommodation then it's best to book as early as possible. Usually, by the summer, hotels and guesthouses ask those who had penciled in their spots to confirm their reservation, so they can sell any unconfirmed rooms.
Moreover, many of the most affordable accommodations are not listed on common booking systems like  Booking.com, making it difficult to find places. One option is to send an open request from the Alta Badia website. You can select La Villa and they will send your request to all the accommodations. You will then receive an offer directly. The place where we always stay is small but really charming and with a great design, it is called La Bercia Dolomites chalet. It is truly amazing place, that's why we keep going back and you can read a detailed review here.
When selecting your accommodation, ensure that it is located near an area that matches your skiing proficiency. Review the map to confirm that if you are an intermediate or advanced skier, you are not choosing a location solely with beginner slopes. Otherwise, you will have to spend valuable time travelling to slopes that cater to your skill level, hindering your enjoyment.
Ensure that when choosing a large resort, such as those within the Dolomiti Superski area, you avoid selecting a peripheral village that is not connected by skiing with the rest of the ski resort.
Below is an idea of which area to explore to maximize your ski trip and change everyday scenarios. This is based on our experience and the example is made starting from La Villa.
Alta Badia
Use the first day to regain confidence with the skis and the board and explore the slopes from La Villa to Corvara and then San Cassiano and the small area towards Badia up to Sas de la Crusc.
When you arrive at the top of Piz la Ila you could be overwhelmed by the choice. There are so many routes you could take, most of the runs are blue (easy). If you are not used to reading ski maps, then in this area it could seem a bit confusing, but you shouldn't worry about getting lost. Each chair-lift or cabin has a name and runs have a number so at any moment you should be able to check where you are.
If you move towards Pralongia' and Cherz, you will get some nice long pistes, and from Prolongia you can even get down to San Cassiano with a long (with some flat bits) blue piste. All pistes are wide and even the few reds are not too difficult.
Or you can go the other direction toward Corvara and Colfosco and then make your way back to La Villa and explore the other side towards La Crusc. This area is quite small but is nice because you can go up to the top and then have a long uninterrupted run down.
Val Gardena
The second day go and ski in Val Gardena. You can reach Val Gardena really easily passing by Corvara and Colfosco. The first few runs will be busy as they are part of the Sellaronda tour. One of the first runs you have the opportunity to enjoy is the Dantercepis slope. This is one of the longest runs in all the Dolomites ski resorts.
This run will bring you down to Selva, and from there move toward the Alpe di Siusi which is not part of the Sella Ronda tour and will be quieter. I love this area, the slopes are wide and long, in good condition and a good mix of medium and easy runs.
Sella Ronda tour
On the third day enjoy the Sella Ronda tour. Sella is the name of a group of mountains which gives the name to the route that can be skied around them. I enjoyed the opportunity to spend a whole day in a sort of circuit several times. You have two options to follow based on the direction you follow: the green route (slightly easier) or the orange route (you will ski on a little more difficult run, but you will take less lifts)
Speaking with several people, I heard conflicting opinions such as too much time is spent on the lifts. Maybe in the past the lifts were slower, but I didn't get this impression. For those who go snowboarding, there is a greater waste of time due to locking/unlocking bindings, but for an average skier (if you start at 9 am) there is plenty of time to even add tracks that are not part of the circuit and stop for a rest/photo/lunch. We usually do either route in four and a half hours without stopping.
Lagazuoi and Cortina
The fourth day is dedicated to the Skitour Lagazuoi and to enjoying some of Cortina's slopes. You have to go down towards San Cassiano, but in the end, follow to Armentarola. When the track ends, continue a few meters to the road and minibuses are waiting for skiers. For 6 euros each, in 15 minutes they will take you to the top of Passo Falsarego where you take a funicular to reach almost 2,800m.
From the summit, there is 8.5 km of uninterrupted track to reach the valley floor (the last stretch is fairly level). Downstream there are clear indications on where to go to reach the horse-drawn sleighs that pull the skiers back up to Armentarola (2.50 euros each, and snowboarders get to sit with the driver!) and then of course back to La Villa. I enjoyed it a lot!!!
However, from the base of the funicular, you can also explore some of the beautiful slopes of Cortina. The Super 8 circuit starts from the base of the funicular and then you can connect further with the other part of the resort. Just be careful with time!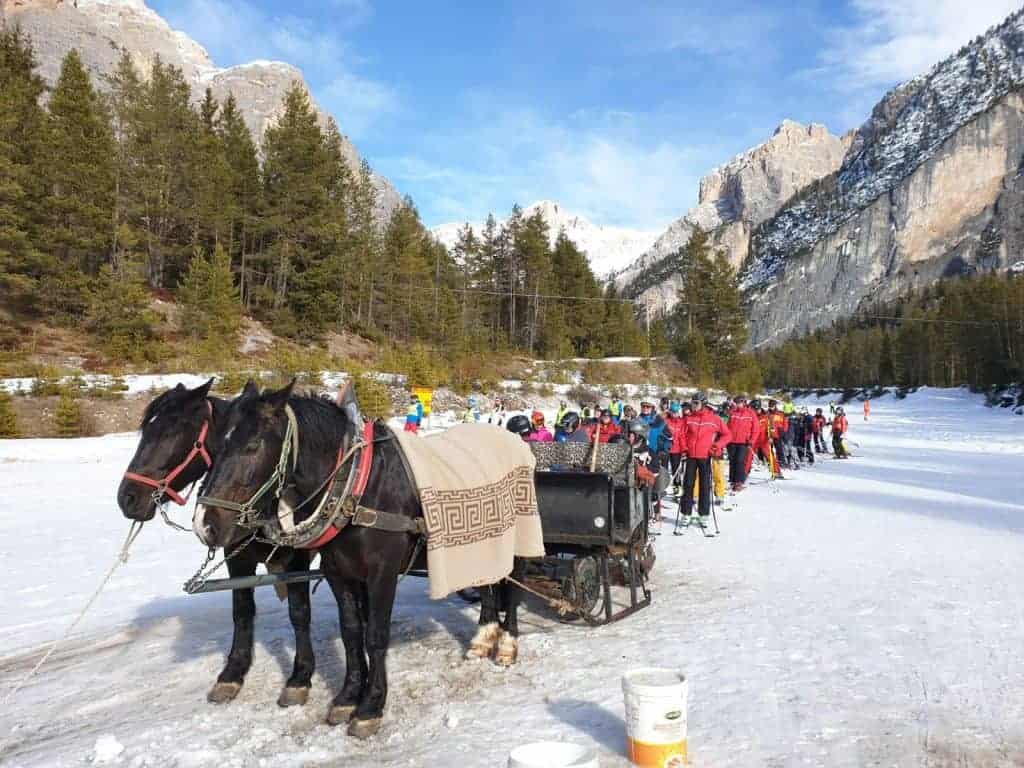 Arabba
On the fifth day if you are a medium to good skier you can challenge yourself on Arabba's slopes. To reach Arabba from La Villa you need to go towards Passo Campolongo and then once you have gone up Piz Boe you will go down to Arabba.
Every time I found Arabba's slopes in really good condition and never too busy. However be conscious and realistic with your skills, some slopes are really difficult up there.
From Arabba, you can then get to Malga Ciapela, and with three very long cable cars get to the top of the world, to the Marmolada, and then descend for 12km without stopping.
Sella Ronda tour in the other direction or Canazei
On the last day, you can revisit one of the areas you liked the most or do again the Sellaronda in the opposite direction. The other option is to reach Val di Fassa and ski in Canazei. There are more red slopes than blue on this side.
How to reach the Dolomites ski resorts
Innsbruck and Venice are the closest airports. Innsbruck is 1 hour and a half driving away, but it is across the border. Venice, Treviso and Verona are more or less 2 hours and a half away, some villages are closer than others. There are public transport connections, but a direct connection is only available for some of the resorts.
To reach Alta Badia for example, public transport takes quite a long time and is usually a mix of trains and buses. On the Alta Badia website, you can find detailed info including some private transfers. For us, the best and cheapest option remains renting a car even if we keep it parked at the hotel while there. We book through Car Rental Net and we rarely pay more than £80-£100 for the full week's rent.
This year we drove in from Venice (experiencing a calmer way of driving in Italy), and before renting the car to make our way to Alta Badia we spent 24 hours in Venice which was wonderful! If you reach the ski resorts from Venice and you can add an extra day before or after your ski holiday to stop there, this will be really easy and magical even if visiting for a day with kids in tow. Driving from Venice is not difficult and you will experience a calmer and more polite way of driving in Italy.
Another option with more flight connections is one of the Milan airports (around 4 hours and a half). In that case, I recommend you stop for a couple of days and visit some of the beautiful villages around Lake Garda, such as Sirmione even in winter they will not disappoint you!
Where to eat in the Dolomites ski resorts
As you probably understand, in all the ski resorts food is taken seriously. As the owner of our hotel confirmed, you eat very well almost everywhere. On the slopes, there are an infinite number of offers with the Utie (the local name of mountain shelters that offer food and sometimes rooms to sleep).
We especially enjoyed the Utia Jimmy, and Edelweiss in Val Gardena / Colfosco, the Utia Crep de Mount in Piz Boe, and the Utia Pralongia and we liked them all. Club Moritzino is also really popular, but we stopped only for some drinks so we can't comment on the food.
How much does it cost to holiday in the Dolomites ski resorts?
Unfortunately, skiing is not a cheap sport and when you start to add up accommodation, ski passes, and ski school the price goes up quickly. Below is an example based on the updated prices that we will pay in 2024 for accommodation, ski pass, school, and for food it is the average we usually spend.
We tend to stop on the slopes for a nice meal 2 or 3 times and just have a quick sandwich on the other days. In the evening we eat out two or three evenings of the week and cook something simple in the residence the other night.
All prices are based on a family of two adults and two kids (seven years old), 6 nights of accommodation, and 6 days of school and ski passes.
Cost
Cost Breakdown
Accomodation
€1800
1 bedroom apartment (in a serviced residence with all facilities, including wellness area, restaurant and buffet breakfast)
Ski passes
€768
1 bedroom apartment (in a serviced residence with all facilities, including wellness area and breakfast)
Kids Ski school
€940
2 adult ski pass (including 5% discount if you buy online)
2 kids ski pass (free for kids under 8 when bought together with adult ski pass)
Rent equipment
€450
1 adult ski and boots set
1 adult snowboard and boots set
2 kids ski, boots and helmet sets

Food
€500
2 kids fee for ski school and kindergarten
Total
€4458
I hope this article gave you a great overview of the best Dolomites ski resorts, if you have experienced any of them or you would like more details please leave a comment
Do you need some tips to build your family trip itinerary? Check out this Step by step guide!
NO TIME NOW? PIN IT FOR LATER