Top 30+ child friendly restaurants in London for foodies
Yes, if you are visiting London with kids you don't need to give up on your passion for food. There are countless child friendly restaurants in London where you can enjoy mouthwatering delicacies from excellent chefs while sitting in inspiring surroundings!
London is in general extremely child friendly, even if not all restaurants have a dedicated kids menu they are usually prepared to welcome kids with a high chair, colouring paper, and sometimes dedicated play areas. The list that follows may leave some parents a bit sceptical, it is not a list of colourful chains and small family run cafes, but a fully comprehensive journey through the most delicious places to eat in the capital that can also be considered the best family restaurants in London.
The important part? We tried and tested them all with our twin boys since they were born until now they are 4.
Trying the local cuisine, from street food to Michelin star dining while travelling, is part of learning about a culture and its customs, but it will also help to educate kids to eat different things, to appreciate food, and also to behave when sitting in a restaurant where other people also want to enjoy their food in a peaceful atmosphere. After the list are some tricks to make the experience work for everybody.
HOT TIP: Only one important thing to remember. In many countries if you see a restaurant full of people it usually means the food is good, this is not the case in London. Don't fall into this misconception, in London there is a strong culture of eating out and places in busy areas are always full, but that doesn't guarantee you a great experience and decent food! There is very good food to enjoy in London, you just need to know where to go!
This post may contain affiliate links. I may receive a commission for purchases made through the links on this page, at no cost to you.
BEST CHILD FRIENDLY RESTAURANTS IN LONDON MAP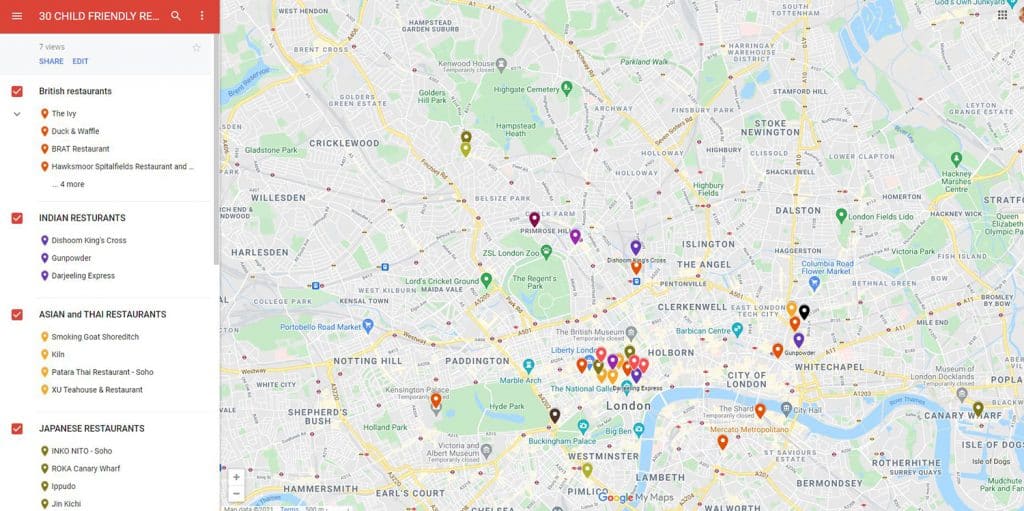 RELATED: If you are planning a London break, don't miss to read "Most epic 4 days in London itinerary" and How many days in London do you need to fall in love with the city?
BRITISH RESTAURANTS FOR FAMILIES IN LONDON
The Ivy
The Ivy is a truly unique British restaurant. Located near Covent Garden and Seven Dials it will bring you back in time as soon as you step in! The restaurant opened in 1917 and is an institution for dining before or after the theatre, the decor is magnificent, especially after the refurbishment in 2015, and service is attentive.
The menu is varied and interesting covering different tastes. There isn't a kids menu but there are some smaller plates in the starters and side dishes which our kids loved. They also have high chairs.
The first time we went there was for Liam and Santiago's first birthday lunch. The staff were so sweet in bringing, without asking, a little dessert for the boys with Happy Birthday written on it. One of the best family restaurants near Covent Garden
LOCATION: near Seven Dials, in the middle of the west end. WC2H 9NQ Book in advance.
Duck and Waffle
The Duck and Waffle is located in the Heron tower, near the lively Liverpool Street area. Many people go the first time because of the incredible view, but then come back because the food is actually good and the atmosphere is really relaxed (at least at lunch time), the feeling is vibrant, young and a bit noisy so even if the kids are a bit loud it's ok. They have high chairs and the menu includes several small plates perfect for kids.
The cuisine is British but with European influence, so you will find some familiar flavours like the corn ribs with a twist and unexpected little gems like the crispy polenta or the duck and waffle, which regardless of the curious combination is delicious. During the weekend brunch you will also have a triumph of eggs cooked in all ways and several plates for your sweet tooth including an excellent Spanish Torreja! The menu is designed with small plates to share and they have high chairs.
Before the pandemic, they were open 24h a day (in case your child is jet legged?) Did I mention that going up with the panoramic lift is amazing?
DON'T MISS: The duck and waffle
LOCATION: 5 min walking from Liverpool street. EC2N 4AY Book in advance
Brat*
What to say…the food in Brat is just divine, the place is super cool, and the atmosphere is at same time relaxed but professional. When you arrive they make you feel really welcome in this space full of light. They have an open kitchen and most of the food is cooked on the big grill. Bread is made in-house and it is impossible to stop eating it. Many plates are good for sharing (the main courses are quite big) so you have the possibility to taste even more things.
It is located in Shoreditch, the entrance is a bit hidden and just above another restaurant in the list, the Smoking Goat. Brat has a Michelin star but kids are really welcome, when we went for lunch there were at least another 2 babies, and they have high chairs. Not cheap but worth all the money
DON'T MISS: The Turbot and the Cheesecake
LOCATION: 5 min walking from Shoreditch station
Hawksmoor
The Hawksmoor is a steakhouse…an expensive and excellent steakhouse, BUT on Sundays, you can get a delicious super traditional Sunday Roast with all the trimmings for only £23. This is an unbeatable price for the quality you get! Another great option is their menu 2/3 course for £20/23. It is available only at specific times but it is worth mentioning.
There are several branches in London and we have visited two. We have dined at Air Street, a lovely art-deco-looking room beside Regent Street, and in the original in Spitalfields, more relaxed and with a more rustic feeling. They have a lift and high chairs.
DON'T MISS: Sunday Roast
LOCATION: 5 min. walking from Piccadilly Circus. W1J 0AD or 5 min walking from Spitalfields market
Aquashard
Aquashard is one of six restaurants at the Shard. It is an expensive restaurant but in this case, you are not paying only for the food but for the total experience you get. The recommendation is to go for breakfast, You're still looking at spending around £20, but the view is unbelievable even if you are only at the 31st floor (halfway up). The design of the dining room is stunning and breakfast is good. They have highchairs and are in general child friendly.
Breakfast at Aquashard is also a good alternative to buying the ticket to just go up for the Shard view (£25), a great non touristy thing to do while in London.
UPDATE DECEMBER 2022: Seems that since Covid they haven't restarted the breakfast service, unfortunately.
LOCATION: Floor 31 in the Shard
Pollen Street Social *
Incredibly delicious British contemporary food is what you will get at Pollen Street Social. Yes it is another starred restaurant, with a somewhat posh air that seems too formal for a family with children but do not be fooled by appearances, the team that works at Pollen Street Social is among the most welcoming and kind you will meet in London. As soon as you step in you will feel at home!
Their target audience is certainly not children but they seem to fully appreciate that sometimes parents will dine with their children and they make the experience a joy for everyone. There are high chairs, but there isn't a children's menu, however, they are very accommodating with alternative dishes.
The prices are on the high side, but you can go for lunch and enjoy the three-course (that is becoming five when you include amuse-bouche and pre-dessert) fixed menu for £45.
LOCATION; In Mayfair, 4 min walking from Oxford Circus tube station, W1S 1NQ
The Orangery
If you want to feel like a Royal, on a budget, the Orangery is the place. Located in Kensington Gardens near Kensington Palace, it is a baroque building that hosted a conservatory. It is not only in a stunning location, but it also offers a lovely afternoon tea. You will still spend £30+ but the afternoon tea experience is worth the money.
The interiors are grandiose but not overwhelming as it is kept with minimal extra decor. In summer you also have the possibility to sit outside. Tables are generously sized, they have high chairs, and they even offer a children's afternoon tea!
UPDATE 2023: Unfortunately the Orangery is still going through a big refurbishment so at the moment it is closed. I found the website a bit misleading as you can still book but it isn't clear that you will have your afternoon tea in a sort of wedding pavilion, really underwhelming…how do I know? Because I booked it and discovered this only when I arrived there! However it seems that will reopen early 2024.
DON'T MISS: Afternoon tea
LOCATION; Beside Kensington Palace W8 4PX
German Gymnasium
This restaurant is situated in the now super trendy Kings Cross area, it is a beautifully restored listed building, with a spacious ground floor and a lovely mezzanine. The building, dated 1865, was the first purpose-built gymnasium in England and hosted the London Indoor Olympic Games in 1866! It is now one of the top places to eat in London with children
The menu is extensive with a mittel-European influence, there is a dedicated vegetarian menu, and they also have a reasonably priced kids menu. They have high chairs, paper and colours, and the staff are really lovely with kids. Kids are genuinely very welcomed and at lunch time during the weekend there are often several families, although the atmosphere is still really sophisticated. Try to go at Christmas time when they have it beautifully decorated for the season.
DON'T MISS: Schnitzel
LOCATION: just on the side of Kings Cross and St. Pancras station
The Arber Garden
The Arber Garden, in Fitzrovia, is a great respite from the commercial tumult of Oxford Street and its surroundings. They invited us for lunch and Christmas shopping was in full swing when we visited, so the Arber Garden hove into sight like an Oasis! This Pub-Restaurant is actually very big but cleverly divided and sectioned to create a mix of spacious areas with more intimate corners.

The waiting staff are welcoming and attentive, for our children they brought a kids menu which also had puzzles and pictures to colour in with pencils provided, and for even younger ones we saw others set up with highchairs and plenty of space around them for pushchairs, nappy bags etc. If your little darlings are anything like ours, they are not keen on waiting for their food, but the Arber gets it, so when taking our drinks order they also asked for the kids' food order to get it going straight away!
The food is great, the boys wolfed down Fish Fingers and Burgers whilst the grown-ups enjoyed a delicious Sunday Roast with beef, and a Caeser Salad, although there is a special mention for the Beef Shin Croquettes from the appetisers, and the Truffled Welsh Rarebit!

DON'T MISS: Sunday Roast and Shin Croquettes

LOCATION: 8/9 minutes walking from either Oxford Circus or Tottenham Court Road station, 1 Pearson Square Fitzroy Place, W1W 7EY
INDIAN CHILD FRIENDLY RESTAURANTS IN LONDON
Dishoom
In London there are some superb restaurants to try and Dishoom is one of them. It is inspired by the old Irani cafes of Bombay where people socialised with food and drinks (like we do in Italy), it is another place where they serve small/medium size portions good to share.
There are several branches in London, the one in Kings Cross is quite big (spread over 3 levels) and is beautifully decorated. It is also not a quiet place so not to worry if your child can't whisper yet, they are really child friendly. They have high chairs and a small kids menu to introduce your kids to Indian food.
DON'T MISS: Biryani rice and the House Black Daal
LOCATION: Five branches in London, try the one in King's Cross N1C 4AB or Shoreditch E2 7JE.
Darjeeling Express
Darjeeling Express is an Indian restaurant and a very fine one too, but its spirit runs deep. Starting life as an at home Supper Club it grew through various steps to its new home in Covent Garden with Asma Khan, the Chef/Owner rising along the journey to become an influential tour de force both in the Culinary world and wider social issues, highlighted by her support for the Second Daughters Fund.
The kitchen is self-described as being run by an all-women team of housewives which has been the case from day 1, and they produce a delightful array of dishes perfect for sharing with inspiration taken from the street food of Calcutta and the Royal dishes of Asma's heritage. We have enjoyed every dish we've tried in several visits so go for what inspires you, but don't miss the Parathas, especially the kids will love these bread balloons!
DON'T MISS; Parathas bread.
LOCATION; 2 min walking from Leicester Square, WC2E 9BH
Gunpowder
Extraordinary flavours and a modern twist on Indian dishes is what you will find here! Gunpowder has two branches: one near the Spitalfields Market and one near London Bridge. The one in Shoreditch is super tiny and they only have benches, so that is a little tricky with small kids, but the restaurant near Tower Bridge is much bigger with more comfortable seating arrangements and high chairs.
Food is delicious, plates are small but big enough to enjoy sharing to try more things. The space is vibrant and trendy, relaxed and informal. A little gem!
DON'T MISS: Punjabi Lamb Samosa, Gunpowder Aloo Chaat, and the Kerala Beef Pepper Fry
LOCATION: 2 min. walking from Tower bridge (South Bank side)
THAI CHILD FRIENDLY LONDON RESTAURANTS
Smoking Goat
The Smoking Goat started as just a small characterful restaurant on the back of Tottenham Court Road, but now they moved into a much nicer place in Shoreditch and the food has even improved if possible! They offer an Asian-Thai barbecue menu, based on small sharing plates all just mouth-watering! They don't have high chairs but they are really accommodating, and you can ask to be seated at one of the tables along the wall with benches. Try it for Brunch on the weekends.
The menu is short and as most of the plates come in smallish portions you could end trying most of it. The menu changes often so try everything that inspires you because may not be there next time
LOCATION: 2 min from Shoreditch overground station, E1 6JJ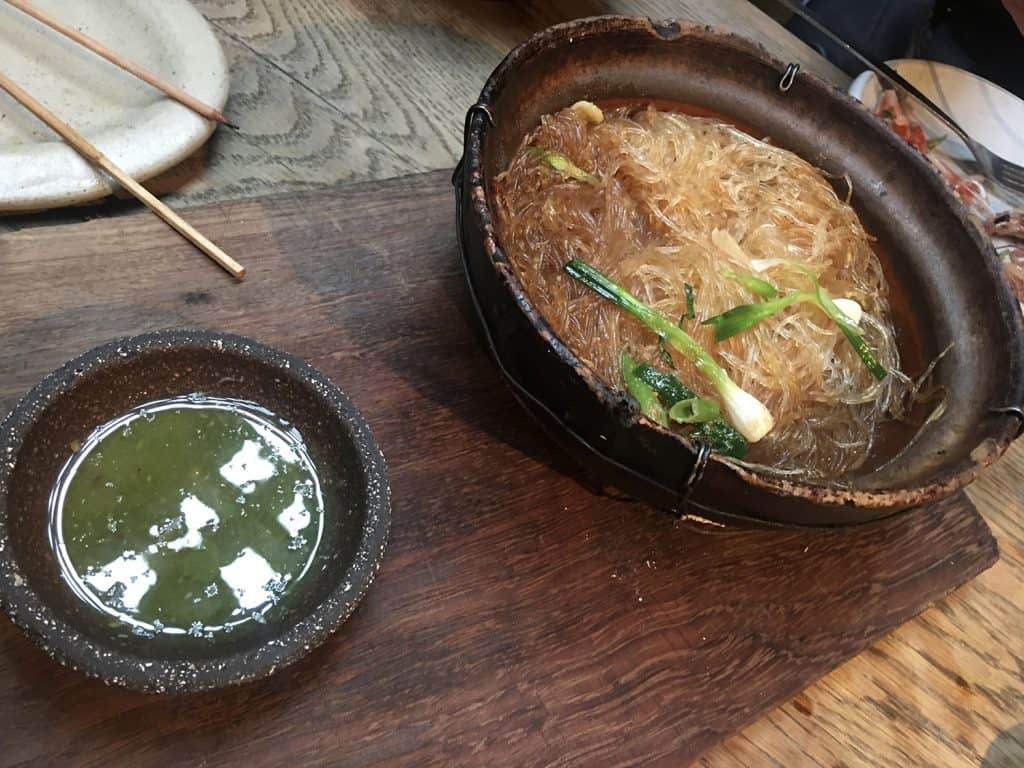 Kiln
Kiln is a sister restaurant of the Smoking Goat, so again Thai with a twist. Food is incredible, atmosphere is relaxed, informal and affordable, definitely an experience to not miss. When going with smaller kids ask to get one of the few tables downstairs, otherwise stay at the counter and watch the chefs!
Like at the Smoking Goat, the menu is small plus daily specials, so if you are eating with friends you could easily try everything. Flavours are strong and they use many different Thai and Chinese herbs and vegetables. This is not your traditional Thai restaurant, be prepared for an explosion of different flavours!
No high chairs and no kids menu, ideally best to go with 3+ years old.
LOCATION: in the middle of SOHO, W1F 9TL
Patara
This is a contemporary Thai restaurant. Patara is actually a small chain with 6 branches in London (we tried them in SOHO and Hampstead).
Being a small chain you could associate it with cheaper prices, but this is not exactly the case. If you want to stay under £40 per person you need to choose carefully but it's possible. They have some signature dishes that really stand out and shouldn't be missed like the Violet Dumplings or the Coconut Beef, but in general all the food is excellent. They have a kids menu but no high chairs.
DON'T MISS: Chor muang (dumplings), coconut braised beef
LOCATION; 7/8 min walking from Covent Garden station, W1D 4DP or 3 min walking from Hampstead tube station.
JAPANESE FAMILY FRIENDLY RESTAURANTS IN LONDON
Inko Nito
Serving unconventional Japanese food is how they define them-selves. To be more detailed Inko Nito serves mouthwatering robatayaki-style (barbecue) dishes. Flavours are bold and adventurous, with every dish developed to be unique.
The space is big and stylish with the grills in the middle. The atmosphere is casual and relaxed, and the music is not too loud, but as the space is big you will not need to worry if your kids scream in excitement.
This restaurant shouldn't be missed but is best for kids 3+ as they don't have high chairs and some of the seating is on high stools. There isn't a kids menu neither, but you shouldn't have problem to find something they like.
DON'T MISS: KFC (Korean Fried Cauliflower, INKO Burger, the Aubergine, the Steamed prawn and leek dumplings with ginger ponzu…and everything else.
LOCATION: in the middle of SOHO, W1F 9QS
Roka
Are you looking for a place where people are welcoming, the food is delicious, the interiors look stylish with a trendy atmosphere, and can also be called one of the best child friendly restaurants in London? Roka is the answer! Top of the London restaurants with children's play area!
The majority of the dishes are from the Robata grill, but the menu is quite extensive with also a great selection of sushi, nigiri, maki rolls, salads…they also offer several options with set menu, tasting menu, and a really great value lunch menu.
The best part? At the week end in the Canary Wharf restaurant, during the Saturday and Sunday brunch they organise a little play area on one side of the restaurant with toys to entertain the kids. (We haven't been back since the start of the pandemic but, I hope they will keep doing it.) So even if they don't have high chairs or a kids menu they really make you feel welcomed!
There are 3 price levels for the brunch: £49, £59, £69. The starter is from the counter buffet then there are some variations on the main course you can order, the drink on arrival, and the unlimited wine. The counter buffet is incredibly big with an offer including veggie options, fish and meat, sushi and soup.
Food is delicious, I recommend the rice pot with mushroom and truffle that is really different and full of flavour but still so well balanced!!! Brunch is perfect for a lazy meal with friends, but even an early dinner without the play-area is still an experience to try.
LOCATION: If you are not familiar with Canary Wharf you could get a bit lost, try to avoid going inside the shopping centre and reach the restaurant from outside. It is on the first floor and there is a lift to access it. E14 5FW
DON'T MISS: Rice pot with mushroom and truffle
Ippudo
This is an original Japanese chain specialising in Ramen plates. There are five Ippudo restaurants in London and we have been a few times to the one close to Tottenham Court Road. Food is really good and bowl of Ramen would be enough as a meal, but it is difficult to resist all the different starters. The broth is hearty and comforts the soul, the most difficult part is to choose which one to pick. Gyoza are also incredibly tasty.
The atmosphere is relaxed and the interior is nicely done, they are really child friendly, and have high chairs and colouring sets for kids. During a trip to Japan we tried Ippudo there and we can confirm that they managed to keep it authentic!
LOCATION: 5 min from Tottenham Court Road, WC2H 8AG
Jin Kichi
Jin Kichi is a little gem in the heart of Hampstead. They don't have high chairs or a kids menu and the place is super tiny, (exactly as some authentic Japanese restaurants) so it is almost impossible to get in if you have a pushchair. If your kids are at least 2.5 / 3 years old and able to sit on normal chairs then put it on your list anyway because it will not disappoint you.
It is family-run restaurant and the food they prepare is incredibly delicious. The menu covers different areas from noodles to sushi, but the best are the yakitori skewers, They are small but also really affordable so you could easily try them all.
LOCATION: 2 min walking from Hampstead tube station, NW3 6UG. Come here and get the living in Hampstead feeling!
DON'T MISS; any of the yakitori skewers
CHINESE AND DIM SUM CHILD FRIENDLY RESTAURANTS IN LONDON
A. Wong**
The Owner/Chef Andrew Wong has a really interesting background. For many years he tried to escape the tradition of working in his parents Chinese restaurant, studying chemistry then social anthropology to final discover the strong connection between food and culture. A personal journey started for him to explore the regional cuisine of China and to make it available for British diners. His journey reached a key milestone in 2012 when he reopened his parents' restaurant completely refurbished and with a new menu.
We have been coming here from before the kids were born, and from before they received their ludicrously delayed 1st Michelin Star in 2017 (a second star arrived just in 2021). Absolutely one of the best restaurants in London!
The menu is different at lunch time from dinner time. At lunch they offer their full range of dim sum and snacks, while the dinner menu focuses generally on larger plates. Most of the dim sum menu is offered by single pieces, so you can try a lot of these tasty treats…just delicious!
They don't have high chairs but they are really welcoming.
LOCATION: 7/8 min walking from Vicotria station, SW1V 1DE
DON'T MISS: Wild mushroom and truffle steamed bun, Crispy won ton with sweet chilli jam, Crispy aromatic 'Peking duck', the 63º Tea egg.
Dim T
Coming in the list after A.Wong is not easy, but as not many people can afford (or even secure a table) to visit A. Wong often, then Dim T could be a simple, welcoming and value for money alternative.
Dim T has three restaurants in London, the one in Hampstead is a relaxed place, where food is good and the staff friendly. The have a lovely kids menu that includes a bento box where they get rice, chicken katsu, and some veggie in a really posh lacquered black and red rectangular box.
LOCATION; 2 min walking from Hampstead tube station, NW3 6TP
DON'T MISS; Char Siu Pork Buns, Sichuan Beef Wonton, and the duck and ginger dim sum.
SPANISH LONDON RESTAURANTS FOR FAMILIES
Barrafina*
This restaurant in Spain would be called a "bar de tapas", a place where you go for a drink that also serves some food. The owner started with a tiny place in the heart of Soho and then opened another three restaurants. Barrafina offers truly authentic and super fresh food, the quality of the ingredients is superb and although the menu is quite traditional the flavours are mouthwatering and incredibly tasty. They also offer daily specials..
The one in Soho is not suitable for kids, unless you manage to get one of the couple of tables they have outside in summertime, as there are no tables only bar stools along the bar where you can see the chefs cooking. Naturally this would work only for a little bit older kids (during COVID restrictions they have a much larger seating area outside, but it is unclear if it will stay). The new restaurants have a few more tables and chairs that you would be able to book, although still no kids menu or high chairs.
LOCATION: 7 min walking from Piccadilly Circus tube station, W1D 4SL
DON'T MISS: ham croquetas
Jamon Jamon
This is a family restaurant, they opened their first in Camden in 2002 and now have two others in Soho and Belsize Park. We have visited the restaurant in Belsize park and the one in Camden town a few times with Spanish friends who confirmed how great their home cooking style is.
The restaurants have a traditional feeling, almost a statement that you are here for the good food not the interiors! It is affordable but the food is full of flavour, they have high chairs and friendly staff.
LOCATION; 5 min walking from Camden Town station, NW1 7AH
GREEK FAMILY RESTAURANTS IN LONDON
Lemonia
Located in the posh Primrose Hill neighborhood, this restaurant has been an institution for over 40 years. Run by a Greek family who cook delicious traditional dishes that are reassuring and full of flavour every day. One of those places where you tend to come back regularly, not because it is fashionable and trendy, but because the welcome is warm, the food is good, and you are immediately put at ease.
The menu is varied and features all the classics of Greek cuisine, from dolmades to spanakopitta, from moussaka to various types of souvlaki. If you don't know what to choose, you have the option of the meze with which you will have the opportunity to try small portions of almost all the starters and some main dishes.
Always crowded with families with children, a bit chaotic with the waiters whizzing between the tables you will never feel uncomfortable even if yours are on a bad day.
There are high chairs but no children's menu, but you will have no problem finding some dishes such as hummus, saganaki, the Greek sausages and more.
DON'T MISS: meze platter to share
LOCATION: 5 min walking from Chalk Farm station, NW1 8UY
MEXICAN LONDON FAMILY RESTAURANTS
Ella Canta
Finding a good original Mexican restaurant in London wasn't easy. Obviously there are some around, but Mexican cuisine has so much to offer besides Tex-Mex, burritos, and tacos which are more easy to find.

Ella Canta manages to offer authentic Mexican cuisine but with a modern twist. The menu is quite small, but with excellent options. The weekend formula is great (even if a little expensive): brunch includes 3 courses accompanied by unlimited Margaritas for 90 min. There are four different variants of margaritas, from the most sour to the sweetest. After trying them all, continue with your favourite.
The interiors are sober and spacious, with subtle references to Mexican colours and elements. At first the atmosphere could dissuade from entering with children, but even if they do not have high chairs or children's menus they are very cordial and accommodating in adapting some dishes for the little ones without problems.
DON'T MISS: Chilaquililes e Enchiladas
LOCATION: inside the Intercontinental hotel on Park lane, near St. James park (Hyde Park corner tube station), W1J 7QY
MIDDLE EAST- MEDITERRANEAN RESTAURANTS IN LONDON FOR CHILDREN
The Coal Office
What happens when a famous interior designer decides to open a restaurant? In the case of Tom Dixon, Coal Office was born! Not only the interiors are carefully curated to create the perfect backdrop for a contemporary restaurant, but the food receives the same care both from the point of view of taste and presentation.

Tom Dixon chose to work with a chef who knew how to convey the same attention to detail into the menu that he puts into his furnishings, with bold and creative combinations of flavors. The restaurant, located in one of the buildings in the Kings Cross area, formerly a coal store, is very large plus an outdoor space and a roof terrace overlooking Granary Square and towards the canal. It is quite vibrant and noisy, so no big issue if your kids are a bit louder than you might like.
The Mediterranean menu with Israeli influences changes often, but some dishes should still meet a child's taste. There is no kids menu, but they are willing to adapt things, and if you liked the tableware then don't miss a visit to the shop two floors below where you can buy everything to recreate the same set up at home.
LOCATION: 8 min walking from St. Pancras station, when you arrive in Granary Square keep going towards the canal on the first floor level, N1C 4PQ
TAIWANESE RESTAURANTS FOR KIDS IN LONDON
Xu London
For something quite different book a table at XU. This is an opulent dining room based on the the Taipei social clubs of the 1930s, a fascinating step back into a forgotten era with fascinating details such as the Tea Kiosk, where the Tea Master will prepare and serve your tea of choice, but don't worry there is beer and cocktails too! Despite the beauty and detail of the surroundings, the staff are very attentive and welcoming of children.
The menu covers the wide variety of food culture in Taiwan, a welcome progression beyond Bubble tea and fried chicken and into the perhaps less well known delights of Taiwanese food culture.
DON'T MISS: Chilli Egg Drop Crab and Beef Pancake
LOCATION: 3/4 min walking from Piccadilly Circus or Leicester Square, W1D 6DL
BARBECUE PLACES TO EAT IN LONDON WITH KIDS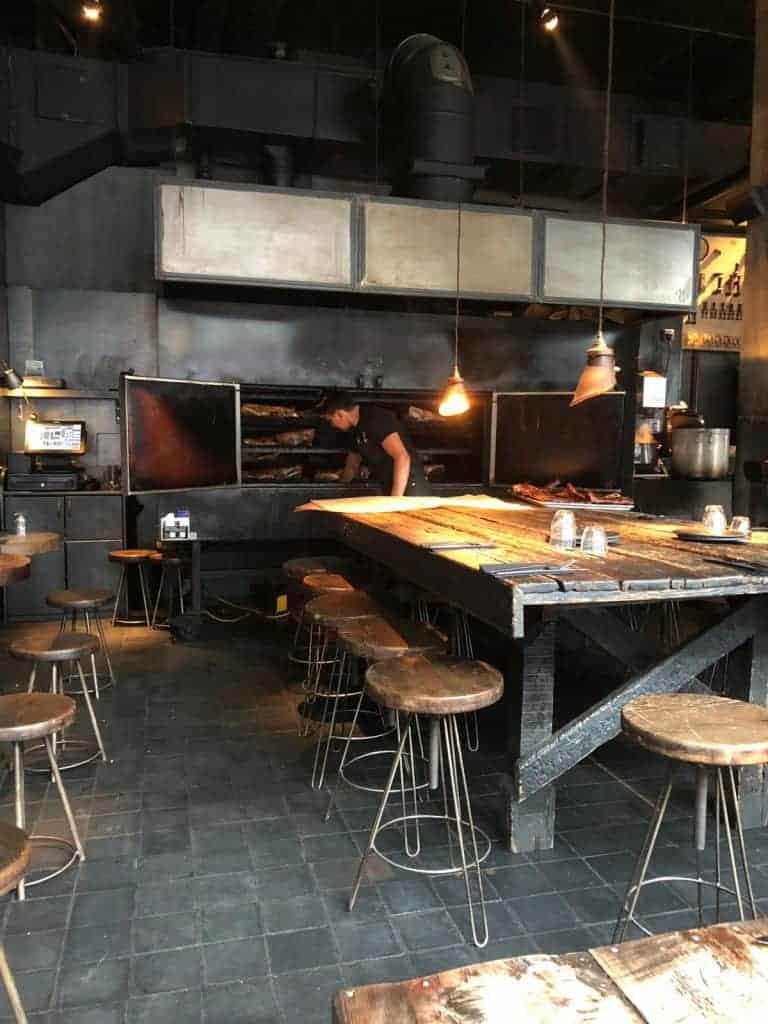 Smokestak
Are you the kind of person who gets excited at country fairs when you see one of those giant two-storey round barbecues? Well this is the place for you. In London, a barbecue restaurant is not such a common sight, but when you enter Smokestak you know you've landed! Even the interiors have been carefully curated to create the perfect atmosphere, with intentionally smoked walls and windows as if for centuries they hosted industrious chefs battling daily with fire and smoke to produce blackened meats that may not look so very inviting, but with uncommon taste and tenderness when you dig in.
Definitely a place for carnivores with few alternatives. they don't cater for kids with high chairs or dedicated menu, but they are really accommodating and welcoming. Seating inside is more comfortable.
DON'T MISS: crispy Ox cheek, pulled pork bun, pork belly rib, and the roasted aubergine
LOCATION: 2 min walking from Shoreditch High street tube station, E1 6LB
If, after eating your way around London, you are looking for inspiration on what else to do, you can read this guide about weird things to do in London !
MARKETS AND CHAIN RESTAURANTS IN LONDON FOR KIDS
It is not surprising that London also offers a great variety of chains. Many are considered the best family places to eat in London, wherever you are you will not be far from Pizza Express (good pizza even for my tough Italian benchmark), Wagamama (an institution since 1992 that serves great Asian inspired dishes), or even a Burger and Lobster restaurant for the best burger from a chain, all offering kids menus and high chairs.
Below are a few more details of some places that deliver good food and a nice family friendly experience.
Franco Manca
This original Italian pizzeria was started by Franco in 1986 in Brixton market where it stayed until 2008 when he sold it to some friends who renamed it in his honour (Franco Manca means Franco is missing). They started to produce a few types of sourdough pizza with high quality ingredients in the Neapolitan style. Today they have branches in most cities in the UK and several branches in many London neighbourhoods.
They offer really child friendly restaurants offering high chairs, paper and pencil to colour, and many of the restaurants also have seating outside making it even easier for kids to be kids! Pizzas are authentic and the prices are really good!
LOCATION: several branches all good (we tried 4 and the standards were consistent) check their website to locate the closest.
OTHER ARTICLES YOU COULD BE INTERESTED IN: Rome with kids and the perfect 4 days in Rome itinerary
Inamo
At Inamo the food is good, they serve a mix of Japanese, Chinese, and Thai, but what really entertains the kids are the interactive tables. They use an interesting technology to enhance guest experience with projection on the table that allows you not only to see the menu, but also to play, see the chef cooking and more.
Price is a little too high, but you also pay for the experience. Definitely one of the top fun places to eat in London for kids!
LOCATION; 2 min walking from Covent Garden, WC2E 9JP
Mercato Metropolitano
There are several markets in London rich in history that have adapted over time to new modern habits. First of all the Borough market that has been reborn over the years and where it is now possible to buy high quality products but also hosts restaurants and many stalls offering street food.
In the case of the Mercato Metropolitano (an idea started in Italy) it has a new concept of street food, the space has been designed to host a large number of small independent vendors including dozens of different kitchens and others focused on drinks.
There are two locations in London, the first is more rustic, opened in Elephant and Castle in 2016 and is a succession of indoor and outdoor areas, and there are tables everywhere. You go around trying to decide what you want to eat and then find a place to sit. A place full of life with a bit hippy and chaotic vibe, what could be better with children (even without high chairs and children's menus)? A much posher version is now open in Mayfair in a regenerated church, but we only tried the one in Elephant and Castle.
LOCATION: 15 min walking from Borough Market, SE1 6DR
Seven Dials Market
Concept similar to the Metropolitan Market, but more refined. Seven Dials Markets opened its doors in 2019 and was an immediate success. The location is enviable, a stone's throw from Covent Garden and makes use of the space in a very clever way dividing it into three areas. a first connecting part that hosts a small market of artisan producers (perfect if you live in the area or stay in an Airbnb as there is a lack of supermarkets in the area) from which you then enter the two levels of the real food hall. On the first floor there is a more organised structure and downstairs the individual vendors are arranged around the central part with the large tables where you can sit.
The downstairs is lively and a little noisy, not suitable for long conversations but perfect for excited children. The various stalls make everyone really happy, even the most difficult children will find some familiar dishes (one of the stands specialises in pasta for example), but the best option is upstairs.
A quite large area is occupied by the world's first "Pick and Cheese" cheese bar, a really cool place in London to eat. This is a more regular restaurant with most of the seats around the counter, but also two bookable booths (in case of very small children this is the best option). You order a drink and then you choose the cheeses on the saucers that run on the conveyor belt like in a sushi bar. The cheeses all come from national producers carefully researched and clearly described in the menu to facilitate your choices. Perfect when exploring Covent Garden with kids!
DON'T MISS: the cheese bar
LOCATION: 5 min walking from Covent Garden tube staion, WC2H 9LD
INTEGRATED MAP: 4 DAYS LONDON ITINERARY AND BEST LONDON FAMILY RESTAURANTS TOGETHER
Do you need some tips to build your family trip itinerary? Check out this Step by step guide!
VISITING RESTAURANTS IN LONDON WITH KIDS TIPS
As you may have noticed from the list some of the recommended restaurants are high profile and you might think they are suitable for adults only. Some people will turn up their noses when they see you enter with children and many will define some of these places as unsuitable for children.
Of course there isn't always a need to go to any London restaurants with kids if you can leave them with friends or family, but if your family is not close by or you are in London travelling there is no need to feel guilty because you want to enjoy some of the spectacular cuisine on offer. You are probably not considering to visit these restaurants to please your kids, it is a pleasure for yourself and it is possible to make it work also with kids. Just remember a few tips while eating with kids in London and everyone will have an amazing experience.
do not go if the kids are tired, that's the first element that will turn the meal into a disaster, always make sure that babies or toddler had a good nap if you go for dinner…or go for lunch.


unless your child really eats everything, then give them a substantial snack before you arrive at the restaurant, with young toddlers don't be afraid to have some rice cake or crackers with you if you know they are really fussy. Sometimes a favourite food can be rejected because the plate or table is different, so be ready with alternatives.


until babies are around 10 months it isn't difficult to hold them and entertain them with some bread while having your meal, after that you always want to check if the restaurant has high chairs, if they don't it's no problem, just keep in your pram bag the sanity-saving portable/foldable baby chair. This small foldable seat works perfectly until kids can sit on a normal chair. In most cases the most difficult ages are between 8/10 and 24/30 months.


be prepared with some sort of entertainment in case the restaurant doesn't have any: sticker books, colouring books, or a cartoon on the phone. If you are working hard everyday and then you dedicate the free time and energy you have left to your kids, don't feel guilty if occasionally you rely on a cartoon so you can enjoy your meal.


if you are concerned about your child's behaviour (are they in their terrible two's?) then book the nice restaurants you want to try for lunch instead of dinner, the atmosphere is usually much more relaxed than at dinner time, and you can often get the meal at a much cheaper price too!
And then don't forget if really everything goes wrong you can just pay and leave, it happened to us once when on holiday in Madeira while they were 6 months old, and that's just life, it happens!
SOME TIPS IF IT'S YOUR FIRST TIME IN THE UK
Food quality: As I mentioned at the beginning, there is no guarantee that if you enter a restaurant that is full of people the food will be good. In most restaurants if your food arrives cold or is not cooked properly and you politely make your waiter aware they will replace it or at least remove it from the bill.
Service charge: In the UK most restaurants add a Service Charge directly on the bill which is usually between 10-12.5%. It is on the bill, but if you are not satisfied with the quality of the service or with the food you can ask to remove it. In general customers pay the Service Charge but note that this is effectively a tip so don't feel the need to leave a further gratuity.
Book in advance: Even before the pandemic many popular restaurants need to be booked as far as one or two months in advance for popular time slots. You can always try your luck on the day but there is no guarantee you will get in.
Enjoy the amazing food and let me know in the comments about all the other London kid friendly restaurants!