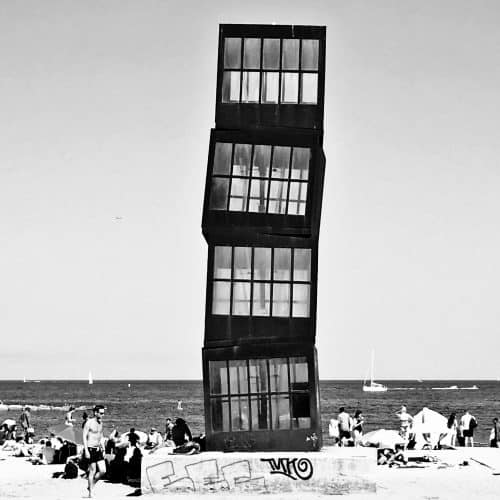 Barcelona…love and hate, the result of over-tourism?
Unstable looking as ever, the cubes are still leaning over a sandy beach that hasn't always been there…Barceloneta, love at first sight many years ago, is still winking at me like an old friend.
If you have read my profile you will know that Barcelona has a special place in my heart. I'm convinced, that if I hadn't taken the opportunity of going there to study for 1 year (thanks to the Erasmus program and to my friend Mario challenging me to do it), I would have now a different life and I would be a different person.
The 9th of September 2018 have been 20 years from the day I arrived there with my big suitcase, a backpack, and the desire to discover a new world I didn't know anything about.
When I left, after completing the Erasmus, I knew nothing would be the same, I wasn't the same, and the year after coming back it was really difficult to try to fit back into my reality in Rome that felt too tight.
My friends were really patient but many times I tested their patience to the limit (thank you for being there…in case some of you ever read this post), challenging everything and only speaking about Barcelona and my fantastic year there.
Then of course things settled, I understood how that experience had enriched me and I continued with my life, but for many years I went back to Barcelona almost every year.
I think I've been to Barcelona with all the friends, colleagues, and family I could…haha!!! I just needed an excuse!!!
This year I went there in June for the first time with my little ones (just turned 2y old). Last time I was in BCN was 2014 during the Merce festival with only my husband in tow.
ah! the Merce' festival! I remember my first Merce' festival…but vaguely, I arrived in Barcelona just two weeks before and I didn't know anything about it, I was completely living in the moment and with really little plan, but I still remember the surprise of seeing such a big city fully involved in what in my mind, up to that point, was the type of event you only find in small villages in the country side.
Just to clarify: La Merce' Festival or Fiesta Major, is a street party that takes place every year on the weekend closer to the 24th of September. It lasts around 5 days and includes hundreds of events. I have participated 5 or 6 times, which should give you an idea of how much I like it.
The Merce festival would deserve a post by itself, but there are probably so many around that I will only add my reflection that, despite what else I will say here, it is something to experience at least once in your lifetime.
HOT TIP: if you want to get the most out of the Merce festival read about it but especially get the programme, there will be many things happening at the same time and you will need to make choices of what you don't want to miss. Don't spoil yourself for the surprise and delight of seeing unexpected things. The Internet can make you live the experience of the Merce festival without leaving your house, but if you decide to go, try to not watch videos, you will not regret it.
HOT TIP 2: the correfoc is my most favourite event happening during the Merce', but you need to decide if it is for you and your family (I wouldn't bring kids younger than 10 years old probably, but there is also a kids version you can attend), if so and you want to enjoy and "be part" of it follow some simple rules and it will be unforgettable. When we went in 2014 I didn't tell Mark anything about it (and he is amazing at not researching things when I tell him not to). I only asked him to bring and to wear on that day: a long sleeve cotton t-shirt, hat and light scarf, closed shoes, and long trousers. He did it and we have had one of the best times in our travel adventures!
So after this long diversion to the Merce' festival let me go back to my reflection on BCN, I left in 2014 with the impression that BCN was super crowded but I thought the reason was the popularity of the festival.
Back to summer 2018 I had a shock from the moment I started to search for accommodation: It was almost impossible to find a hotel in the city centre for less than £200, not to speak about Airbnb. Even the crappiest place was overpriced, then luckily I got in touch with an old colleague that opened a B&B in the Raval area, who was able to accommodate us.
HOT TIP: Barcelona is a small city so if you choose accommodation in the city centre you will be able to walk to most places, for me it is still the best option when I can just walk and not be bothered if the tube stations have stairs or lifts, or if you can fit on the bus with the pram. The city centre is full of many independent restaurants (not just tourist trap), including vegan friendly restaurants to cover all taste.
Carmen, this is the b&b name,  is a lovely place, clean and with everything you need with a rustic/chic  feeling, I would recommend to check it if you are on a budget because it is a really good value for money. (the only thing to be  aware is that is on the forth floor without lift, so evaluate your level of fitness!!!)  The raval area is now really safe and full of shop, bar and restaurants a really easy location; below the flat there is also a small playground perfectly placed in front of two bars, where you can sip a drink while the kids are playing.
We arrived on a Thursday evening very late, so I had the real impact with the city on Friday morning and I couldn't believe how many people were around in the streets. On one hand I thought of course that this was brilliant, thinking of the terror attack in 2017 I was delighted to see that people don't want to be scared and give up with travel.
On the other hand though, I couldn't recognize my old Barcelona, a part from the dirty and smelly streets that I thought I left behind a few years after my Erasmus!
In the afternoon we rented 2 bikes (in 4 years BCN has implemented hundreds km of cycling paths), but it was difficult to move around in the central areas. We started cycling along by the sea and I thought that after the Barceloneta we could have maybe found a quieter beach where to stop in a chiringuito, and where the boys could have played a bit…but nope! Packed like Ostia!
Of course we could have found a space, but in my memory I had the picture of when I was living there and going to sunbathe at the Barceloneta near the cubes and it was just me and few other people…
I'm glad BCN reached such a cosmopolitan level, and mine are more reflections about how this city has changed and how it is coping with this transformation.
The transformation started a long time ago of course, already when I was living there many things were changing.  I'm always excited with changes because I truly believe that embraced in the right way they are usually making things better, but in this case I'm questioning: is this just over-tourism?
Probably these are the silly reflections of someone who feels that her secret place has been discovered and now must be shared with everybody else…
I'm sure I will still come back to BCN many more times, and if you have never been I definitely recommend it…or, if like me, you have been many times, maybe you can share if you at some point ever had the same feelings?