The only baby travel essentials packing list you need
This post may contain affiliate links. I may receive a commission for purchases made through the links on this page, at no cost to you.
TRAVEL ESSENTIALS WITH BABY
In this baby packing list, you will find everything you need to consider before leaving for a trip. The list is divided into topics (sleeping, flying, feeding…) but obviously, some accessories are indispensable in different situations.

At the end of the travel essentials for the baby list, there are some considerations regarding the items that you already normally carry with you in the nappy bag. I will also add them to the checklist you can download here (just so everything is listed in one place).

It is possible that in some cases there are valid alternatives with products you have at home, in which case I will add it as a suggestion. Remember however that if you forget something then in most cases you can buy it on the spot. Nobody wants to spend money unnecessarily or waste time trying to decipher information in another language, but this is the worst that can happen.

OUR EXPERIENCE: What to pack when traveling with a baby can be overwhelming, every new parent tends to over-pack, and we were the same. Then with a little practice, you will learn to be more selective, the babies will grow up, and you can return to minimalist travel packing.

Below you can compare the photo of one of our very first trips with Liam and Santiago at around 6 months, and a recent one at 4 years. Both sets of luggage cover a stay of 8-9 days. You are allowed to laugh !!!! You can also check how to save hundreds packing just small cabin bags, even when fly European low cost airlines! Here you can also check a review of the latest backpack we use to travel, Cabin Zero Classic backpack.
ARE YOU IN A HURRY? Click here to download a printable checklist of the baby travel essentials!
CHECKLIST FOR TRAVELING WITH BABY
Below is a snapshot of all the baby travel must haves. Then a detailed analysis. The baby travel items are divided in groups for an easy read. For each item you will have a summary about essentiality, possible alternatives, and lifespan.
BABY TRAVEL ESSENTIALS FOR ANY TRIP
In this category are grouped all the baby travel necessities that are useful in all types of trip.
Do you need some tips to build your family trip itinerary? Check out this Step by step guide!
Baby Carrier
---
Suncream
---
Stroller Black Out Cover
---
Dummy and Bottles Steriliser
---
Gel Pads
---
Laundry Sheets
---
Chamomilla Homeopathic Remedy
You could also be interested in "The reality of travelling with twins and how to make it possible"!
TRAVEL BABY ESSENTIALS WHEN FLYING
Many parents fear so much the idea of flying with a baby that they prefer to drive even 10 hours instead of taking a short flight. Choosing your plane travel essentials carefully will help you to feel much more confident, if you pair them with some good tips about flying with a baby then your trip will be a breeze. Before to see the flying with a baby checklist here are some key things to remember:

If possible choose a direct flight. The last thing you want after settling down and maybe having a sleeping baby is to pack everything, get off, wander around the airport, get on a new plane, and start over.


Choose the bassinet seat or bulkhead seat. In most cases, airlines assign it by default, but check. Also, try to get on board first as planes have a limited number of bassinets and you want to be sure you have one available.


If possible, choose to fly at a time when your baby is usually quiet. Many parents suggest flying at night because babies sleep. I say that only you know your baby well. Our twins, for example, were much easier to entertain by day than by night.


Bring an extra change in your hand luggage and double the amount of nappies and food you would normally use. If there are delays or deviations you will not want to risk running out.
HOT TIP: Read here more tips to make fly with baby and toddlers a breeze
Travel Stroller
---
Airplane Bassinet Cover
---
Wet / Dry Bag
---
Kindle Fire 7 kids Edition
---
Phone / Tablet Portable Power Bank
---
Foot Rest Pillow
TRAVEL BABY ESSENTIALS ON THE ROAD
When traveling by car you obviously have fewer restrictions than on a flight. The luggage is with you and easily accessible.

In this case the best travel baby items will be those that will help you to contain the volume of luggage, entertain the baby and limit stops.
Car Seat-Carrycot
---
No Mess Snack Cup
---
Car Tablet Holder
---
No Mess Water Colour Books
---
BABY TRAVEL ESSENTIALS FOR A GOOD NIGHT SLEEP
In this category are grouped all those essentials for travelling with baby that will help you both to sleep better.
Travel Cot
---
Night Pacifier
---
White Noise Machine
---
Sleeping Bag
Baby Feeding Travel accessory
The top of the baby travel essentials in this category is a foldable/portable seat. You will find another couple of accessories to keep in the travelling with a baby checklist especially for people using formula milk who must arrange themselves between sterilisations and portioning.
Portable / Foldable High chair
---
Feeding Bottle with Liner
---
Formula Dispenser
BABY TRAVEL ESSENTIALS…ALL THE REST
In the list that you can download here you will also find all the other items that that you use daily such as a changing mat, muslin cloths, diaper cream, medication, disposable bag, hand sanitiser, wipes, snacks…. you just have to remember to pack them in your suitcase / backpack bag.


I have also added to the list a travel potty, although without all the details. I know some people start potty training really early so it could be good to remember to bring it along. There are some really clever models on the market, even if you are going to start later consider Potette Plus travel potty. It can be used anywhere both as a stand alone potty and directly on the toilet seat. Lightweight and compact to carry around.


I hope this list will help you to have smoother travels, but don't forget that sometimes even with all the best baby gear for travel also our trips didn't go as we were expecting…if you have time you can read and laugh about our misadventure on a trip to the beach with our twins when they were 13 months!
RELATED: don't forget to choose the right bag for your needs to travel with. Have a look at these article going through all the details the best bags for moms need to have. If you prefer to have your hands free, check out this other article about the best backpacks!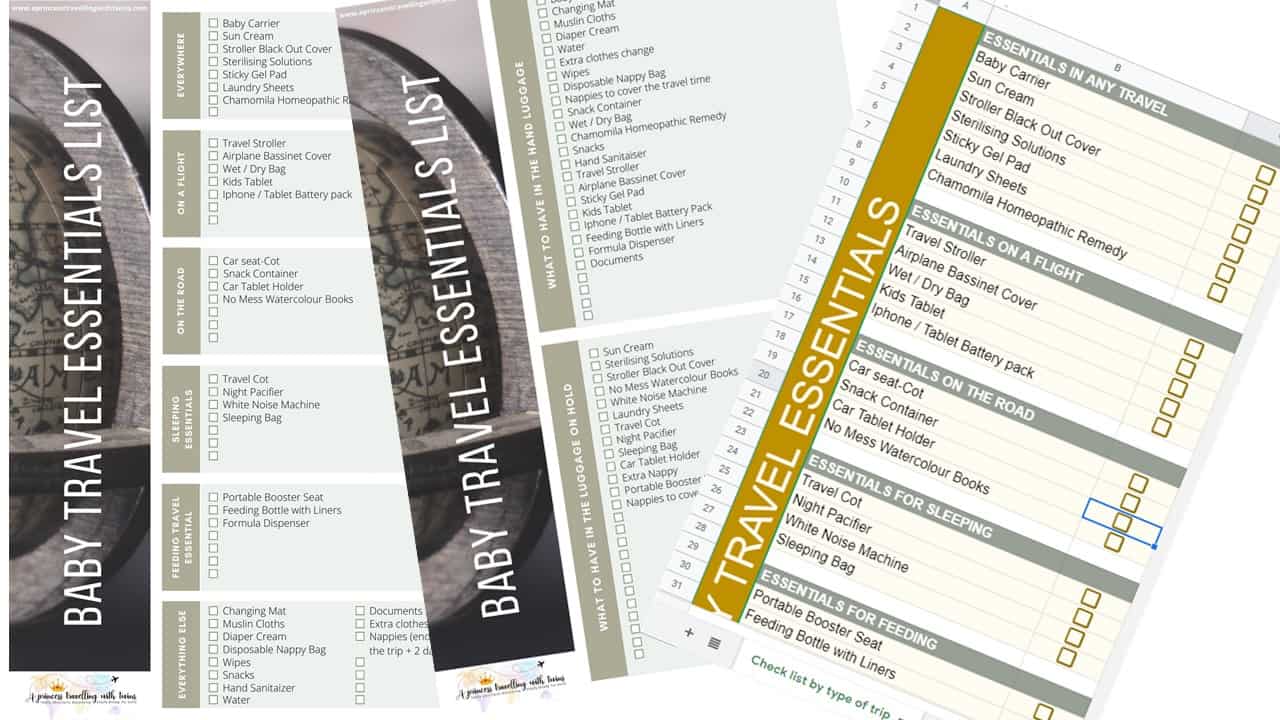 NO TIME NOW? PIN IT FOR LATER