The most epic 4 days in London itinerary
For a long time I thought about writing a 4 days in London itinerary, but I always put it off. Living in London, I have always given priority to other places to ensure I didn't forget the vivid details.

Now after many years in London I have put together the experiences and discoveries made in all this time, to help you discover this venerable lady who in the evening with soft light masks wrinkles and age, yet during the day amazes with an ultra-modern cutting air.

I have been living in London for more than 10 years now, and I know many of its familiar places and hidden corners, but far be it from me to think I know it all.
London is a huge city, very large, full of people, chaotic, expensive, very modern but decadent, avant-garde but traditionalist. In London if you search you can find everything, and its opposite.

London is either hated or loved, and first-time visitors often experience both. It certainly does not leave you indifferent. Some of those who come to visit find it cold (and not only for the climate) and distant, but often only because they do not know where to look to see below the surface.
This post may contain affiliate links. I may receive a commission for purchases made through the links on this page, at no cost to you.
What makes this 4 days in London itinerary different from others?
Four days in London are not many, and the risk is to run from museum to tourist attraction without really experiencing the city. To fall in love with London it is important to stop then turn the corner, most of the time you will be surprised by an unexpected scenario, which will often make you wonder if you are really in a large metropolis or a village in the English countryside.

This 4 day London itinerary will help you do just that, guiding you from the most famous sites to the lesser known corners. The itinerary is detailed and I indicate the required time for each attraction. There is also a map where you can visualise the itinerary, you can download the map and keep it on your phone to follow the step by step guide easily.


At some points you will pass near some attractions but without entering them, this is to have the opportunity and time to experience the city instead of just its famous museums and buildings. For this reason the days are also structured in order to facilitate most of the travel on foot.
How many days in London?
This is a difficult question to answer. You can read a dedicated article here to help with consideration and advice. How many days do you need in London will depend on several variables, but if you are free to choose then here is what you can expect:
Visit London in 4 days will give you a good overview, but you will need to leave many places off your agenda.


With 5 days you will be able to add a visit to one or two of the unusual things to do in London, or insert one or two museums that you don't have time to explore in the London in 4 days itinerary.


In 6 days you will have the opportunity to insert a very easy day trip to the countryside near London, like Old Amersham, a day on the Kent coast, or a visit to Windsor Palace
After I share how to spend 4 days in London, you will find options in case you can spend 5 days in London or more, and also if you need a shorter 3 days London itinerary
MAYBE YOU ARE INTERESTED IN : 20+NON TOURISTY THINGS TO DO IN LONDON, ULTIMATE LIST!
Let's start with the day by day itinerary.
DAY 1: FROM WESTMINSTER ABBEY TO THE SOUTHBANK AND BACK
The first of this 4 days in London itinerary begins with a very traditional morning to visit some of London's most iconic buildings. In the afternoon you will be able to appreciate a lovely stroll along the Southbank with more sightseeing.
9:30AM. Westminster Abbey – Buckingham Palace – St. James Park – Big Ben
9:30AM Whatever your starting point, you must arrive at the entrance to Westminster Abbey at 9:30 am, normal opening hours. Buy your ticket online to avoid the queue and save money. Unlike many other countries, most museums in England are free, while churches are charged for. The ticket is expensive, but the Cathedral is majestic. If you have always dreamed of attending one of the Royal Weddings you will not regret the expense.


An hour is enough for the visit and now you can reach Buckingham Palace with a short walk of a quarter of an hour. The Changing of the Guard (suspended during COVID19 time) is at 11am (10am on Sunday), daily only in summer. In other periods it is usually every other day. Check the dates here. To get a privileged position from which to see all the action, you should arrive an hour early, especially in summer. If you don't want a detailed video, but just to appreciate its essence, then even a quarter of an hour before is fine. The ceremony takes about 30 minutes.


From Buckingham Palace enter St. James Park. This is one of the Royal Parks, small, but well-kept, and very pretty. Be sure to stop on the Blue Bridge, where you can take pictures of Buckingham Palace that are much more captivating than from the roundabout. Looking east then, you can see the London Eye and Whitehall which looks like a fairy tale palace.


Leaving the park you can stop for a photo in front of 10 Downing Street, trying to catch a glimpse of the Prime Minister! From there in less than 10 minutes you will be under Big Ben. Venture onto Westminster Bridge for an iconic photo of Big Ben, with the Houses of Parliament or, on the opposite bank, of the London eye. Fun Fact: if you want to be fussy then Big Ben is actually the huge bell inside the clock tower which is called the Elizabeth Tower, but everyone just calls the tower, clock, and bells Big Ben.
Do you need some tips to build your family trip itinerary? Check out this Step by step guide!
12:30PM. Transfer to the Southbank
12:30 PM Around the London Eye is always extremely crowded, especially in the morning, so instead of following the traditional routes from here, we board one of the water buses to reach the easternmost part of the Southbank and follow it in reverse.

Looking at the Westminster Bridge, make your way through the crowds on the left and get off on the banks of the Thames. The waterbus passes every 20 minutes, the RB1 line is the one that will take you to London Bridge in about 20 minutes.

This way you will avoid the crowds, you will be able to rest a little after a morning of standing, and you will have the possibility to see the buildings of the Southbank from a different perspective.
1PM. City Hall – Borough Market lunch – Southwark Cathedral
As soon as you disembark head towards Tower Bridge, you will cross it tomorrow, but from the spaces near the City Hall you will get great photos.

The City Hall, home to the Mayor and London assembly, also deserves attention especially if you appreciate buildings of architectural significance. Some areas are open to the public, and if you want you can spend 15 minutes walking down the ramp that goes to the café or up to the second level. (It is the almost spherical building.)


By now it should be around 1:30 pm. Probably hungry you can head to Borough market to get your first taste of London's multiculturalism. Venture through the melting pot of vendors and choose according to your taste. There really is something for everyone. The prices are inflated for a market, but for once it's worth the experience.

If the weather is nice, you should be able to find a place to sit in the Church gardens just behind the market. To say Church is actually inappropriate, as it is Southwark Cathedral that is behind you. It is also pleasant to go in for a quick tour or in Winter to take shelter for half an hour in the inviting café that uses local delicacies.
2:30PM Afternoon along the Southbank: Shakespeare Globe – Tate Modern – London Eye
The next stop is a ten minute walk away, the Shakespeare Globe. To get there, head back along the river and don't miss Clink street where you can admire the ruins of Winchester Palace that was once one of the largest and most important buildings in all of Medieval London.


The Shakespeare Globe is a faithful reproduction of the original theatre burned in 1613. Even if you don't enter it is a nice place to check out from the outside. If your visit to London takes place in the Summer, you shouldn't miss one of the plays, tickets start at just £5 for standing places. Arrive prepared however, the shows go on regardless of the weather and the Theatre is roofless !!!


From here another 5 minutes and you will be at the Tate Modern. Arriving, be sure to stop and walk along a stretch of the Millennium Bridge. This pedestrian bridge is appreciated by architects for the lightness and grace of the lines. Designed by the Archistar Sir Norman Foster, for a long time it occupied the daily chat as just a few days after the opening it was closed for two years to solve the wobbling effect caused by the people walking over it!

Admission to the permanent exhibitions of the Tate Modern is free (but you need to book in COVID19 time). Even if modern art is not your cup of tea, I recommend that you come in for a visit. The Tate Modern is housed in the former Bankside Power building, which has been renovated and recently expanded. The entrance leads directly into the impressive turbine hall, where there are often temporary exhibitions.

The Tate Modern continuously hosts very interesting and well curated exhibitions, check their website and get your ticket in advance if you are interested. Allow at least a couple of hours for the visit.
5:30PM London Eye – Dinner in Soho
5:30PM. By now it should be around 5:30 pm. From the Tate Modern, a pleasant 20-30 minute stroll along the river will bring you to the London Eye. It depends on the season of your visit, but this could be the best time if you plan to get on the huge Ferris wheel, as you should have beautiful views with the warm colours of the sunset.

The choice to go up or not is very personal (I went there after 5 years in London), but if you are sure you want to participate then buy tickets in advance, and pay a little more for skip-the-line access, you will avoid a really long queue.


At this point, all you have to do is decide what you want to eat for dinner. My suggestion is to leave the pub for another evening in a less touristic area. You can head to Soho and be inspired by the variety of restaurants, but if you already have in mind what you would like to try, then the suggestion is always to book in advance. From Westminster Bridge you can take several buses from stop D and get off in the middle of Regents Street (Hamleys stop) and enter SOHO on the right hand side. My pick? INKO NITO (Japanese), my latest favourite restaurant in London!!!!
DAY 2: FROM THE SHARD TO SHOREDITCH
The second day starts with one of the top places to visit in London in 4 days: the Tower of London. After you will move via roof-gardens to a Cathedral and end in the more vibrant area of East of London
8:30AM Breakfast at the Shard – Tower Bridge – Tower of London
8:30 AM. The day begins with breakfast at Aqua Shard, one of the Shard's restaurants. This is a perfect trick to enjoy an enchanting view from the 32nd floor of this incredible building without paying admission.


You will not go up to the 65th floor, you will spend more than you should for a breakfast, but it is an experience that is absolutely worth trying. Book a table around 8:30 and consider about an hour. Don't miss the visit to the bathrooms!


9:30 AM, start walking across Tower Bridge to access the Tower of London. If you want you can, by purchasing a ticket, go up the raised walkway with the glass floor that connects the two towers. Certainly interesting, but in my opinion not necessary.


10:00 AM Entering the Tower of London when it opens will assure you of a less crowded visit. The site is majestic and between the stories of the Beefeaters, the enchantment of the Crown Jewels, and the bloody stories of death and imprisonment that you can hear, 3 hours will be just enough for the visit.
Even if the ticket (book on their website in advance) is certainly not budget friendly, the Tower of London is a must see in London in 4 days.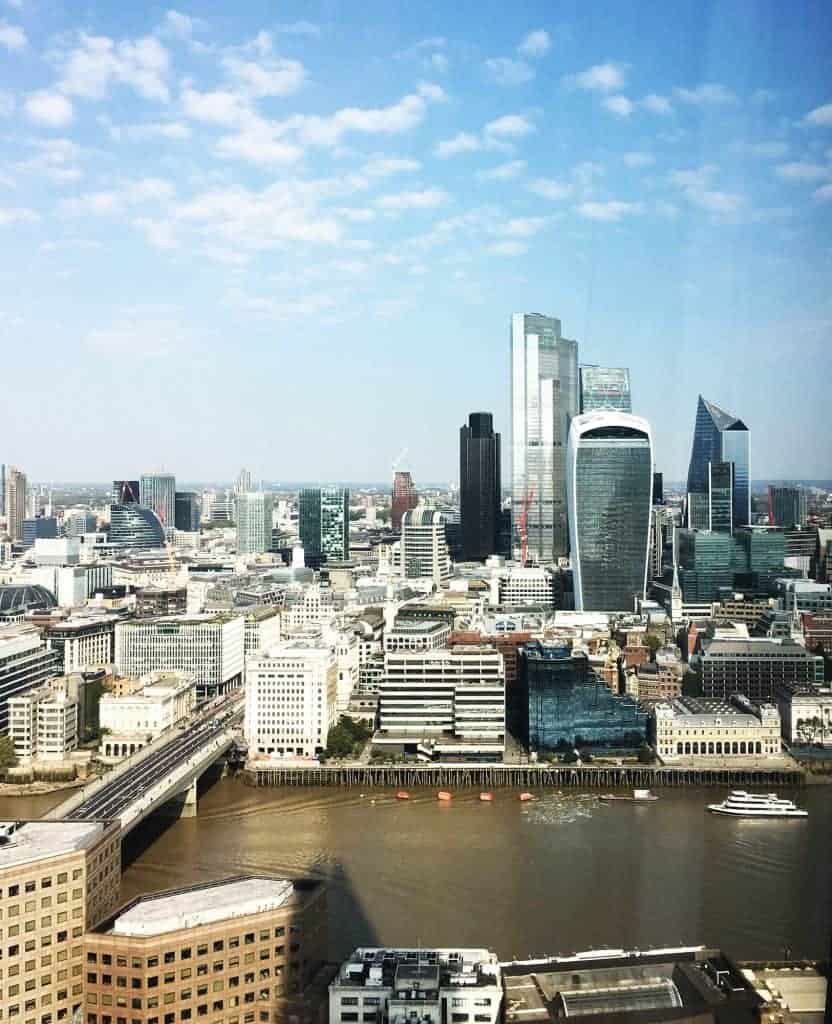 1:00 PM Lunch at St. Katharine Docks
To offset the significant expense of the visit, you can set off for lunch in one of the restaurants of the various chains that overlook the original Saint Katharine Docks, the only marina in central London, as they like to call themselves. It is located just minutes from the Tower of London and offers a pleasant change of scenery. When you enter you forget skyscrapers and monuments, perfect for a quick stop.
2:00 PM London City wall – Skygarden or 120 Fenchurch Street – Leadenhall Market.
It's now probably 2pm. Retrace your steps and pass the Tower of London at the back. As you pass between the Tower Hill Gardens and the Tower Hill underground station, be sure to stop for a moment at the site of the ruins of one of the few remaining parts of the ancient London City Wall. Erected in 200 BC then enlarged and extended several times during Roman rule, unfortunately only a few tracts remain today.


From here in seven minutes you will be at the next destination, the Skygarden. The Skygarden is the highest public garden in London. Located at the top of the "walkie-talkie" (London loves to give nicknames) it is free to visit, but you absolutely must book. Once you get to the top, you will be amazed to find this carefully tended garden in the sky (in all honesty it should have been much bigger according to the original plan) that shares space with a few bars and restaurants.

The view is magnificent and there is also an balcony for those who are less easily impressed. This is definitely one of the top things to do in London in 4 days. Allow about an hour for the visit.

The site opens for reservations approximately 3 weeks in advance, but may be closed for private events. In case you are unlucky you can fall back on another recently opened rooftop a few steps away, 120 Fenchurch Street. Of course, you won't go up to 160m, but the entrance here does not require booking and you still have a nice view of the Southbank.


3.30PM. From the Skygarden or 120 Fenchurch Street, in a couple of minutes you can step into the shoes of your favourite Harry Potter character by entering Leadenhall Market. A beautiful Victorian arched market that now houses shops and restaurants, and which lends itself to excellent shots for Instagram. Testament to a colourful history, for centuries it was home to one of the largest meat and fish markets in the city. Rebuilt and renovated several times, today it is an integral part of City life, but also loved by tourists who find film and song sets there.
4PM. St. Paul's Cathedral – One New Change – Shoreditch/Brick Lane –
4PM. From the Leadenhall Market it is less than 15 minutes on foot to reach St. Paul's Cathedral. If you are tired, keep your energy and take bus 25 from stop Z or one of the sharing bikes.

St. Paul's Cathedral is an iconic landmark of London. It is truly majestic, but it is not free to enter. The ticket will give you access from the underground Crypt to the Golden Gallery, 111 meters above London, and you can even go outside! St. Paul's Cathedral has the second largest Cathedral dome in the world, so it is worth the visit. Allow at least 1 hour for the visit.


In case you are not interested in entering St. Paul's Cathedral, but prefer to appreciate its majesty from the outside, you can go up to the rooftop of the One New Change Shopping Centre. You will be able to take photos from a very interesting perspective. If you have opted out of the visit to the Cathedral you can now move towards the East, a colourful and chaotic area full of street artists that attracts young people looking for more original and less globalised shops.
5PM. Exploring the East or taking part in a Jack the Ripper Tour – Dinner
At this stage you have 2 options:



Take bus 11 to get to Shoreditch/Brick Lane. These areas are particularly lively on Saturdays and Sundays when there are stalls of all kinds to animate the streets, but even during the week you will find movement. Browse the posh Spitalfields market, search among the 70's clothes of Brick lane shops, follow the trail of graffiti art at every corner, and simply let yourself be carried away by the edginess that you breathe in the air.


Another interesting thing to do is join a Jack the Ripper tour. For sure these tours are touristic, but at the same time they are also a pleasant way to discover interesting anecdotes in a less travelled area. I took part in one of these tours a few years ago, and I found it interesting and a lot of fun.

The Jack the Ripper tour starts near Aldgate East (you can cycle there in 10 min. or you can take Bus 25 on the stop between St. Paul Cathedral and One New Change). The duration is about 2 hours.
HOT TIP: Many places close their kitchens quite early in London between 9 and 9:30 pm. If you prefer to wait to have dinner after the tour, then my advice is to find a place as soon as the tour ends. In the area you will have no problem finding countless restaurants and pubs, just be guided by the atmosphere. My advice? Gunpowder, one of the best Indian restaurants in London.
DAY3: FROM KINGS CROSS TO HARRODS
A 4 day itinerary would not be complete without a visit to one of the more contemporary and newly revitalised areas: Kings Cross. From there you will walk along the canal, visit markets, Parks and museums!
9:00 AM. From Kings Cross to Camden Town
9:00AM. Today the day begins in an area that did not exist when I arrived in London. To be more accurate it was in a state of decay and abandonment as many areas often are near the railway stations.

Wherever you stay it will be very easy to get to Kings Cross. If you are passionate about Harry Potter, first enter Kings cross station from the entrance that faces the pedestrian area and you will find platform 9 ¾ and the "Olivander" shop to browse.


From there, walk towards the canal through the pedestrian area (slightly uphill). If you are looking for a place for breakfast there's nothing better than the German Gymnasium (during COVID19 pandemic some places operate with reduced opening hours so double check). A carefully restored historic building (built in 1865 for the German Gymnastics Society (the following year it even hosted London's first indoor Olympic Games) that stands out for its small size and traditional architecture as opposed to the large super modern buildings that surround it.


As soon as you cross the canal bridge you will enter the real beating heart of this new area. An immense intervention that completely redefined a neighbourhood.

Granary Square (with the impressive fountains of 1,080 floor jets) is the square that acts as an element of distribution and connection with shops, roof gardens, restaurants, pubs and even the headquarters of a university.

Also impressive is the very recent opening of the Coal Drops Yard, converted but maintaining the Victorian soul of the warehouses that originally served to store the large quantities of coal transported along the canal (more recently, in the 80s/90s, the home of the largest rave scene in the City!).


From here you could just take the subway to move to Camden Town, your next destination, but I definitely recommend the walk along the Regent's Canal. It is only 2km, 20-25 minutes of walking which will give you the chance to see different faces of the daily life of Londoners.

You will pass from ultra-modern glass and steel skyscrapers, to new developments in the former gasholders, to interesting council houses directly on the water until you reach the melting pot that is Camden Town.

11AM. From Camden town to Hyde Park
11:00 AM. Once you arrive in Camden Town, around 11am or so, you will have to give yourself a time limit, or you may end up spending the rest of the day here as Camden with its hippy air fascinates and involves. Enter the Camden Market and lose yourself in the maze of internal alleys where you will find the most varied succession of shops: from second hand, to vintage, fashion, home decor, memorabilia, and every other possible genre. Don't miss the old stables part, look for Amy Whinehouse's small pretty statue, and do an open-minded tour of Cyberdog.

If you haven't already, grab something to eat at one of the market's myriad of stalls. From this point you have 2 options.



Option A; If you are visiting in Spring/Summer at this point you can relax in a 45 min narrow boat trip to Little Venice to then continue to Hyde Park.
Another little gem to see the city from a different point of view. The boats leave from the side of the market that opens onto the canal, near the lock. Book the tickets in advance as it is quite popular!!!


Arriving around 2pm in Little Venice, you can browse along the canal to find out what it could be like to live in a narrow boat (always respect the privacy of the residents) and then you can take bus 46 from stop J (beside Rembrandt Gardens), which in 4 stops will leave you in front of Hyde Park. (you could also walk, but honestly it is not an attractive path)


Option B: In case the fantastic little boat tour is not available (in Winter the service is reduced) then you can head directly to Hyde Park (the next destination) by subway (black line from Camden Town, change in Tottenham Court Road with the red line until Queensway), or you can get on the bus n.27 which via a scenic tour around Regents Park will leave you near Paddington from where in 5 minutes you can reach Hyde Park.
3:00 PM. Hyde Park – Kensington Gardens – Serpentine Pavillon – Museum on Exhibition Road
Take an hour to walk through the park, visit Kensington gardens, admire Kensington Palace from the outside and, (in summer) find out what is the latest temporary architecture creation for the Serpentine Pavilion. However, don't forget to sit back and watch the comings and goings of people living the park in their daily lives.

Exit the southern part of the park and in a few minutes you will arrive on the Exhibition road. Here are some of the largest museums in London, and permanent exhibitions are always free. On this day there is no time available for a complete visit (unless this day coincides with a Friday allowing you to take advantage of the extended opening hours of the museums to make a more detailed visit according to your preference ).

You can choose one and spend about an hour to get an idea if you are interested in coming back another time.


The Natural History Museum fascinates with its mysterious air and the monumental display of a whale skeleton in the main atrium. The Science Museum surprises with its interactive displays, and the Victoria and Albert Museum always fascinates with beautiful temporary exhibits that are often free.
5:15 PM. Harrods
5:00 PM. At about 5pm you can set off and in 10 minutes you will arrive at Harrods. Love it or hate it, for many Londoners it is a shop like any other. It is true that in recent years it has focused its range more on the rich residents from the Middle East, but I assure you that over the years this is the shop where I have made the best deals. The ideal is obviously a visit during the sales.

As a simple rule, the more you levels you go up, the more accessible brands you will generally find. Don't miss it !!!


Around 6:30/7 PM your sightseeing day will finish (unless it's Friday and you decided to visit one of the museums).

This is the night for something a little extra, book yourself a special dinner in one of the many amazing restaurants available in London (get here some suggestion about the greatest foodie options available), or book tickets for a West End show.
DAY 4: FROM THE BRITISH MUSEUM TO OXFORD STREET
10AM. British Museum
10AM. The fourth day begins with the inevitable visit to the British Museum. A full day would not be enough to visit it all. If you have time, take a look at the website to evaluate the exhibits that interest you most.

A couple of hours will be enough to see some of the most famous displays, such as the Rosetta Stone, the Parthenon, the Egyptian mummies and some other lesser known rooms. The museum is free, and the next time you come to London you will have a reason to visit it again (pre-book tickets in COVID19 time)
12PM. Seven Dials – Covent Garden – Trafalgar Square
At around 12PM, set out for Covent Garden, it's time to start a few hours of Retail therapy.

In this part of the itinerary I will suggest some unmissable shops, snacks, squares, and streets, but there are just as many more to discover.


Before reaching Covent Garden, stop at the meeting point of the 7 streets that make up Seven Dials. As Dickens said "let yourselves be intrigued by these obscure passages". In reality, nowadays it is no longer so dark, but fascinating and full of independent shops. These streets are filled with surprises and corners for your Instagram.

Take Short's Garden and don't miss Neal's Yard, the small road on the left that will transport you to an enchanting triangular square. Stop here to eat something or go back and on the opposite sidewalk you will find the Seven Dials Market. Here you can satisfy all tastes, from sushi to fish and chips, from dumplings to Korean chicken.

My favourite? The Cheese bar, organised exactly like a sushi bar, you sit around the counter where a belt carries coloured plates (that mean different prices) with different types of cheese … obviously to be accompanied with a glass of wine!


Time to explore Covent Garden, this former fruit and veg market today is one of the best tourist destinations in the city. Wander around for a while and then walk into King St. Be sure to enter the Floral court, where again you will find a hidden corner and where home decor lovers could lose track of time in the Petersham Nursery shop. Exit the other way and in 5 minutes you reach Trafalgar Square, so called to commemorate the Battle of Trafalgar.
1:30 National Gallery – Leicester Square – Piccadilly Circus
1:30 PM. Before entering the National Gallery, stop for a coffee in the charming crypt of St Martin in the Fields, when looking at the National Gallery it's on your right. (Note you do not enter the church, but descend from the small glass kiosk next to it)


Refreshed, you can now enter the National Gallery. One of the most visited museums in the world, like the British Museum, it is worth selecting which paintings to admire rather than attempting to rush and see as much as possible. (check their website for tickets)


3.30 PM. Behind the National Gallery you will find Leicester square (to be strictly pronounced Less-ter), the epicentre of entertainment for young and old, surrounded by theatres and cinemas that thrill with their premieres and red carpet events. Then feed your inner child at the massive Lego and M&M's shops.

Take a moment to see what many tourists miss. Installed in the square are statues of the most representative characters of each decade from 1920 to today, look for Mary Poppins, Bugs Bunny, Mr. Bean and of course Harry Potter.


From Leicester Square the walk is short for a change of scenery entering the world of Chinatown. After a quick tour you can move to one of the other iconic squares of the city: Piccadilly Circus. From here, before starting to get lost among the offers of the big stores of Regents Street, take a detour to Piccadilly to buy some edible souvenirs from Fortnum and Mason, a historic shop of over 300 years.
4:30 PM. Liberty – Oxford Street – St Christopher's Place
4:30 PM. Now go back to Regents Street, stop by the shops that catch your attention the most, detour to the picturesque Kingly Court, and Carnaby Street and don't miss a stop at Liberty. Newburgh Street also has some great Menswear stores too.

Liberty is a magical place, built almost 100 years ago in Tudor Revival architecture. It is more than a shop, it is a place to get lost in search of beauty. People come to Liberty just to admire the originality of the carefully selected pieces or in some cases designed directly by the house team. Let yourself be inspired, wander into this shop that welcomes you like a friend invites you home. Sit down, observe, and take the memory of a special place with you.


Once you have exited and re-immersed in the bustling streets, make your way to Oxford Street. At this point it should be about 5:30/6 PM. The fourth day of the itinerary is the one that offers the most distractions, depending on how much time you like to spend in the shops it could be much later.

Oxford Street offers another cult store for Londoners in Selfridges, where you will find all the great ateliers, an infinite number of make-up brands, but also some trendy and less well-known designers, cafes, restaurants, and recently even a corner shop!


If you are tired of these immense temples of retail, then slip quietly into the narrow Gee's Court passage which begins almost invisibly between the austere buildings of Oxford Street but which widens until it is lined with small refined shops and takes you to the delightful St Christopher's Place, a little area on a human scale with eateries and pubs for every preference .


Rest here with a drink or dinner, or take refuge in the welcoming Busaba Thai, a small chain, but with a sophisticated air and affordable prices.

7:00 PM. Last evening in London …what to do?
This was probably the most tiring day of the itinerary. If you think you still have energy, there are alternatives you may still consider.



choose one of the many shows staged in the west end, (If you haven't been at the end of day 3).


if you are planning your trip well in advance you could close your itinerary with a rather special experience: The ceremony of the keys at the Tower of London.

Participating at the ceremony, which starts at 9:30pm and lasts about 30 minutes, is free, but the number of people is limited and you will have to book your ticket online well in advance. If you manage to book you will witness the rite of the closure of the Tower of London which has taken place unchanged for 700 years. The perfect experience to feel you are back in time and to close this 4 days in London itinerary.
ADAPT THIS ITINERARY TO 3-5 OR MORE DAYS OPTION
5 Days in London itinerary

In a 5 day itinerary in London, my suggestion is to reorganise the third day. The morning of the third day remains the same until the visit to the Camden Market, after you can:

go to little Venice by boat and after exploring this elegant residential area and the canal, head to The Regents Park and Primrose Hill.


or from Camden take the tube for 3 stops and immerse yourself in the charm of Hampstead. In Hampstead you can pick up the essentials for a picnic while you explore Hampstead Heath with its Ponds, Kenwood House, and magnificent views. It won't be difficult to feel like a local.
On the fourth day start with a visit to Notting Hill and from there move to Hyde park continuing the afternoon of the third day. In this way, you will have the opportunity to spend some time in one of the museums on Exhibition road. If you have the opportunity to see London in 5 days you will have a more relaxed trip.

If you have more than 5 days I would start to consider a day trip from London. In Summer you can head really easily to the popular Brighton, or even better to the Kent coast to walk along the beautiful cliffs. If you prefer a little taste of the English countryside without going far, you can easily reach (even with the Tube) Old Amersham, or if you are happy to rent a car you can quickly reach the stunning Cotswolds.
3 days in London itinerary
Difficult to decide what to sacrifice, but, to have the 3 perfect days London itinerary you can:

on the first day, shorten the walk after lunch along the Southbank, and in the afternoon move to Soho and quickly follow the afternoon itinerary of the fourth day

the second day remains the same

on the third day you can start with a visit to the British museum and then move to Hyde Park and follow the itinerary of the third day.
PRACTICALITIES FOR A 4 DAYS IN LONDON ITINERARY
Moving around London
To be honest nothing could be easier than moving around London. The tube and buses will bring you everywhere. If you are tired an Uber is always round the corner, and Black taxis are able to even fit a stroller without folding it.
ONLY FOR YOUR AWARENESS: London, in respect to public transport, is divided into zones. Most places in this 4 days London tour are in Zone 1 and 2. How much you spend while taking the tube depends on the time of the day and how many zones you are crossing (6:30-9:30am and 4:30-6:30pm weekday is peak time and so slightly more expensive). The ticket on the bus costs £1.50 regardless of the zones and time, and you can take up to 2 buses in one hour from starting your journey for £1.50.
IMPORTANT TO KNOW: the only way to use public transport in London is using your contactless debit/credit card, or buying an Oyster card and topping up some money (before you leave, you can return the Oyster card and get back the £5 deposit plus any money you haven't used)
If you are using a foreign debit/credit card your bank will probably apply an exchange fee (but that would be the same if you buy a Oyster card). Perhaps try one of the new online banks like Monese, Revolut, or Transferwise that shouldn't charge you anything.

In London there is a capping system in place, so whatever you use (debit/credit card or Oyster), you will never pay more than the daily/ weekly cap, but you must always use the same debit/credit card or Oyster card. So my recommendation is not to bother with travelcards or similar.
HOT TIP: if you don't use it yet, download the app Citymapper. It is super helpful for moving around, especially with Public Transport. It works like magic!
Where to stay in London
There are several areas in London suitable to stay when visiting. Your budget will play an important role in the choice, however one thing not to be underestimated is the size of the city, you must not be confused by the zones.

Staying in zone 3 can mean being 20 minutes from the center (from the border with zone 2) but you could also end up within an hour on the tube. In general, choosing an accommodation in zone 1 guarantees that you are well connected to all the main attractions.

Here 3 options for 3 different budgets
BUDGET PRICE: citizen M Tower of London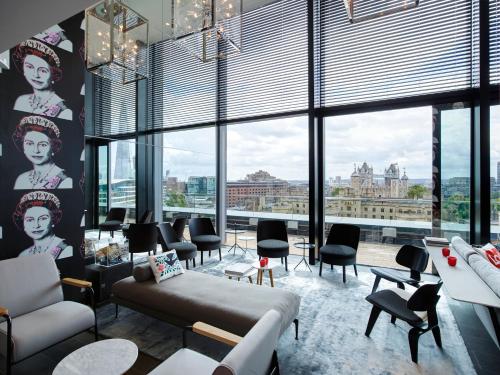 citizen M is a chain of super-modern and sleek hotels. They manage to keep reasonable prices even in central London without compromising on design and details.
Although the rooms are small, they are perfectly designed to fulfil all functionality, and common areas are bright and inviting. I've been in other citizen M Hotels and I found them always perfect for city breaks.
MEDIUM PRICE: Native Bankside
Competition in London is really strong which means there are new hotels opening all the time. Native Bankside is maybe not so famous as other big names in the hotel world, but it offers fully refurbished rooms with modern design and great functionality.
There are different room sizes available, and all offer a small/medium kitchen, perfect if you want to save on eating out every day. A gym is also available to keep up your fitness routine!
If you are after a more British look have a look at Vintry and Mercer or The Dixon!
HIGH PRICE: Ham Yard Hotel
If money is not a problem then in London you can indulge yourself with many options. You will find some classic and always valid options like the Savoy where you can appreciate the most exquisite British traditions (and where you can watch the New Year's firework show from the comfort of your room). Or more stylish and contemporary options like the Shangri-La Hotel at the Shard.
My choice? The Ham Yard Hotel, in the middle of Soho. A modern hotel that revisits the British traditional style with a young touch mixing bold colour and traditional patterns
4 Days in London itinerary: Budget
Here you can see a simple overview of how much you would spend following this 4 days London itinerary. This table includes fixed expenses like the entrance to the different activities and an average cost for accommodation. It is based on 2 people sharing a room.
As a rough idea you can add around £40 a day for a lunch on the go and a dinner seating in a restaurant or pub.

If you only use public transport in zone 1-2 with a pay as you go Oyster or contactless card you will spend a max of £7.20 a day.
| Day | Activity | Cost for 1 person |
| --- | --- | --- |
| 1 | Westminster Abbey entrance | £25 |
| | Waterbus ticket | £4.50 |
| | London Eye (skip-the-line access) | £24.50 |
| 2 | Breakfast at AquaShard (estimated) | £20 |
| | Tower of London entrance ticket | £25 |
| | St. Paul's Cathedral entrance | £17 |
| | or Jack the ripper tour (alternative to St. Paul Cathedral) £14 | |
| 3 | Regent's Canal Waterbus | £11 |
| | West End Show (estimated) | £30 |
| 4 | no fix expenses | |
| | Accommodation x 3 night | £180 |
| | TOTAL | £337 |
That's it…I think. You made it till the end. I hope you will enjoy your London four days trip. Message below if you have any question!
No time now? PIN IT for later!!!