3 Days in Cusco itinerary
I developed this 3 days in Cusco itinerary to take in the most of what Cusco has to offer. Cusco presents a great compromise between history, culture, and tourist entertainment activities.
After spending 5 days driving through the lost villages of the sacred valley, it was pleasant to find some more modern comforts. In my opinion, 3 days give you adequate time to see Cusco and appreciate some of the details of social life that with a shorter stop would be lost running between one tour and another.
Cusco is inscripted in the UNESCO world heritage list and so my list of things to do in Cusco was long and difficult to prioritize. In this post I will go into detail on how we organized our 3 days so that you can easily copy the itinerary. I will then add some of the activities that seemed very interesting in case you have more time, or your kids are a little more time efficient than ours so you can do more things!
This post may contain affiliate links. I may receive a commission for purchases made through the links on this page, at no cost to you.
Things to do in Cusco: 3 days itinerary
First day – San Blas Cusco
We arrived around lunch time after returning the rental car at the Cusco airport.
Staying in the middle of San Blas we decided that, after a short rest in our beautiful hotel (more to come later), we would start exploring the charming cobblestone streets full of craft shops. While walking around don't miss a visit to the Iglesia de San Blas with its stunning wooden pulpit. Time flew and soon between some shopping and a coffee it was time for dinner.

Cusco is big enough to give you the chance to spend the afternoon quietly wandering aimlessly. We didn't follow any particular itinerary this time (unusual for me) and we really enjoyed it!

For dinner I suggest you book in advance and go to Cicciolina, we had not booked and unfortunately were unable to get a table (I always book the restaurant !!!!!)
click on the map then save and download it on your phone to keep it on hand when you are going around
Do you need some tips to build your family trip itinerary? Check out this Step by step guide!
Second day
Free walking tour in the morning
The second day begins with one of my favorite activities, the Free walking tour. At 10am we are in Plaza de Armas, where the meeting point is between the Cathedral and KFC. We start on time with Liam and Santiago in the trusted Ergobaby.
The tour lasts almost 3 hours, but Liam and Santiago displayed great teamwork to make us lose many of the explanations by alternating their cries of "cacca!". As I said in the post about visting Machu Picchu, we decided to potty train them just the week before leaving for this trip. Results were pretty good but many times several stops were needed for imaginary pee, and a few stops also for authentic pees that weren't quite forecast!
It is therefore quite difficult for me to give a completely objective evaluation of the tour. The tour was interesting and covers a very large area, touched the main points of interest, and ended in a bar in the upper part of San Blas with a demonstration of how to prepare Pisco Sour.
During the tour the guide also takes you to see a small show, with no obligation to buy or tip. In the end I always find it a valid solution, but alternatively you can look for a private Cusco city tour.
Planetarium visit in the late afternoon
Of all the things to do in Cusco, one particularly struck me: a visit to the Cusco planetarium.
The free walking tour ends quite late, but if your back is not destroyed or your children are older, I recommend a stop for lunch at Marcelo Batata. After lunch you can go back and enter some of the sites you pass during the free walking tour like the cathedral or la Iglesia de la compania de jesus.

HOT TIP: in Cusco, as in Lima, you can definitely indulge in good food. Take advantage! If you travel on a budget you will of course appreciate the endless economic possibilities of eating in Peru. However if your budget allows, for the equivalent of a pub dinner in London you can try the cuisine of chefs who could soon end up on the Michelin guide!

At 5:40 the appointment is in Piazza Rejocito, just one block from the Plaza de Armas. You have to book first on their website. At the appointment there are 3 or 4 people to welcome the participants and at 6 o'clock you go up to the mini vans that they have already organized a few steps away.
Would you like to organise the same 2 weeks in Peru? Curious to know how much our trip to Peru cost? Do you want to budget your Peru holiday? Click here and grab this itinerary in my famous excel format, with detailed info about timing, costs and transport!
The planetarium is reached in about fifteen minutes, in reality it is not far, but in the car it seems a journey longer than reality.
Then maybe I have to manage your expectations. I had imagined one of those movie locations, with a building with a dome that opens and an immense telescope to observe the universe … well, it's nothing like that!
You arrive in a green area with a large open space that gives access to a small structure.

First, there is an interesting presentation in a circular interior room with a dome (it does not open but there is a dome, you see !!!), where the constellations are projected.
The projections change in line with the explanations to illustrate how positions change during the year and between the two hemispheres. You learn to recognize some of them and how they were used by the Incas. Children are welcome and free, but we were asked to be ready to take them out if they started to become disturbing which seemed fair.
Fortunately the projections were fascinating, so much so that they kept Liam and Santiago engaged and peaceful for the whole duration (about half an hour) and allowed us to understand something.
After this presentation you will come out into the grass area where 3 powerful telescopes are positioned and you can observe some particular constellations or other phenomena under the guidance of a person who helps you understand what you are looking at.
They provide hot tea and blankets, because at that point even if it is only 7/7:30pm it starts to be quite cold.
After this part you come back inside for a smaller final explanation and payment. By now is 8-8:15 pm and the minivans take you back to Plaza Rejocito
The planetarium is an endeavor organized and managed at family level. It was perhaps not the glamour I had imagined, but the visit is very interesting and the equipment used is good. I defintely recommend it.
Third day
Saqsaywaman in the morning
The goal of the morning is a visit to Saqsaywaman, a Fortress in the most peripheral area of ​​Cusco.
To get there you can just walk, from San Blas it should be half an hour (the last part is uphill with steps, you will reach 3,701m), or you can take a taxi to go and then walk back ( downhill).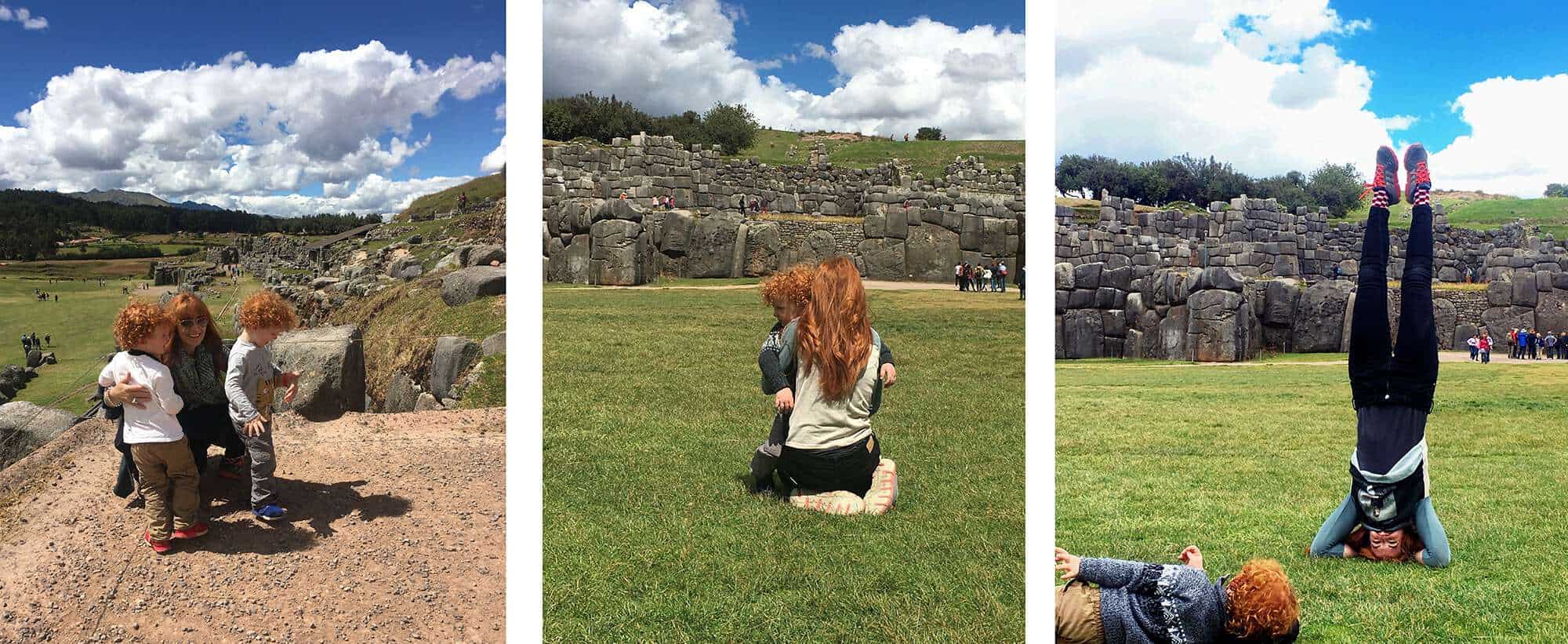 Obviously the second option won for us !!! We asked the hotel to call us a taxi and for 10 soles we arrived at the entrance in 15 minutes.
Don't forget that this site is part of the Boleto Turistico (I talk about it in detail in this post)
Thanks to the wonderful day, sunny, but not too hot, we spent more time than necessary on this site that looks like a park where you can have a picnic rather than an archaeological site.
Don't get me wrong, there is a lot to see and probably a guided tour can really make you appreciate the history of this place, and the constructive skills of the Incas. If you had admired the perfection of the walls in Cusco, here you will see the walls with the largest stones ever. In fact, unfortunately, part of the site was dismantled due to the construction of Cusco itself by the Spaniards in the colonial era.
The visit, if you want, can be easily done in an hour … we ended up staying there at least two hours. The site was not particularly busy and the large open space in the center was perfect for running and playing! This has been for me one of the top things to do in Cusco
Once the visit is over you can return to Cusco on foot. Being downhill it is a very pleasant walk along quiet and intriguing streets.
For lunch I recommend a stop at Chicha, one of Gaston Arcurio's restaurants, sublime. The portions are very generous, I got two starters instead of starter and main and I couldn't finish them. Definitely one of the best places to eat in Cusco.
San Pedro Market, Qorikancha and food tour in the afternoon
From Chicha with a digestive walk you can visit the San Pedro market (which is another alternative for some street food). The Market is super colorful and full of life. Wander around and don't be shy to try some of the food. Even if you had lunch like us you can still get some churros!

From the market you can pass through streets that are far from touristic but full of local life, and you can head to Qorikancha.
Qorikanca is an imposing religious site in the ancient heart of Cusco and the remains of the temple of the sun is its most important element. Pay attention to the times because it closes early at 5:30pm.
At this point, if you can make it, instead of the usual dinner in one of the great restaurants in Cusco, there is time to walk a little further by joining a food tour! I love food tours, they are a great way to try places and foods that you might not dare try. Kids (at least up to 3 years old) are allowed and free.
How to avoid altitude sickness
Since we were traveling with our three-year-old twins, I believe it is appropriate to open a short chapter to discuss the Cusco altitude and possible problems that may arise.
Cusco elevation is 3,399m, and it is quite common to suffer when you go up to altitudes greater than 3,000m. Many people pass from Lima (on the sea) to Cusco underestimating the possible risks. In this post I wanted to reiterate the importance of considering that in Peru everybody could suffer from altitude sickness.

Spending a couple of days at a lower altitude helps the body to adapt. After some research I developed our 2 weeks in Peru itinerary to try to minimize the undesirable effects of altitude sickness. We flew from Lima to Cusco and immediately transferred to Urubamba (2,871m) in the Sacred Valley and spent 5 days there. This helped us a lot!

We were lucky enough, I took paracetamol only on the first two mornings because I had a slight headache, Mark maybe 3 or 4 days. Liam and Santiago seem not to have suffered. Children seem to suffer less, but they must be watched more closely as for them it is more difficult to explain possible illnesses.
How to get to Machu Picchu from Cusco
There are several way to get to Machu Picchu from Cusco: you can walk (the longest way), you can take the train or ride a bus. Unfortunately travelling with 2 three year olds left me to really consider only the train.
The train from Cusco to Aguas Calientes takes much longer than from Ollantaytambo. It is about 4 hours from the San Pedro station which uses Incarail, or more than 3 hours from the Poray station (both Incarail and Perurail have trains from there), but it takes about twenty minutes to reach it .
Considering that the new rules to visit Machu Picchu restrict your visit to half day (morning or afternoon) many people decide to visit Machu Picchu as a day trip (that is what we did and you can read more here). Despite the train from Cusco to Machu Picchu taking quite a while, the journey can still be made as a day trip, you just must leave earlier and return later.
An alternative often considered to save money is to take a bus/combi or taxi from Cusco to Ollantaytambo and then the train from there for the last part..
All travel agencies also organize Machu Picchu tours from Cusco and most of the agencies sell the Inca trail or other Machu Picchu hiking tours which also start there.
Tours Cusco
Many people choose Cusco as a base to visit the Sacred Valley and Machu Picchu. As I explained at the beginning, I think it is better to move initially to a lower altitude. If, however, you decide to use Cusco as a base, you will definitely have no problems organizing any Sacred Valley tour including a visit to Machu Picchu.
Based on our experience, I recommend you don't miss these Cusco day tour:
Maras salt mines, usually the tour lasts half a day and you can visit the salt mines of Maras and the site of Moray. The salt flats are absolutely spectacular.
This spectacularly photogenic site has been in use since the Incan times and the community still works in the extraction of salt. It is a beautiful site to see and incredible thinking about the history that distinguishes it.
The ruins of Moray are perhaps less impressive than other sites, but definitely a beautiful walk. To make the whole tour you have to go way down before unfortunately needing to go up again. With the altitude effect you feel for sure that it is more than just a walk
Full day trips usually also include Chinchero, another delightful village where you can visit the market, the ruins, and attend a weaving demonstration.
The ruins can be reached on foot from the market, but they are at the top of a steep staircase that can deter, but do not be discouraged, once at the top there is a pleasant sense of peace and the church I found was beautiful.
Ollantaytambo is another of the unmissable

day trips from Cusco

. Ollantaytambo is a majestic site that dominates the village below. It is one of the most touristic villages in the Sacred Valley, but it is also the only Inca village where more than 70% of the buildings are still original so you can't miss a visit.
The ruins are perched close to the mountain and the visit requires energy to climb to the top. The routes do not present particular problems for children, but the risk that they get tired is high, so be ready in case you have to carry them!
Pisac, if you manage to visit more ruins, is another very interesting site. It seems to only be part of tours where you run from one site to another without really having a chance to appreciate anything. In this case you should probably negotiate a private transfer with a taxi driver, in order to devote the necessary time to the ruins and then to the market.
Pisac is not a safe site for small children, too many unsafe overhanging points, we ended up taking them in the ergobaby.
We visited all the sites I recommended but we decided to rent the car to visit the sacred valley (we decided to drive in Peru with two small children and we didn't have any problems, you can read all the details here), but the organized tours are equally valid. Alternatively, a taxi with which to agree on the price for the day is an excellent solution
Best hotels in Cusco
In Cusco if your budget allows it, you can be pampered in luxurious hotels. As you know I always look for accommodation worthy of a princess, but always consider the right value for money ratio. Anyway whatever the budget answering the question "where to stay in Cusco" could take you some time, so here my suggestions
Hotel in San Blas

: our choice

Antigua Casona San Blas.
Location
As the name says it clearly, the Antigua Casona San Blas hotel is positioned in San Blas, a charming location very close to all points of interest, but be prepared for steep climbs to return to the hotel. The entrance goes almost unnoticed on a one-way street, where the almost non-existent sidewalk makes the journey with children needing a little more attention.
Fortunately it is not very busy and in any case most of the streets in Cusco are like this.
Common areas
This boutique hotel has been recently renovated, on the patio you can see photos in sequence from the state of decline before the renovation and during the works.
The place has a modern design while maintaining a clear Peruvian style. The reception immediately next to the entrance introduces the inner courtyard as the focal point of the space. The furnishing presents pleasant outdoor sofas placed around garden fireplaces that are lit in the evening from 7pm to 10pm creating a perfect atmosphere to relax with a glass of wine.
The restaurant and bar are accessed from the patio, both furnished with care and inviting. Breakfast is served in the restaurant: there is a small buffet, but an order from the al la carte menu is included. Apart from breakfast we had dinner there once and the food was delicious. If the weather is nice, you can also enjoy eating on the patio.
They also organize yoga classes and they told me they have almost finished the spa.
Rooms
The rooms are on three levels, some around the patio and others on the back. There are various types of rooms, ours was not very large, but despite this the bed was sufficient for 3. The furnishings have been chosen with attention to detail, and the bathroom was comfortable and functional with a large surface that extends beyond the sink (I hate those bathrooms with a micro space where there is no space other than for the toothbrush !!!). Our room also had a small outside space.
One child stay for free, but I asked and they were ok for us to have both in the room with us. We didn't ask for a cot.
Conclusion
I booked in advance and found a great price (£ 260 for three nights) and would return to the same place immediately! The staff were always very kind and helpful, even when on the second day Liam and Santiago managed to tip over the breakfast table. It was exactly one of those scenes where the parents would like to bury themselves, go out in silence and no longer be seen … but the next day we were welcomed again with great affection and courtesy (ah the power of those red curls !!!!)
I find it perfect for those traveling with children also because being small, we sat for a couple of hours relaxing on the courtyard, quietly being a stone's throw away if they woke up!
HOT TIP: If you need it the hotel provides an oxygen tank. Luckily we had adapted, but one evening we saw a couple enjoying it in the room near the reception
More from my list of Best Hotel in Cusco
In San Blas
Illa Hotel: if your budget is lower but you still don't want to give up the charm of San Blas you could consider Illa Hotel. It has an internal courtyard with some rooms, that seem very well maintained with sober finishes and modern bathrooms. This hotel is within walking distance of Antigua casona San Blas and would have been my second option.
Near Plaza de Armas
Prisma Hotel: still keeping an eye on the budget, another hotel on my list was the Prisma hotel. The rooms look simple, but I was enchanted by the possibility of having a balcony to admire the city calmly. As well as the scenic roof top where you can relax and admire the view. It is also located in the center near Qorikanca, which means that you don't have to climb the mountain-like San Blas.
In case you are planning to use public transport to visit the Sacred Valley this hotel has the advantage to be located near the station where the collectivos leave to Urubamba and Ollantaytambo
Casa Cartagena boutique and Spa: the last hotel I would recommend is for those who can spend a little more than the Casa Cartagena Cusco. I had read so much about this small boutique hotel in Cusco that I almost feel like I was there.
If you look carefully at the photos you will see that everything is taken care of in every detail, from the lights to the decorations. The rooms are very large with very modern design, softened by the typical Peruvian elements. Guests can also enjoy a spa with a swimming pool … if you can, don't miss it!
Well…that's it I think for Cusco! Peru has been an amazing trip and even if our kids maybe will never remember it I'm sure it contributed to shape who they are and who they will become. Let me know if you are planning to go and if you have any questions!