10 Tips to make a trip to Egypt successful with toddlers
I don't know why I waited so long before going to Egypt…there is so much to see and it is such a fascinating Country that you could easily fill a month if you slow down and immerse yourself in its history and culture!
To make it even more enjoyable I decided to put together 10 tips to make a trip to egypt unforgettable: some are specific for families with toddlers, but most of them are useful for any traveller.
This post may contain affiliate links. I may receive a commission for purchases made through the links on this page, at no cost to you.
Wi-Fi router
Wi-Fi ROUTER:
maybe some of you already have one, we didn't have one before but found it super useful and convenient in Egypt. Our providers would have charged a lot of money for data use.
I feel lost, in general, when I can't access data, but also any family with small kids knows how much of a life saver a Peppa Pig video can be in stressful moments if you don't have any other entertainment to hand.
It was invaluable, especially when we were sightseeing around, to get some info, check the directions, and use Uber.
I got a Huawei E5330 3G from Amazon, that was on offer for £26. It worked perfectly, battery lasted around 6/7 hours, and we can use it in any country as you just need a Pay As You Go Sim for that country and off you go!
SIM CARD:
I did my homework before to arrive in Egypt and discovered that in the hall of terminal 3 in Cairo airport, there should be a Vodafone kiosk open until late where to buy a sim card.
As our luggage took ages to arrive, I had time to check the Orange kiosk that was near the luggage carousel and they had an offer for a 20 gigabyte sim card for €9. I thought it was a good price even if we didn't need so much data, so I bought it there. The guy who sold it to me also activated it, so when I put it in the WiFi router it started immediately without any problem (of course in the end we used all the data available).
UBER:
Uber has saved our sanity many times. Whenever I have visited other countries with a strong bargaining culture I always enjoyed to play the game, but from when I travel with kids I have no interest in spending time haggling the taxi price or the energy to stop several taxis until one of them agrees on a reasonable fare.
Uber was just perfect. I also downloaded Careem, that is a similar taxi app, but I never used it, so I can't report on it.
As a small example: we spent our second day in Cairo moving around a lot, so the WiFi router battery died around 6pm when I wanted to book a taxi to a restaurant. We were at the Khan el-khalili market, which we had reached with an Uber paying 27 EGP , however stopping a random (very rickety) taxi on the street resulted in a deal for 50EGP for a similar journey. However, half way to our destination the driver started to complain that 50EGP wasn't enough and wanted 70EGP. I am very aware of our level of privilege and know that for him 20EGP has much more value than £1 to me, and I was more than happy to tip all the Uber drivers, but it is the continuous haggling and renegotiating on agreements that I'm just not so up for anymore!
EXCHANGE MONEY:
Usually I exchange a small amount of money before to leave for a country with a different currency, but for Egypt I was finding only very poor exchange rates in London. I researched online I found many people saying that was better exchanging money directly in Egypt.
I was quite sceptical but decided to trust the info I had found, and can now confirm that it is really easy to exchange cash (sterling, Euro or dollars) in many places (banks, hotel receptions, ATMs), the rate is the same as the average interbank exchange rate, no commission!
I got the first EGP when I bought the sim card at the airport. To pay €9 I gave them €50 and they gave me the change in EGP exactly matching how much my currency convert app showed.
You can also easily exchange cash at many ATMs; I realised this only on the last day so I haven't tried it, but I saw how it works: you just select ForEx on the screen, then the currency, then you put your cash in the metal space that will open on the left, and after some whirring you will get your EGP from the right hand side.
We also had with us a Curve card each which are really good as they don't charge you a fee on money withdrawals up to £200 a month.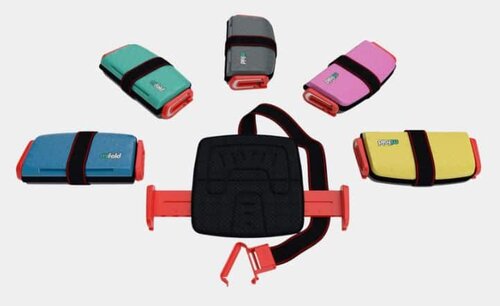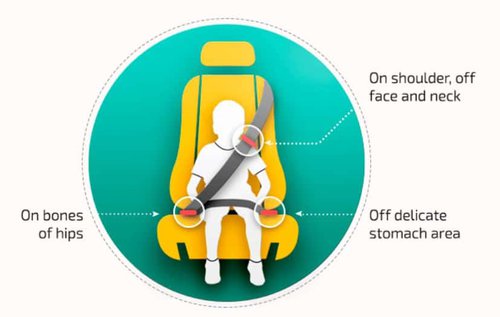 MIFOLD:
this product was an incredible discovery, I will maybe do a proper review when the boys are older. (you can in the meantime have a look at their website) Ok, what is this amazing thing!? It's a foldable booster seat, so small that 2 were fitting in my handbag!
In Egypt, like in many other countries, your kids are not required to sit in a car seat while in a taxi. Short journeys worry me less, but I knew that in Egypt some of our journeys would be an hour long, and the transfer from Luxor to El Quesir end up being almost 5 hours. I felt uncomfortable not having anything to keep my boys safe.
Mifold was almost perfect for us. This product is designed for 4 years+ (15kg+), Liam and Santiago are big toddlers and already over 16kg so we decided to try it. Just to be clear I'm not suggesting you disregard the product safety information, please check it carefully and take your own decision if you want to use it. It works basically by providing a framework and belt which makes the car seatbelt fit the child.
We used it in all the taxi journeys and transfers, and felt they were comfortable and much safer. It is relatively easy to "escape" from, and as 2 year olds the boys took occasional advantage of this but we were always there to re-install them. When the boys are 4+ I am sure this will be less of an issue.
PRAM/CARRIER:
As usual we travelled with our beloved buggy companion the Joolz Geo. The boys now walk a bit longer, but it was handy as always at the airport and when we were around in Cairo. We didn't use it to visit the Pyramids or the temples we visited during the Nile cruise.
In most places, Cairo streets, or even the Egyptian museum the spaces are often narrow and a side by side pram would have been a nightmare. (Here my review of Joolz Geo if you want to read more about our love for it). The streets and paths in Egypt can be rough with many more steps than slopes so having a rugged pram with good sized wheels is very useful too.
If you have a good carrier that can be used on your back bring it with you because it will still help you a lot while visiting the biggest site. Off course if you travel as family with only one child you can even consider to leave your pram home as you could alternate carrying your child with your partner…whit twins we never consider this an option unfortunately!!!
TIPS:
Egyptian culture has tipping embedded in it, you can't escape this, so the best way is to prepare yourself with cash and embrace it, you will be more relaxed!
Of course no-one forces you to give a tip but in most cases it is expected and sometimes even asked for! It is difficult to define how much to tip, but I read a lot about it and I decided to stick to the advice I found in this website which seemed to work out fine.
VISA:
I mentioned the Visa in the article where I went in detail about our itinerary, but I think it is worth mentioning here too.
Many nationalities need a Visa to enter Egypt which costs $25. You can only pay in US dollars,  but there are options to change money in the airport if you need to. I wasn't convinced the process would have been as quick as many people suggest, so I decided to apply online. It is a long process because the website is not optimized, and you also need to wait 24-48 hours to get the Visa approval, but I preferred to arrive with the Visa in my hand.
(As we travel with small kids I always try to do everything it to make the admin faster)
The most annoying thing is that the website doesn't accept pictures (you need to add passport pictures) bigger than 500kb, so I took them with my IPhone and then resized them in Photoshop, maybe you have a quicker way!
CLOTHES:
another hot topic! Egypt is a conservative country and they appreciate if you respect it. It means that for women you should cover your legs at least to your knees and cover your shoulders (so no to sleeveless tops)
Some loose cotton or even better linen trousers and a light t-shirt it will be perfect, in October the temperature was still well over 30 degrees, so you need to choose the lightest and most breathable clothes you have.  For men in general you should wear short shorts and sleeveless tops only on seaside resorts, trousers or longer shorts with a T-Shirt are fine for general wear.
When you are in a seaside resort you will find the attitude to dress more relaxed and familiar to Western visitors.
DON'T ACCEPT WHAT YOU DON'T WANT TO BUY:
this rule is the same everywhere, but even more important if you are travelling with small kids. On the street or while walking in the market people will put stuff in your kids hands, just give them back and say a polite but firm no thank you (don't expect the first no to be accepted though!)
BONUS TIP: CHECK WHAT VACCINATIONS YOU NEED TO HAVE BEFORE TRAVELLING WELL IN ADVANCE, I WAS SO SURE THAT WE DIDN'T NEED ANYTHING THAT I ALMOST LEFT IT TOO LATE. IN THE END WE ALL GOT VACCINATED AGAINST TYPHOID, HEPATITUS A, AND TETANUS.
This were my 10 tips to make a trip to egypt unforgettable with toddlers I hope they will help you to plan your trip and to make it even smoother and more enjoyable.
Did I forget anything? If so add it in the comments!!!