A tested 10 days Vietnam Itinerary for an unforgettable trip
Are you struggling to organize your 10 days Vietnam itinerary? Planning a short trip to Vietnam could be a little overwhelming as there are so many things to see and the country is quite big, but don't worry, in this article you will find a ready-made detailed solution to copy, and at the end also some variations in case you have more time or different interests. You will also get lots of info to plan your itinerary to perfection.
A 10-day itinerary is an excellent way to experience the best that Vietnam has to offer. Vietnam is a country of contrasts, where ancient traditions meet modernity. Its stunning natural beauty, rich history, and delicious cuisine make it a popular destination for travellers from all over the world.
Vietnam is a Southeast Asian country that boasts a diverse culture, and stunning landscapes. It is known for its bustling cities, beautiful beaches, incredible scenery, and superb food.
The country is home to over 97 million people and is divided into 58 provinces and 5 municipalities. The official language is Vietnamese, and the currency is the Vietnamese Dong.
Some of the top attractions in Vietnam include Ha Long Bay, Ninh Binh, Hoi An Ancient Town, Ho Chi Minh City, and the Mekong Delta. Visitors can also enjoy delicious Vietnamese cuisine, which is known for its fresh ingredients, bold flavours, and unique cooking techniques.
Overall, Vietnam offers a unique and unforgettable travel experience for those looking to immerse themselves in a rich culture and explore stunning natural landscapes.
This post may contain affiliate links. I may receive a commission for purchases made through the links on this page, at no cost to you.
Vietnam 10 day itinerary: Map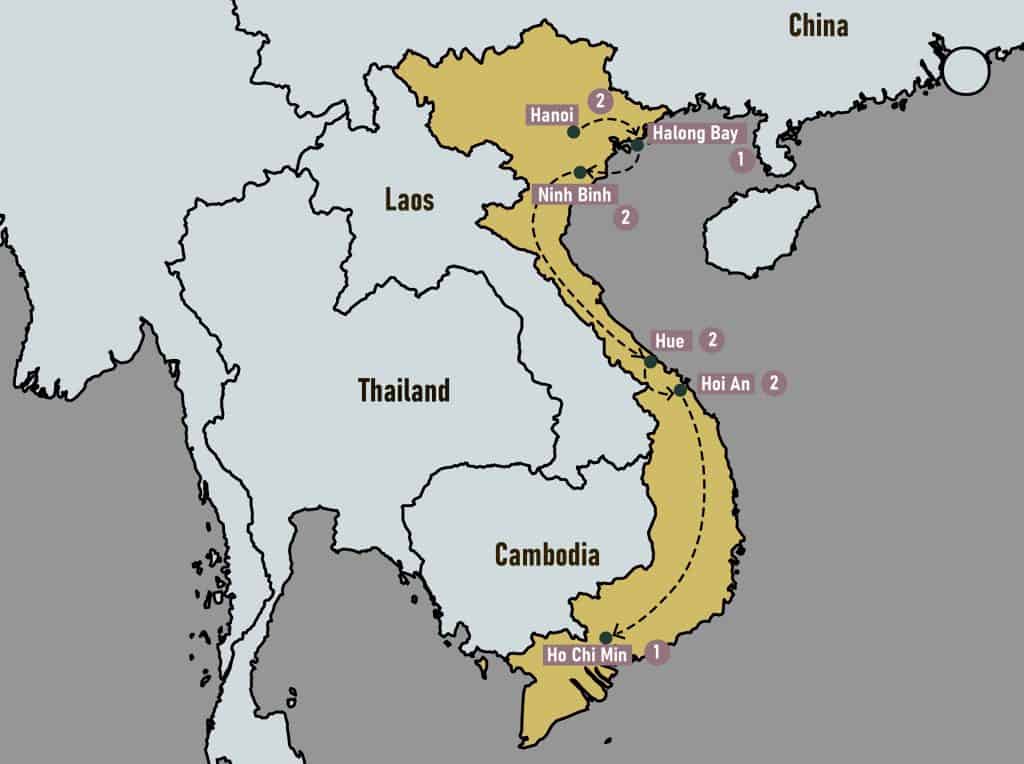 Overview of the 10 days Vietnam itinerary
There are 5 international airports in the country but for this 10 days itinerary in Vietnam, we will only consider Hanoi or Ho Chi Minh. The itinerary explores Vietnam from North to South, but of course, you can also follow it in reverse.
I need to be honest, many people request an itinerary of 10 days in Vietnam, the schedule I share here covers some of the most beautiful attractions in the country, but there will still be some places left out. Vietnam is a big country so it is impossible to see everything in 10 days, but you will touch some of the best places.
You will also be on the move a lot so pack some comfy shoes as well as the high heels!
We did exactly the same itinerary but in 14 days. We spend an extra day in Ninh Binh, Hue, Hoi An and one in Ho Chi Minh. Towards the end you will find more details about this longer option.
We travelled with our twins 7 years old and you can read more about experiencing Vietnam with kids here.
Here is a short summary of the itinerary
Day 1 Arrival in Hanoi-Full day exploring the city
Day 2 Hanoi-Full day exploring the city
Day 3 Transfer to Halong Bay – Halong Bay Cruise
Day 4 Halong Bay – Transfer Halong Bay to Ninh Binh
Day 5 Ninh Binh – Night train Ninh Binh to Hue
Day 6 Hue – Exploring Hue and Surroundings
Day 7 Hue – Transfer to Hoi An
Day 8 Hoi An
Day 9 Hoi An – Flight to Hoi Chi Minh
Day 10 Ho Chi Minh – Departure
DAY 1: Arrival in Hanoi and explore the Old Quarter
It seems that most international flights land in Hanoi in the morning. This is an advantage as it gives you the full day to explore.
Clearing customs at the airport is quite straightforward, and when you go out of the airport early in the morning you will be welcomed by the warm but still acceptable temperature (don't be fooled though, the humidity will quickly raise).
HOT TIP: Before getting into a taxi to reach your hotel, buy a data sim card. Wifi is available in all hotels and most bars/restaurants/museums, but for us, it was really useful to connect anytime we wanted. We bought a Vittel sim card with unlimited data for 30 days for 15 US dollars (more about wifi and sim card at the end).
We pre-booked a taxi just in case we had an issue connecting with wifi, otherwise, you can use Grab. We used Grab many times during the trip and it was always really easy.
Upon arrival in Hanoi, you will be greeted by the bustling atmosphere of the city. The capital of Vietnam is known for its vibrant street life, French colonial architecture, and delicious street food. Check in at your hotel and start your 1st day of 10 days in Vietnam itinerary.
MORNING
As soon as you arrive in Hanoi, my suggestion is set out to discover the Old Quarter.
Walking around the Old Quarter is a very pleasant way to familiarize yourself with Vietnamese culture, Hanoi can be explored easily independently, but if you join a walking tour on the first day you will be able to learn some general insights that will come in handy during the whole trip.
HOT TIP: As soon as you step outside your hotel you will probably be shocked by the traffic, the number of mopeds, the driving, and the complete lack of compliance with any rules of the road. Waiting for someone to stop is a utopia, screw your courage to the sticking point and throw yourself across the road. Everyone will avoid you, but always look in all directions, not just the one from which the traffic should arrive because even the direction of travel is sometimes irrelevant.
Spend the morning exploring Hoan Kiem Lake and visit Ngoc Son Temple. Then head to the Heritage houses to experience the traditional way of life of Hanoi. Don't miss a visit to St. Joseph's Cathedral and Bach Ma Temple.
Many museums, temples, and churches in Vietnam close at lunchtime.
For lunch visit Duong's Restaurant and then return to the hotel for an hour of relaxation by the pool.
HOT TIP: don't book a hotel without a swimming pool, it will offer you incredible refreshment in the hours of highest humidity. We have chosen the Aira Hotel and we found it perfect from all points of view (more below).
AFTERNOON
In the afternoon, return to the old quarter and wander around the narrow streets full of shops, cafés, and restaurants. Try to see if you can enter Train street (in mid-2023 it was still closed to tourists). At 6 pm head back to the lake where the Tang Long Water puppet theatre is located to attend one of the water puppet shows.

WATER PUPPET SHOWS: do not quickly overlook this activity or relegate it to one of those things to do only with children. The water puppet tradition is ancient, dating back to the eleventh century, and had developed in the regions of northern Vietnam, although it is now practised throughout the country.
It was originally a form of entertainment for the farmers of the rice fields when they were flooded with water. Still today, considering that each puppet must be replaced every 3-4 months, it also offers a lot of work in the villages that are dedicated to the constant construction of puppets.
The stories are a representation of traditional Vietnamese life. It may be useful to read the small synopsis on the theatre website to better understand them during the show.
Tickets can not be booked online but you can write to them and they will reserve seats for you to be picked up 30 minutes before the show starts. Or you can pre-book your tickets in advance here.
After the show, if you have energy, treat yourself to a posh dinner at "La verticale" or if you prefer to blend with the locals, head to "Grandma's restaurant".
WHERE TO STAY IN HANOI: AIRA BOUTIQUE HOTEL AND SPA
You want to pick a hotel in the Old Quarter or really close to it. We stayed at Aira Boutique Hotel and Spa and I would stay there again. It was perfectly located, just on the border of the Old Quarter in the direction of the Ho Chi Minh Mausoleum and Temple of Literature.

The rooms are lovely. They have family connecting rooms, but if you book the suite they can add 2 extra beds and the cost will be the same. The breakfast spread was incredibly good with a prevalence of tasty Asian food, but also some essential Western options like cereal and pastry. There is a lovely little pool to cool down in after a day of walking. The pool is small and the space for sunbeds is minimal, we were lucky and always found space, but I can see that could be an issue. There is a restaurant and a rooftop bar for a great view of Hanoi.
DAY 2 Hanoi
MORNING
The second day of this 10 days in Vietnam itinerary begins by heading to the Ho Chi Minh complex. The complex is vast and consider that to see it all you will need at least 3 hours, if there are no queues to enter the Ho Chi Minh Mausoleum.
If you are staying at the Aira Boutique hotel you can go on foot, but the road is not very interesting and if it is hot and humid it's better to save your energy and take a taxi (less than £1).
The first thing you will be directed to see after paying for tickets and leaving food, water, and cameras at the safe deposit (rules are strictly enforced), is the Ho Chi Minh Mausoleum. After this you can collect your camera (which is brought to a collection point) and enter the museum, then see (from the outside) his stilt house, the Presidential Palace, and the one-pillar pagoda, before wandering around the rest of the complex to the more distant Tran Quoc Pagoda and Quan Thanh Temple.
The museum is extremely interesting to understand who Ho Chi Minh was, his background and how he came to be president. Don't forget to take a guide, it's really worth it.
The complex follows different opening/closing times for the different elements. The Mausoleum is the one that opens and closes first (usually open from 7:30 to 11:00). The complex closes for lunch. Check with your hotel for updated times or directly on the complex website.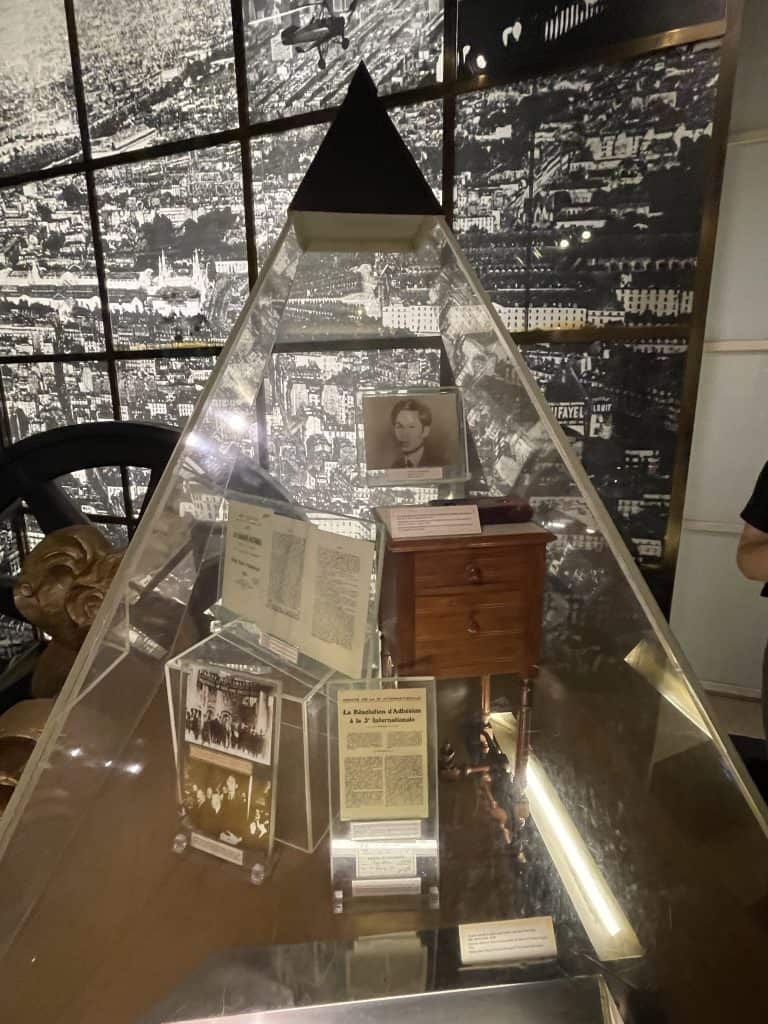 OUR EXPERIENCE: I was not particularly attracted by the idea of standing in line for an hour (as I had read in many online reports) to enter and see the embalmed body of Ho Chi Minh. I was also afraid that it might impress Liam and Santiago (how little do I know my children!). Instead, thanks to the fact that there was absolutely no queue and that as soon as you enter you are directed to an almost obligatory path towards the Mausoleum, I must say that I found the solemnity of those 5 minutes in which you enter and exit the mausoleum (walking all the time, you can't stop and you can't take pictures at all) impressive in a good way.
Upon exiting the Ho Chi Minh complex, walk (or take a taxi) to the Thang Long Imperial Citadel. This is a very large underrated heritage complex that you shouldn't miss. It dates back to the 11th century, but it was used also as headquarters for the North Vietnamese government during the Vietnam War between America and Vietnam.
There is also a small café/restaurant where you can stop for a snack or a cold drink.
AFTERNOON
From the Imperial Citadel, take a taxi to the Temple of Literature. Arm yourself with an audio guide and explore this beautiful complex dedicated to Confucius and home to the first university in Vietnam. The site is quite large and the buildings are spread around five different courtyards. Allow at least an hour and a half for the visit.
After this visit it should be around 3:30/4:00 and time for a break. You can cool off in the pool for an hour to regain your energy ready to face the Old Quarter again.
This is the night for street food! It is an excellent idea to take part in a food tour within the first few days of your arrival in order to begin to get a first idea of the varied offer available.
We took part in the Hanoi old quarter walking street food tour, which turned out to be perfect. In three hours we tasted various things, stopping in places where alone we probably would not have dared (check more details in the box).
BEST STREET FOOD TOUR IN HANOI
Vietnamese cuisine is delicious, but at the beginning could be difficult to know what to try. A street food tour with a local guide is a really convenient way to learn about food and taste the local specialities from the best places.
This tour lasts three hours and you will stop at 6 different vendors to try from spring rolls and banh-mi to the special egg coffee.
GOOD TO KNOW: these tours are fully refundable up to 24h before they start
DAY 3: Halong Bay
On the morning of the third day, it is time to embark on one of the particular highlights of this 10 day trip to Vietnam: the Halong Bay cruise. To reach Halong Bay there are many options. You can organise the transfer yourself, and the cruise operator will probably also offer you a couple of options to reach the cruise.
Many people wait until they arrive in Vietnam to arrange their Halong Bay cruise. Almost all hotels can help you book one and walking around the old quarter you will find a large number of agencies, but I advise you to book in advance. In this way, you will have the possibility to choose a ship that is not too big and not too old from a reputable operator.
If you don't have the time or desire to do a search, know that almost all cruises can also be booked directly on the booking.com platform (yes, the hotel platform).
Useful info about Halong Bay cruises
There are many things to say about Halong Bay cruises, which need a separate article, but here I summarise the main elements to consider and what to expect.
HOW TO CHOOSE THE CRUISE
The first thing you should ask yourself is if you like taking a cruise with many people or do you prefer something more intimate. Many ships also have 30 cabins, which probably means at least 70 people to share space, dine and take part in all the activities.
Then you should consider how luxurious you want your ship and cabin. In Halong Bay, there are so many cruise ships that you are truly spoiled for choice. Obviously, the price is often commensurate with the bigger the cabin and the more services there are on the ship. Most of the recently built ships boast cabins larger than a hotel room complete with a private balcony and usually a swimming pool or hot tub on the deck.
The last thing to consider is how much time you have available. Some of these cruises are very luxurious, but if you only have one night to spare, consider that you will have little time to truly enjoy the cabin and the ship. I believe the most luxurious options would need at least 2 nights to be fully appreciated.
The cruises all include more or less the same program. You embark just before lunch when the navigation begins, then you stop for kayaking and to swim, then in many cases, there is a small cooking lesson, followed by dinner and squid fishing after. The morning starts early with Tai chi on deck, breakfast and disembarking around 10 am. Of course, all activities are optional.
OUR EXPERIENCE: The search was longer than I expected, after a long evaluation we decided to opt for an affordable small boat with only 10 cabins and which had a longer program until 3 pm on the second day in order to have more time to enjoy the place. The cruise is organized by Cat Ba Ventures (also recommended by Lonely Planet). It is not a luxury option, but the price is low and it starts from Ha Lan Bay with an itinerary that avoids the most crowded areas. Below are the best luxury options
CRUISE
DETAILS
PRICE

Le Theatre cruise
24 cabins
Family room up to 4 people
Swimming pool on deck
Built in 2017

Orchid Premium cruise
Only 5 cabins
Family room up to 4 people
Butler service
Swimming pool on deck
Launched in 2019

Erina cruise
27 cabins
Family room up to 4 people
Small swimming pool on the deck
Great price
Built 2023
Day 4 Halong Bay to Ninh Binh
The fourth day will start onboard the boat. Most of the cruises will disembark you around 10:30-11. If you pick the same cruise we did you will disembark around 3 pm.
After the cruise, you will need to reach Ninh Binh. To get from Halong Bay to Ninh Bihn unfortunately there is no shortcut, whether you choose the bus, taxi, or limousine transfer, you will need around 4 hours. You can see different transfer options on 12go.asia to pick the one that best suits your timeline.
If you decide on a cruise that finishes around 10:30 you will arrive in Ninh Binh (or rather Tam Coc, a much prettier village a few kilometres away) in the afternoon. As soon as you arrive, take the bicycles (almost all the hotels in Ninh Binh offer them for free or you can rent them) and go independently for a cycle in the countryside. As soon as you leave the main village road you will be on quiet and peaceful roads where to enjoy the scenery.
In case of a longer cruise, you will arrive just in time for dinner.
For dinner, the Family restaurant on Tam Coc main road is a great option to try traditional goat-based (but not only) Ninh Binh dishes.
WHERE TO STAY IN NINH BINH: LE CLOS DU FIL HOTEL
In Tam Coc you will find a lot of backpackers' hotels, if you are after really cheap accomodation you will have no problems. However, I can recommend you to stay in this little gem. Le Clos du Fil is quite a new hotel built taking care of every single detail. Everything that could have been sewn has been, even directions around the space. Every handcrafted textile is done by lovely local skilled people. They are also on-site to sell some products and teach you how to do it. The hotel has a rustic chic style, quite minimal to leave space for the natural material to dominate the scene. There is also a big swimming pool, a restaurant and a small spa. We had a massage and also the therapists were good at their job.
The rooms are spacious and it is located on a side street with a view towards the countryside that makes it really relaxing.
Day 5: Ninh Binh
The fifth day is all about exploring Ninh Binh. There are many attractions and you could easily stay longer in this area of enchanting beauty, also called Halong Bay on land. Ninh Binh is not yet in its full tourist development and still offers pristine and precious views, absolutely do not miss spending at least one night in the area.
In one day you can easily explore: Bich Dong Pagoda, Hang Mua Cave Bich, Hoa Lu Ancient Capital and Trang An Caves.
Bich Dong Pagoda is a small complex of three pagodas built on three different levels on the sides of the mountain.
Hang Mua Cave is a small cave complex, much more famous for the view from the peak that overlooks it. You need to climb 500 steps, but the view is rewarding. Here you can read more details about visiting Hang Mua viewpoint.
Hoa Lu Ancient capital, a small kingdom that was the capital of the Dinh, Le, and Ly dynasties in the 10th and 11th centuries.
The last stop is a relaxing boat ride to discover the enchanting Trang An caves. There are three different rides to choose from and they last two to three hours, the perfect way to unwind after the day's walking.
Here a made a quick summary, but you can read this other article with a detailed Ninh Binh guide and itinerary.
To explore Ninh Binh you have two options: take a private guide (or even join a tour) or just hire a driver for the day. We opted for the guide (with the driver of course) and having someone who explains the history of these places is very interesting. We booked with Duong Toan, a guy that is well-regarded online, but unfortunately, our experience wasn't as good as we read, so we would recommend to ask instead your hotel for recommendations. I will write a separate article explaining the details of what happened.
EVENING
If you decide to follow this itinerary at this point you will have to consider how to get to the next stop: Hue. We opted for the night train, but you also have the option of the bus.
In this itinerary, we do not consider the plane because you would have to go back to Hanoi and you would lose too much time.
Everyone says the night train is an experience not to be missed. I would say that originally I was a bit sceptical, but it has left a fun memory. If you pick the train at 9:26 PM you will probably sleep most of the time, so it should be ok in general. The cabin was small, but the sheets were clean and the mattresses ok. If you wish, you can choose a cabin in the carriages of private companies that place their carriages at the end of the public train. They are much nicer, but you will have to pay roughly double.
Whatever way of transport you choose make sure you book at least one week in advance or more if possible.
Day 6: Hue
MORNING
You will arrive in Hue quite early in the morning, this will allow you to make the most of the day. Hue is another underestimated destination, the town itself (the old capital of Vietnam) is not remarkable, but there are many attractions especially scattered in the countryside.
Leave your bags at the hotel and immediately head to the Hue historic citadel. Purchase one of the combo tickets entrance (on the website you can check the prices combo, but you can't buy them online). If you follow this itinerary you should be able to see the citadel and at least 2 of the royal tombs. Choose the Combo of 03 sites: Hue Imperial City-Emperor Minh Mang's tomb-Emperor Khai Dinh's tomb.
Once inside make sure you hire a guide and I also recommend paying to use one of the electric sightseeing cars. The site is really big and if it's one of those sunny and humid days a little help doesn't hurt. The guided tour lasts an hour, but then you can go around freely after that as much as you like. Allow at least a couple of hours.
Once out of the citadel, take a taxi to Y Thao Garden restaurant. It's not far, we walked because we couldn't find a taxi, but we would have gladly done without it.
If possible, book in advance. One of the prettiest restaurants where we ate the best of the trip. The restaurant is spread over a series of buildings connected by gardens and ponds, and the food was delicious!
AFTERNOON
From the restaurant head to the Thien Mu Pagoda, there are audio guides as you enter. The pagoda is a Buddhist temple and one of the symbols of the city of Hue with a high historical and architectural value.
The location directly on the Perfume River creates an even more impressive background.
After the pagoda visit it should be around 4 in the afternoon. At this point you have two options: haggle a lot and take one of the dragon boats right in front of the pagoda to go back to the city (or to your hotel if located on the river) for a bit of relaxation or, if you still have energy, you can head for a visit to the abandoned water park.
The name is a clear description, the abandoned water park is an old but very atmospheric abandoned playground. What makes it fascinating is the secluded position surrounded by lush vegetation. The taxi will leave you at the entrance, then you will have to walk about a kilometre to get to the main building. If you want you can explore even more, there are long slipways now hidden by the greenery so you will feel a bit like in Jurassic Park…obviously nothing is in use (but be careful because it could be dangerous).
Time to go back to the hotel for a quick shower and then head to dinner.
Hue is a culinary destination to be discovered. We didn't get to try all the restaurants I had on the list, but in Hue, we treated ourselves to dinner in a wonderful restaurant, the Ancient Restaurant.
The place is magnificent, the food was very good (perhaps we could expect more given the setting) and the prices were absolutely accessible.
WHERE TO STAY HUE: HUE ECOLODGE
The hotel I recommend in Hue is probably the more basic on the list, but the setting is super charming. The Hue Ecolodge is located 7km from Hue city, much closer to the royal tomb. It is located in a lush garden, where the different buildings (just one floor high, that almost disappear in the surroundings) host reception, the restaurant, the spa and the different rooms.
Rooms are quite big and most of them have a lovely back garden with an open shower. It is not luxurious, but it is a really lovely place to connect and unwind. What we also liked was the possibility to reach it with the Dragon Boat as it has a pontoon to access directly the Perfume River.
Day 7: Hue and transfer to Hoi An via Hai Van Pass
MORNING
Start the day early to mitigate the heat of the central hours, as today you can explore the royal tombs and you will be walking outdoors for a long time.
To get around, I recommend calling a taxi with Grab. If you tell him that at the exit you will have to move to another location, he will wait for you, making everything very simple, but he will stop the meter while you are visiting and will only charge you for the transfers.
Head first to the Mausoleum of Emperor Minh Mang, surely one of the most beautiful tombs. The space is very large and being one of the furthest tombs from Hue, it is visited by fewer tourists. When we went it was almost deserted. Here too you will find useful audio guides.
Then move on to the tomb of Khai Dinh, much smaller than the previous one (and in general of the other tombs), but incredibly luxurious, decorated with sophisticated porcelain and glass from France, China and Japan.
It depends on how much attention you put into exploring the tombs, you might even have time to see another one, in this case, choose the Mausoleum of Emperor Tu Duc, with various areas to explore and a lovely pond where you can relax and rest from the heat.
AFTERNOON
In the afternoon it will be time to move to Hoi An. Book a transfer around 2 pm so you travel when you can enjoy the scenery.
There are actually various ways to get to Hoi An. In a longer itinerary, you can dedicate a day to it by participating in a tour that stops at the lagoon, passes through the Hai Van pass and also stops at the Marble mountains.
All the stops are really interesting, but I wouldn't sacrifice the time in Hue during this 10 days Vietnam itinerary, it would be different if you have a little longer. My suggestion is to book a transfer that passes through the Hai van pass, (shared or private) but then goes directly to Hoi An. In this case, it will take you 3 hours and you will arrive in time to have the first encounter with one of the prettiest towns in Vietnam.
We took the full-day tour from Hue to Hoi An via the Hai Van pass and you can read everything here.
You could also take the train if you want (not the bus because it doesn't go through the Hai van pass, but goes through the new tunnel). However, with a pre-arranged taxi you will be able to stop to take pictures.
TRANSFER FROM HUE TO HOI AN
It is better to not leave boking this transfer to the last minute. We booked with VM travel and the driver was on time and reliable. He also spoke very good English, telling us lots of info, almost a guide. The price was also really good and you can adjust the length of the transfer based on the time you have available.
Here are another two companies that provide the service and seemed really good
Hoi an local tour and April Adventure Travel
GOOD TO KNOW: these transfers are fully refundable up to 24h before they start
Once in Hoi An, immediately leave your bags and set off to explore the town, appreciate the colours and the scents, browse the little shops and then stop to eat at Nu Eatery a lovely little local restaurant, but book in advance!
Hoi An is part of Unesco and an entrance ticket is required. There are no gates so to speak, but you could be asked to show it, so always bring it with you. The ticket will also give you access to 5 of the many sight available in Hoi An.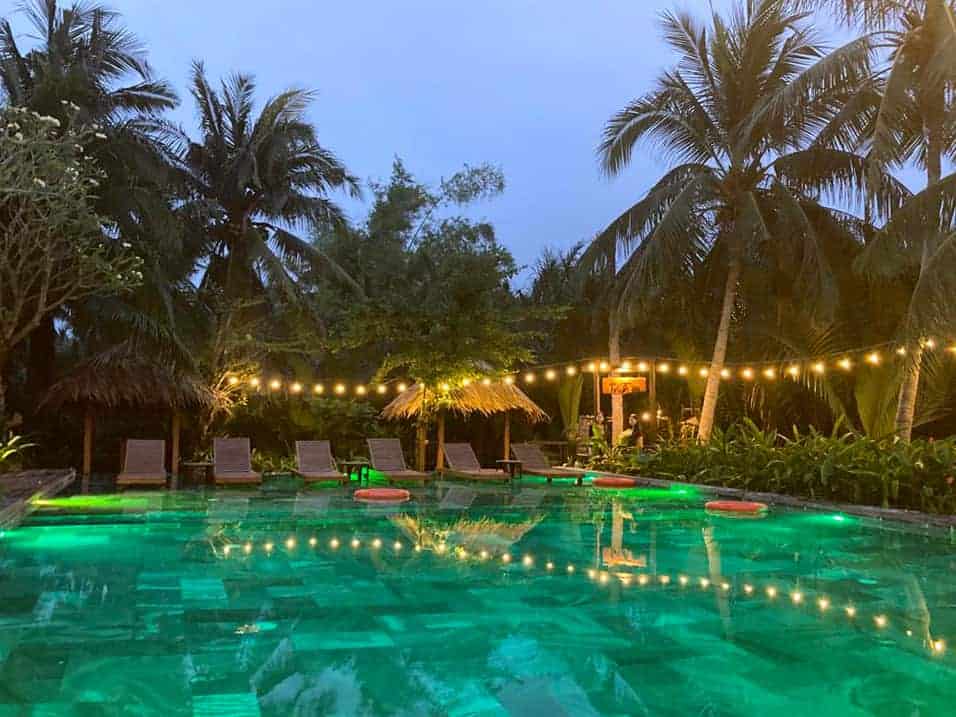 WHERE TO STAY IN HOI AN: HUE ECOLODGE
The Hue Ecolodge is probably the most amazing hotel where we have been for the money paid. Incredible value for money. The setting is beautiful, the rooms are spacious modern and luxurious located in different small buildings surrounded by lush vegetation. There is an amazing big swimming pool, the restaurant is open over a lovely pond and the food is great! The location is 15 minutes from the centre of Hoi An, but they even offer a free shuttle! I would definitely go back there next time!
Day 8: Hoi An and the beach
MORNING
In addition to being a very touristic town, Hoi An also has a warm and welcoming soul. Take part in one of the free walking tours that Momo organizes and you will be fascinated. Momo has a particular sensitivity to telling you the story of this city and its inhabitants. The tour lasts about 3 hours and is absolutely unmissable. You will see most of the major sites including a small show at the performance art centre.
For lunch, stop by Morning Glory to sample local delicacies.
AFTERNOON
You can dedicate the afternoon to a visit to the beach. Head to An Bang. If your hotel offers bicycles, take them and zip through the country lanes. From Hoi An to the beach, there are about 5 kilometres of entirely flat roads and for the most part you can cycle through the fields where you won't have to worry about cars, at most, you will meet a few mopeds.
If you are travelling with children, you shouldn't have a problem finding bikes with an extra seat built over the rear wheel and small foot supports. For very young children you have to ask your hotel in advance if they have child seats. Don't worry if they don't, if you like cycling, there are at least two places that rent bicycles with child seats. (Buffalos Adventures and Heaven and Hearth)
In An Bang you will find a very long free beach but with the possibility of renting sunbeds and umbrellas (or using them for free if you order food or drinks).
In the evening you can decide to stop at the beach or go back to Hoi An to eat at the Hai café courtyard BBQ (they have a lovely garden/courtyard where to eat) and take another trip to the night market.
DAY 9 Hoi An (My Son Sanctuary) and transfer to Ho Chi Minh
MORNING
The morning starts early for the visit to My Son sanctuary. Many recommend being there at dawn. If you succeed, it would be a good thing, more than from a scenographic point of view (certainly seeing the sun rising over the ruins is suggestive), but more from a crowding and heat/humidity perspective.
At 9-10 am many tours begin to arrive, the site fills up with people and already at 10 there is unbearable humidity.
The site is large, but it is essential to take a guide to be able to appreciate what you are observing.
Another problem with arriving at peak time is that it can be difficult to find a guide. If at the small office at the entrance, they tell you that there are no more guides available, don't despair. After paying the ticket you walk to reach an electric bus that takes you to the heart of the site. At the beginning, there is an area where small performances take place and a bar. Often the guides who have finished their previous tour stop at the bar, so you can ask there. The cost is the same as at the office.
My Son sanctuary is about 45-60 minutes by car from Hoi An, the most practical thing is to hire a driver to take you and wait for you. The cost for 4 hours was $38.
HOW TO VISIT MY SON SANCTUARY
My Son sanctuary is around 45-60 minutes from Hoi An. All tour operators organise tours to the sanctuary. Above you can see some of the best options. If you are travelling solo you could join a small tour (max 13 people) or just take the bus transfer and then pay a guide on site. If you are an early bird you have the option of the early morning tour. If you prefer to be sure that you can get a guide you can also go on a private tour, prices are still quite affordable.
GOOD TO KNOW: these transfers are fully refundable up to 24h before they start
AFTERNOON
Back at the hotel collect your belongings as it is time to move to Ho Chi Minh. Ask for a taxi at the hotel or use Grab. Allow about an hour to reach Da Nang airport.
Try to book a flight around 5 so you can take your time. Once you reach your hotel, go out for your first encounter with Ho Chi Minh City.
You can head to the Skybar (no kids allowed, unfortunately) or delight yourself with the flavours of Anan Saigon. Definitely, the restaurant where we spent the most on the whole trip, but absolutely not to be missed.
WHERE TO STAY IN HO CHI MIN: AN LAM RETREATS SAIGON
The An Lam retreat in Saigon is just a blast. One of the best hotels where we have ever been. It is located a little outside the city, but they offer speedy boat transfer to the city centre, even if there is the risk that once you enter you don't want to leave.
It is an oasis of peaceful elegance. The villas are really big and completely surrounded by vegetation. The restaurant is open on the river, there is also a spa, a pool, and several relaxing areas scattered around. It is big and really intimate at the same time. Compared to Vietnamese prices it is expensive, but you will not regret spending this money. It is the perfect way to end your trip.
DAY 10: HO CHI MINH
MORNING
Ho Chi Minh, contrary to what I expected, is a vibrant city that invites exploration. One day is enough for a first encounter, even if in my opinion it is a city to be discovered slowly.
Start with a visit to the Independence Palace, take an audio guide or join one of the tours that leave regularly to appreciate how the palace was a centre of political representation, but also of family life. The visit is very interesting and lasts about an hour. From there, move a little east to admire the cathedral (unfortunately it was closed in 2023 for restoration)
If you like you can go to the War Remnants Museum. We decided not to visit it as I wasn't sure if it was the right place for 6-year-olds. Many people find it an emotionally demanding experience.
AFTERNOON
If your flight is late in the evening you can take advantage of a few last hours of relaxation by the pool of your hotel. Ho Chi Minh is an extremely hot and humid city.
Extend this itinerary to 14 days in Vietnam
As I mentioned at the beginning we did the exact same itinerary just spread over 14 days. I added every day an hour or so to play by the pool which was also perfect to give us a little break from the heat and we added a couple more things in the stops where we stayed longer.
Below are the details on how to adapt the itinerary. In bold the days with some added activities.
Here is a short summary of 14 days in Vietnam
Day 1 Arrival in Hanoi – Full day exploring the city
Day 2 Hanoi – Full day exploring the city
Day 3 Transfer to Halong Bay – Halong Bay Cruise
Day 4 Halong Bay – Transfer Halong Bay to Ninh Binh
Day 5 Ninh Binh
Day 6 Ninh Binh – Night train Ninh Binh to Hue
Day 7 Hue
Day 8 Hue – Exploring Hue and Surroundings
Day 9 Tour from Hue to Hoi An via Hai Van Pass
Day 10 Hoi An
Day 11 Hoi An
Day 12 Hoi An – Flight to Hoi Chi Minh
Day 13 Ho Chi Min
Day 13 Ho Chi Min – Departure
DAY 6
If you spend an extra day in Ninh Binh you should go and visit the Cuc Phuong National Park. The park is a little gem, but it is quite big and you need a guide to truly appreciate the nature there. In theory, there are guides you can hire at the entrance of the park, but on the day we went none were available and the park was not busy at all. It was a shame as there are several treks you can do, but they are not so clearly signposted. A visit to the park takes most of the day, you can also visit the primate and turtle rescue centre where volunteers will give you a tour explaining how they are helping these creatures.
DAY 8
In Hue you can just follow the same details as explained above, but without rush. We visited the three tombs I listed above and the abandoned water park. It took us from 9:30 am to 4 pm. You can do it quicker, but the scenery is really enjoyable and you can relax listening to the audioguide to appreciate what is probably a world really different to your own. From Hue, you could also consider visiting the DMZ area. If you are interested in the America-Vietnam War this tour will allow you to see some of the important relics from the war and to experience the famous tunnels used to live and fight.
For dinner, you can take the opportunity to take a food tour, in case you skipped the one in Hanoi. Hue cuisine is excellent and even a second street food tour would not disappoint you. Another option is dinner at Madam Thu in the middle of the city, a historic restaurant where you need to book in advance if you don't want to wait.
DAY 9
This day instead of just transferring from Hue to Hoi An you can organise a tour. The tour will stop at the Lap An lagoon, near the beach after Danang for lunch, and then the Marble mountains. If you are after an Instagrammable spot, you could consider visiting Ba Na Hill. For sure you have seen pictures of the curved bridge supported by two giant hands. That bridge is one of the attractions in the amusement park. We didn't consider going there as we thought that for a couple of hours, the stop was too expensive for us.
DAY 13
If you decide to spend two days in Ho Chi Minh, it could be interesting to take part in a tour to have a first glimpse of the Mekong Delta. Ideally, you want to spend two or three days in the area, but you can leave that for the next trip and still enjoy the atmosphere of the floating markets, the rural villages, and life on the river. You have the option to join a small group tour or a private Mekong Delta tour.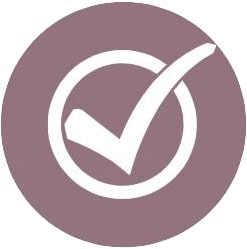 Things to do before a trip to Vietnam
Check if you need a visa to visit Vietnam
There are very few countries that do not require a visa to enter Vietnam. People of some nationalities can enter Vietnam without a visa if they don't stay longer than 14 days (this was the case for Mark and I with passports issued by UK and Italy). Other nationalities can apply for an online e-visa to print and show on arrival (as was the case for Liam and Santiago travelling on Irish passports).
Others however will need a traditional visa. Visa issuance is something to check carefully especially if you are planning a last-minute trip. Check always the government's official website with all the updated info.
Cash vs cards during a trip to Vietnam
Vietnam is a nation where most payments, outside the big hotels, are made in cash.
Before leaving home you can try to change some money into local currency, but if you don't succeed don't worry, it's not an easy currency to find at least in the UK. You can pick it up at the airport ATM machines upon arrival.
Unfortunately, many ATMs seem to have quite low limits and you may be forced to make several withdrawals. My advice is that I always use cards with minimal commissions. We always have with us Curve, Wise and Revolut. (read more here)
Three important tips:
If you have US dollars, bring them with you because in many places they accept them and the conversion they offer is usually excellent. Many tours or pre-booked drivers will give you the price in Dong and Dollars.

If you weren't able to withdraw as much as you want, ask your hotel for the exchange rate they offer, contrary to expectations we have seen that in some hotels the exchange rate was excellent.

When you need a taxi most of the time if the hotel calls it for you then you can ask to put it on the room bill and pay everything at the end by card.
Download Useful apps like WhatsApp and Grab
You will find that two essential apps while traveling are WhatsApp and Grab.
In case you don't have WhatsApp on your phone, download it, because it is the method by which both the drivers and the tour guides will get in touch with you. Grab is the equivalent of Uber, very easy to use and also allows you to choose whether to pay by card or in cash directly to the driver (due to the sign up process however, and in particular the postcode/zip code format required, you will probably not be able to pay by card). Grab is also a very practical app to get an idea of the cost of transfers. You can then decide whether it is worth booking a driver in advance and how much the cost might be.
Planning Your 10 Day Vietnam Itinerary
How Much Of Your Vietnam Itinerary Should You Book In Advance?
Vietnam has become a very popular destination, probably even at the last moment you will find availability of hotels and tours, but know that what remains are always the more expensive or less beautiful options.
Even simple transfers, if you would like to have a driver who speaks some English you are much more likely to find one if you book in advance than last minute.
If you travel by train and want to book a sleeping car, it is better to book it at least a couple of weeks in advance.
What tours to book in advance
Definitely the cruise in Halong Bay, the tour in Ninh Binh (including the national park if you have more time) and the food tour.
I would also secure the car with a driver or a tour from Hue to Hoi An.
Maybe for the others you could risk it, but consider that we wanted to participate in a walking tour in Ho Chi Minh, but when I looked to book it a couple of days in advance it was already full.
Here I recap the tours we have been on that I would absolutely recommend.
Getting Around During Your 10 Day Vietnam Tour
You have several alternatives to move around Vietnam however note that foreigners cannot hire cars.
Scooters/motorbikes
Cars rental is not possible, but you will have no problem if you want to rent a scooter. I drove scooters for twenty years in Rome and also in London, but with the unregulated traffic of Vietnam I didn't feel like it. To rent a scooter there's no need to decide in advance, you can also wait to arrive, your hotel will find one for you in the space of half an hour.


Scooter/motorbike with driver
If the idea of touring Vietnam on two wheels fascinates you, but you don't feel like driving, you can easily take the pillion behind the scooter/motorbike of a Vietnamese rider. This is really common.


Car with driver
In some cases, it can be very convenient to have the driver available especially if you do not want to join an organized group. The driver will wait for you at the site exit and you can take your time for the visit. Usually, a driver for a day will pick you up at 9 and bring you back around 5.


Taxi
There is never a shortage of taxis. Almost everyone uses the meter, but very few speak English, so be prepared to show the taxi driver the name of your destination. If you use Grab, obviously this will not be necessary as you will set the destination directly in the app.


Buses
While it could be tricky to use buses in the city, they are however a practical resource for long-distance journeys. We have not used them, preferring train and private transfers, but speaking with other travellers they seem to be an excellent alternative to the train for example.


Shared transfers
There are some connections that are very practical to organize with small minivans. For example, to move from Hanoi to Halong Bay or Cat Ba Island you will have many options to choose from and if your hotel is in the old quarter they will pick you up directly at the hotel.


Train
The train is very useful for covering large distances, especially because if you want you can travel at night and not lose a day in transfers.
We used the train from Ninh Binh to Hue. I must say that the sleeping car was clean even if a little cold (due to the air conditioning). I had very low expectations, but for one night, it was fine.


Airplane.
Vietnam is full of airports even in the smallest locations which makes it very easy to save on travel time, the rates for internal flights are almost always very low, but better not to wait until the last minute for reservations.

To book trains, buses, shared or private transfers you can check here.
WIFI and SIM CARDS
Free wifi is widespread throughout Vietnam. Internet was available and free in all hotels, restaurants and bars we entered.
However, it is always useful to have a sim card for when you are around to check directions, call a taxi etc. There are two options available:
Buy a physical Sim card.
As soon as you arrive at the airport you will have no problem identifying kiosks that sell sim cards. Viettel seems to have the best coverage in the country. If you have it, bring a portable wifi device with you and the operators will help you install it and you can start using it right away. You could also bring an old phone and use it as a hot spot, but be aware that this drains the battery very quickly.
Install a virtual Sim card.
If your phone is recent enough it could be enabled for the use of e-sim. I used Airalo in Malaysia, Singapore, and Italy and it was super convenient not to have to remember to bring along another device.
10 days in Vietnam budget
A trip to Vietnam can be very cheap, a lot depends on how you decide to face it, and where you decide to stay or eat.
We have chosen to always stay in a hotel, balancing the costs, choosing some cheaper and some more expensive. We have eaten at little restaurants more often than kiosks and hawkers. In this way, we spent about £250 per day for 4 people including everything (meals, hotels, taxis, tours, shopping, and all internal transfers) I only excluded the intercontinental flights.
Thank you to read all this info, I hope you will have a wonderful trip. Get in touch if you need more info.
NO TIME NOW? PIN IT FOR LATER